I got to check a pretty big thing off my bucket list recently, and it was everything I hoped it would be and then some! My mom, sister and I went on a girls trip to Waco, Texas to visit Magnolia and do ALL the things!
I had heard and read a lot about this little town before going, but was pleasantly surprised by how easily we filled our days there with so much else to do in addition to the good ol' silos!
I'm sharing 10 things to do in Waco including Magnolia Market and 9 other great spots we loved! This will make for a great getaway!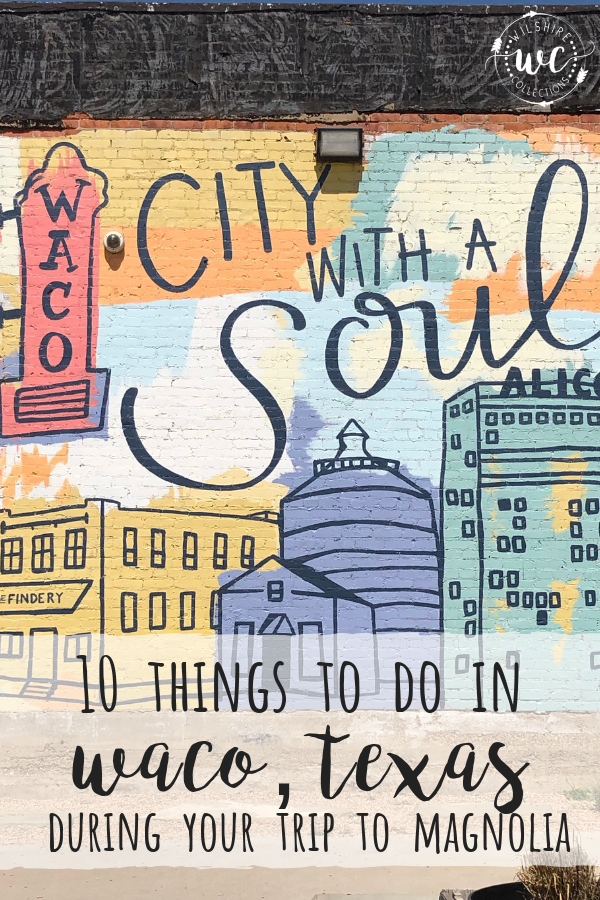 Before we get started, I would like to note that we had less than 48 hours in Waco and I do wish we would have had just a little more time! There were a few things that we didn't get to that we would have loved to do!
We flew in to Dallas on Thursday, but it was dinner time by the time we got to Waco. So, we had all day Friday and then we flew out Saturday night, so we had about a half day on Saturday. Just keep that in mind when you are planning the length of your trip. I think I would have loved to have 2 FULL days there (that didn't include traveling on those days). That's just me of course 🙂
Magnolia Market at the Silos
Let's start with the mothership! The Disney World for décor loving ladies….MAGNOLIA! You can check out my post on our day at the Silo's with tons of extra pics and info! It was too much to put into one post! 
My guess is that this is WHY you would be traveling to Waco, TX. It's amazing how much Chip and Joanna have built up this town that people from all over now travel to! For me, it did not disappoint ONE BIT! The grounds are just beautiful, the bakery was delicious and the shopping was the best experience! There was no detail that was forgotten and Chip and Joanna have created a truly unique and wonderful experience for so many!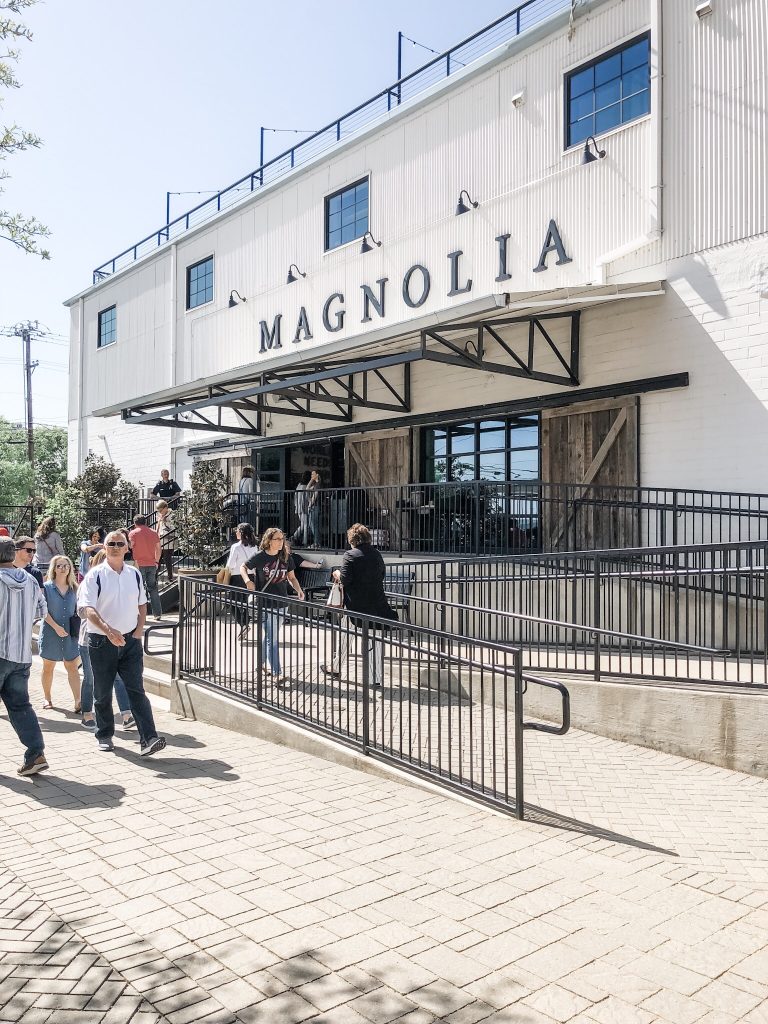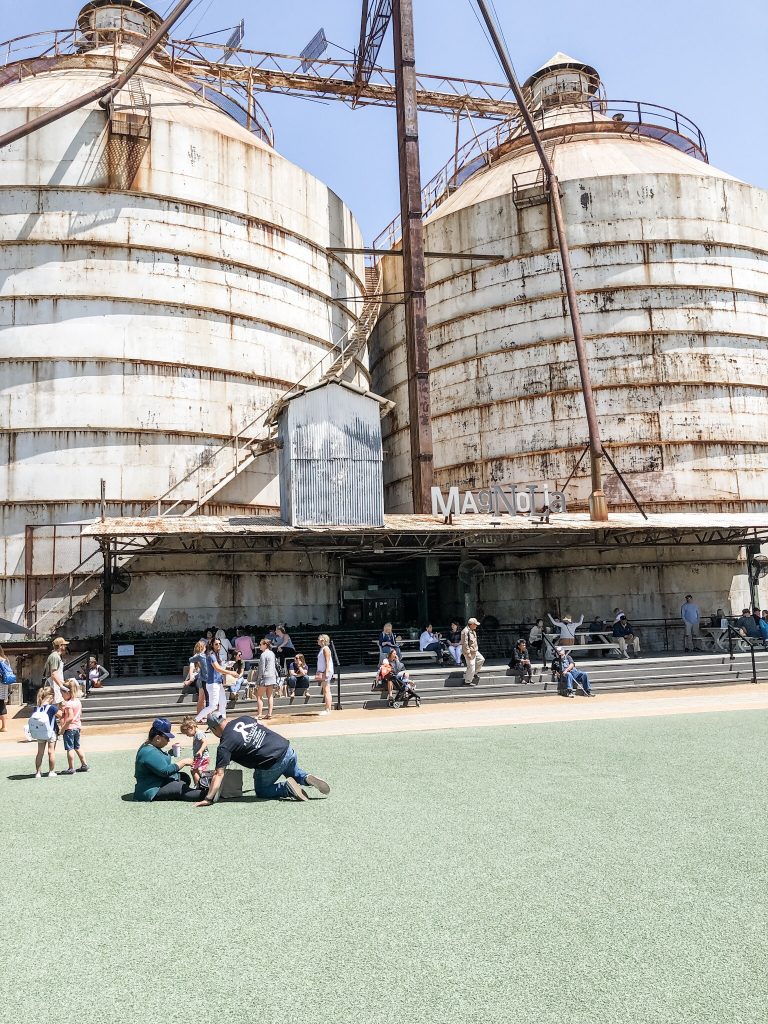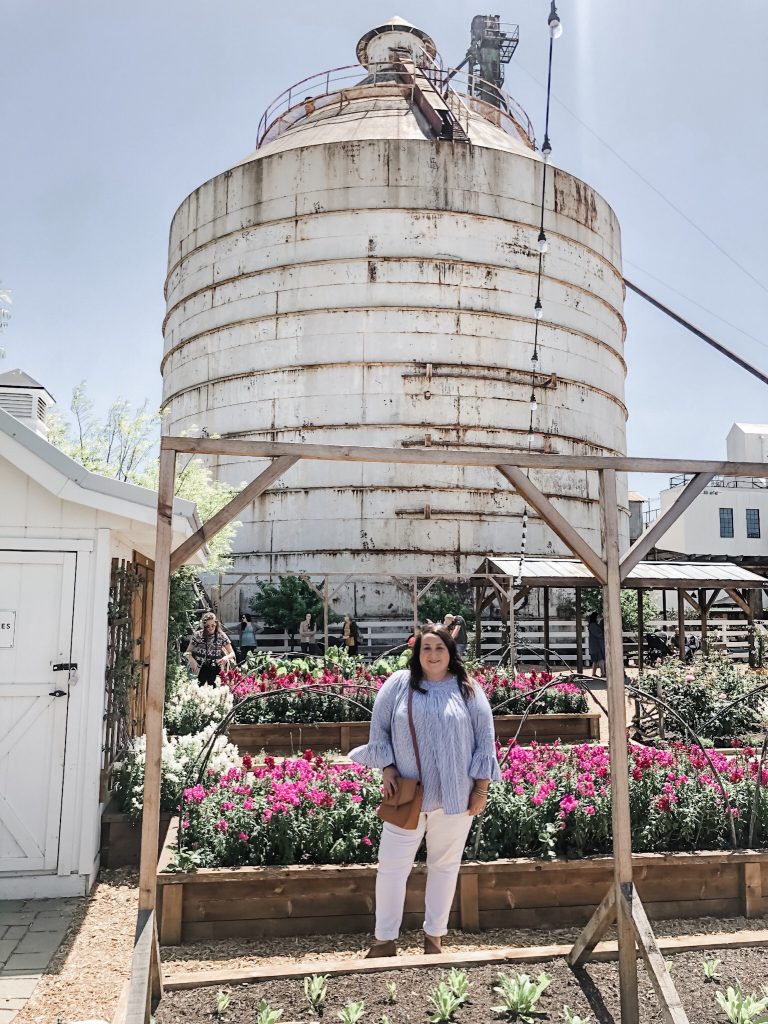 2. Magnolia Table
This was definitely on the top of my list while we were there and it also did not disappoint! When we went, there was a 2 hour wait…but don't let that scare you! Just know going in that there probably WILL be a wait. The nice thing is, you are allowed to leave the restaurant (And there are several shops right in the area). They just ask that you be back within 3o minutes of your given wait time and they will text you when your table is ready! We waited EXACTLY the time they quoted us, and it was worth the wait. Everything we ate there was so delicious FOR SURE!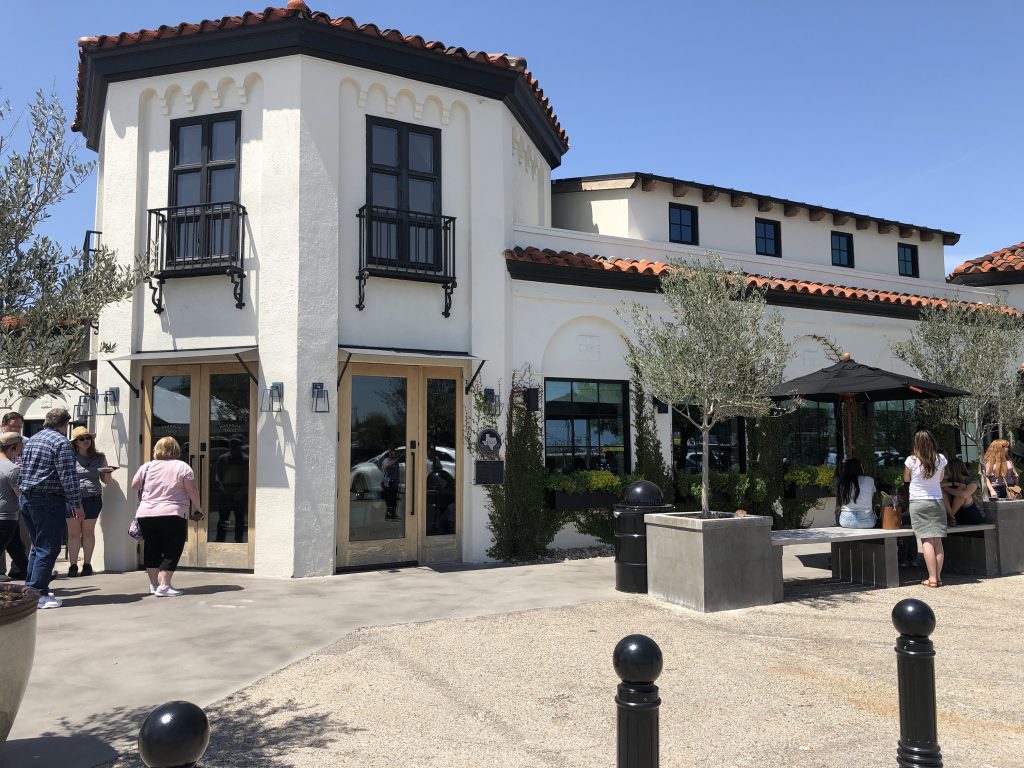 We even got to meet Joanna's mom who happened to be working there that day! She was so sweet and it was so neat to get a picture with her (even though it had been raining and we looked like drowned rats at the time)!
3. The Findery
The Findery is super close to the Silos (walking distance if you don't want to mess with moving your car). It was by far our favorite place to shop other than Magnolia. They actually have 2 buildings very close to each other and we loved them both. It's a beautiful mix of old and new with everything from furniture, to décor, to clothing and jewelry. If only we had a Uhaul, we may have hauled a few big pieces home with us 🙂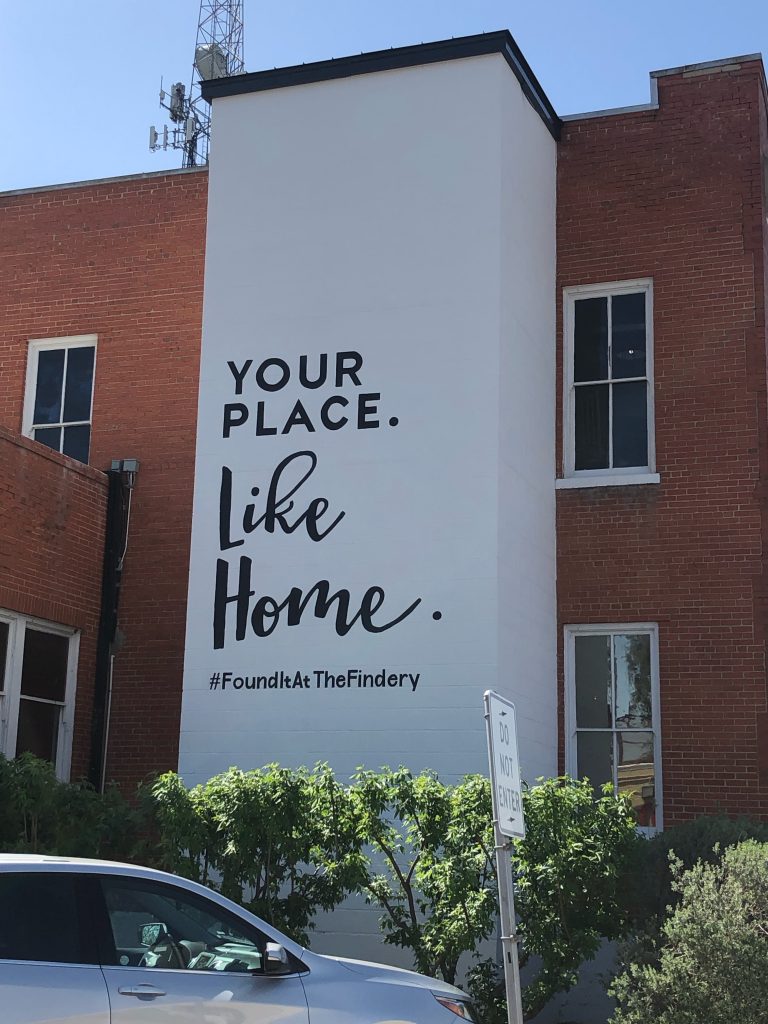 4. Milo All Day
This is the restaurant we ate at the first night we got there and I give it ALL the stars! The atmosphere is awesome with the outdoor seating and then the open air concept on the inside (weather permitting I'm sure). Our food was equally as wonderful and it was just a great way to start off our trip! In my opinion, this is a must eat place while you are in Waco!
5.  Harp Design Co. 
We knew our trip wouldn't be complete without a stop in Clint Harp's shop! I'm sure you know the name from Fixer Upper, as he was Joanna's main carpenter. His shop was small but mighty! Packed with beautiful carved wood pieces and home décor. We loved browsing around and admiring his talent.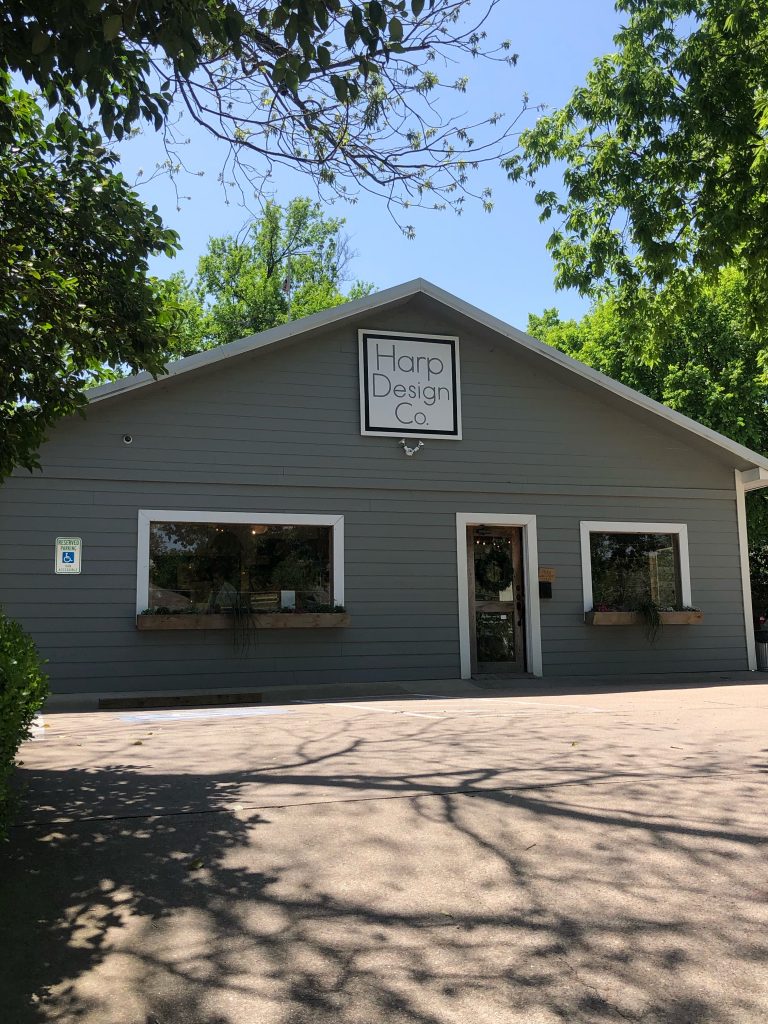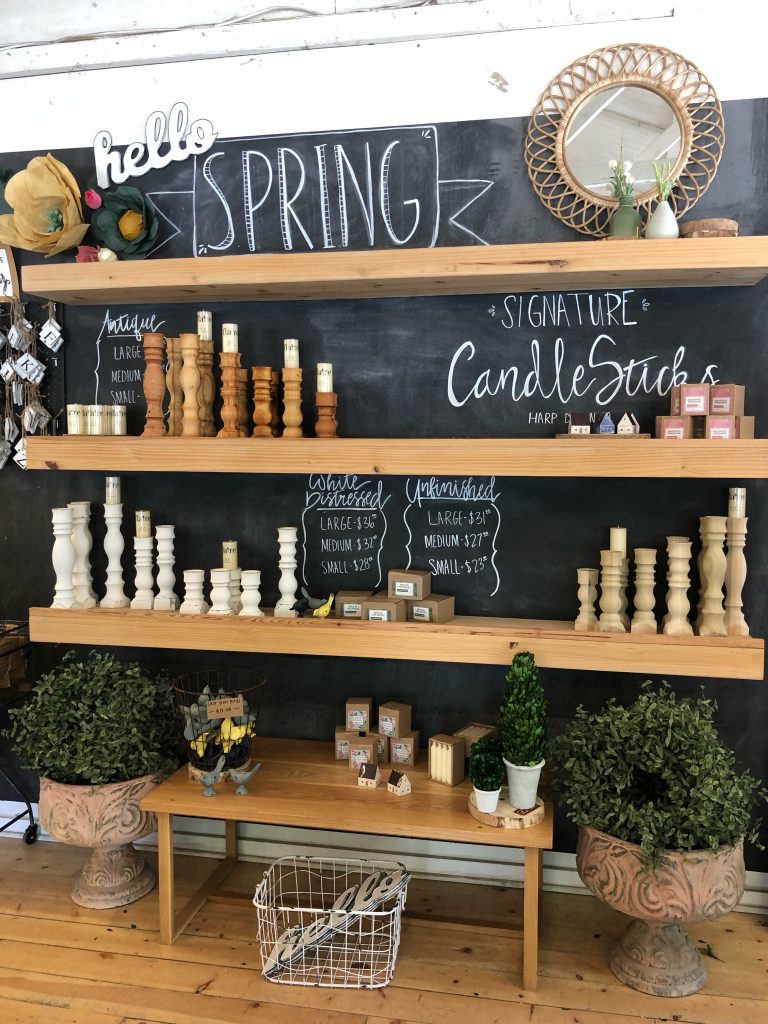 6.  Shops on Bosque 
If you've ever heard or seen Joanna's very first store she owned…her little shop on bosque, you know exactly what I mean by this store! The cool thing about this location is that it is all DISCOUNTED Magnolia items! Scratch and dent, discontinued, out of season, etc. I saw deals as much as 75% off! This is definitely worth the pit stop to not only find some great deals, but to just see where it all started for the Gaines and just how far they have come. Amazing!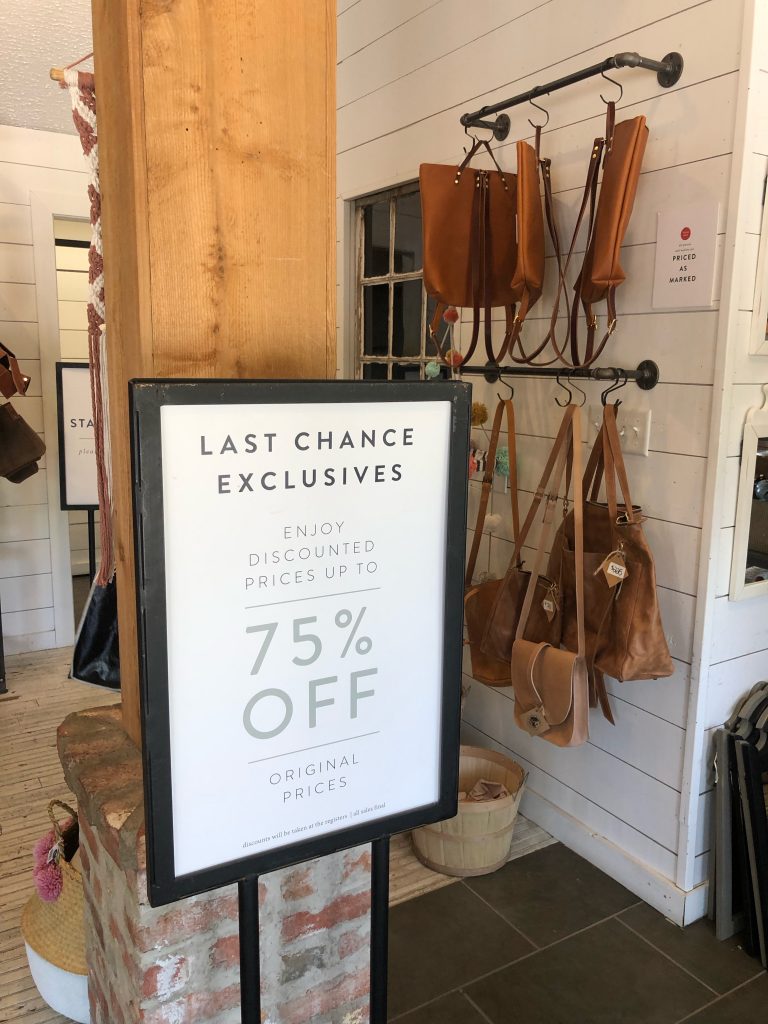 7.  Spice Village 
People kept telling me to go to Spice Village, and I wasn't quite sure exactly what it was or what to expect. We plugged in our GPS and headed that was to check it out. Talk about HUGE!! It was a fun change to the type of shopping we had been doing and was a great store to explore. Perfect for everything from décor, to gifts, clothing, jewelry, food items and MORE! Here we picked up little goodies like jewelry and notepads. By this time we knew our extra suitcase we brought for our purchases was getting pretty full. Haha!
8. LaSalle shops 
If you are more into antiquing, this is one of the places that is super to close to Magnolia Table that we went and walked around while we waited for our table. You could definitely kill some time here looking at all the treasures! We loved walking around (even though I forgot to snap a pic). Visit their website here. 
9.  The Backyard Bar Stage and Grill 
I'm not going to lie and tell you that we ate here and had the most amazing food, because we ONLY stopped here to rest our shopping feet and get a drink! (although they did have a great looking menu too). This was very close to the Silo's and the Findery, so we spotted it and decided to head on over for a break. The outdoor atmosphere was so fun and apparently they even hold concerts there. So, if the weather is nice and you want a water break (or adult beverage break) this is a great place for a pit stop!
10. Waco Tours
This last one, is something that we ran out of time and didn't get to do, but I would have LOVED to do! I told my mom and sister that it just gave me an excuse to come back again one day! Soooo many people recommended Waco Tours and they were set up right outside of the Silos offering information. It's former people from Fixer Upper episodes that run the tour and they take you by many of the houses that were in the various seasons. I've heard from many that it's a great tour and they also point out the highlights of Waco, things to do, etc. This could honestly be a great starting point of your trip to get the lay of the land and figure out what you want to do. I have heard that it takes 2-3 hours to do, so allow time! Again…I can't speak from personal experience on this tour, but I do plan to do it if I ever go back! (WHICH I HOPE I DO!)
So, there you have it! 10 things to do in Waco, including Magnolia and all the other fun stops we loved!
There was shopping and eating that we didn't even get to, so I know this list could have been even longer if we would have had a little more time! All in all, it really is the perfect little road (or flying in our case) trip! There were plenty of men and kids along for the ride…but it would definitely make the PERFECT girls getaway for sure!
Hope you enjoyed reading about this 10 places in Waco and be sure to check out this post for more info on our day at the Silo's!
Until next time…
~ Stacey