Have you been hearing all the buzz about the Wilshire printables, but you aren't really sure what they are or how to use them?! I've got you girl!
Wilshire printables are designs that I create and design with all of my crafty ladies in mind! Today I'm going to tell you what they are and how you use them!
BACKSTORY! Printables have been around for a long time, and I personally have only used them in the past for printing and putting in a picture frame as cute decor. Until one day, I had a LIGHT BULB MOMENT!! Why couldn't I make some printables that were designed with CRAFTING IN MIND?! Answer: I CAN AND I DID! This idea of mine has taken off like crazy and crafty ladies everywhere are loving them! They have been an absolute game changer for myself and SO many other ladies to really up their crafting game.
The best part…they are SO easy to use and you do not need any "fancy equipment" like a cricut. Put simply: Printables are PDF files that I design, and you can print them from home on your regular printer or send them anywhere copies are made to have them printed for you. (Staples, UPS Store, etc) Here is what the mock ups look like when you see them on my site. So stinkin' cute, right?!
Printables can be purchased from my website! I also have a printable club, and you can read about that and join here! Some are individual/full size pages (8×10) and some are designed as crafters bundles- they have multiple images per page and are perfect for ALL those craft projects and smaller items!
After purchasing them, they will be emailed to you and you simply open them and print them from home or save them to your phone/computer and send them somewhere to get printed. Each store has different ways they want you to do this, so please contact your local store to find out how to have a PDF file printed there. PS…You can use regular computer paper OR card stock- I use a mixture of both, depending on the project!
Now…let's get to the fun part of WHAT you can do with them! Craft all the things of course! It can be as simple as a printable, a wood surface and some mod podge…for real!
Project 1- I grabbed this wood surface from Hobby Lobby, printed my family printable and grabbed my mod podge.
Next, I cut my printable to size and simply mod podge it right on to the wood!
Once that was dry, I put another coat of mod podge on top.
THAT WAS IT and now it looks like this cute sign came straight off the shelves of hobby lobby just like this, doesn't it?!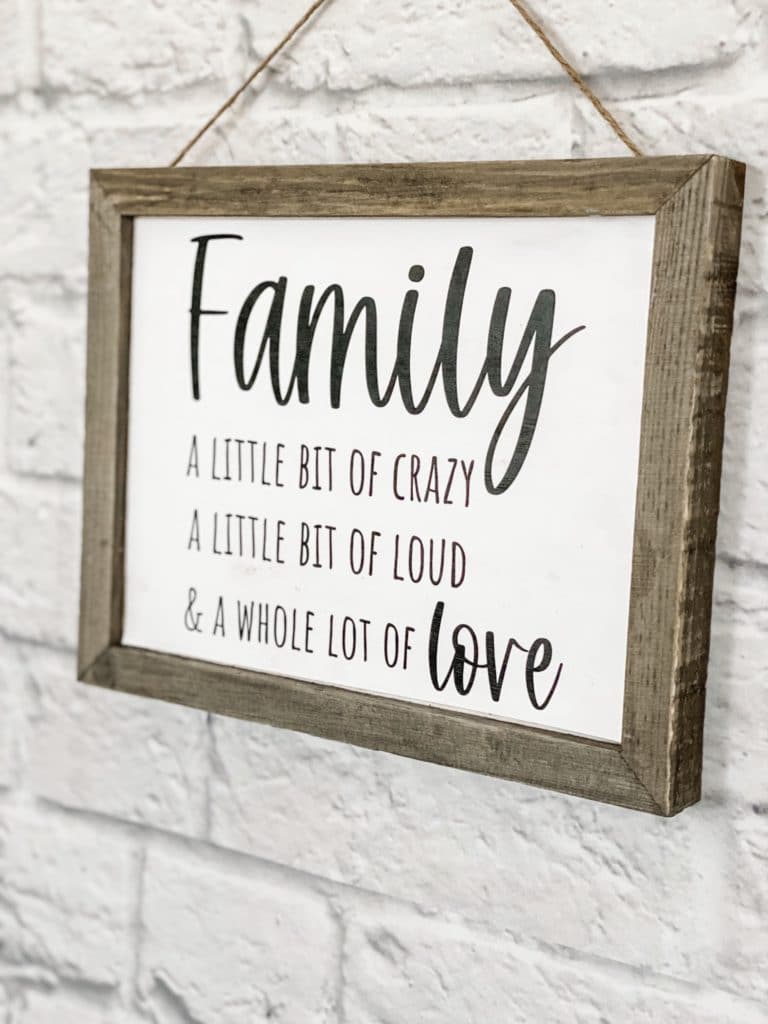 Project 2- Next up, I wanted to make a couple little things for my coffee bar, so I grabbed this cute coffee printable bundle and a sign from Dollar Tree!
It didn't take much effort to pop that laundry right off of there, and then I simply cut and mod podged my coffee printable right in the middle of it! Again- I added a coat to the top too once dry!
LOOK AT THIS CUTENESS!!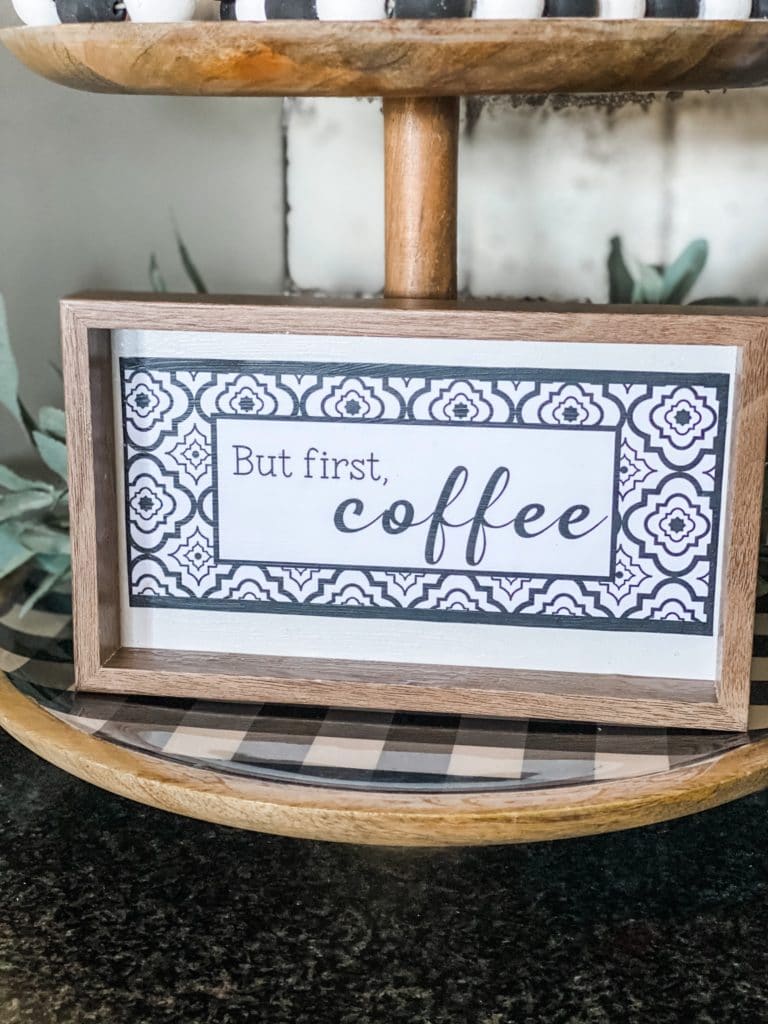 Project 3- You aren't limited to JUST wood projects with printables. I've done a ton of other creative things with them in the past. For this last little project, I simply grabbed a small vase I had on hand, wrapped some burlap ribbon around it and glued it to secure it. Then…
I cut out this small coffee mug printable and mod podged it right on to the burlap. It worked GREAT and really took this vase up a notch, don't ya think?!
I'm loving how this little tray in my coffee area came together!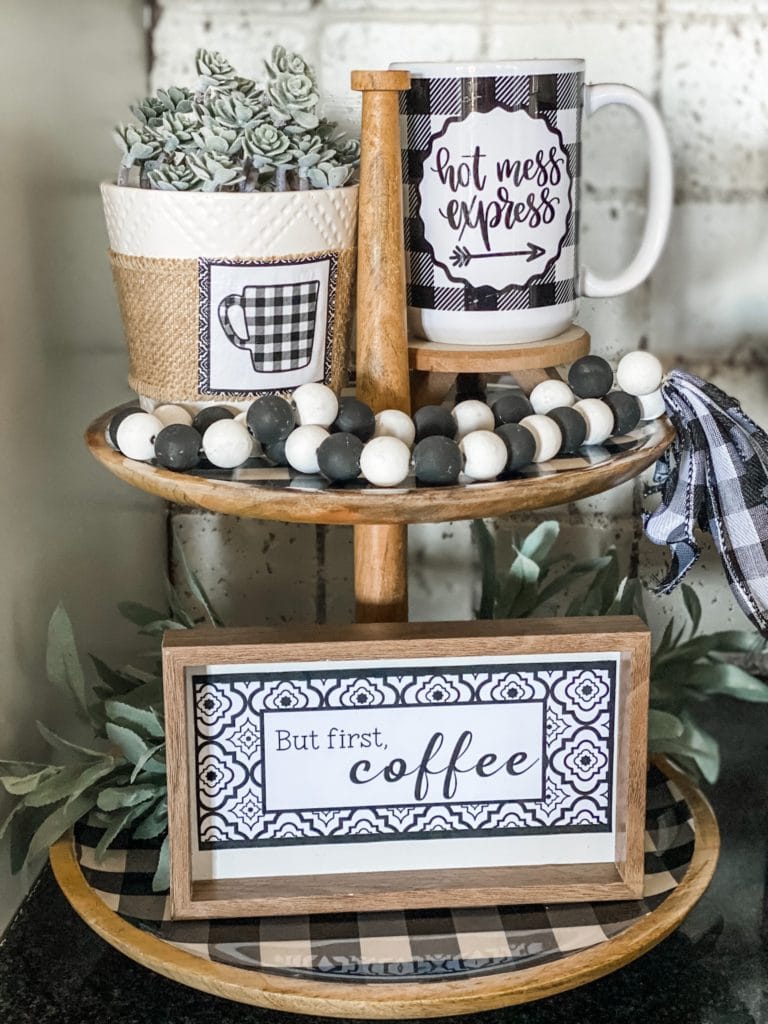 The fun thing about these printables is that I design them for not only everyday decor, but for ALL the seasons as well. It truly makes it a fun and affordable way to spruce up your crafts and decor! Come pick out your favorite printables!
Here is another cute craft I did this Spring, you can check out the tutorial on it as well!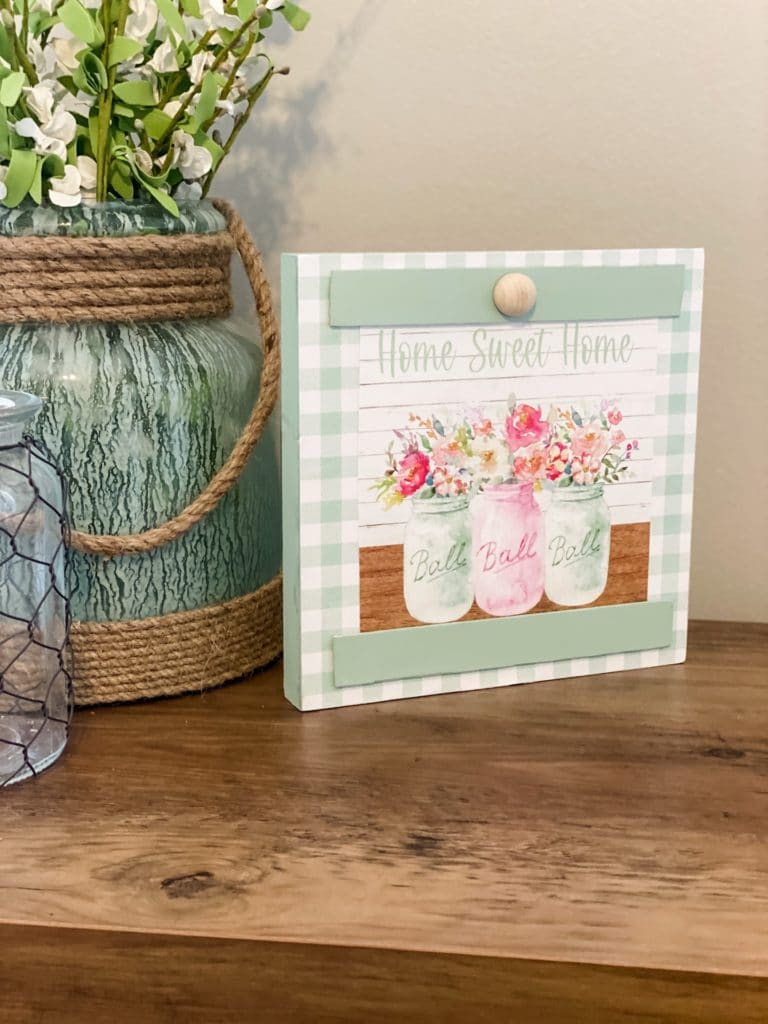 I hope this was helpful and has inspired you to give some printable crafts a try. I promise ANYONE can use these and you'll be glad you did!
Until next time…
Stacey