Hey there, long lost pals! So, I've been a slacker blogger. I warned you this would happen over the summer. Because, well…kids! One of the reason I do what I do though is so I can mold and shape my business around my family and my 2 boys are my number one priority in the Summer! And we've been having some big fun for sure.
Here are 2 interesting things though. 1) I've actually really missed blogging. I love to write, and every time I find myself about to sit down and do it…someone needs a drink or lost a toy or hit their brother. So, here I am late at night typing away to get my "Fix" 2) Apparently some of y'all have missed it too, which absolutely makes me feel so honored that anyone out there even cares about this little ol' blog. I've had several people ask me when I'll be doing another post, requesting tutorials, etc. I promise you…they are coming! Thanks for sticking with me.
Now, on to the fun stuff on how we are going to DIY our way thru this 4th of July! I went to the almighty pinterest for some USA inspiration. I narrowed it down to some of my favorites and I hope you like them too!
Liz Marie never fails to inspire and awe. What I love about this is that it is her everyday decor, but she stuck a couple flags in the vase, hung a flag on her window and BAM! She's ready for the 4th. So pretty! Liz Marie Blog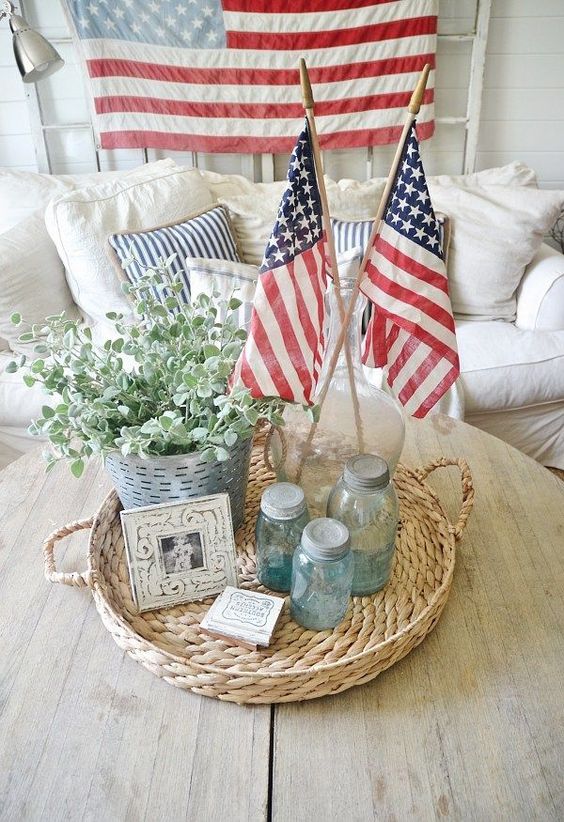 Jennifer Allwood at the Magic Brush is such an inspiration to me. I love following her for the coaching and tips she gives for running  small business, but she also has some killer DIY and home décor posts too! These little Styrofoam balls are covered in napkins, and look how cute they are! See her post here on how to do this! The MagicBrush Jennifer Allwood

I love the use of the red and white flowers with the flags in the pot. A simple way to spruce up your outdoor space! Image Via Pinterest
How easy to add some fresh flowers and a flag to a mason jar and tie a ribbon around it? This would be a quick and fun way to add some USA flair to your home!
Just a little something for you
Check out this cute Ribbon wreath tutorial by Landeelu. I love this!!
If you need some inspiration for a tablescape, look no further! I love the natural elements mixed in with the red, white and blue. And those little milk bottles are pretty darn cute too. This would be easy to recreate for your family/friend get together!
Design, Dining and Diapers
I could do a whole post on cute food ideas for the 4th, but alas…I am not a food blogger, nor do I ever want to be. Because I can't cook 😉 BUT, this was too cute not to share. I've seen this dessert in a bigger version, but put it in little mason jars and it becomes a decorative way to eat. LOVE! Typically Simple
First of all, if you own a house that looks like this…you are already winning at life. For real. But, no matter what your home may look like…adding any type of flags out front is a quick and easy way to show you are ready to celebrate our great country! A Bowl Full Of Lemons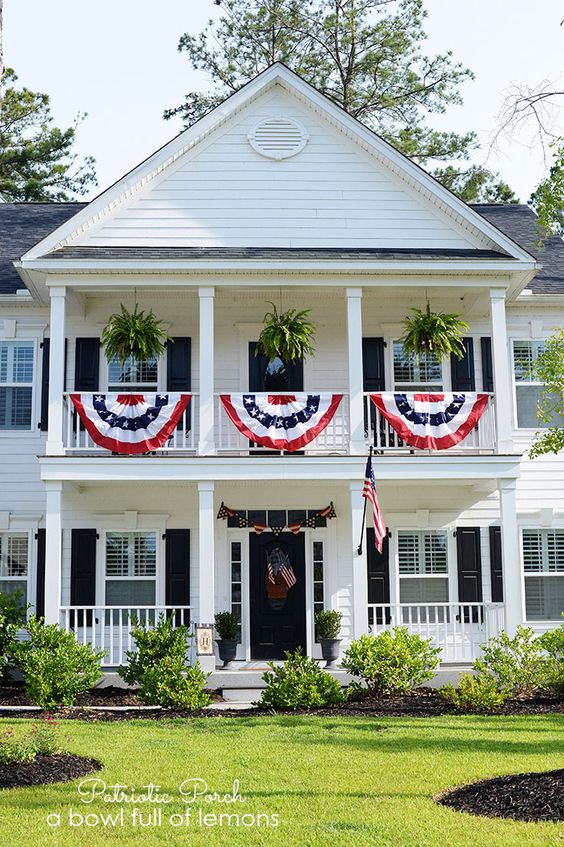 I hope you feel inspired by some of these pictures. 4th of July is never a holiday I go all out for, but I definitely like to add touches where I can. I took my tiered tray from Summer to Patriotic for under $10. What I did was use some of what I had, and then hit up the Target Dollar Spot for the rest.  It came out just the way I wanted and I'm loving it. When this holiday has come and gone, I can quickly go back to my summer tray. Then, I can bring the patriotic things back out on Labor Day. Win, win!!
Here is how I took my tiered tray from Summer to Patriotic for under $10!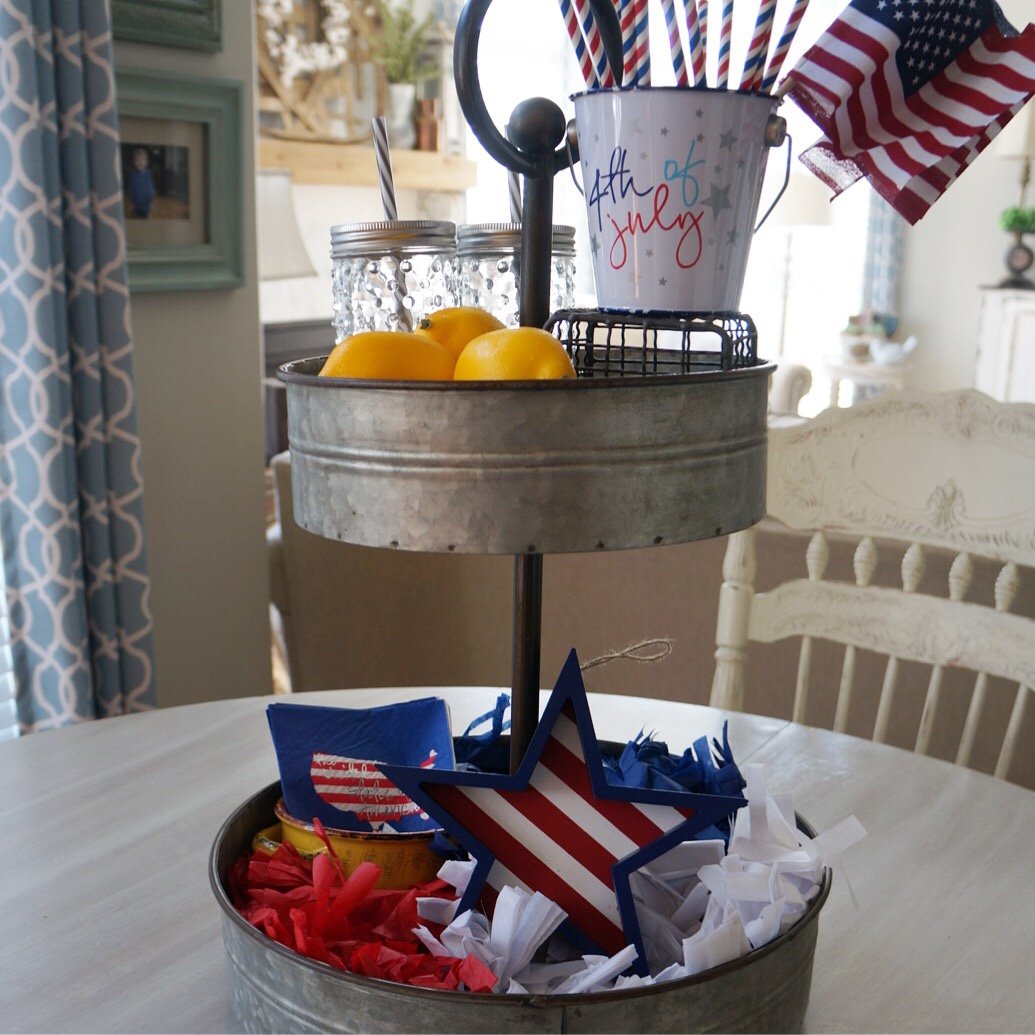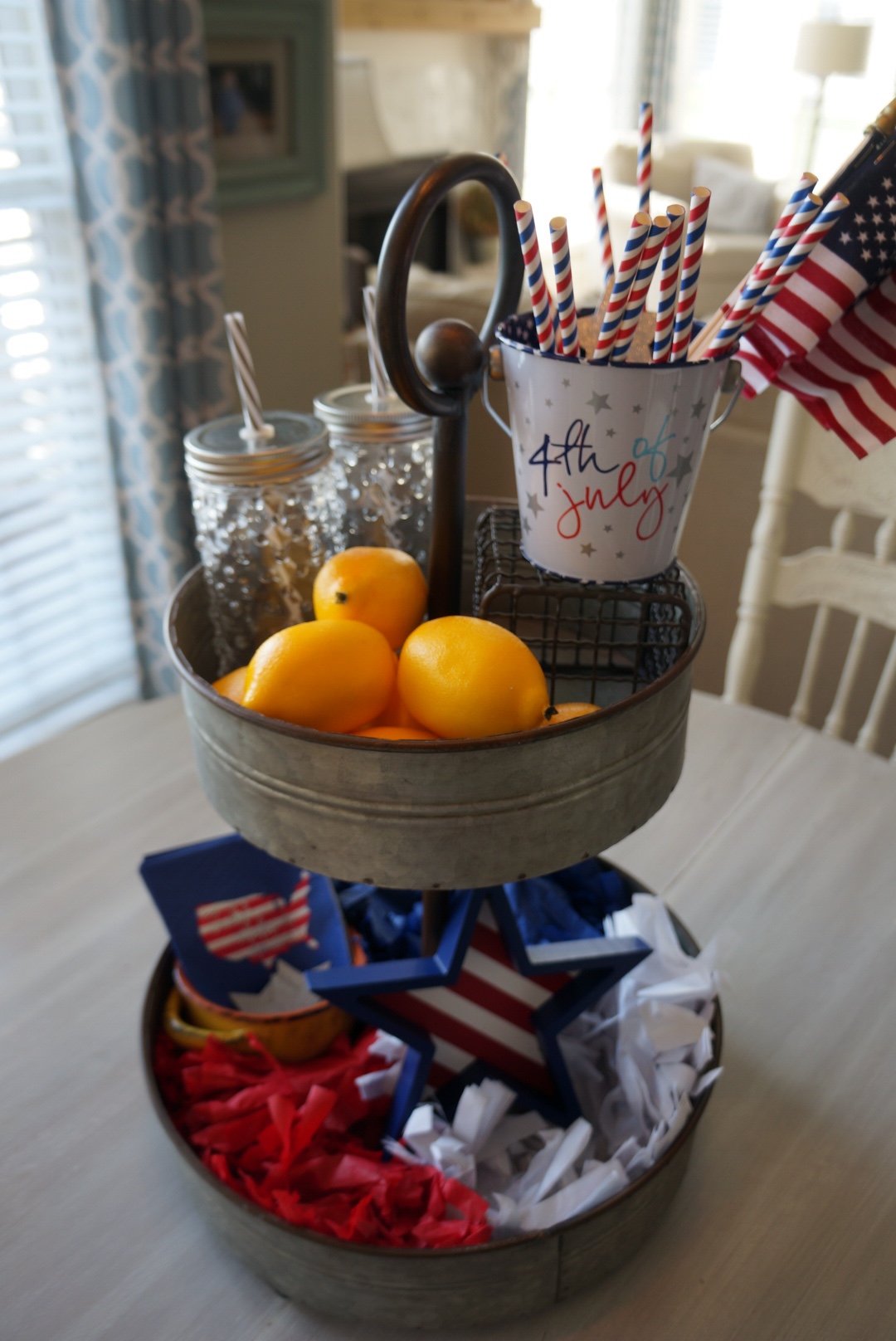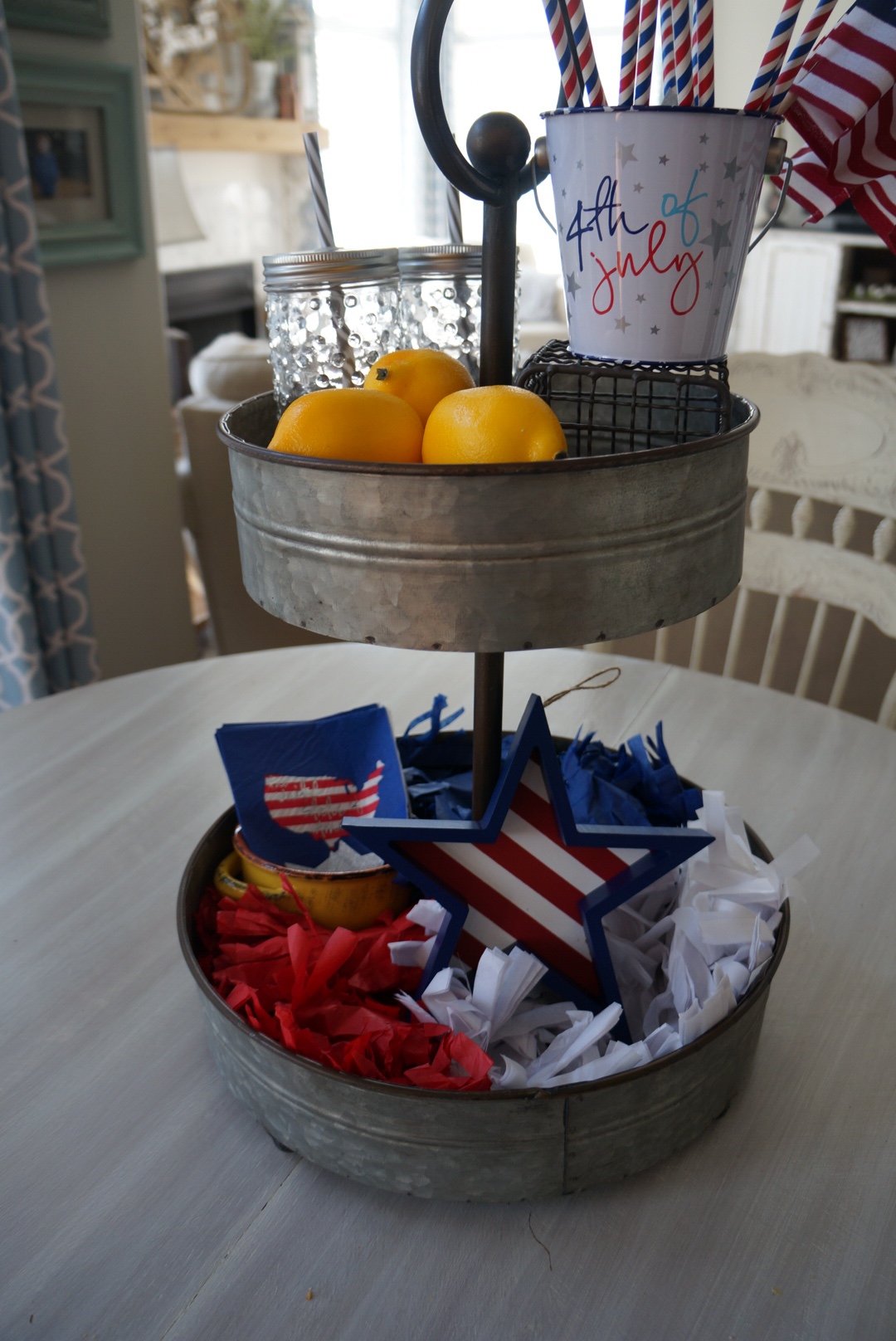 You can also check out my post on tiered tray styling here.
ANNNNNDDD…Here is a project I am adding to my list for the next patriotic holiday. My newly painted Navy back door is screaming for some USA touches, don't ya think?! I can't wait to dream something up! You can find my post here on how I painted this in one afternoon, and why I'm SO glad I did!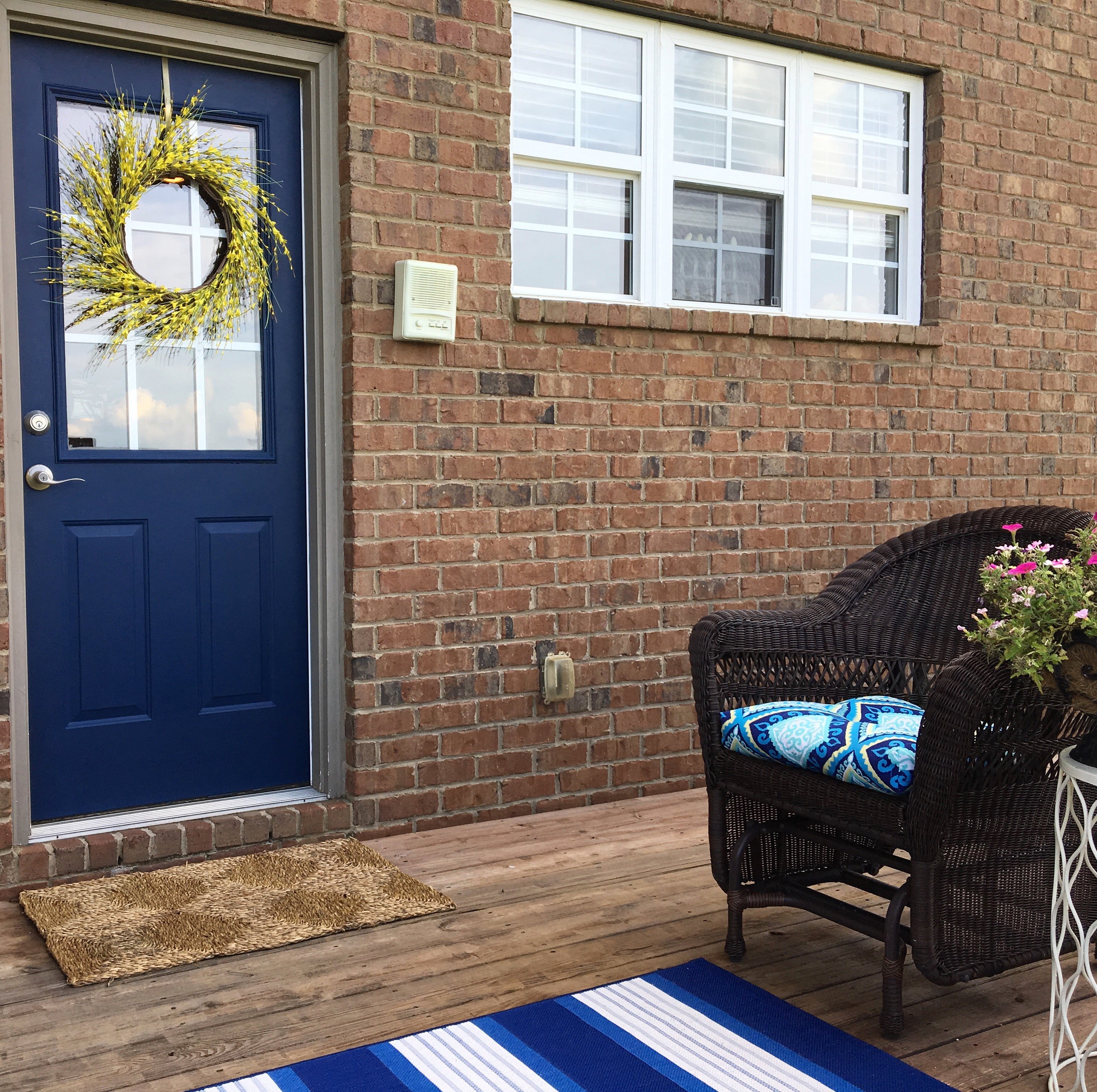 I hope everyone has a happy and safe 4th of July with family and friends! Until next time…
~Stacey