Hi, it's Stacey and I'm tray obsessed! I'm sure you know that about me by now, but it's so true!
Want to know the 5 best tray decorating tips? I've got you covered and I promise you can decorate a cute tray too! Let's go!
Let me start by saying that the possibilities are endless on where you can use trays in your home. Some of my favorite places include…kitchen, coffee bar, bathroom, coffee table and side table!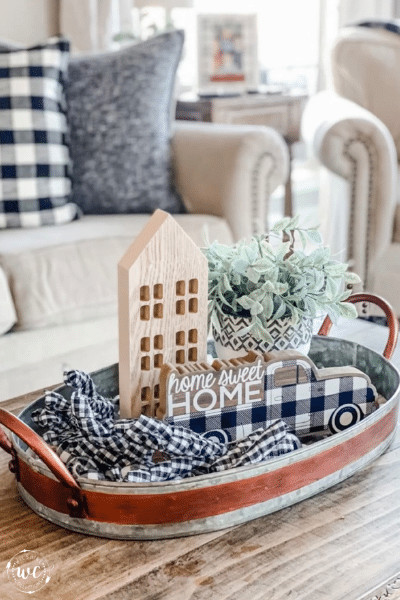 Here are my 5 best tips when decorating a tray!
Pick a tray and get to know it! (sounds simple I know, but the first step is GETTING a tray to use). The more you decorate this tray for each season, the more you "get to know it." You will start to see things and think " Oh, that's the perfect size for my tray!"
Pick a theme/color scheme and run with it! The last thing you want is a bunch of random things thrown on a tray that don't match or go together. Decide on your theme before you place your first object on there! This can be seasonal or everyday decor!
Always group in odd numbers! If you are using a regular tray (this doesn't always apply to tiered trays), you will want to do a grouping of objects on one part of it that the eye can be drawn to. It's ALWAYS best to do odd numbers (1, 3 and 5 being the most common).
Use varying heights and textures! Don't pick 3 items for your grouping that are all the same height and texture. Think S, M, L and don't be afraid to bring in different elements, patterns, etc.
Filler, filler, and more filler! Don't overcrowd your tray with too many objects and instead, fill in the gaps with filler. This could be things like wood bead garlands, greenery, picks, etc.
I also love that you can do your trays for everyday decor AND for each season! They are one of my favorite things to swap out for all the season and reasons!
I promise you, the more you decorate trays the better you will get and the easier it will become. Practice makes perfect and this is no different.
Tiered trays are a little bit different than a regular tray, because you kind of just have to put things where they work and it's harder to do groupings sometimes because of space. BUT…the same rules apply! Theme, color scheme, varying heights and textures, and filler!
So, what do you think? Are you ready to try decorating a tray? Keep these 5 best tray decorating tips handy so you can refer back to it as you do! And most of all…just have fun with it! You've got this!
Until next time…
Stacey