Taking down Christmas decorations is not NEAR as fun as putting them up! In fact, it's something that makes me a little sad! I'm always "ready" to get my house back in order, but also sad that it flew by so fast and the Christmas sparkle will be leaving. It's a mixture of emotions!
I find that it is so helpful if you are at least a little bit organized when taking down your Christmas décor to make life easier when you pull it back out next year!
Today I'm sharing 5 Christmas decor storage tips to keep you organized! Doing these 5 things will make life easier when it's time to get it all back out!
Trees and ornaments- We always break down the tree and put it back in its original box for storage, but you can also buy the tree storage bags like these. By putting it in the box, you don't have to "squish" it as much, which means LESS fluffing when you get it back out next year! For ornaments, I like using the ornament boxes like these with dividers! This cheaper option would also work good! Be sure and wrap any super fragile or breakable ornaments in newspaper or bubble wrap!
Décor– Plastic storage bins are your answer…BUT…there's a trick! (tip: You know you can get those so many places and they don't have to be red or green for Christmas…any bins will do!)Put your things away by room, that way you remember where you put everything from the year before. Example: Pack away all of your living room Christmas decor in as many plastic bins as you need, but be sure to LABEL them so you know where to take each bin next year. "LIVING ROOM CHRISTMAS" "DINING ROOM CHRISTMAS" etc. Even if you end up moving something from one room to the other next Christmas, this at least gives you a good starting point. Clear bins are also a good idea if you want to be able to see your items!
Pillows– If you are like me and you have lots of seasonal pillows, I have a trick that's so simple you might laugh. PUT THEM IN A GARBAGE BAG! You will be shocked how many you can fit in a big ol' black trash bag like this! If you find a place to store them where nothing will set on top of them, they will be fresh and not squished for next year!
Ribbon– For those that put ribbon on their tree this year, this is how I stored mine last year and it worked great! I used a long storage box (like the under the bed or wrapping paper kind) like this.  This year I am using this one that is a little different, but I think I'm going to like it even better. SEE IT HERE! I took off the accent ribbons one section or bow at a time and folded it over just like it was on the tree. Simply put a little paperclip over it to hold it together and lay it in the box. You can stack layers and layers of the ribbon this way. For the base ribbon,  I took it off in sections and loosely folded it and laid it in the bin. I was not only able to use the same ribbon this year, but I also knew exactly which pieces of accent ribbon were grouped together so I could use them that way again!
Wreaths- I recently discovered these wreath storage bags and love them! They are also a great way to store some of your wreaths safely! Just be sure these go on top of wherever you stack your Christmas boxes and bins! Another option that we have used before is to attach some kind of hook wherever you store your Christmas decor (garage, attic, closet, etc) so that you can hang the wreath up and it will be ready for next year!
I hope you found these 5 Christmas decor storage tips helpful as you start to take down the Christmas and get organized! I promise you, just taking a few extra steps (like labeling your bins) will make life SO much easier when next Christmas rolls around! You won't regret it!
Do you have any secrets or tips to for Christmas decor storage that I didn't include? If so, feel free to share!
I haven't started tearing down yet, but here's a quick pic of how my ribbon will look when I do start taking it down and storing it!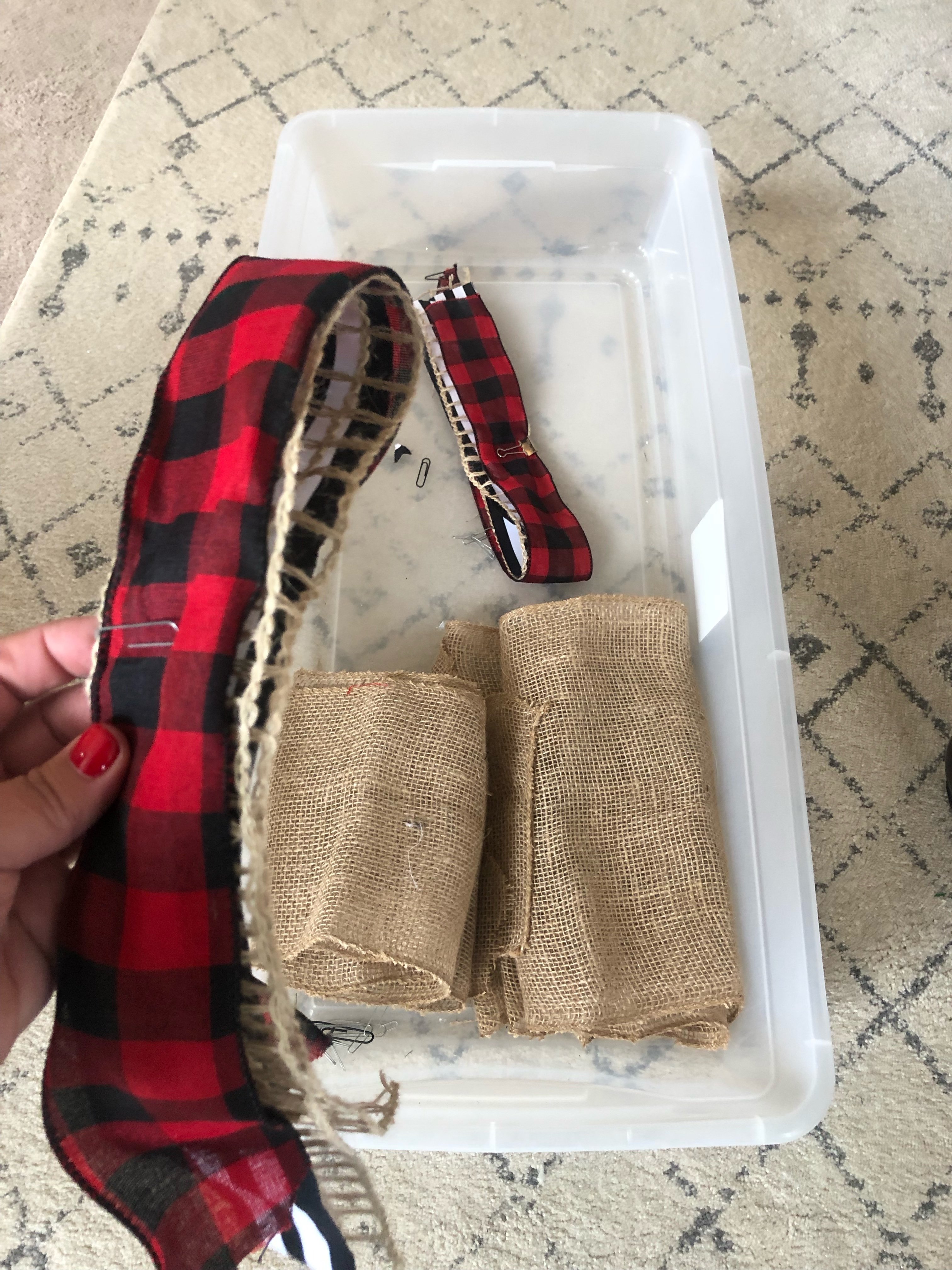 And here is the bin I plan to use this year for the ribbon. You can see the video I did here on FB that shows EXACTLY how I do this so that I can reuse the ribbon each year!
Be sure to check out some of my post popular Christmas posts below!
Until next time…
Stacey