It's about that time! And even if you aren't putting your Christmas tree up just yet, maybe you are at least thinking about it and planning for it!
I've got 5 Christmas tree decorating tips for you today, plus a free printable! Woo-hoo! Let's get started!
Over the years, I have really fallen in love with decorating my tree each Christmas! OK, I decorate MULTIPLE trees…who am I kidding?! Haha!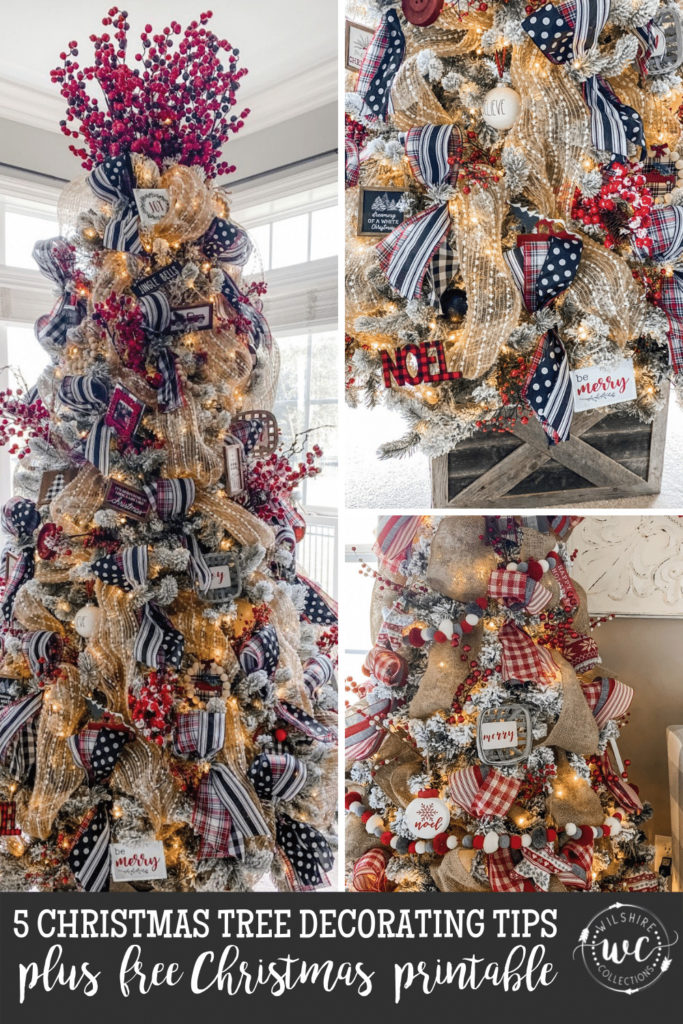 There are obviously SO many ways to decorate a tree and so many options and possibilities! The sky is the limit and it's a way to not only add holiday cheer to your home, but to really show off your style and personality too!
We do our family tree in our bonus room, that's the one that has all the handmade ornaments, sentimental ornaments, ones we have collected from vactions, etc. On that one we have a no rules rule! That means…it's decorated FOR the kids BY the kids (and us) and they can do it however they want! Honestly…I always LOVE that tree because it's so special.
BUT…my heart does pitter patter at Christmas time when I see a beautiful THEMED Christmas tree! I just love them!
I've used a lot of black, white and red (and buffalo check) over the years! I've learned a lot and I want to pass on some of my knowledge to you!
So, today I'm going to share 5 Christmas tree decorating tips with you that I use myself every year to achieve this look! Oh- and a cute free printable to go along too!
PLEASE SAVE AND PRINT, BUT DO NOT SHARE. FOR PERSONAL USE ONLY!
I had fun changing up the ribbon on my tree this year and I recorded EVERY step of the process along the way!
The tips I included in this post are just the BASICS and a quick summary of some things I do with my own tree. But, guess what?! In just 20 minutes I can teach you STEP BY STEP how to do it too!
Hope you found this helpful and enjoy the free printable too! Merry (will be here before you know it) Christmas!
Until next time…
Stacey