I love Fall, and I love a good Fall Front Porch! Just like most people, I love searching for inspiration on things like this before I jump in and do my own.
Today I thought I would share with you some of my favorite Fall Front Porches that gave me inspiration, and I hope they do you also! From painted doors, to farmhouses, to traditional and neutral…this post has it all.
So, sit back and be inspired by these Fall Front Porches. Then go get your decorating on! It's not too late!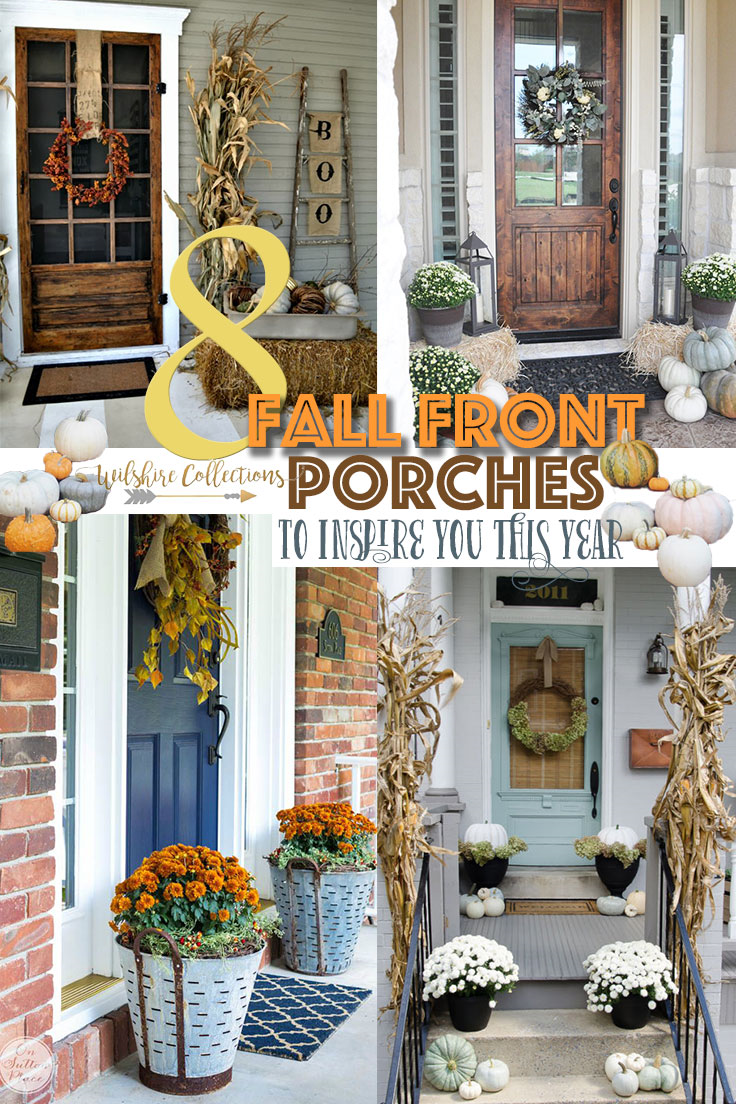 This front porch by The Grace House ultimately ended up being the biggest inspiration for me as I did my porch. I definitely made it my own with some changes and twists, but I knew this would be a good set up for the space I have out front.
The Grace House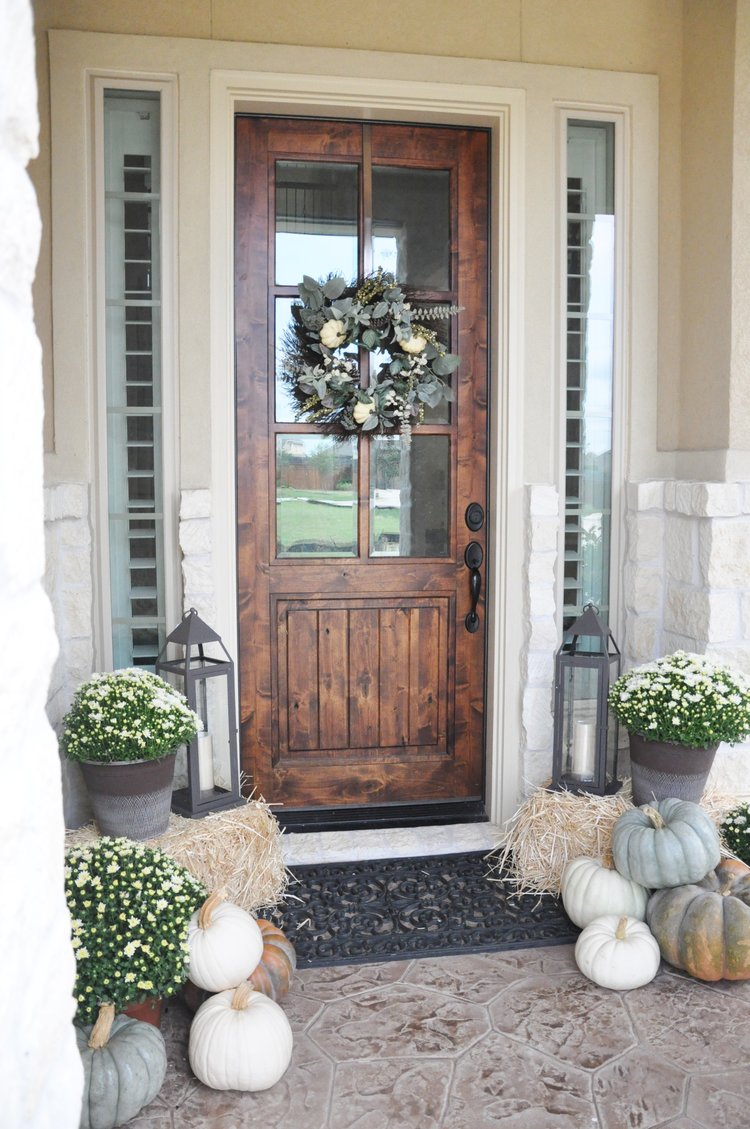 Every time I see this Navy door by On Sutton Place, I just love it. As you probably know, my back door is Navy and you can read all about it here! Everything they do to this door is just beautiful!
And this….this is my FAVORITE color for a front Door. Home Stories A to Z nailed it on her front porch!! I would take this set up in a heartbeat. Love, love, love!
Well, it's official that everything Liz Marie touches turns to magic. It's like she just tossed a bunch of pumpkins up and down these steps and it still looks PERFECT! Add in all those mums and it's a show stopper for sure!
I love this for a classic and traditional Fall porch, and the ladder is the perfect touch to make it unique!
Our Vintage Home Love
The topiaries here caught my eye first. I love symmetry, and I love the way they are the focal point on this porch and then everything else anchors them. And you know I love an Olive bucket!!
This is another great example of symmetry and use of traditional Fall colors. The hanging baskets are the cutest too!
Eclectically Vintage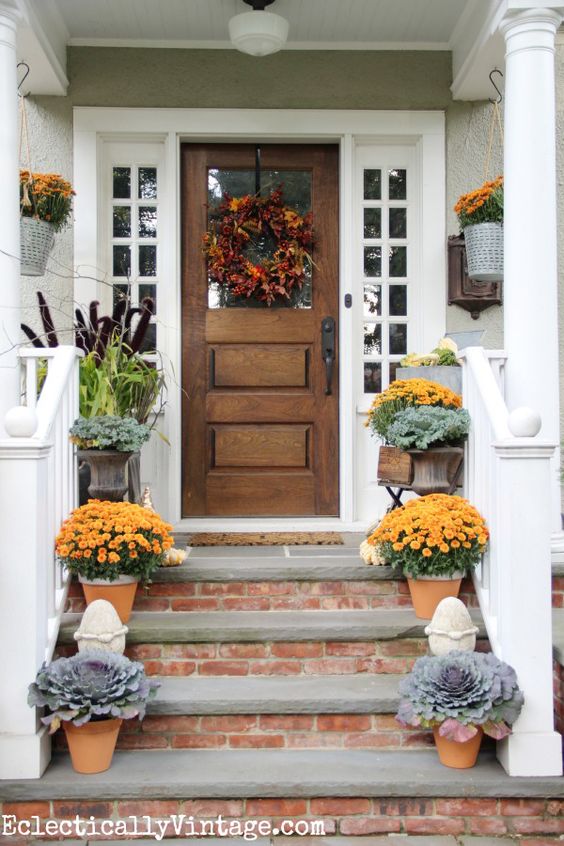 Lastly, is my little front porch. You can read all about what I did out here on this post!  I love the neutral and white pumpkins against the darkness that is our front door. I knew I wanted to brighten it up a bit since we do have so much dark on the front of our house. I'm very happy with how it turned out!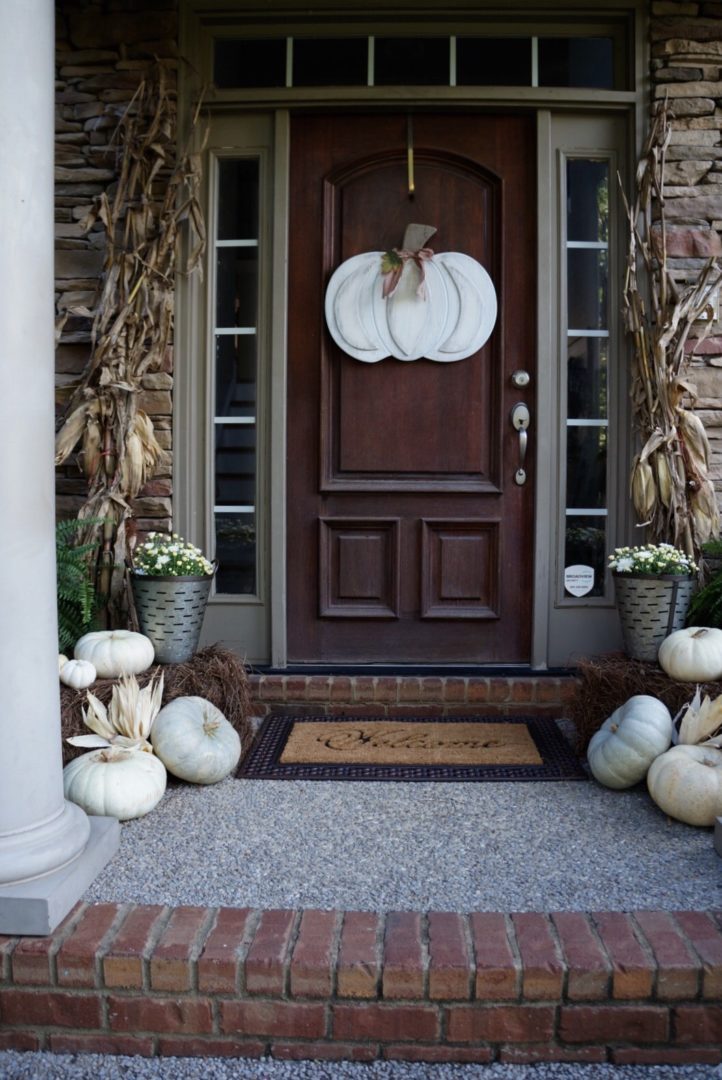 I hope these Fall front porches have inspired you for your own home this Fall. You don't have to spend a fortune or make it look like a pumpkin patch, but even making a few changes will give it such character for the Season! So, have you decked out your front porch? I would love to hear about it in the comments!
Until next time,
~ Stacey