Every time I see a vase on Pinterest that is filled with lemons and fresh flowers I swoon just a little bit! I always pin it and think "I'm going to try that one day!" You know how that Pinterest story goes 🙂
So, finally one day I decided I really WAS going to try that since I have some awesome fresh hydrangeas in my yard right now and who doesn't love a pretty lemon vase?!
This lemon vase floral centerpiece hack is so easy and makes quite the statement! You only need 4 things to get this look! 
I got a big vase from Walmart in the floral section. Any vase with a wide opening up top (That you can stick your hand in) should do! It will also need to hold a gallon size Ziploc bag with some water in it.
I filled my gallon size bag up with water (not even half way full) so that I could sit it down in the vase and still have room to get my hands around it.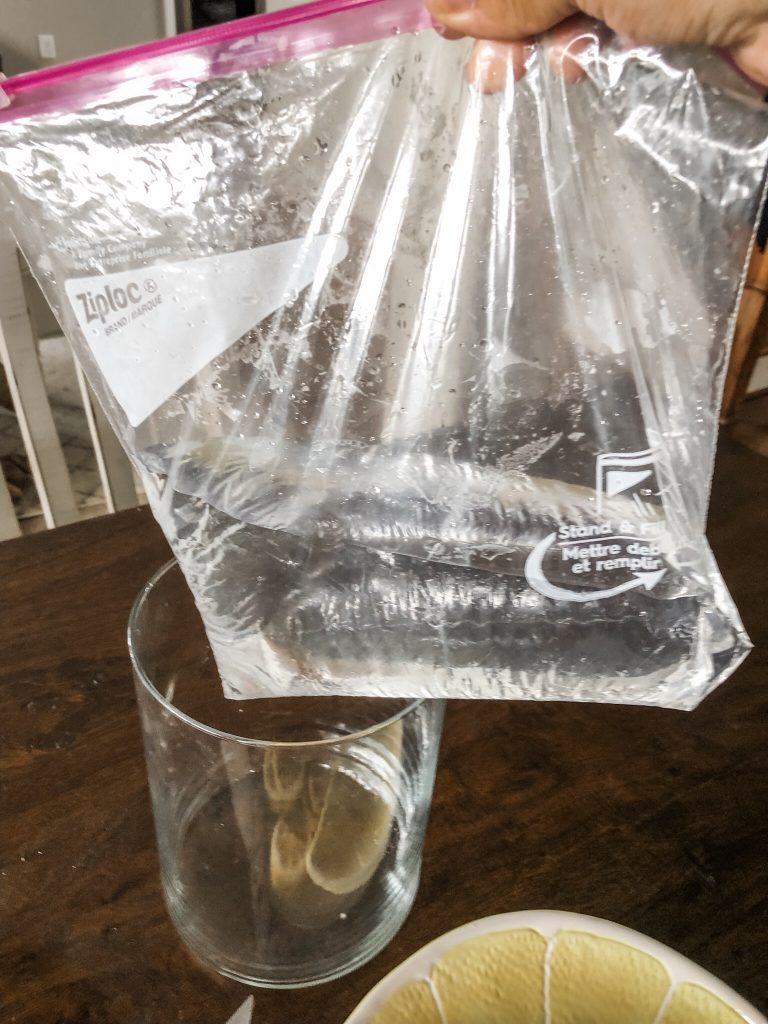 I took a bunch of fresh lemons and started slicing.  Sorry to say I lost count, but I think I used 7-9 total for this lemon vase.
I then just took the lemon slices and started placing them in a row all the way across the bottom next to each other. Then start on the next row, and keep repeating until you get to the top! Having the bag in the middle will hold them in place and press them against the sides- GENIUS! 
You will want add a little extra water to the bag as you go and the lemons get closer to the top. Be sure to shove the top of your Ziploc bag down a bit when you're done so you don't see the top (you could even cut off the top part of the bag).
Once you cut and arrange your hydrangeas (or your favorite yard or grocery store flower) you just stick them down into the bag of water!
TIP: I wanted my hydrangeas cut pretty short so that they were just resting on the top of the vase. This helps hide the bag even more!
What do you think? You can watch me put this together live on this video!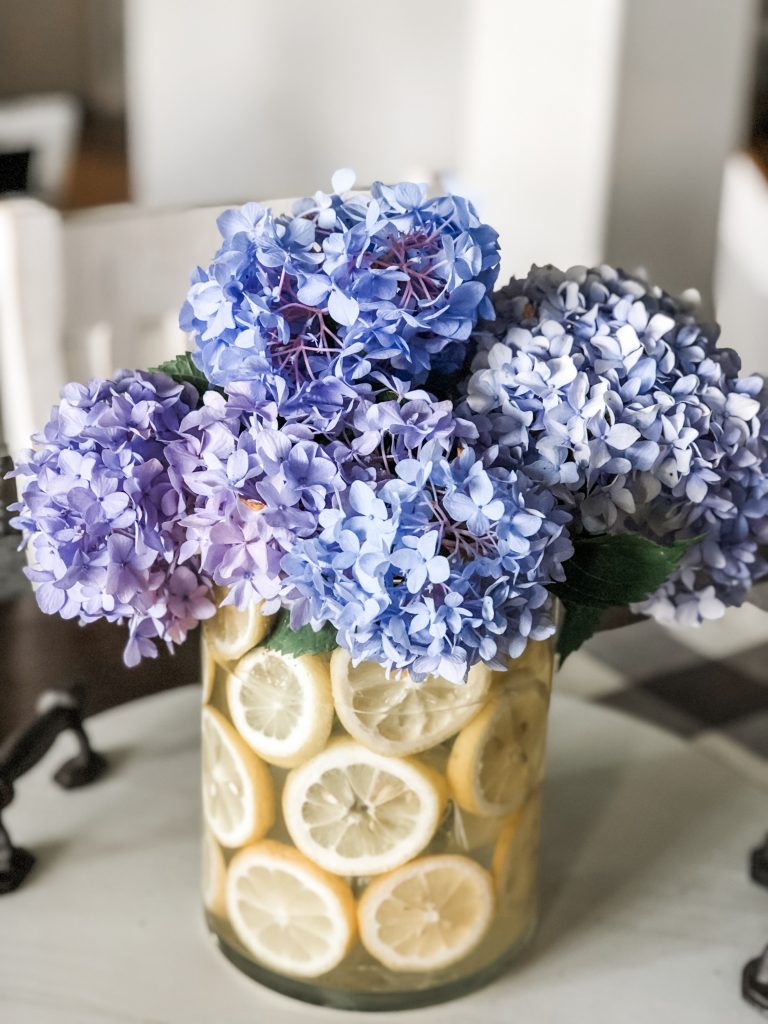 We had family over the night that I made this and they were all like "How did you do that?!" When I told them the bag hack they all said they had no idea and couldn't tell at all. WINNER!
I've put it a couple different places already 🙂 
It's been 4 days since I made it and it's still looking great and fresh! I'll keep you posted on just how long this lemon vase centerpiece lasts!
Either way, perfect if you need an inexpensive centerpiece that makes a statement!
Until next time…
Stacey