This project is not only beautiful, but it's extra special too! I'll get into that here soon…but I think you're going to love this and want to make a version for your own home!
This beautiful DIY pumpkin shelf sitter is a show stopper and truly looks like something you grabbed from your favorite decor store!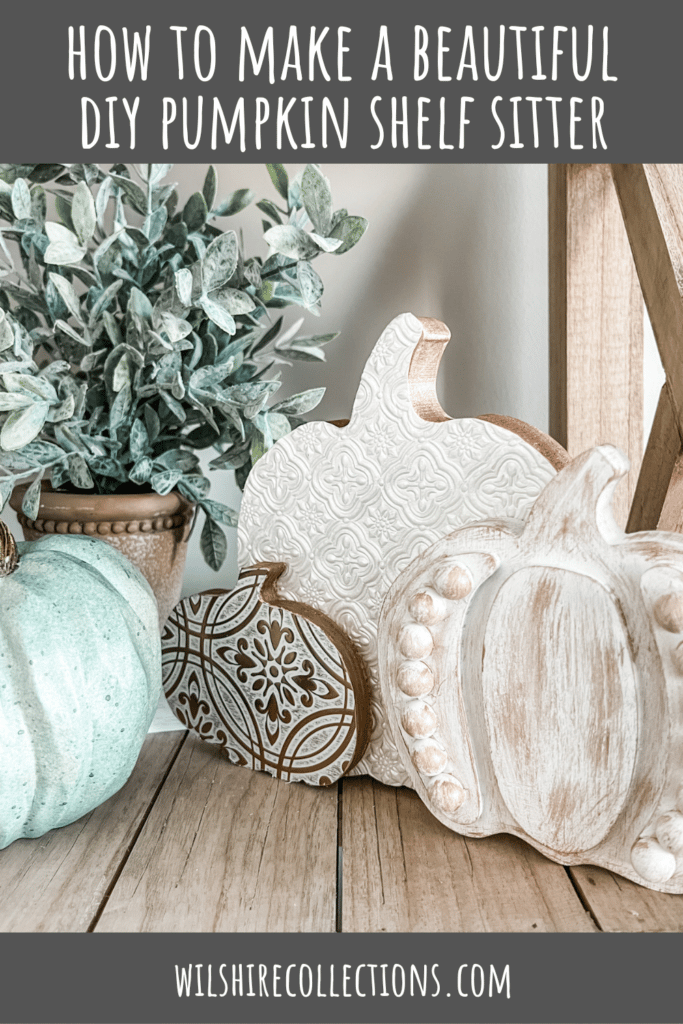 When I saw these chunky pumpkins at Target, I had an INSTANT idea! So, I grabbed 2 of them. I knew I already had this smaller chunky pumpkin from woodpecker crafts that would work well too.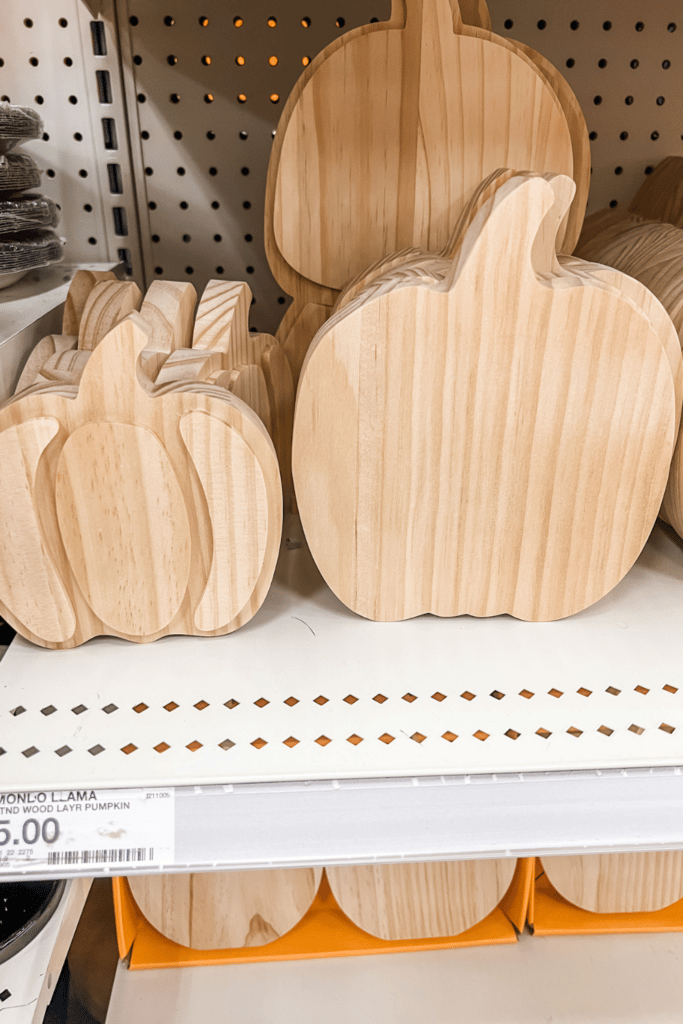 Target pumpkins here
Woodpecker pumpkins here (Use code WILSHIRE for 5% off their site!)
Let's get to the why this is special part! My friend Brooke with Re-Fabbbed was coming into town and I knew we were going to go live together making a craft. What better one that this?! And we had a BLAST!
Here's what we used for this DIY pumpkin shelf sitter:
3 chunky pumpkins as stated above
"fancy" scrapbook paper from Hobby Lobby
Peel and stick tile from Dollar Tree
15mm wood beads
White paint
Deco Art Antique Bronze metallic paint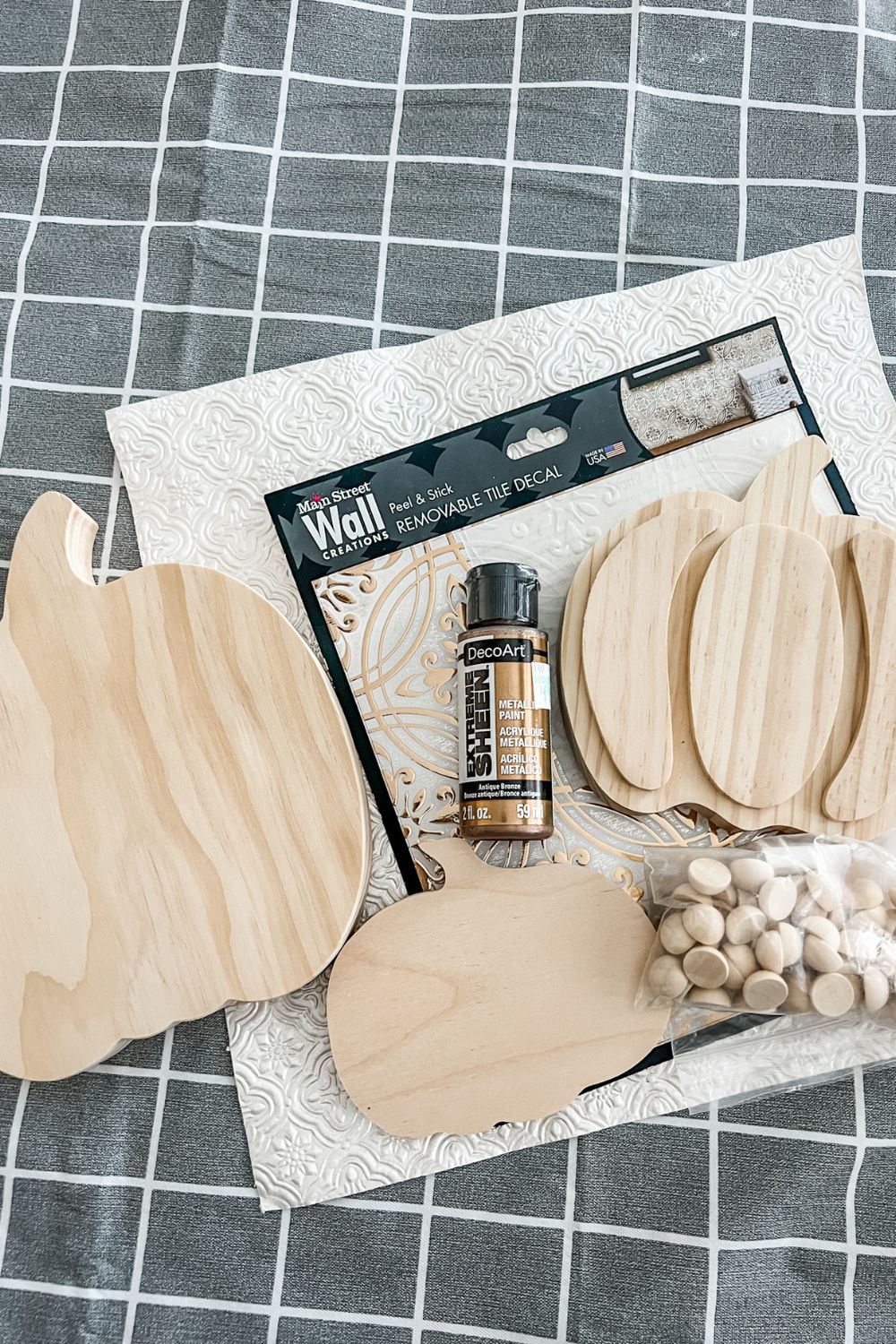 Brooke painted the sides of the big pumpkin in the metallic paint, then traced and mod podged the scrapbook paper on.
I glued the beads to the inner part of the medium pumpkin, painted it white then used the same metallic paint and did a dry brushing technique over all of it.
Brooke added the peel and stick tile to the little pumpkin and painted the sides metallic.
All that was left to do after that was glue this DIY pumpkin shelf sitter together! EASY PEASY! (I did use hot glue and E600 just to be sure it was extra sturdy).
Didn't it turn out just beautiful?! One of my favorites from this season! Best part?! We decided to gift it, sign the back and send it to a sweet follower! Shelly was randomly selected and sooooo excited!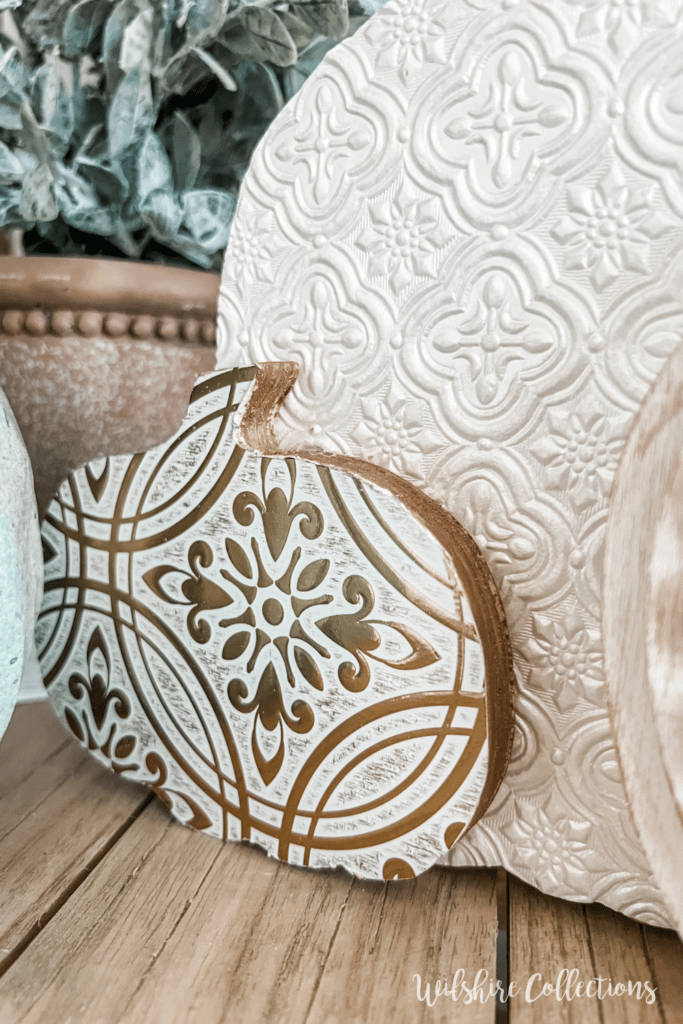 You can see the replay of the FB live video where we made this here if you missed it. And be sure to follow Brooke with Re-fabbed as well!
Let me know if you try a version of this DIY pumpkin shelf sitter this Fall. I would love to see if so!
Until next time…
Stacey