We all know that the front of a home is the first thing people see when they enter. People also see it when driving or walking by. That's why "curb appeal" can be so important! Let's just say my front door had totally lost it's curb appeal. haha!
This black painted front door transformation gave my entrance the curb appeal it was lacking and made such a difference! And yes, I did this all on my own with only a quart of paint!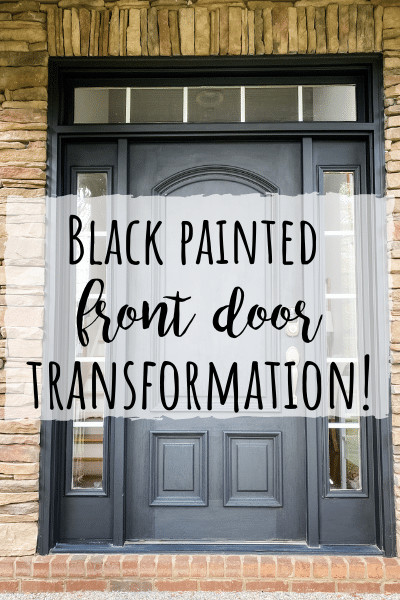 Over the years, my husband had restained our door many times. Every year it fades and fades because of the sun exposure. It was time for another refresh and this time I told him I wanted to try painting it, so he said GO FOR IT! Here's the door in it's faded glory. Yikes!
I headed to Home Depot and grabbed a quart of this Behr Exterior Flat paint and primer. A friend recommended this to me and has used it several times on doors of her own!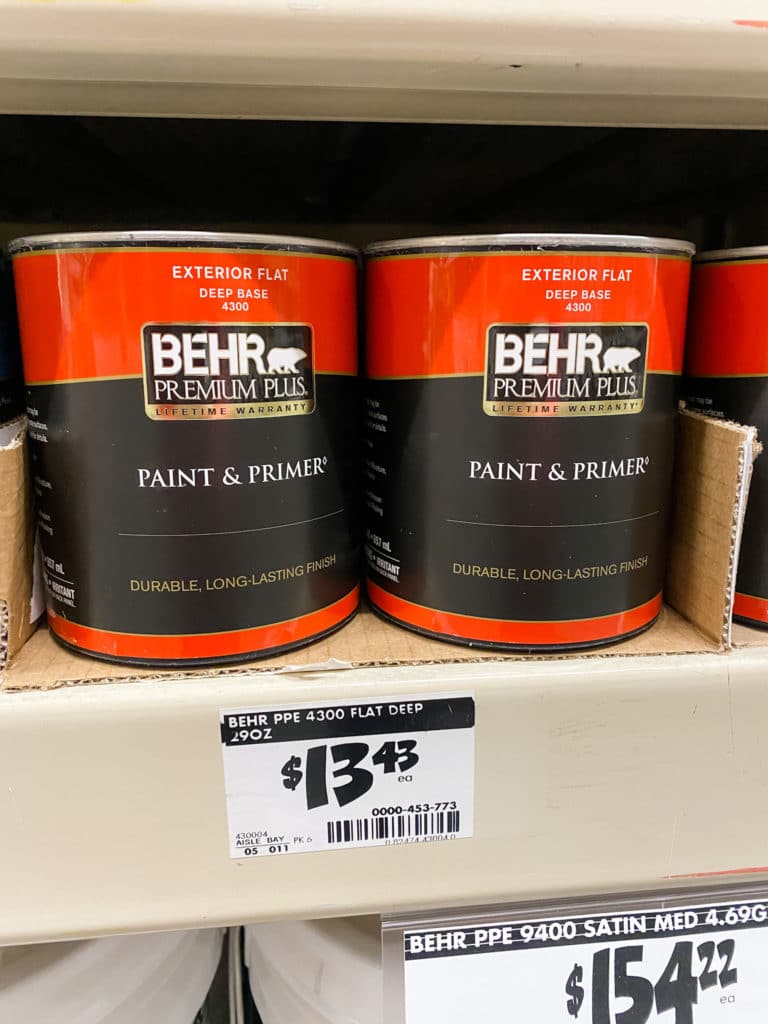 I had them mix it in the color black and I headed back home to get started. Our back door is black, so I knew I loved it with our brick and knew a black painted front door was the perfect answer too! AND…it will go with all of my different seasonal decor items. Win, win!
I did take a sander and just lightly sanded the door. Not down to the bare wood, but just enough to smooth it up a bit. Then I of course cleaned and wiped it all down to give me a clean surface to paint!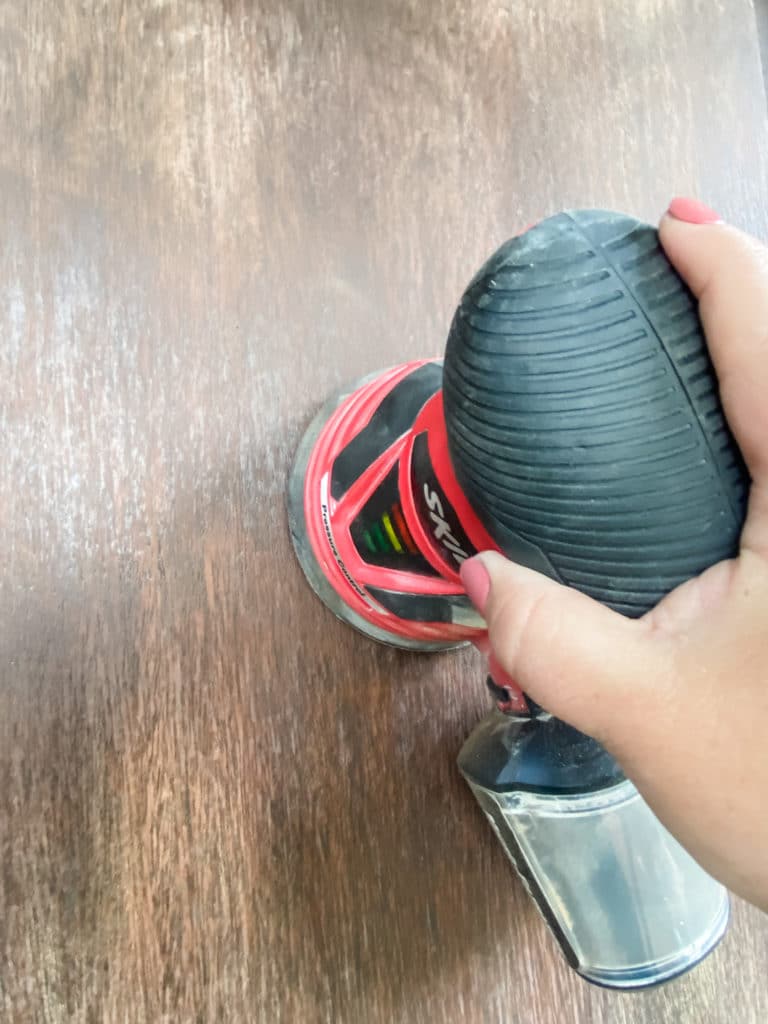 Next, the not so fun part of taping things off. Ugh, definitely not my favorite but it's so helpful!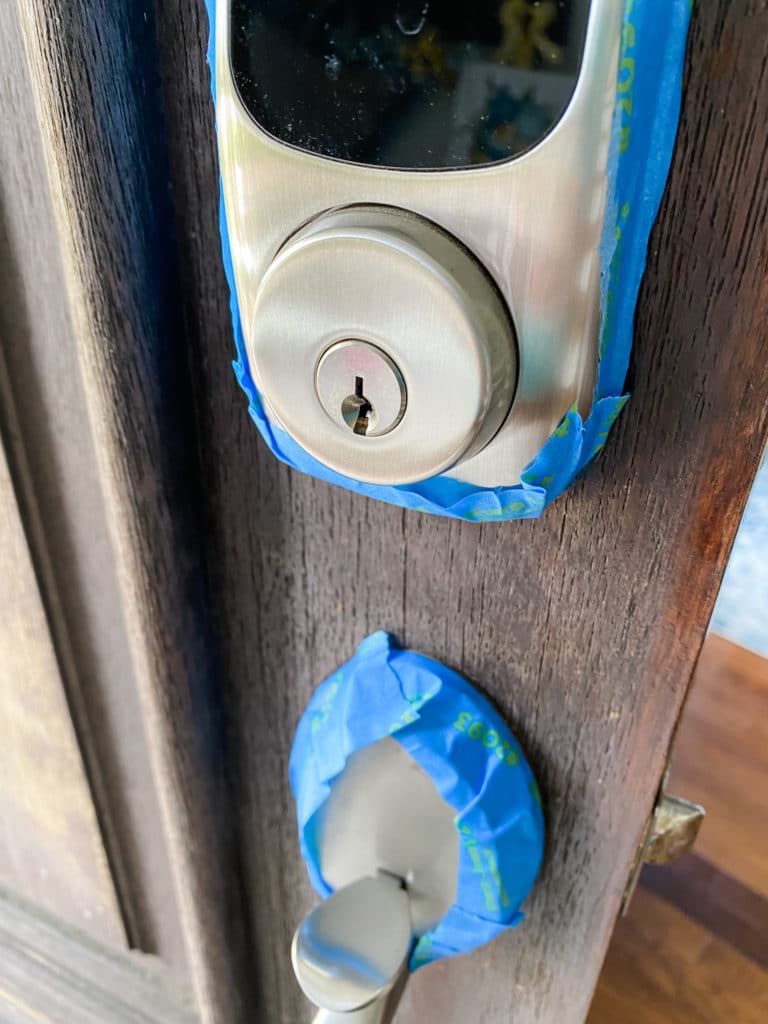 I used some brushes and rollers we had on hand. The roller really only worked on the bigger part of my door, and the brush was easier for the rest. Each door will be different of course!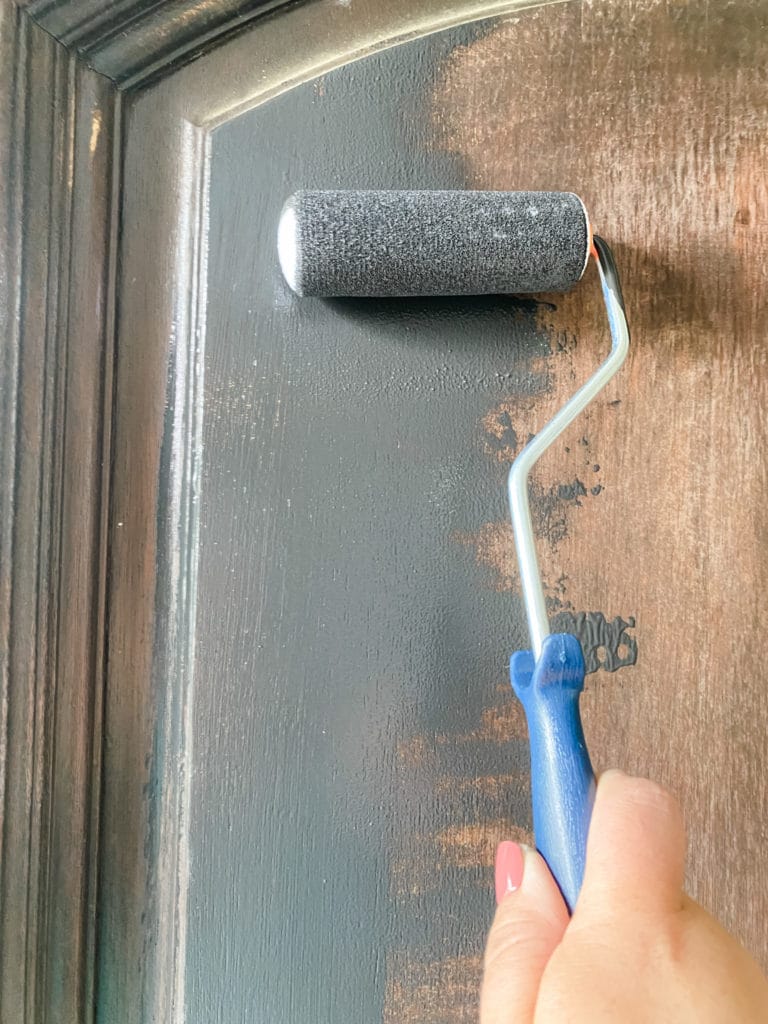 After coat one…I had a light bulb moment…and a domino effect that started! I realized that I did NOT like the tan trim with the black door, and I knew in my heart it ALL needed to be black. So, I called Anthony out there for his opinion and he agreed. I knew this had now turned in to a bigger project than I bargained for, but that it would be worth it!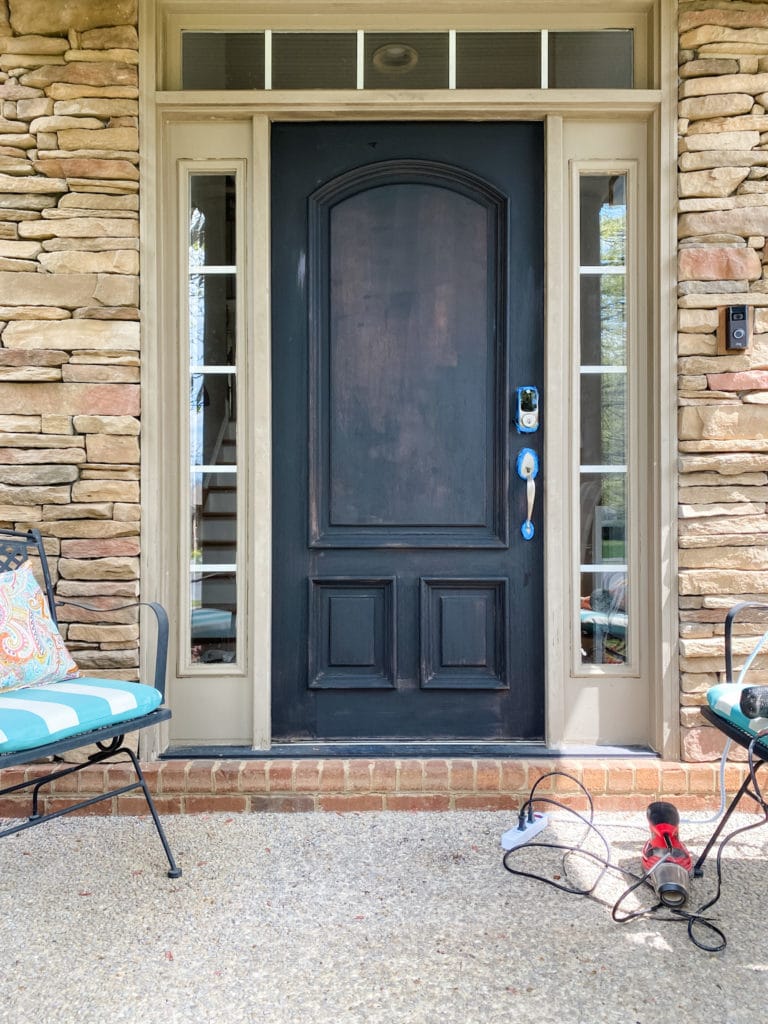 After one side was done, I knew I had made the right call. It was going to make my door look SO much bigger!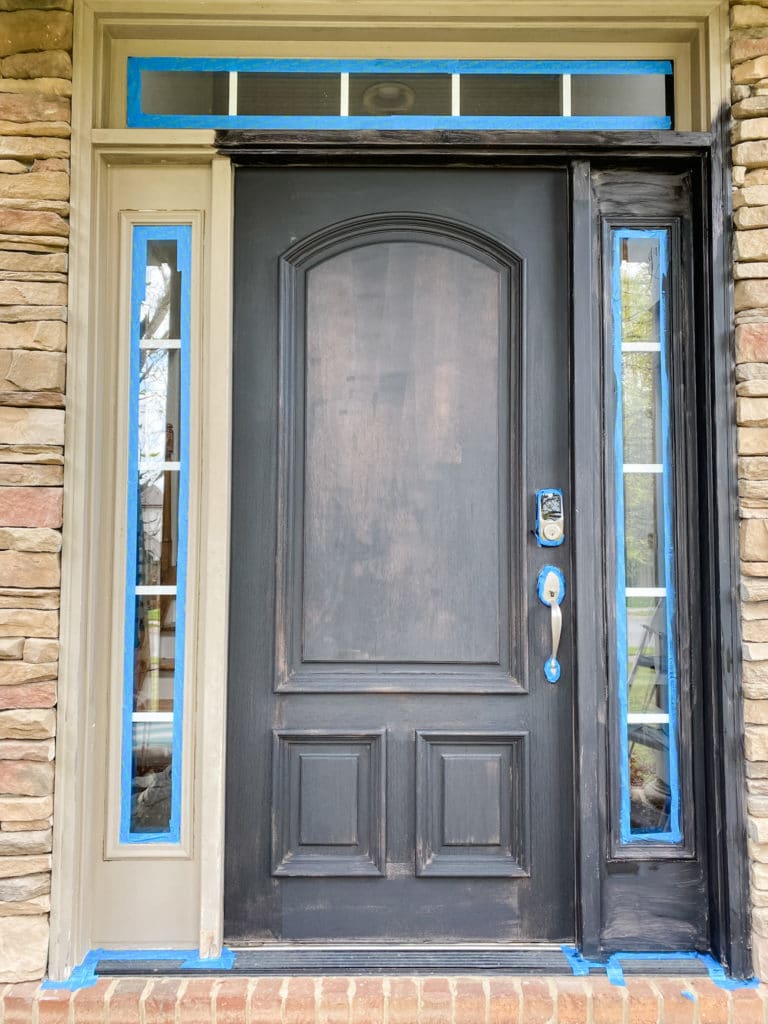 I had to keep going and doing a 2nd coat of everything. I did go back and do some touch ups of 3rd coats in certain areas, but it mostly covered well with 2. Look at the difference this black painted front door made!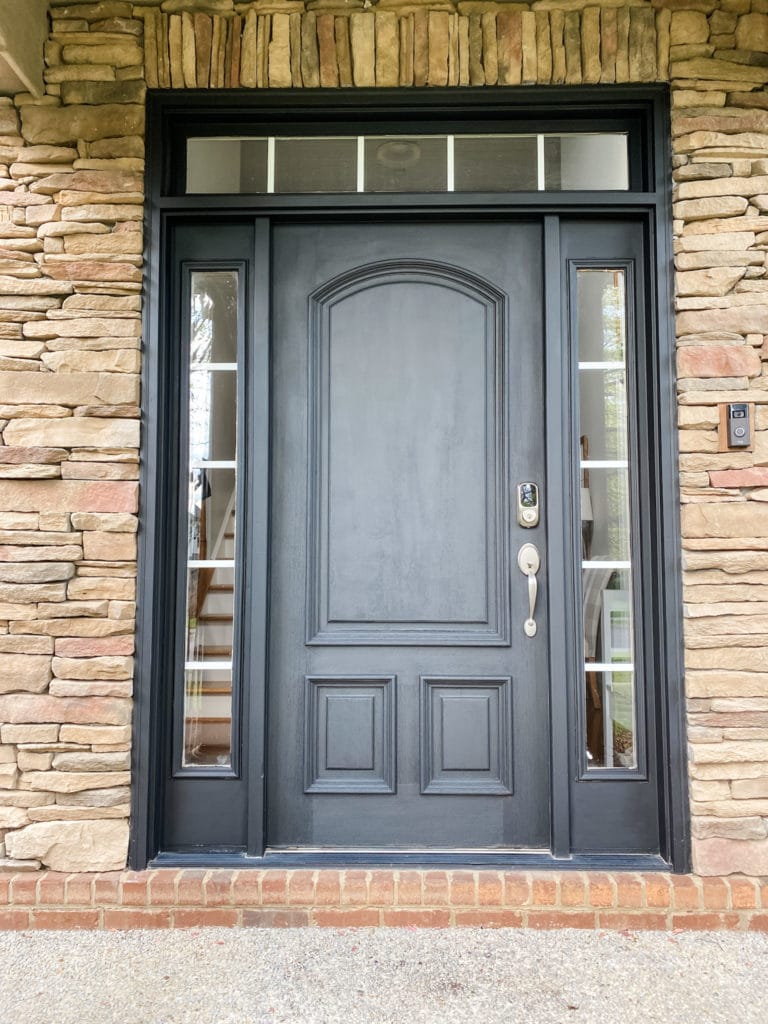 Can you even believe the difference?! I was literally in shock! And I'm SO in love!
I know this too will fade over time, but I guess I'll just get the paint back out and touch it up when it does. I love a good before and after and this one just makes me smile. Now to get it all decorated again!
PIN THIS FOR LATER!!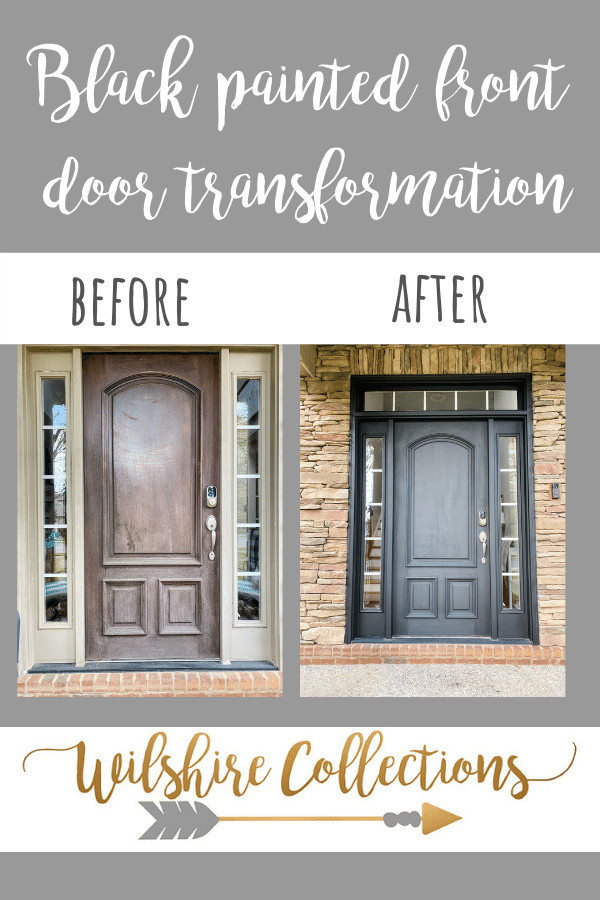 Until next time…
Stacey