The boys game room project is complete (for the most part), and so many of you have been asking about it! This was such a fun and special project for them, and one that I had almost nothing to do with if you can believe it or not!
Here's the quick backstory. We wanted to turn a bedroom that has been a guestroom, playroom, you name it room in the past into a game room/hangout room for the boys. I'm all about using your spaces for what is the most functional for YOUR family! Right now, we needed a space for my oldest (who is almost a teenager) to hang out with his friends, play video games, etc. My husband has always wanted a spot for some of his sports stuff, so this was the perfect combo to make this into a man cave/game room for them!
See how we converted this bedroom into a boys game room that is perfect for boys of all ages for video games, hanging out and just being boys!
Most recently, it was a mixture of stuff including a bed that we ended up moving into my youngest sons room when we got rid of his bunk beds. Here are a couple before pictures of this room!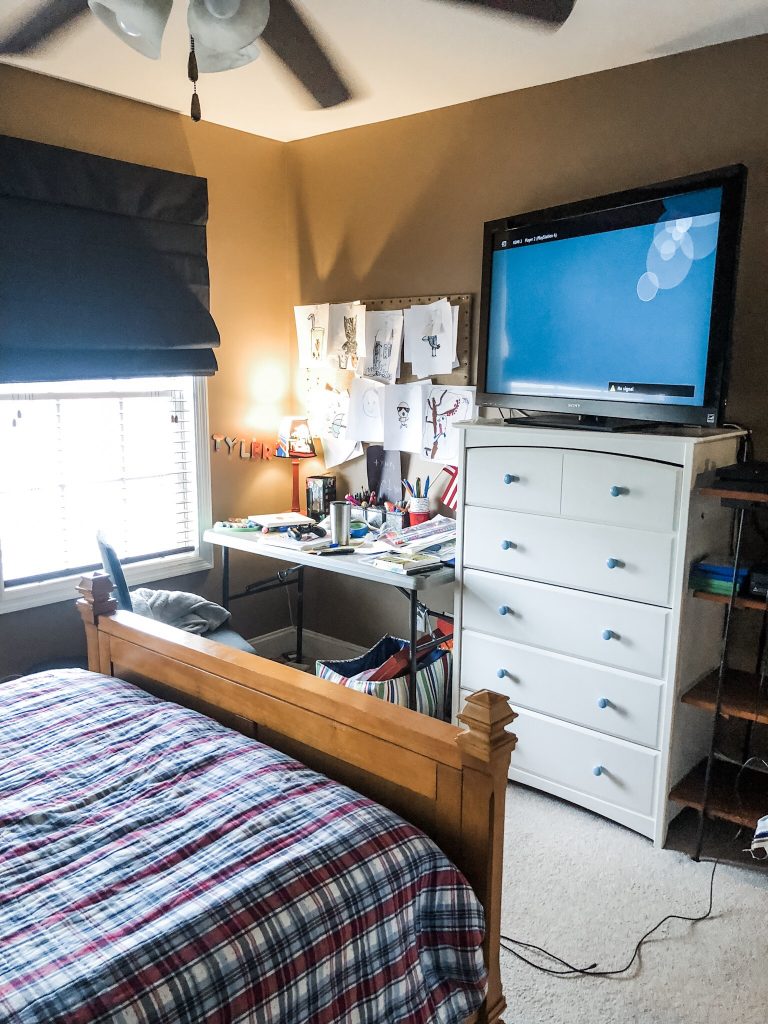 The thing about this project is that my husband wanted to 100% do it with JUST the boys! This was not going to be a "Wilshire room" they told me. Haha! Not going to lie, it wasn't easy to not be too involved. BUT, it was also so fun to see them do this together.
It was so cute to hear them talk about and plan this room together! They were so excited to get started!
They decided on darker gray walls (Sherwin Williams Dovetail) with a black accent wall (Sherwin Williams TriCorn Black). Off to painting they went one Saturday afternoon!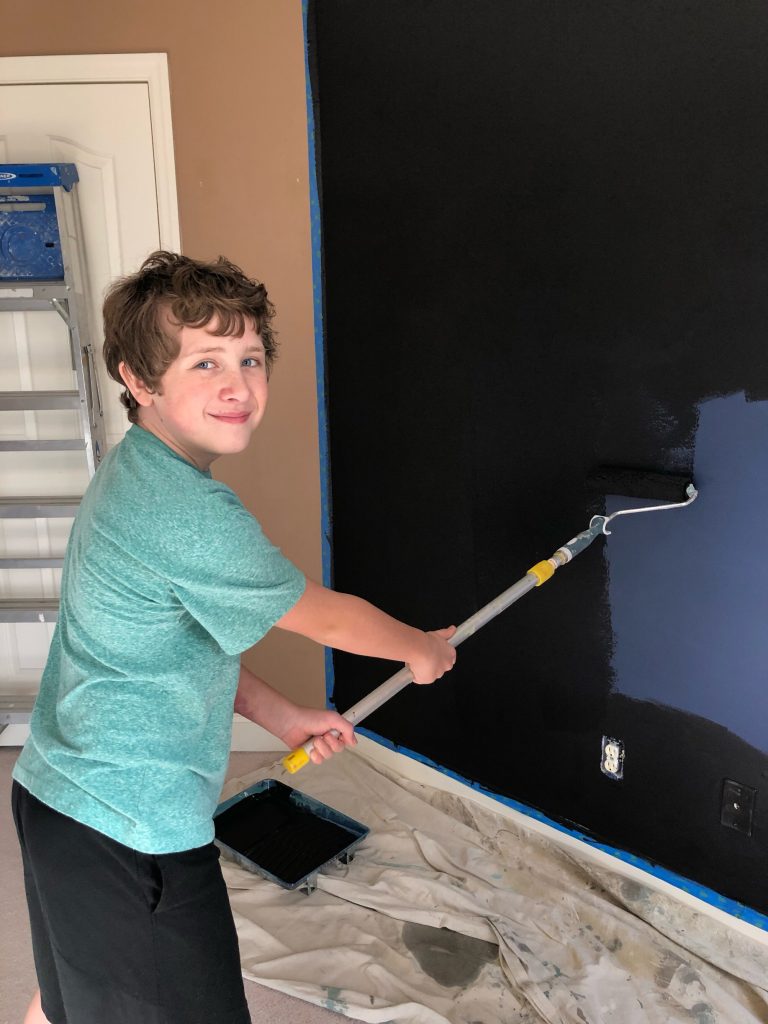 This is the rug they ended up picking and it was actually perfect for the space!
Our friends were getting rid of an old media console, so we bought that from them and it worked out great! My oldest also got this gaming chair for Christmas which he loves!
We ordered this loveseat from Ashley Home Store that has a little twin size sleeper sofa in case we ever needed that option for extra sleeping! We got the color Charcoal and it was darker than we thought it would be and practically blends with the wall, but these boys didn't mind or care! Plus…a dark colored sofa in a room for boys is pretty perfect!
The little end table was a Marshall's find and the ONLY thing I picked out for the room. I saw it, sent the picture to my husband and he said GET IT!
My husband is a huge KC Chiefs fan (if you can't tell), so he was happy to get some of this things in this room! He also ordered this huge fathead for the wall that's just a peel and stick.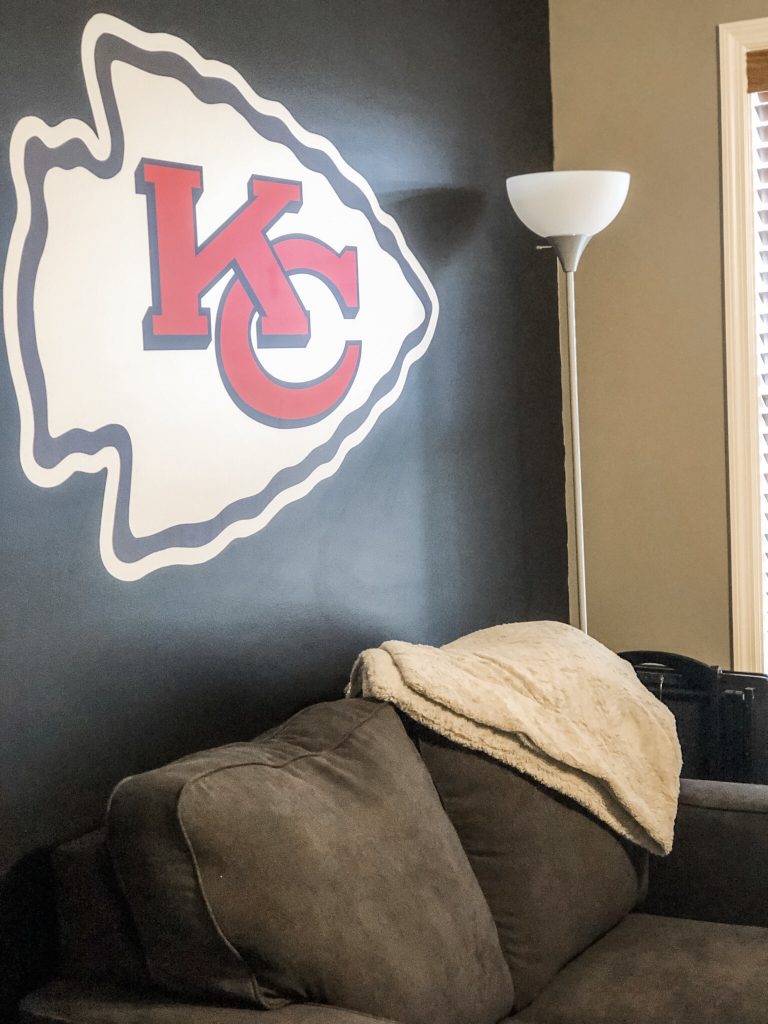 It's been the perfect spot for the boys, and my oldest son especially loves it!
I'm so happy that they have their boys game room now and a spot in the house that is ALL theirs! They deserve it for sure!
It was so fun to "let go" a bit and let them put their own stamp on this room. They still want to get a few things for the walls and something for the windows, but these boys are in no hurry! Hence the reason it has taken me SOOOO long to get this blog post out. I finally decided I would just share it how it is, complete or not!
Let me know what you think of their boys game room makeover! They will be excited to see what you all say!
Until next time…
Stacey
This post does contain affiliate links. Please see my full disclosure page for more details.