Ever think you can't decorate on a budget? That you don't have the money to fix up a space in your home? Think again!
No one will ever know (except all of y'all) that this budget bathroom makeover was done on a BUDGET! With out of the box thinking, bargain shopping and using resources you have on hand, you too can have a fabulous makeover without breaking the bank.
If you are just reading about this budget bathroom makeover for the first time, be sure to check out my first 4 posts on this $100 room challenge and see all the progress and projects along the way.
The final thing we did in this bathroom during the last week was frame out the mirror. My husband cut the wood to the size we needed. I stained it, and then he attached it DIRECTLY to our mirror with liquid nails. So far it is holding up great and it made such a difference (for $8!!!). (Will do a separate blog tutorial on this soon!)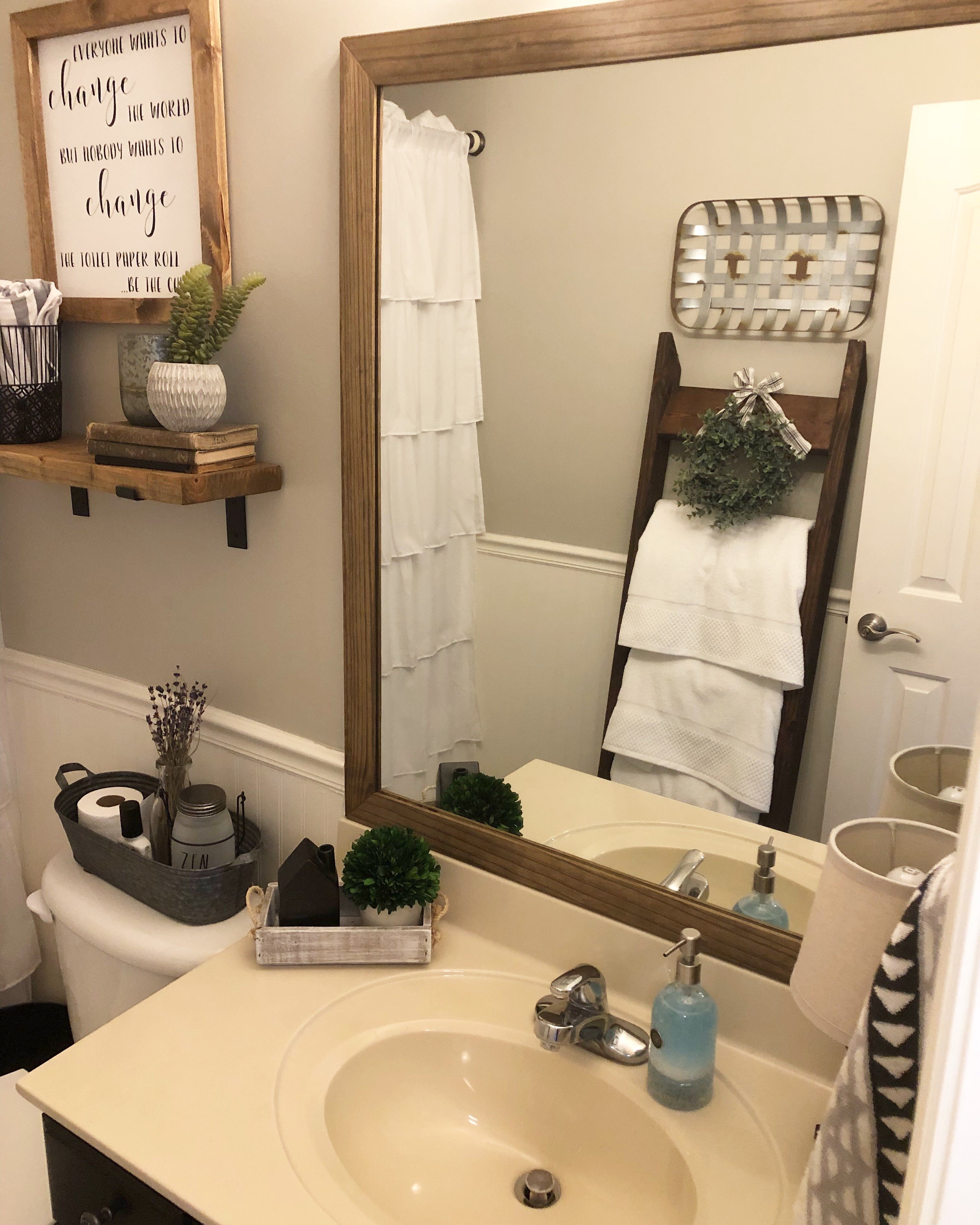 This $100 room challenge was…a challenge! But, it was SO fun and definitely kept me busy the month of January!
Pin this, pretty please!
Here is a run down on the major things that were done in this room to complete this budget bathroom makeover for the $100 room challenge.
Painted the walls (Benjamin Moore Revere Pewter)
Painted the cabinet (Blackberry House Cast Iron Skillet)
New Shower curtain (that is actually 2 regular curtain panels)
Painted and stenciled the floor (Blackberry House Cast Iron Skillet and Warm Milk)
Framed out the mirror (wood from Lowe's)
Added some new decor (TJMaxx and Hobby Lobby for the win!)
And now it literally looks like a whole new bathroom! Remember, I did think it was a cute bathroom before- but after 7 years I got TIRED of looking at it.  Sometimes a change is good for the soul!
Here is the bathroom before to refresh your memory….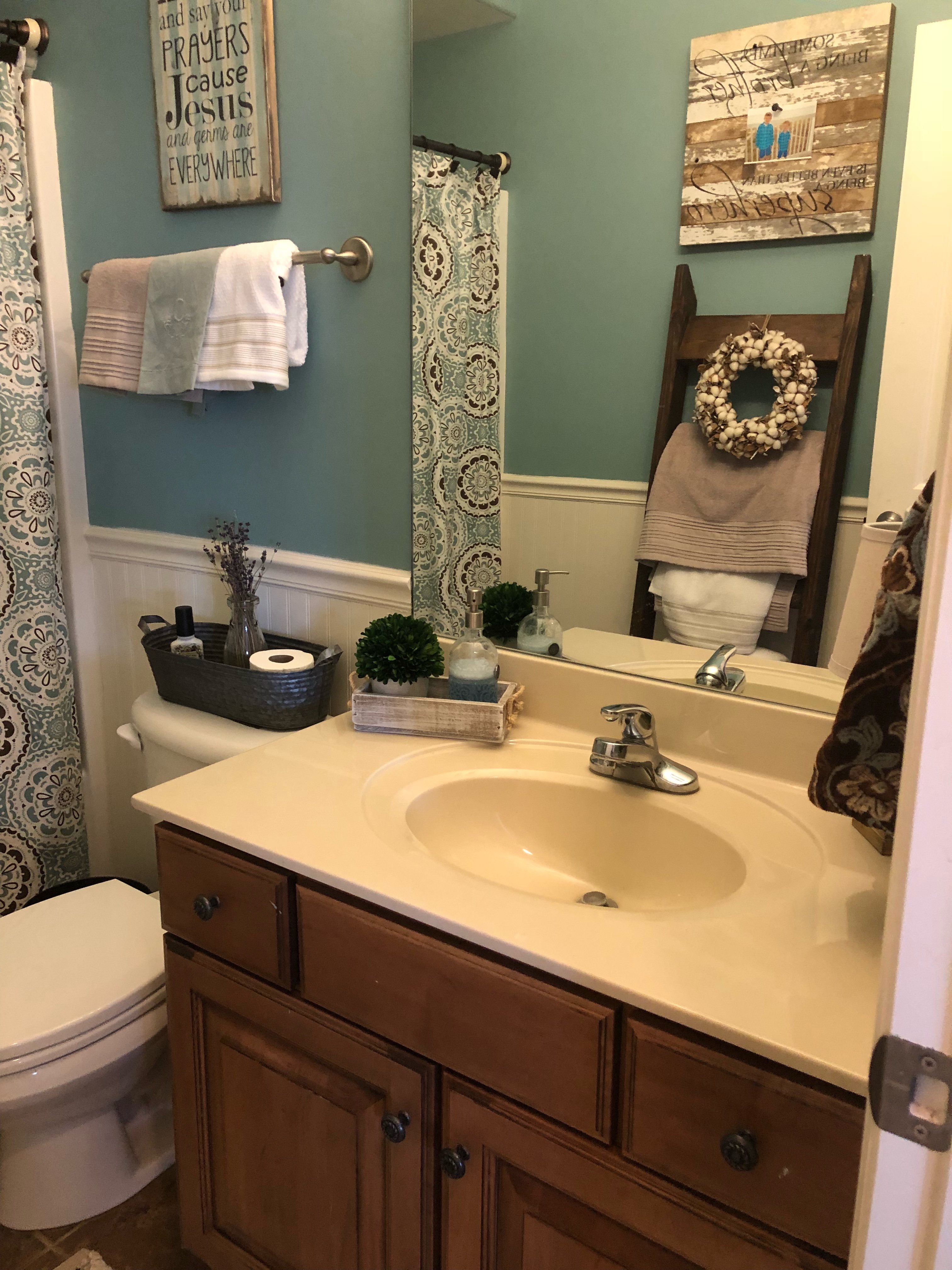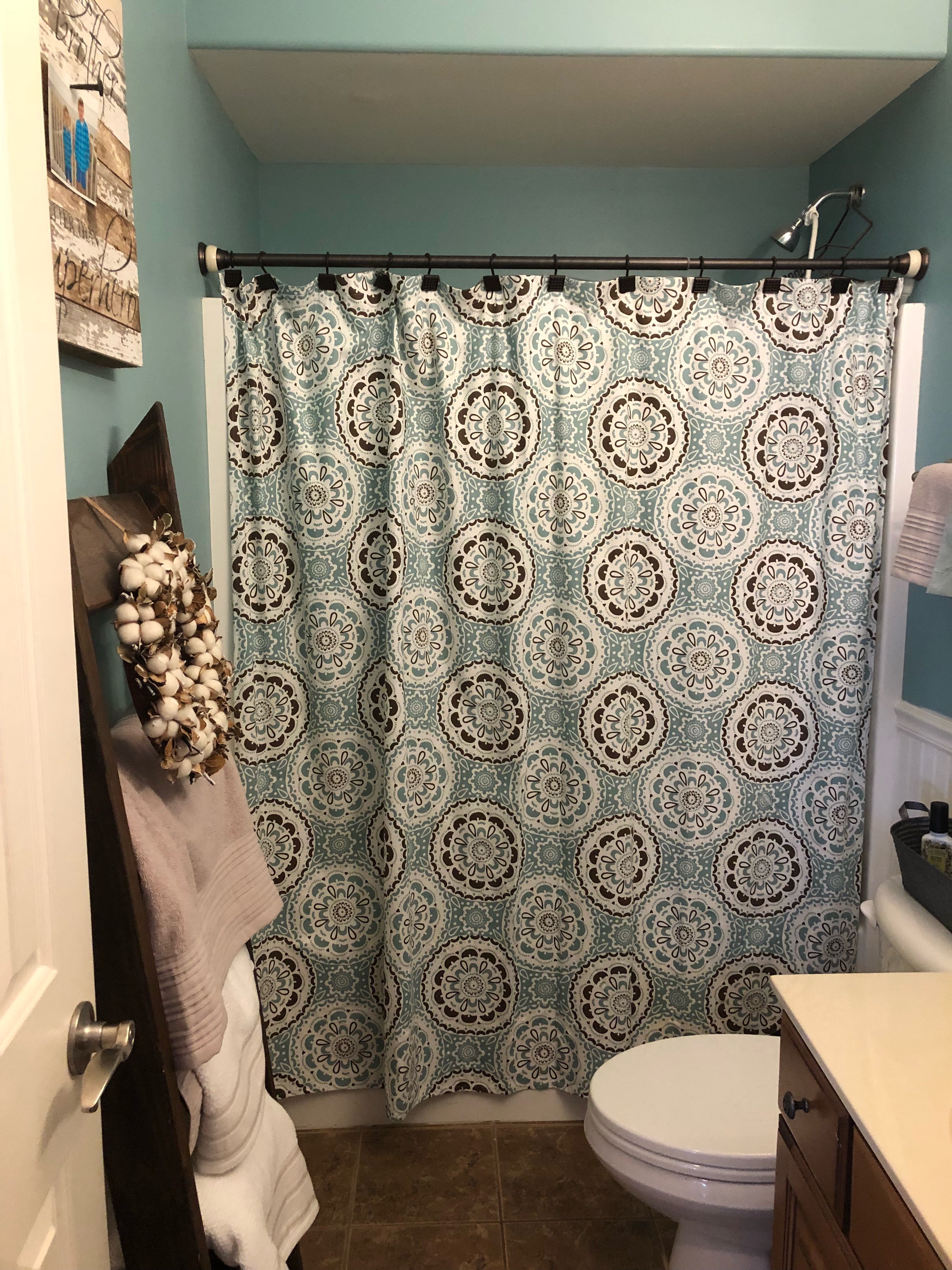 And here it is now for the FINAL REVEAL!!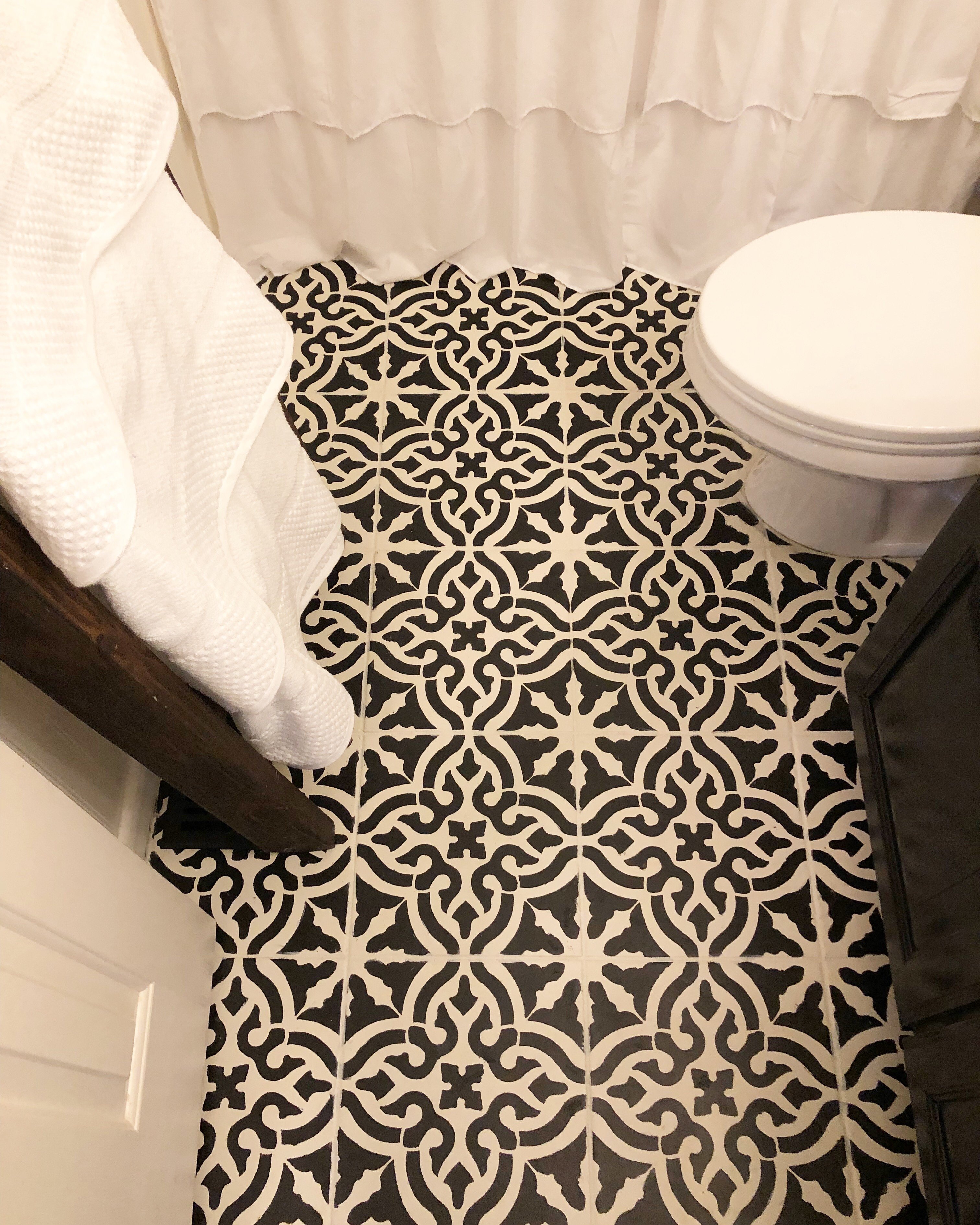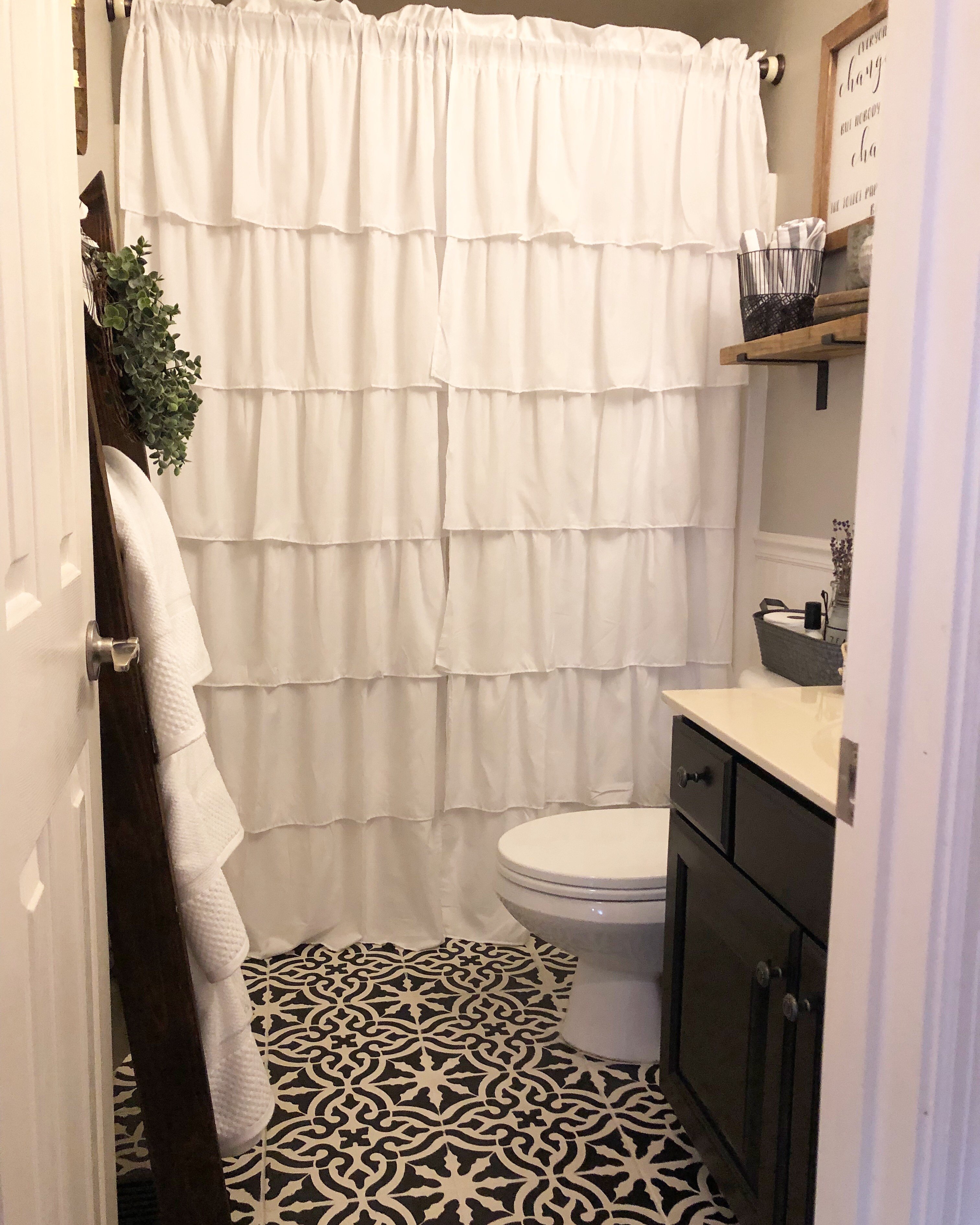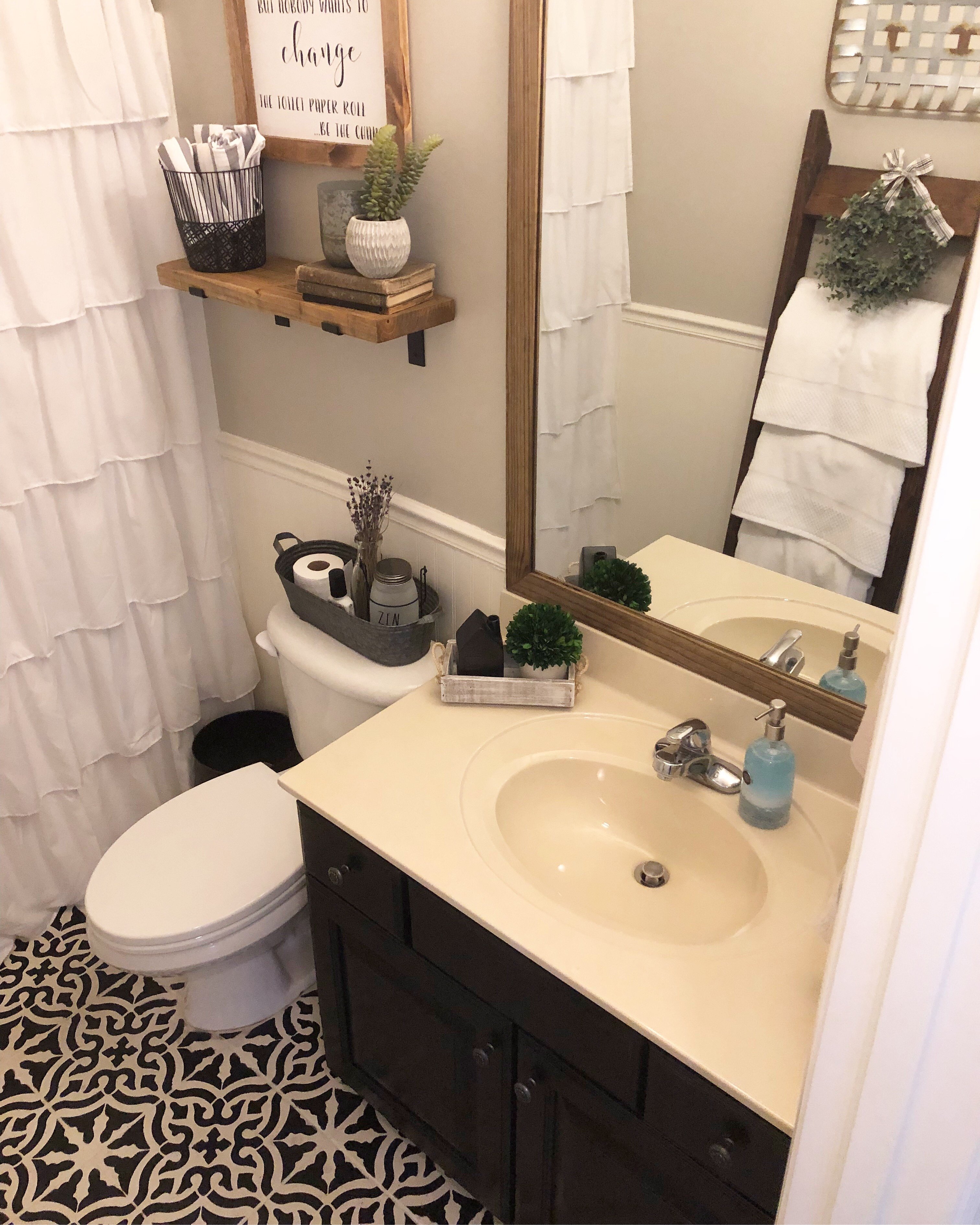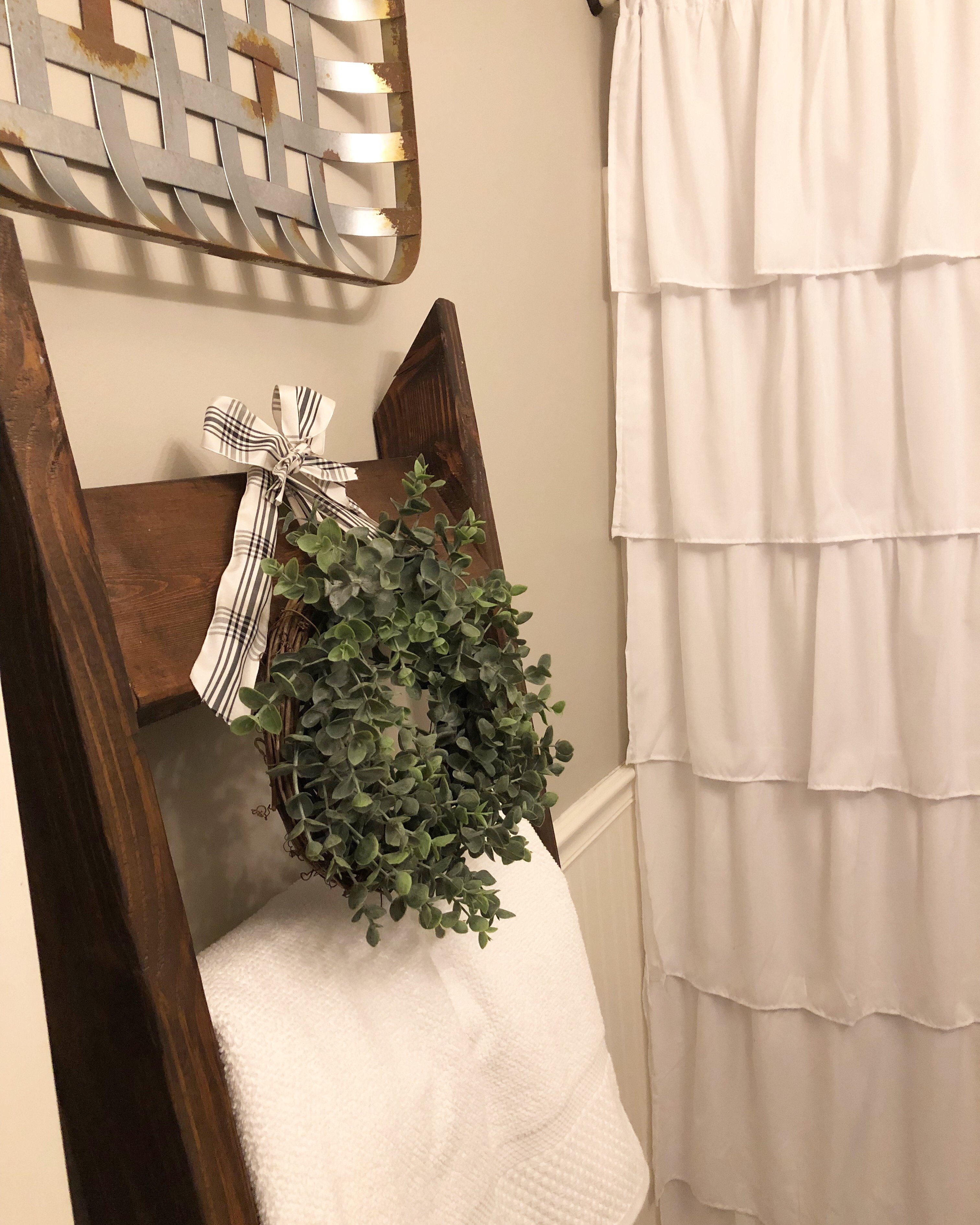 Now, for a breakdown of cost for you guys. Please keep in mind that I always have paint and paint supplies on hand, which DID help with the cost of this project for me. If you had to purchase all the paint for this project, you probably could count on another $60-$80 depending on paint/brand. BUT…use what ya got, right?! And I've got paint for DAYS over here! I also have a lot of décor that I was able to pull from other parts of my house for this project!
Curtains (used for shower curtain) TJMaxx $21.85 I found very similar ones here on Amazon for you!
Stencil (Royal Design Studios, Toledo Tile) $26.70 Here is the link for you. 
Wood to frame Mirror $8 from Lowe's (Stain $0 had on hand, color Minwax Special Walnut)
Miscellaneous Decor items- $30 (Hobby Lobby and TJMaxx for the budget decor WIN!)
Wall paint- $0 (leftover from when we painted the rest of our house- color Revere Pewter)
Cabinet and floor paint- $0 (Blackberry House paint that I already had on hand)
Brackets for shelf- $8 (Hobby Lobby)
Wood for shelf- $0 (Had on hand)
Stencil brush (similar to this one on Amazon) $5
TOTAL BUDGET SPENT DURING MONTH OF JANUARY- $99.55
Not too shabby for a total budget bathroom makeover, huh?! I'm pretty proud and impressed with myself to be honest. Haha! I knew this would be a "challenge" for me, and I'm so glad I was able to do it.
Let me know what you guys think in the comments. Do you have a room you could stencil the floors? Paint the cabinet? Change some decor?
Any of those things will make a HUGE impact for a low cost! Go for it, friends!
You can download your own FREE printable here! Just like the one I used in this project!
Until next time…
~ Stacey
Here are some items I either used for this budget bathroom makeover, OR some similar decor items that I found for you guys!
Eucalyptus wreath (I already had mine, but found this one here for you guys)

Ruffle White Curtain (I needed 84″ for mine because I wanted to raise the height of the shower bar to give it a taller look)

Basket on shelf
Minwax Polycrylic to seal the cabinets and the floors (matte finish)

Minwax Special Walnut Stain to stain the frame for mirror and wood shelf

Zibra paint brush- my favorite brush for painting the cabinet!

Check out all these other fabulous $100 room challenge makeovers! It has been so much fun to watch these! There are some amazing transformations!