Welcome to my Christmas home tour! Decorating for Christmas is one of my favorite things to do! From the tree, to my mantle, to tables and everything in between. It just makes me so happy!
Going on a Christmas home tour with me will allow you to see my home from start to finish, all decked out for the Season! I love following these with other bloggers as well, so be sure to check some of your favorites out to see if they have done this this year also.
In my home tour, you will see a mixture of a more casual look with Buffalo check and red, black and white. To a little more formal with a rustic touch with the silvers and golds in my dining room. My entry way and front door are fun and festive too!
Enjoy my Christmas home tour
Welcome to the front of my home! This year I used some Buffalo check mesh ribbon on my garland and some of the leftover accent ribbons from my Christmas tree! I also found this vintage sled this year, which was the perfect touch for my Christmas front porch! You can read more about this porch makeover here!
 Come on inside! I'm all decked out and ready to show you around!
The entry way is the first thing you see when you come in my house, and I love styling this shiplap frame as well as my little chest of drawers. Trees and more trees is what it was all about in this spot!
So, my living room was my favorite spot to decorate. It pretty much always is no matter the season or reason! You can see and read more on my Buffalo check inspired living room here!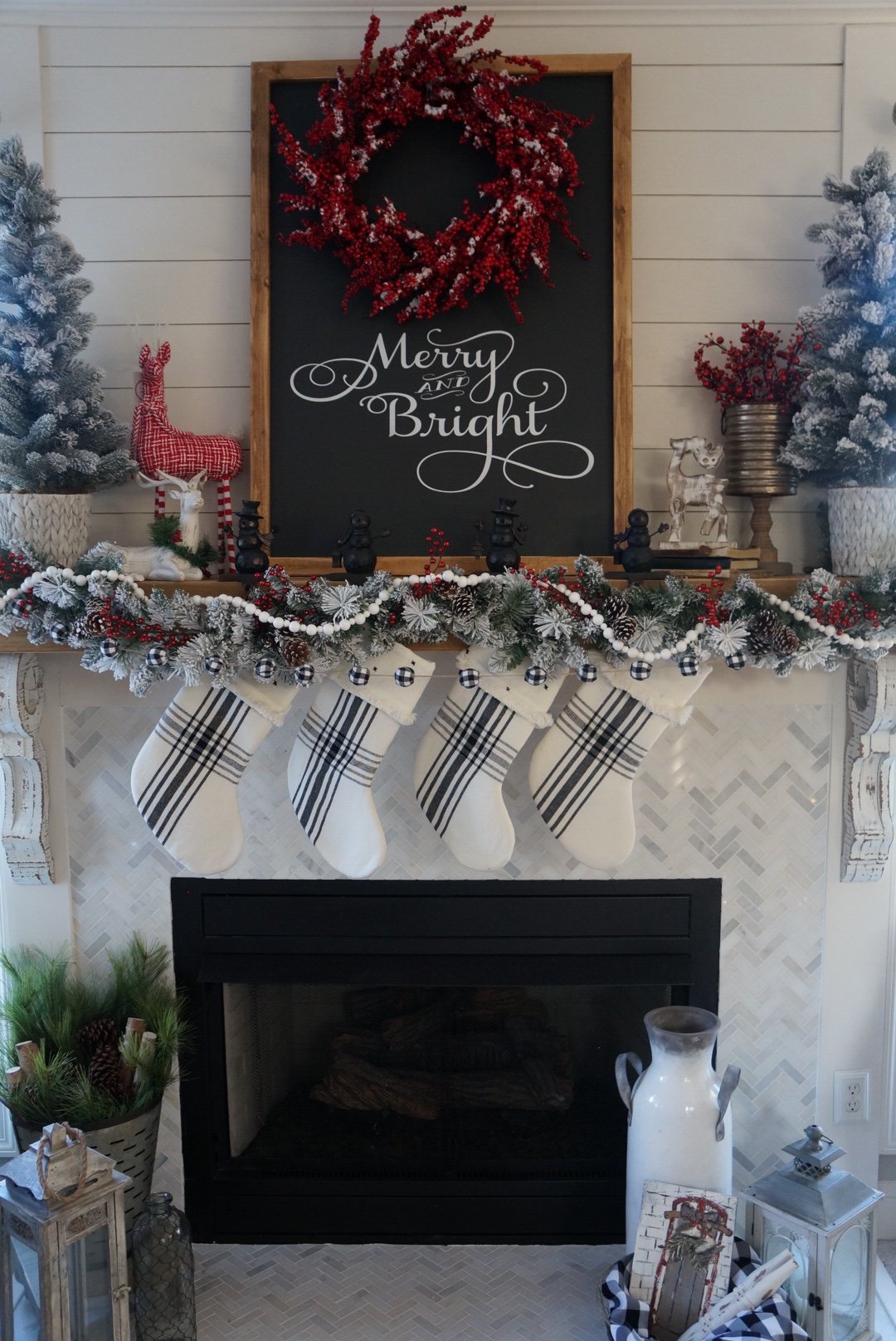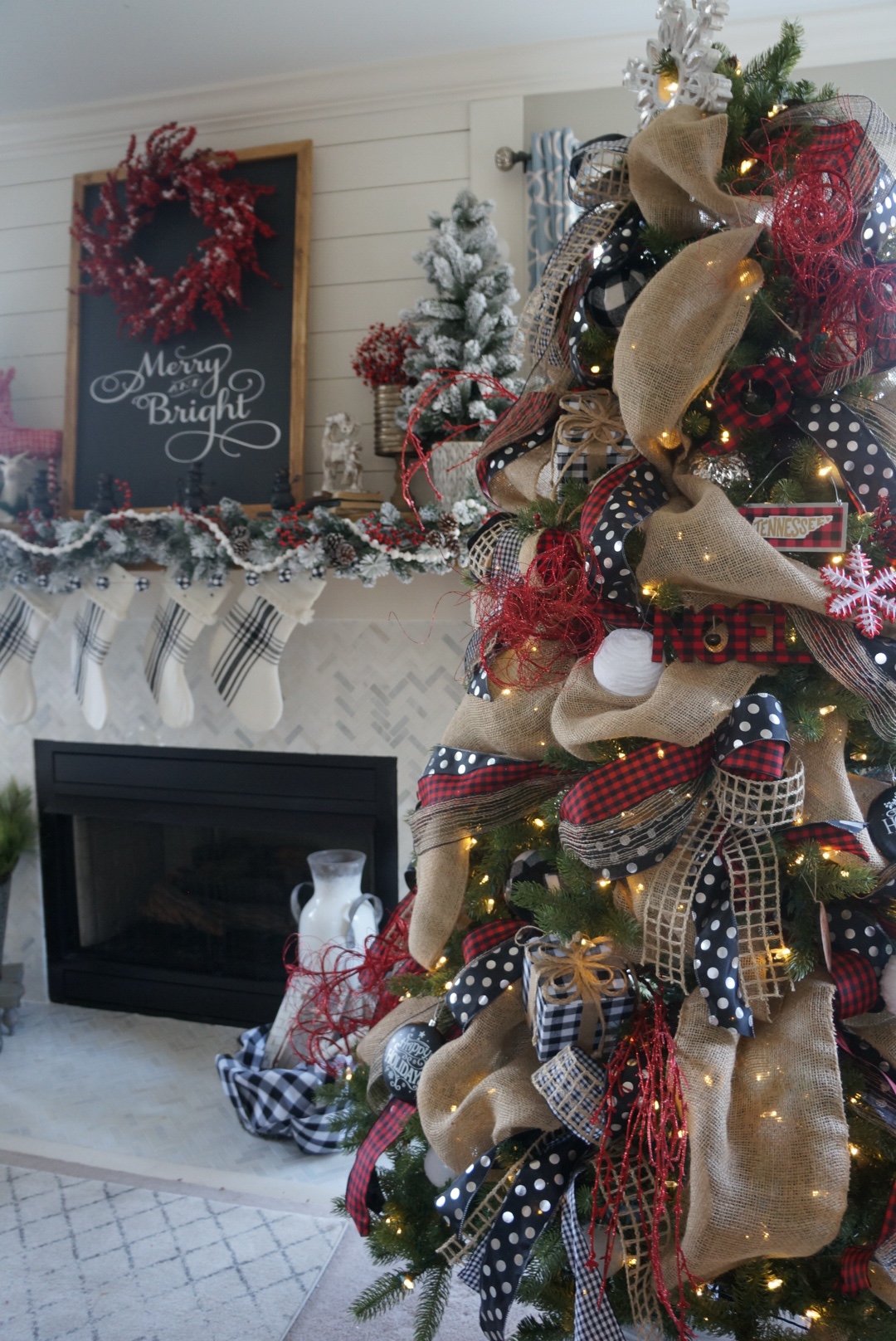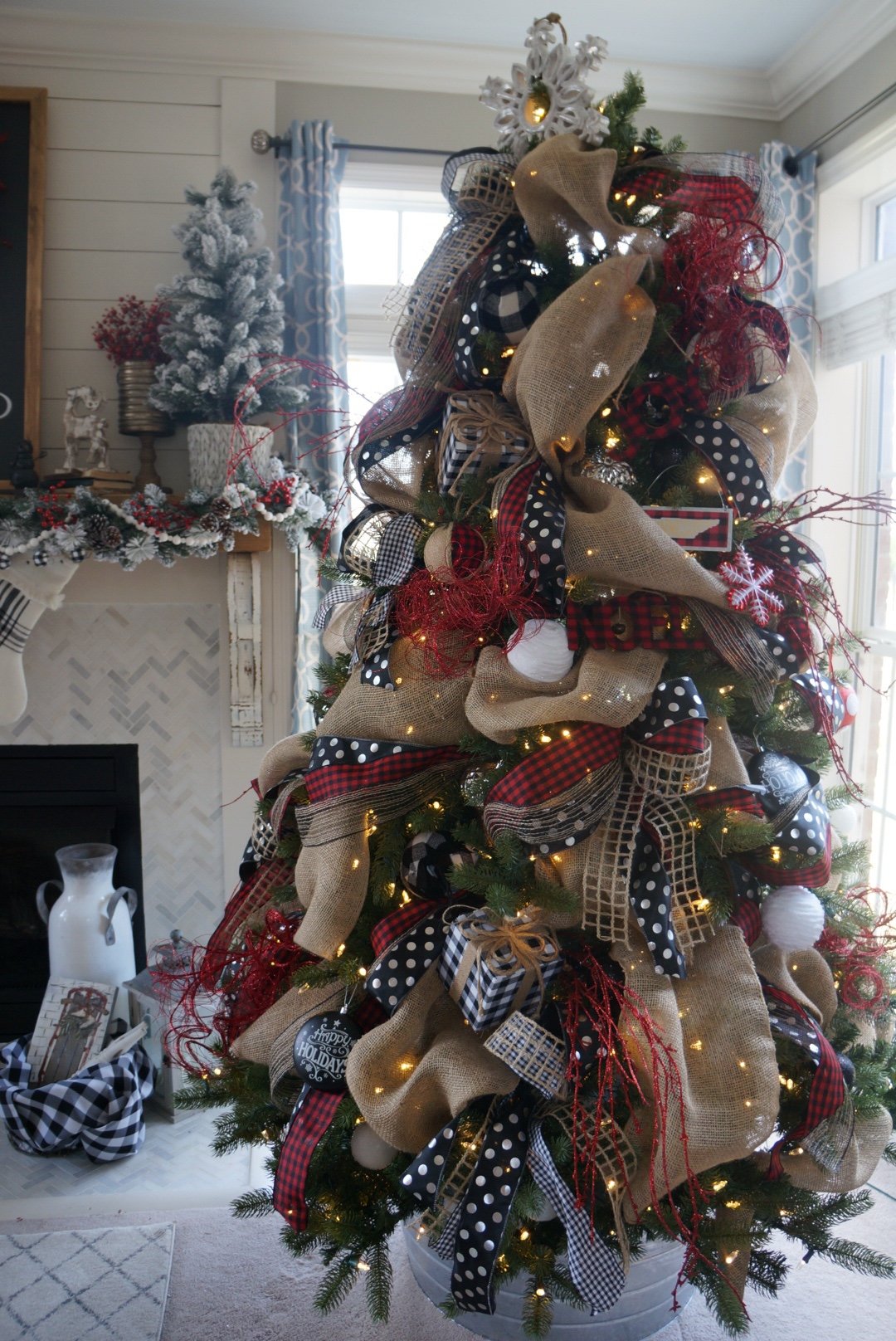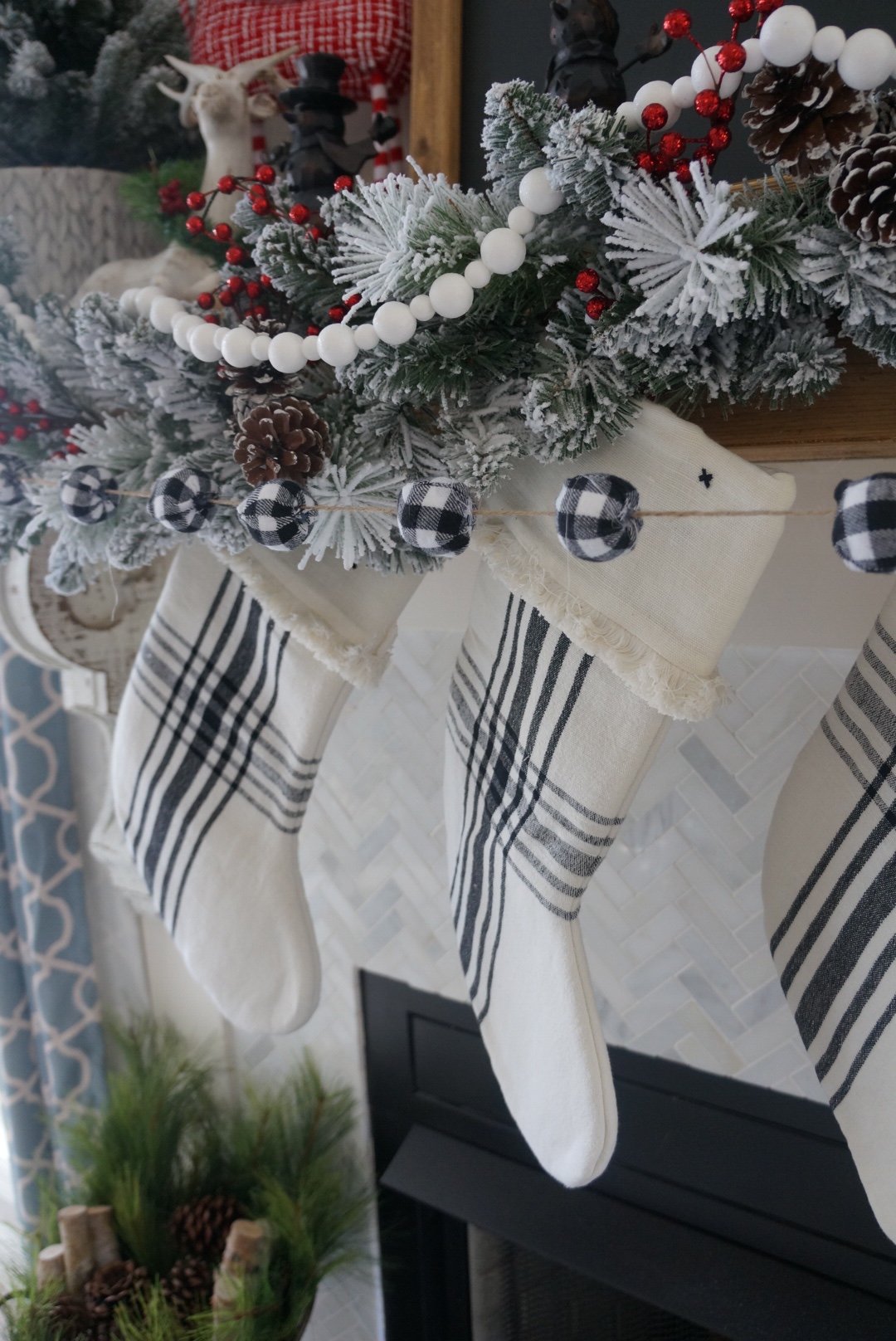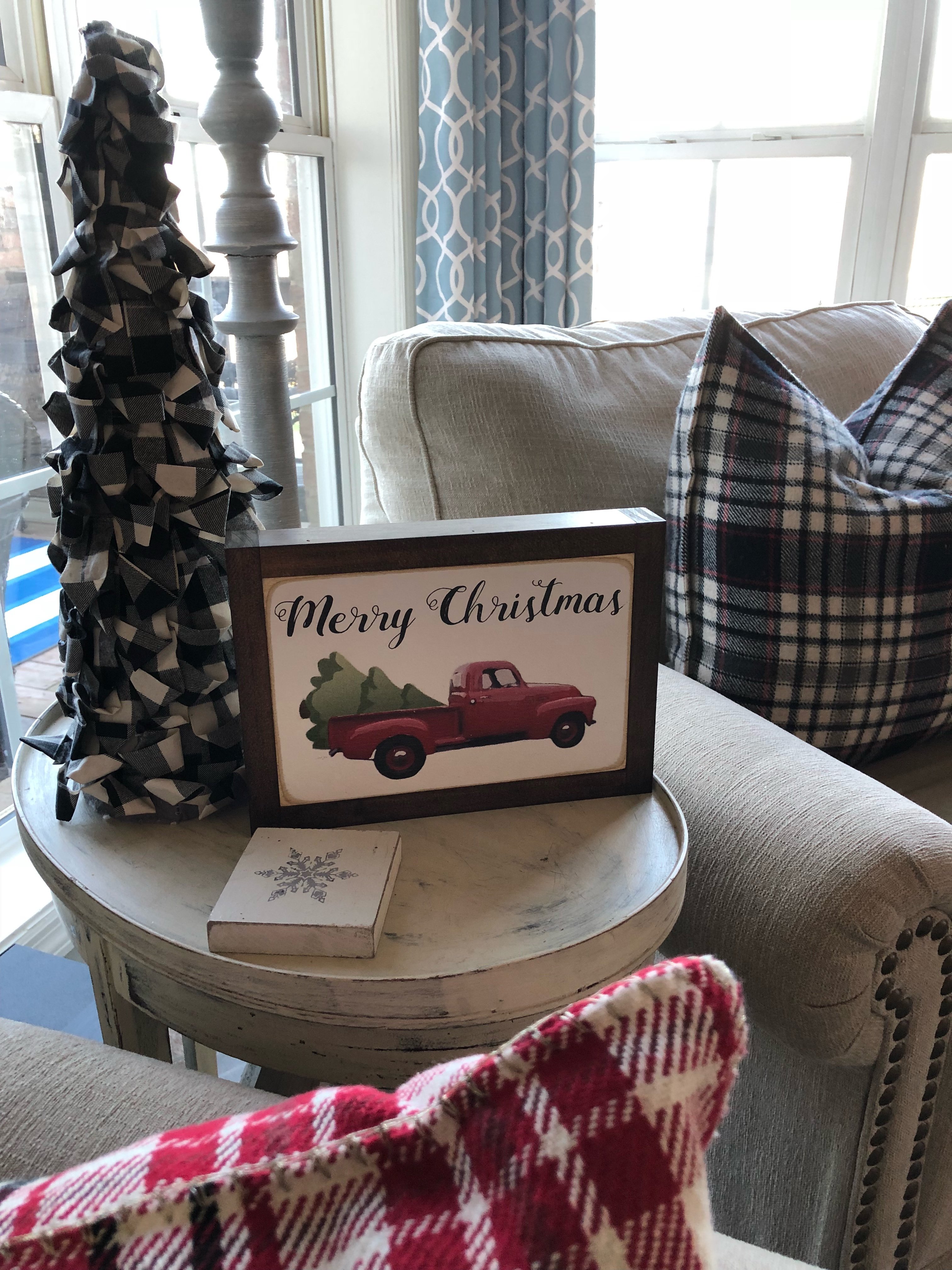 This spot was super fun to decorate because it is a new addition in our home. You can read about the mudroom makeover here. This was a blank 3 foot wall that we converted into this space that is both functional and CUTE! I went with a buffalo check (Shocker) and winter theme here. And finally found a way to contain all the little gloves and hats that winter brings! See more of this Christmas space here!  
 It's a casual Christmas in my eat in kitchen. I love a cute but casual table setting that can easily be picked up and moved away when it's time for the family to sit down and eat! Let's keep it real…my boys aren't going to be using those napkins for their dirty mouths. Haha! Read more about how I put this table setting together here.
It's time to switch gear a bit from the colors and scheme you've been seeing. I like to do something different in my dining room than the rest of the house. In here, I use a lot of silver, gold, white and touches of rustic charm! I'm so happy with how it turned out this year. Especially my flocked tree and place settings! You can read more about this Christmas makeover here as well. 
So, there you have it! My Christmas Home tour for 2017! I'll be honest. I was tempted to decorate some in my Master Bedroom this year, but never did get around to it. I think I may put it on the goal list for 2018.
Do you decorate your master bedroom for Christmas? Or any other part of your home that I didn't show here? Would love to know in the comments!
Merry Christmas y'all! I so hope you enjoyed my Christmas Home Tour!
Until next time…
~ Stacey