Everyone loves a true Christmas surprise. To be REALLLLY surprised by something that you didn't see coming is the best. And that is exactly what my husband and I had planned this year. Although, it didn't go quite as planned.
A surprise puppy is what we had up our sleeves! We lost our Golden, Cooper, almost 2 years prior at age 11. He was the best dog! We had him before our boys were born, so they never knew a life without Cooper around. To say it was a hard thing to lose him is an understatement, as anyone who has had a pet knows.
It honestly took us some time before we felt "ready" again to get another dog. We spent the past couple years talking about it, but every time our boys would ask we would put them off and tell them not just yet. Most recently when they would ask, we would tell them we aren't going to get a puppy in the winter when it is so cold and you have to train them in that weather.
That was all part of our little plan to throw them off! So, really they didn't see anything coming anytime soon. But, we decided we were ready and we decided our surprise puppy would be another Golden Retriever.
Research, research and more research…and we finally found a litter and went behind our boys backs and picked out our pup. We were going to pick her up on Christmas eve and surprise them Christmas morning. You know, the thing I have always dreamed about happening.
Unfortunately, we found out about a week later that the sweet surprise puppy we had picked out had gotten very sick and wasn't going to make it. We were crushed and heartbroken, but we also knew that we had to keep looking and try again.
The good news is that we found another litter, but they were ready to go right then. So, we did what any rational parents that love their kids and want a surprise puppy would do 🙂 We pulled off the ultimate 24 hour turnaround surprise. A 2 weeks before Christmas surprise, but one that I know we will never forget and I hope they don't either.
When they woke up that morning, Elfie (our elf) had left them a note….
They got ready, and we put the gifts under the tree…
Each boy had a box with a dog bowl and one had a collar and one had a toy. The 3rd gift was the letterboard that spelled out exactly what was going on in case they didn't catch on (which they didn't!)
The confusion was hysterical. From my oldest squeaking the toy thinking a dog was going to come running out then, to my youngest saying "What? I got a bowl and a Christmas bracelet?" (referring to the collar) it was all too funny.
Once the confusion cleared and they realized that we were going THAT DAY to pick up our puppy, the excitement grew and built. We loaded up in the car on a road trip to bring home our Bailey.
She was cute, perfect and healthy and we were instantly in love. It wasn't the Christmas morning surprise that I had dreamed of, but the magic was still there. And I think my boys loved being able to be there to pick her out and bring her home.
I'll never forget that first little pup we picked out, but I'm also so thankful for this sweet dog!
Here are some pictures since she has been home with us!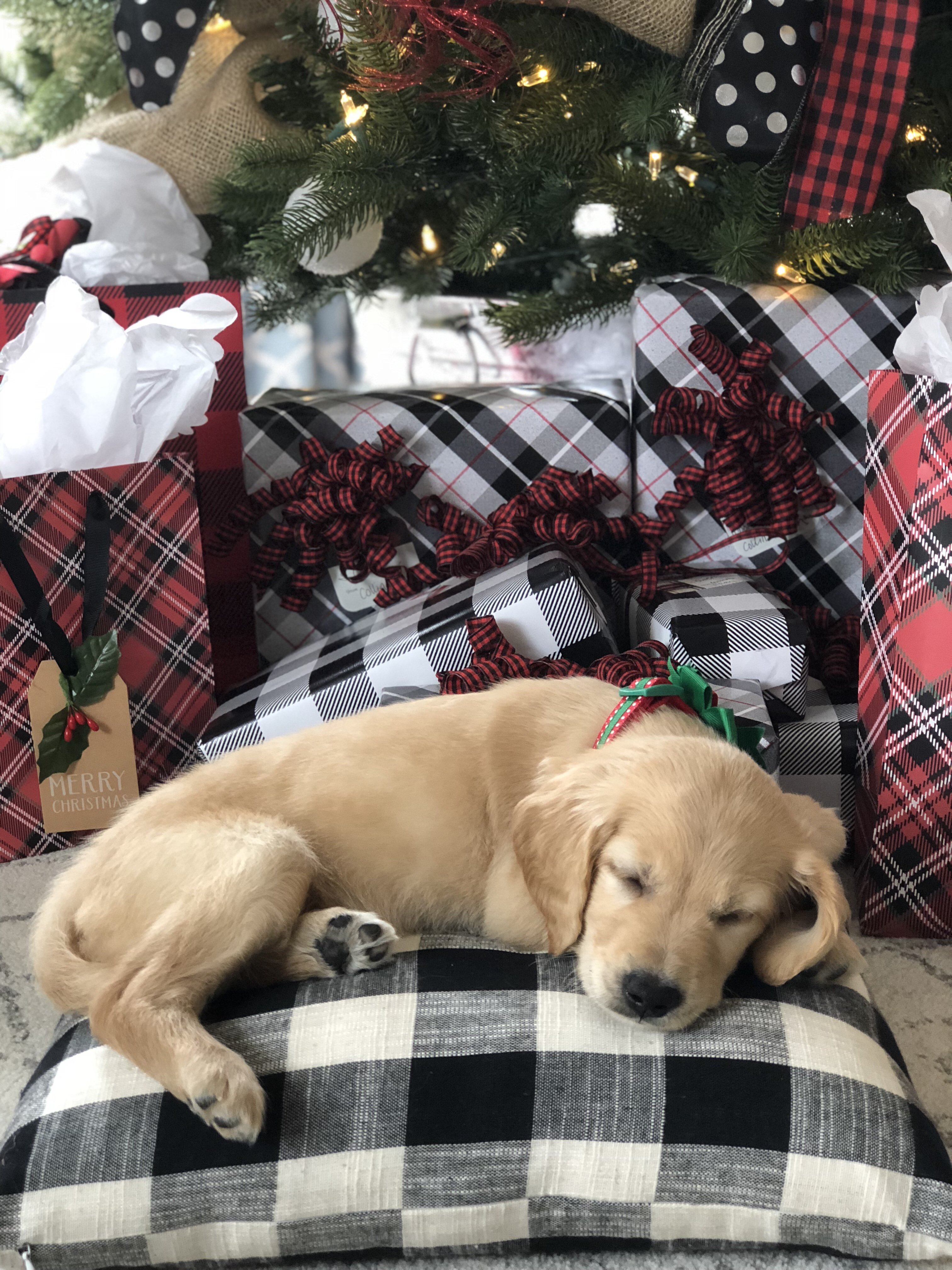 She's our sweet Golden Retriever puppy, and we are so in love! We can't wait to watch her grow up and have her as part of our family.
Have you ever surprised your kiddos with a puppy? I would love to hear how!!
Until next time…
~ Stacey