I've got the BEST Christmas tree hack for you today! I'm truly so excited about this and I hope you find it pretty cool too!
I'm going to tell you the best Christmas tree hack on how you can make your tree taller. Yes, you can make your current tree appear taller than it really is! Want to know how?!
Well, it all started like this. Haha! I got a new tree this year. (Enter domino effect). I ordered this gorgeous 7.5 foot King flocked tree from King of Christmas! You can get this exact tree here! We put it together and were so excited, until….
We realized that the tub that I use to use (which was a big tub from tractor supply company) didn't fit this tree. Oops!
Now, we could have done a DIY and there are tons of tree collar options out there. BUT…I kind of wanted to make my tree taller. We have 9ft ceilings, so can't do a 9 foot tree…but a 7.5 foot is almost a little too short. SO, my wheels starting turning.
Anthony and I were searching for a farmhouse style tree box because we knew if we had a box we could raise the tree! Anthony ran across this one on Amazon. We knew it would be PERFECT for what we wanted to do.
CLICK HERE TO SEE THIS TREE BOX ON AMAZON! I got the weathered gray in the size deluxe (but you will need to measure your tree base to see what size you need).
Next, he cut some scrap wood we had in the garage to where it would fit "inside the box" It was about 22″ square and 6″ tall, which meant my tree was about to get 6″ TALLER! Doesn't matter what type of wood you use, just anything big enough and tall enough. We stacked multiple pieces on top of each other.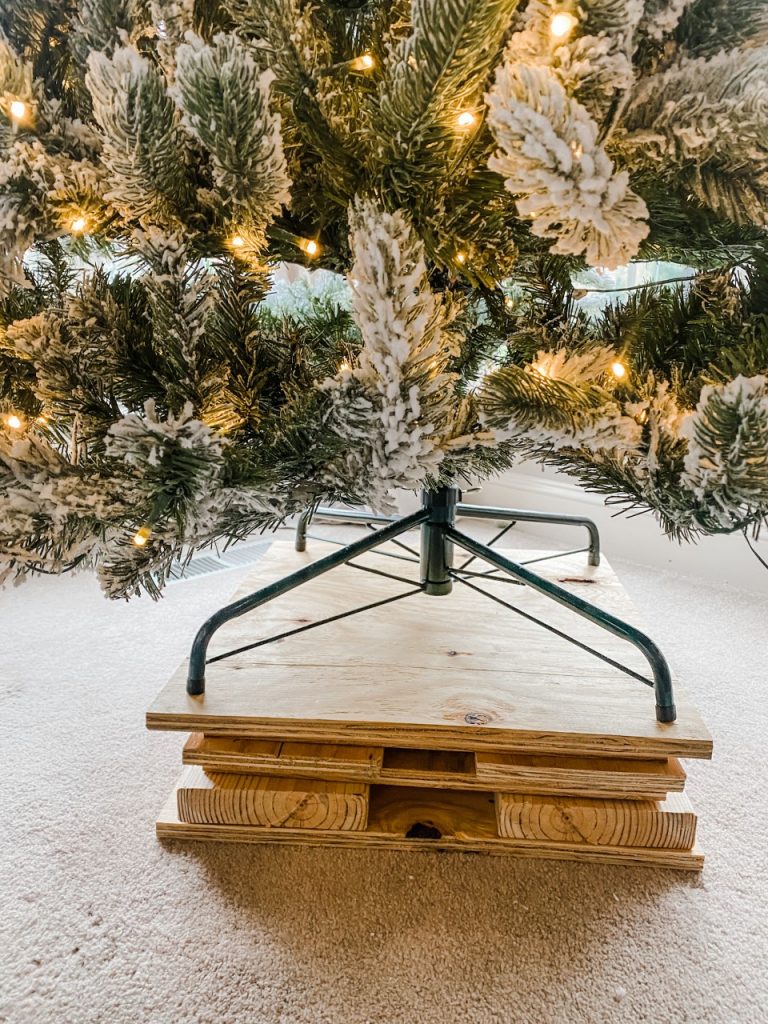 Here's the cool part too….the box came in and it was 4 pieces of flat barnwood that attached together with VELCRO! SO so easy to install and was done in a matter of seconds.
I was amazed at how this was coming together! I HIGHLY recommend this tree collar and think it was well worth the little splurge!
Not only did this Christmas tree hack make my tree "taller" now, but it is also in this cute farmhouse box that I simply ADORE! This little "oops" ended up working out so great for us! Don't ya think?! CLICK HERE FOR FARMHOUSE BOX ON AMAZON!!
Get creative and see if there is a way you can do something similar to make your Christmas tree taller (if you need that same solution as me of course)! It's crazy how much that 6 or so inches made a difference!
Next step…ribbon and all the things! Can't wait to show you her all dressed up soon!
Until next time…
Stacey