Do you put a tree in your master bedroom? If you don't, I really think you SHOULD…no matter the size of tree!
I've got some Christmas tree inspiration for a master bedroom that will give you all the Christmas feels and ideas this year!
Top 2 reasons why I love having a Christmas tree in my bedroom:
It gives me an excuse to decorate another tree, and who isn't looking for that excuse this time of year?
Going to sleep by the twinkle of the lights is truly MAGICAL and makes my heart so happy!
I realize not everyone has a space big enough for a full size tree. For me, I've used a 6 foot King of Christmas flocked tree the past few years and it's just right for my room.
Do you have a corner? A wall? A table top? Anywhere you could put a tree….even if it's just a small one with lights that goes on a dresser? Trust me, you'll thank me later!
This year, all of the ribbon I am using on my tree came from Trendy tree online! If you are looking for good quality and adorable ribbon, you MUST check them out. (Ribbons linked at the end)
I couldn't not use this cute red and white curly ribbon as my base ribbon, it was just TOO cute to pass up!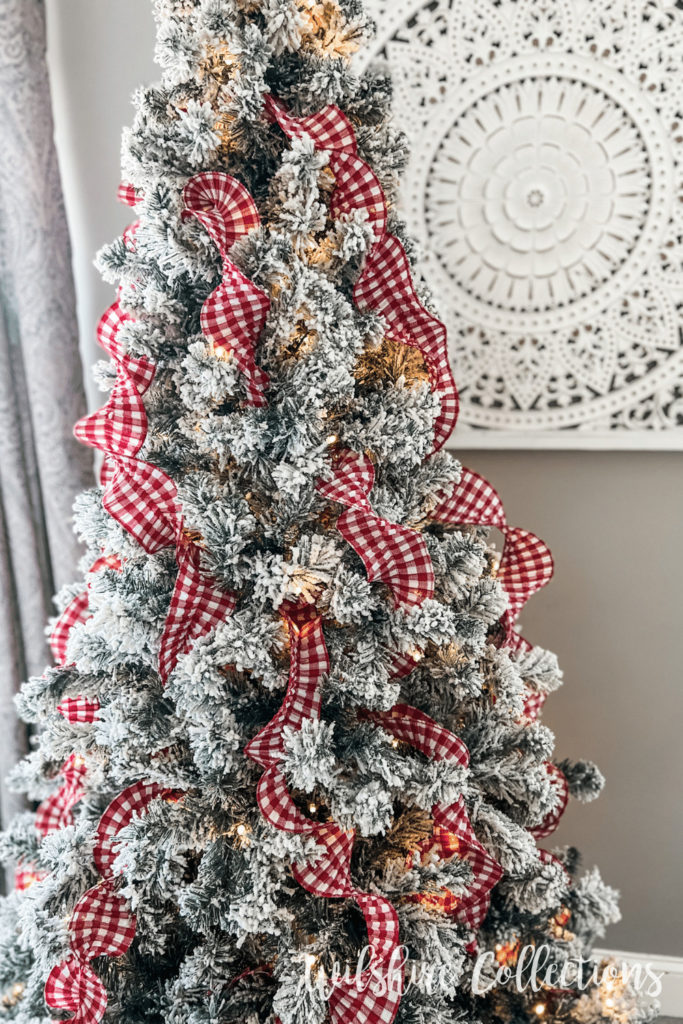 I have a lot of gray already in my bedroom, so I LOVED the idea of using these others as my accent ribbon. You may notice that I did my bows different than I did on my main living room Christmas tree here.
It was honestly so easy (because you know I am not good at bows). I simply cut the ribbon into about 12″ strips, laid them on top of each other, twisted in the middle and then used the branch to secure them.
After that, all I had to do was fluff and trim the edges. Cute and easy, right?!
Once I was done with that, it was time to add all of my cute ornaments I've collected over the years. A combo of red, white, gray and black! How pretty does this all look?!
A cute garland I've had for years, some bells from last year and some berry picks for up top…and this cutie was done! Are you getting that Christmas tree inspiration yet?!
I truly hope you love it this year and love the little twist I put on the ribbons! For my full tree tutorial on how I do the base ribbon and the OTHER kind of accent ribbons I use on my main tree, click the button below
Let me know if this post gave you some Christmas tree inspiration and if you put a tree in your bedroom too! If not…are ya thinking about it now?!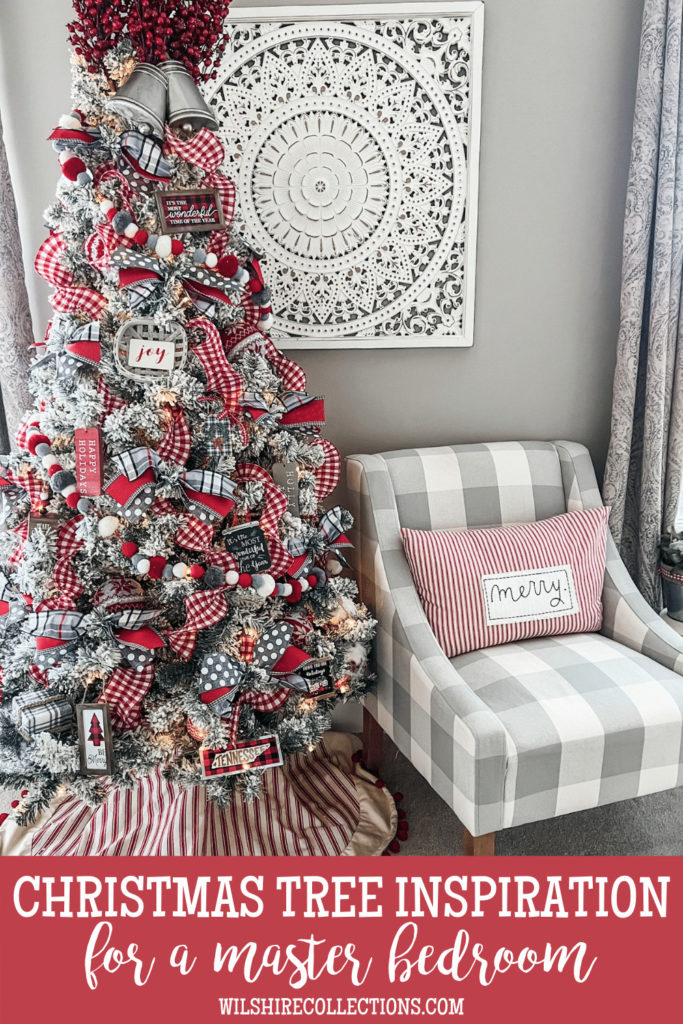 Like I said, going to sleep with the twinkle of those lights is truly magical and just makes my heart so happy!
Until next time…
Stacey
LINKS FOR THE RIBBON USED HERE-
This post does contain affiliate links. Please see my full disclosure page for more info!