Does anyone else have a closet that is OUT OF CONTROL?! I called mine my space of shame because it was such a mess! It was time for a change (ok, I was forced to do a change and I'll explain that soon). haha!
This DIY closet makeover was literally a game changer for my closet! If you need an upgrade, but don't want to do a custom closet…check this out!
So, you know it's time for a closet makeover when THIS happens (for the 2nd time since we've lived here). And yes, they were in studs!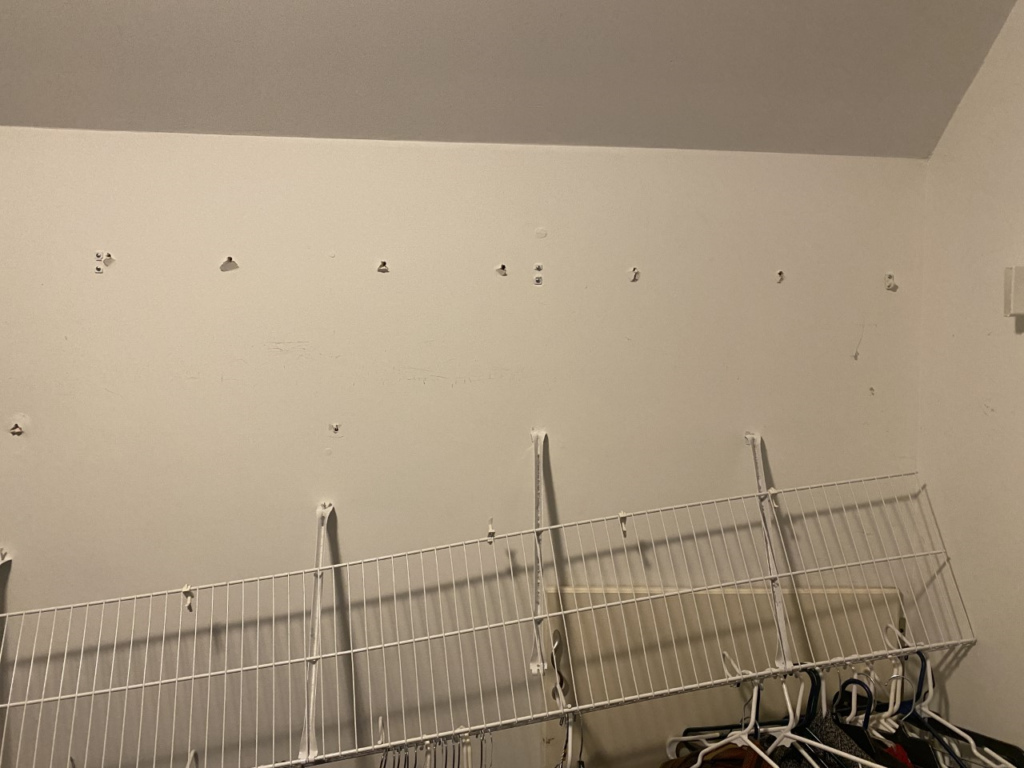 When I walked in and saw all of my clothes on the floor again, I knew I had to do something other than the wire shelving AND I knew I needed to purge BIG TIME!
It forced me to go through my clothes and I ended up having 11 big black trash bags of clothes that I donated…felt sooooo good to finally do that!
Next, Anthony and I went to Lowe's and we ended up getting these shelves and towers by Allen and Roth. I thought this was a great way to get a little bit more of a custom look without breaking the bank too bad on a true custom (DREAM) closet!
Anthony installed everything himself (into studs of course) and even hung from the bar to make sure it wasn't going anywhere. haha! Here's what it looked like installed.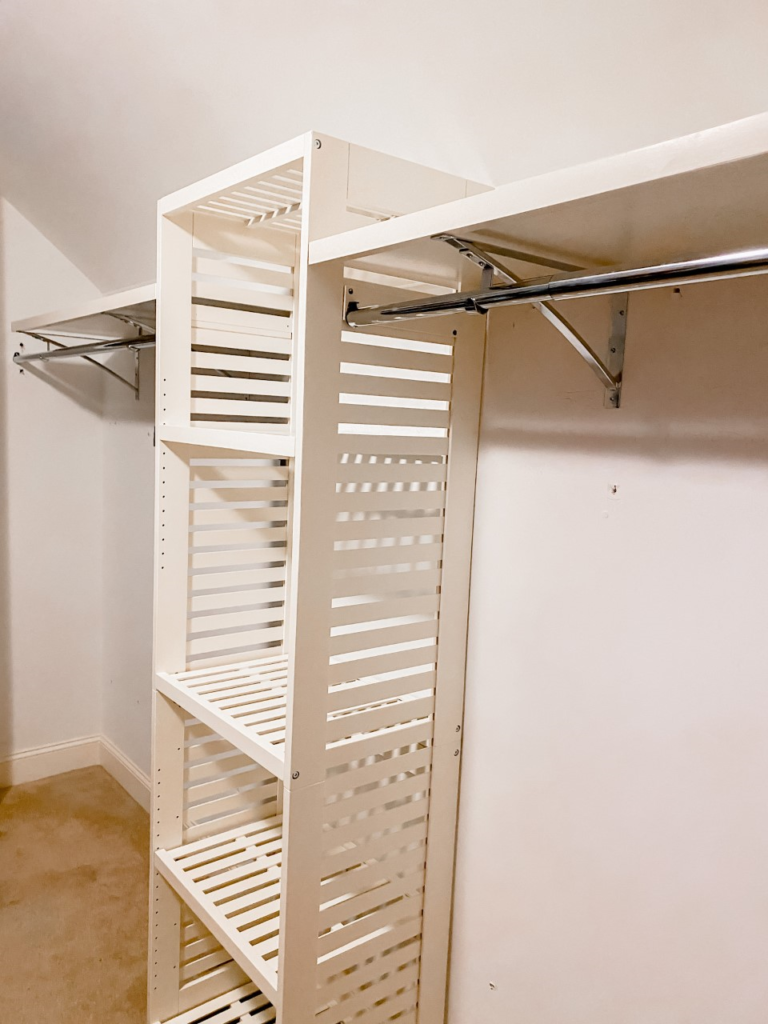 I got everything hung back up and on shelves, but I knew I needed a little more organization to finish it all. So….I called my sister who is the fashion, closet and organizing QUEEN! Her business is Styled by Blair and she is your girl for all things fashion and organization! FOLLOW HER ON FB HERE! I gave her measurements for baskets and things and she went to work and got to shopping!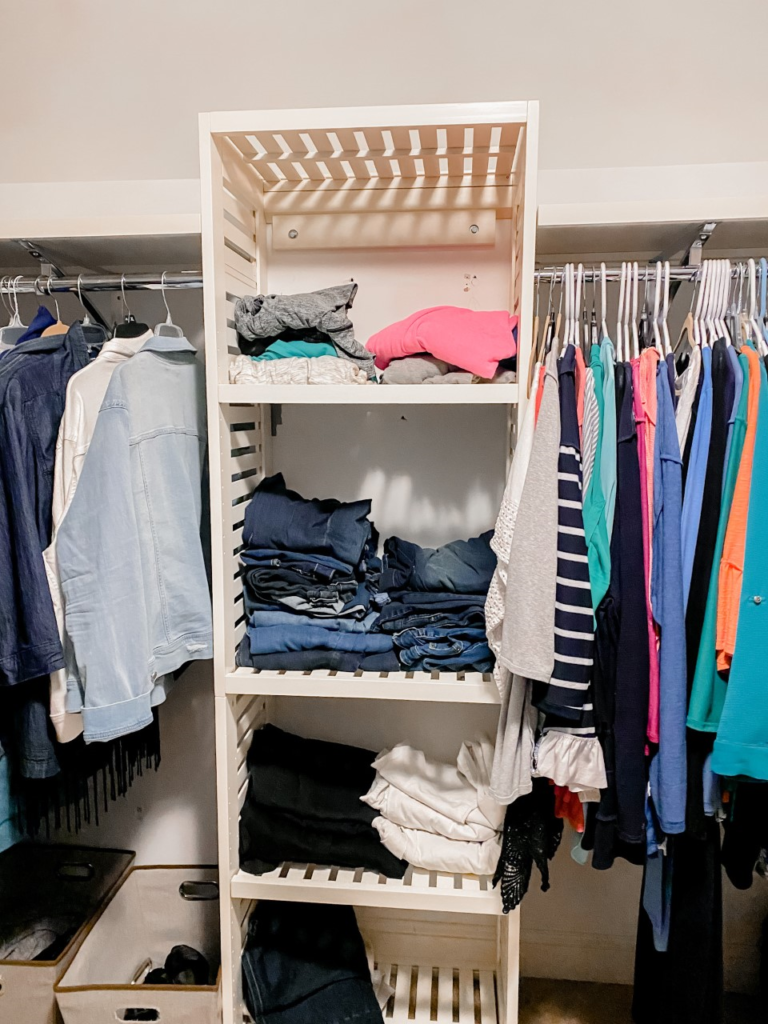 She came over with everything she bought and got to work! I also ordered these velvet hangers from amazon FOUND HERE so she could switch all of my clothes over to those.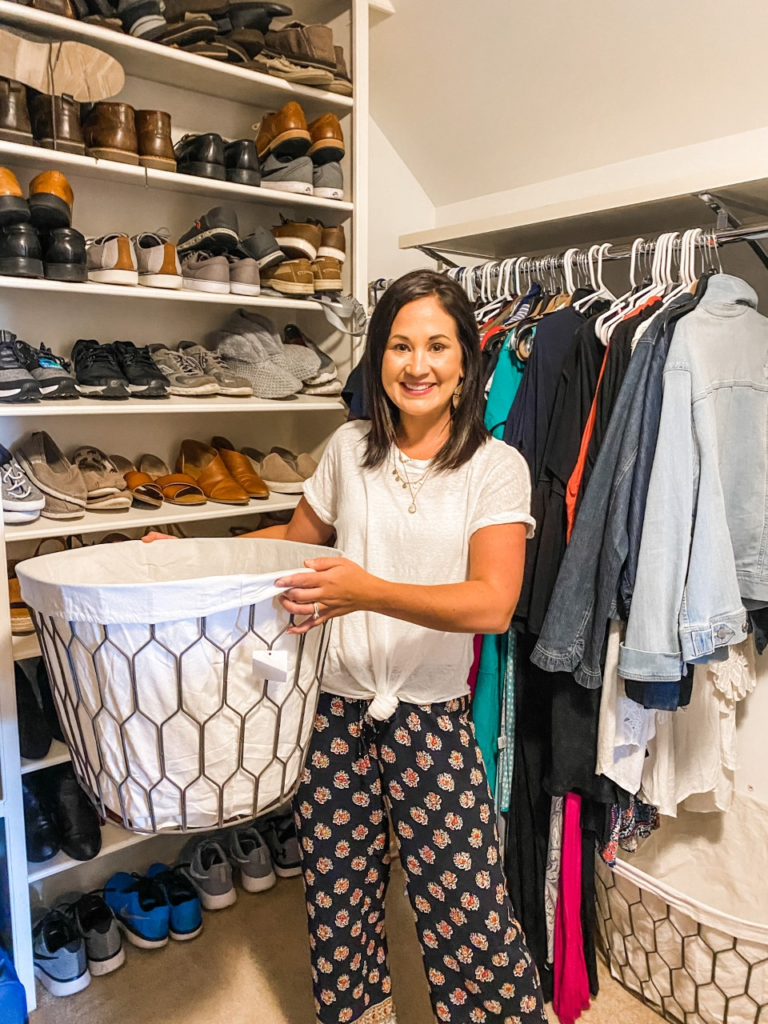 I truly can't believe the difference this all made in my closet makeover. She knew exactly what needed to happen and got it all done to where it is now both cute AND functional for me! How great does this all look?!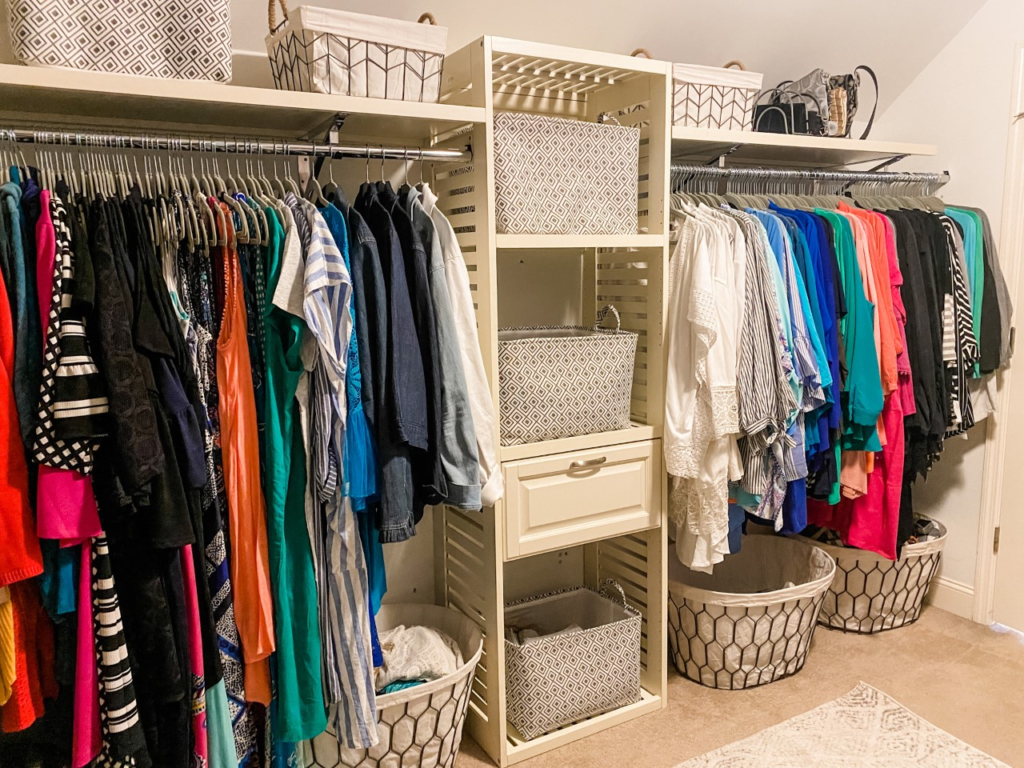 Look at the color coordination! I clearly am consistent in the colors I wear and lean more towards solids than patterns. haha! And how cute is that little rack for small purses/clutches! It's a DISH RACK from TJMaxx! Blair is so smart!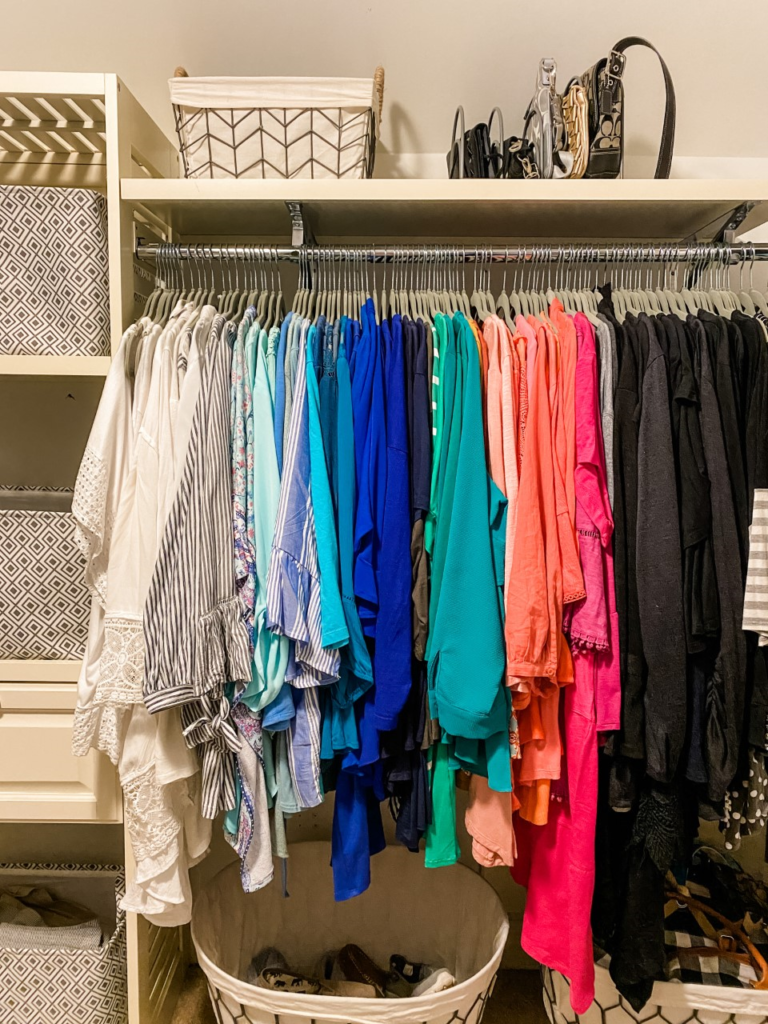 Look at this mess of a shelf before…then see the after below! Now the question is…Can I keep it this clean?! I'm sure gonna try!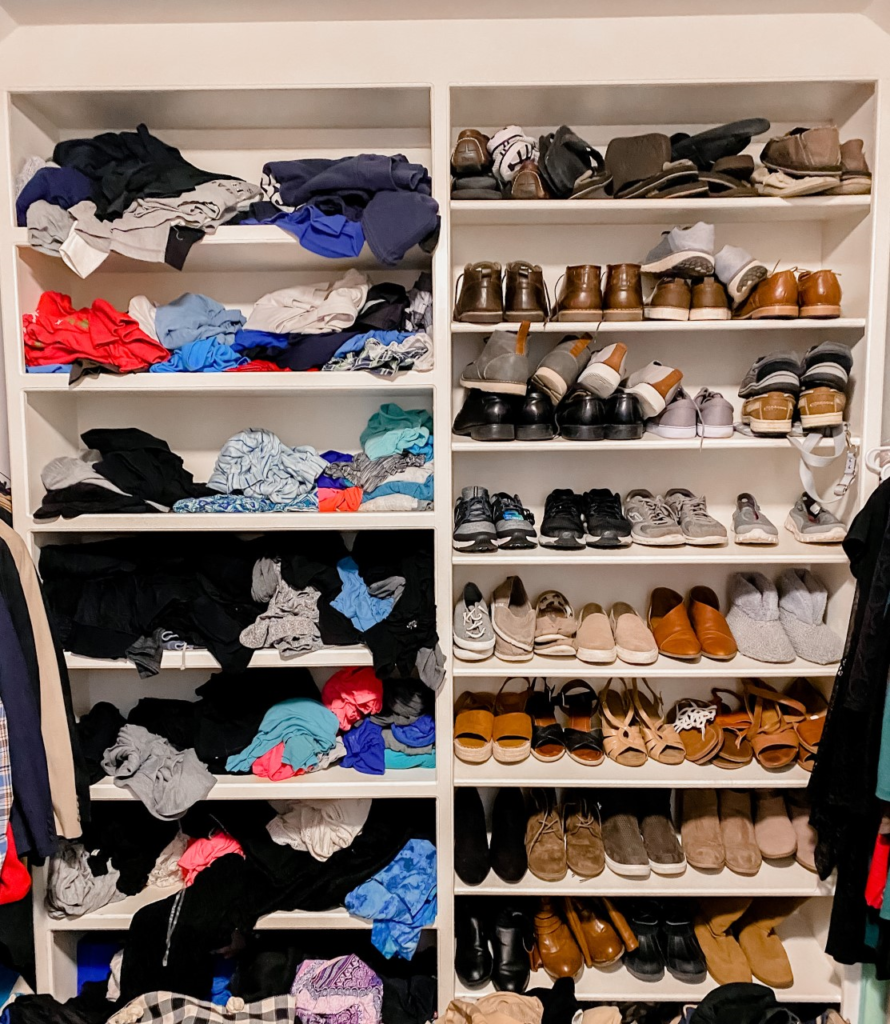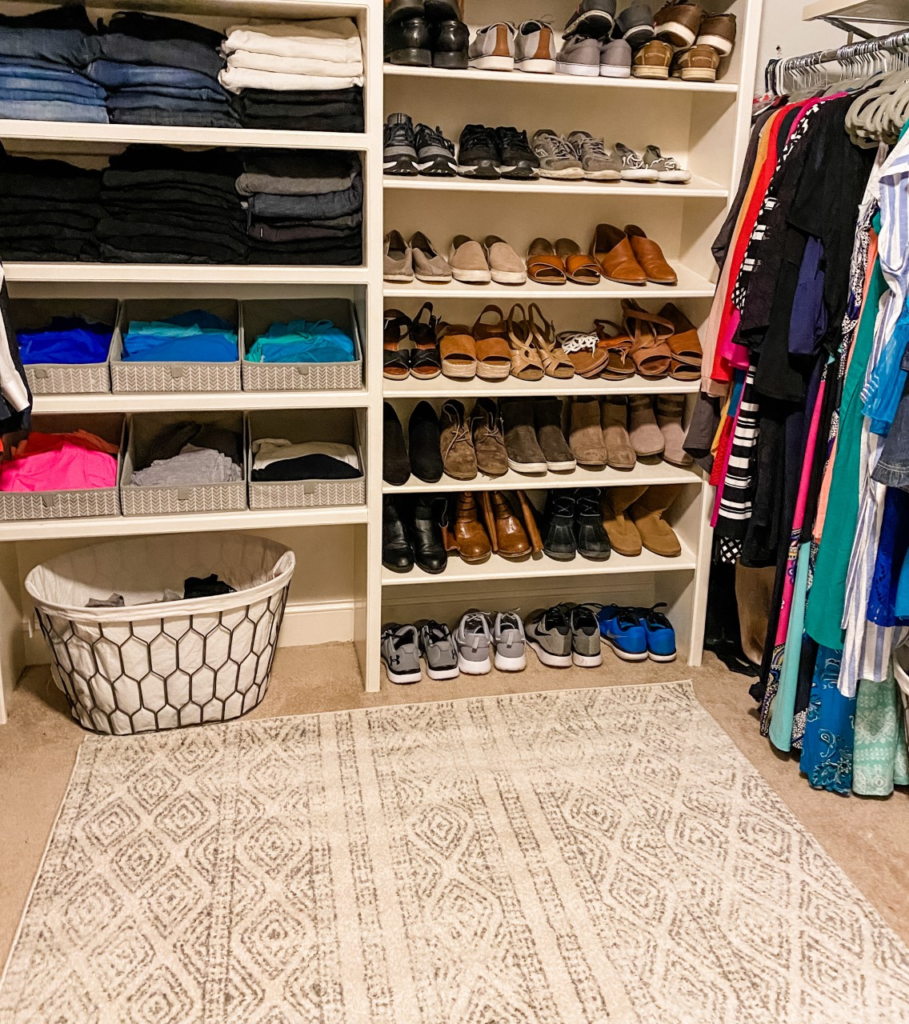 All of the baskets worked out so great (they all came from Amazon and At Home Store) and I even got a new rug from Amazon that really changed the look of the space! GET THE RUG HERE!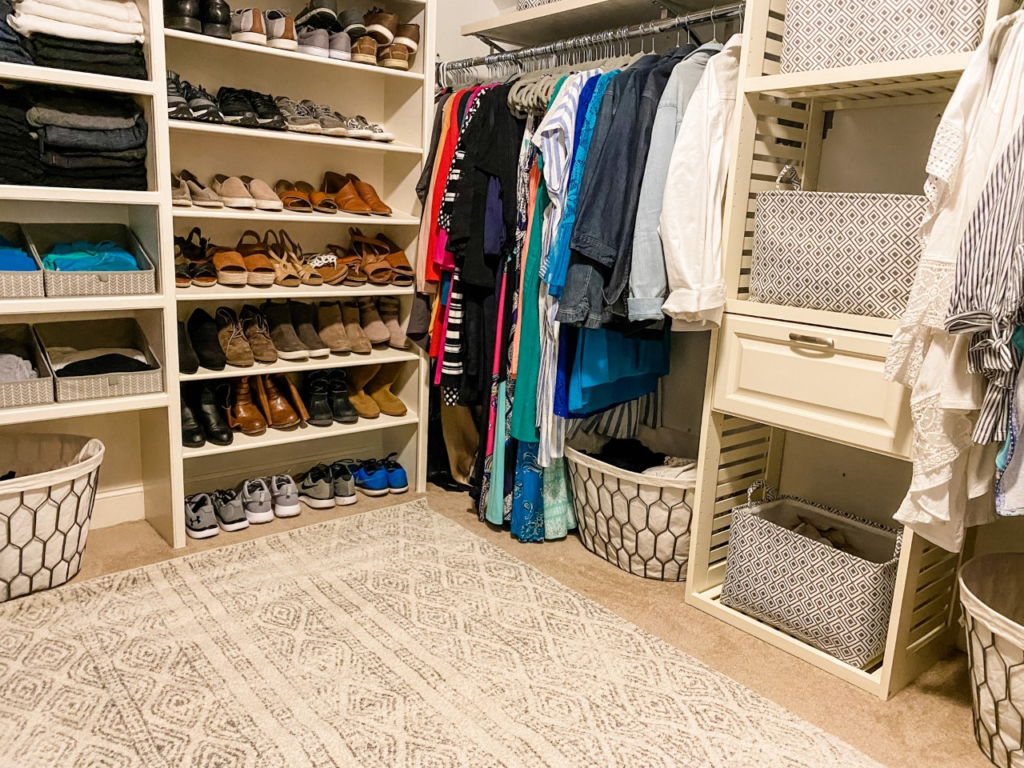 Thanks so much to Anthony (my handy dandy husband) for installing the new closet system and to Blair (my amazing sis) for getting it all organized and cute! Sometimes you just have to admit when you need to call in back up reinforcements…and this was definitely one of those times!
Let me know what you think of this little DIY closet makeover?!
Until next time…
Stacey