It all started with a dream and a drawing. A dream that we have literally talked about for YEARS as we would sit outside and imagine how nice it would be to have our deck covered. I always hoped and prayed that it would become a reality one day.
That's why I'm more excited than ever to be writing this blog post about our covered porch…because it truly is a dream come true!
Our covered porch makeover reveal is finally here and you won't believe all the changes that have taken place since this project started.
Here was the back of the house when it was just a deck.  We really didn't use the space near as much as we knew we could. (this was taken when we were clearing the space for them to start). Here is a blog post that shows it before too!
We hired this project out and use Jeff Kaspar and his team from Rent My Husband (a local company in Spring Hill, TN). They are the same ones who did our fireplace project, so we knew we wanted them back for this job too! I  highly recommend them if you are in the area! You can reach out to him here and tell him Stacey sent ya! 
Jeff did an AMAZING job of understanding my vision and helping me bring it to life. We picked out all the things, and off to work they went. I knew I wanted to use cedar beams and have a wood ceiling. Those were my 2 non negotiables! I couldn't believe how quickly they got it built. I was so excited even after day 1!
Here are some progress pictures along the way.
Once Rent my husband was done building, we had to have someone else come and paint the ceiling and stain the floors and rails. We used Sherwin Williams Dover White for the ceiling and SW Cabin brown in their super deck solid stain for the rails and floors. This is where the magic happened that made it ALL come together!
Just look at the difference here! 
After that, it was all about my favorite part…the decorating! Our new furniture is from Ashley Home Store and it is seriously SO comfortable! Exactly what I wanted for this space and I searched high and low for the perfect set!
I will link sources for as many items as I can at the end of this blog post, but here are some pictures! Can't wait to hear what you think 🙂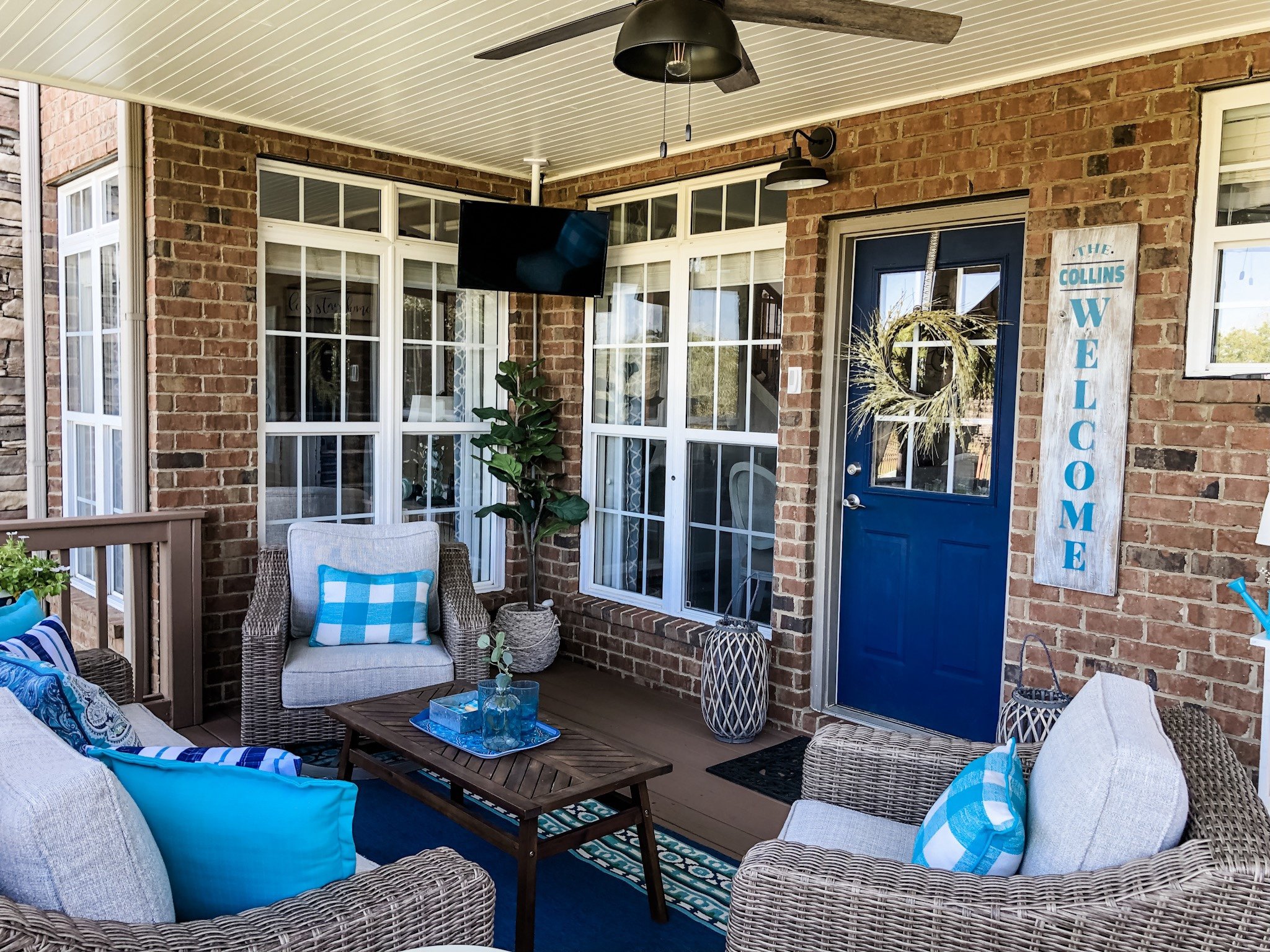 Anthony of course wanted to hang a TV out here, but I have to admit…it's been so nice to have! I can already see LOTS of time spent out here as a family!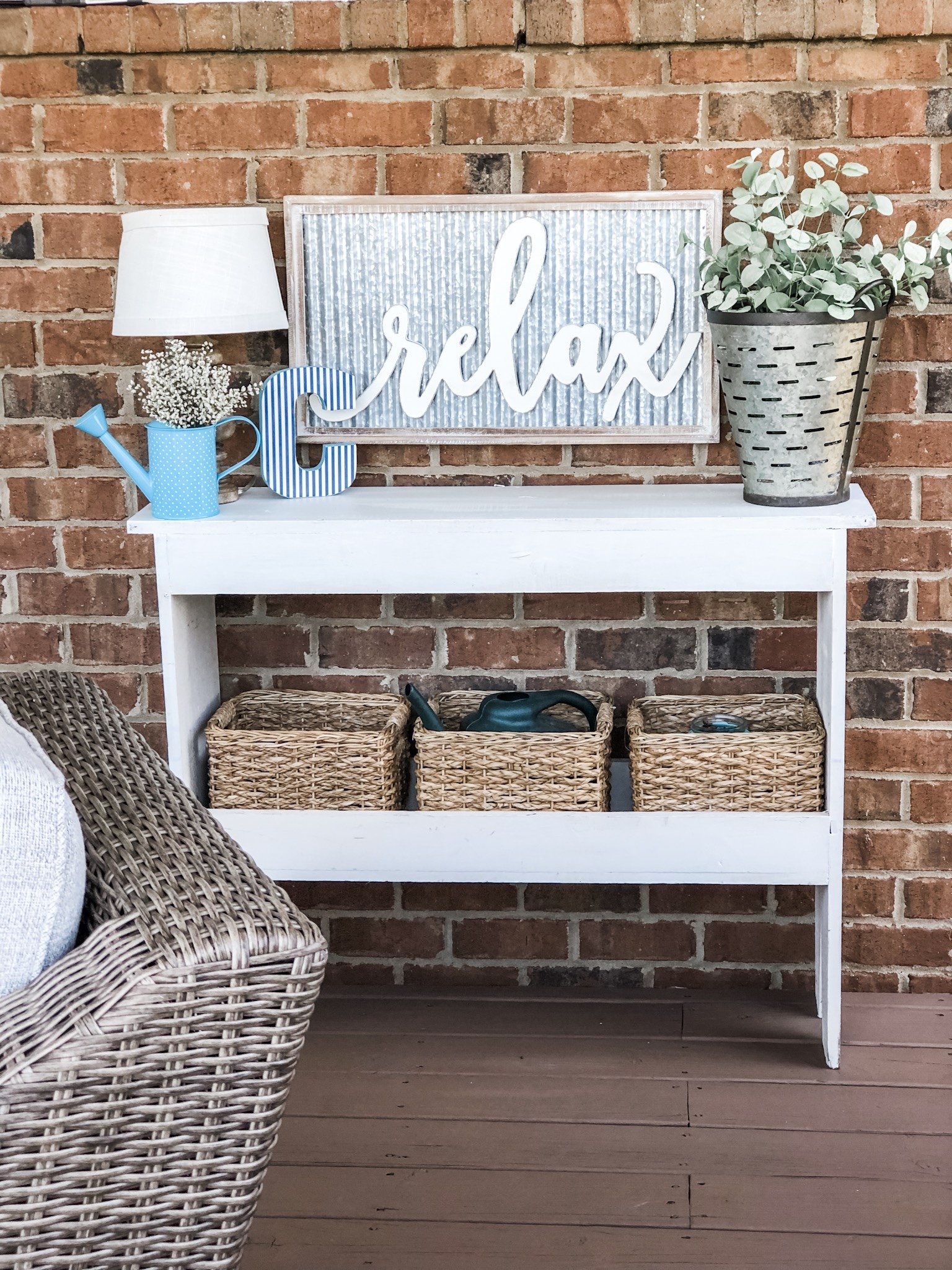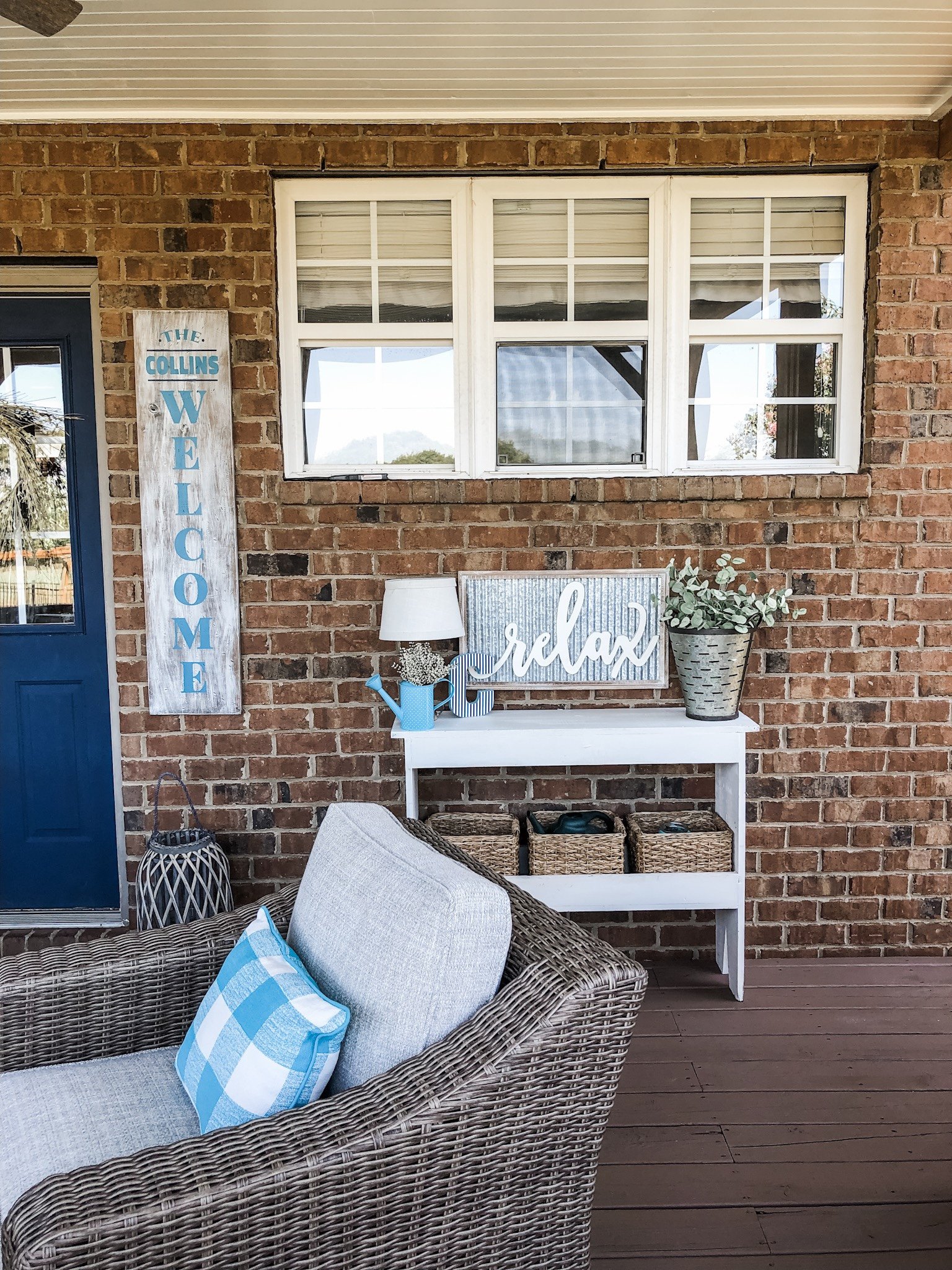 I'm just so pleased with how our covered porch came out and truly feel blessed to be able to check that one off of our home project list. Sometimes the list seems never ending or like you will never be able to "get there." But with a little (ok, a lot- 9 years for me) of patience, I can now say it was SO worth the wait! 
Is there a big project at your house that you are hoping to be able to check off a list soon?!  I would love to know!
Until next time…
~ Stacey
SOURCES: (Click on the name below to be taken directly to the item)
Swivel Rocker from Ashley furniture
Basket that fig is in from Target