Let me start off by telling y'all something. When I decided to add Interior Styling services in 2017, I had NO idea just how much I was going to enjoy it. It is something I had felt led and called to do for a while, but I kept pushing that voice back down inside. People would ask me if I could help them decorate, people would tell me I SHOULD be helping people decorate, and people encouraged me to go for it!
I had a lot on my plate already, but decorating for others was something that I really did think I wanted on my plate. I started to shift and make adjustments to my business, so that my plate wouldn't be totally overflowing. 2017 was going to be my year I had decided, so I launched this blog and announced the new service of Interior Styling. I've been blown away by the response I have gotten, and even more blown away at just how fun it has been!
I have been so busy with my decorating clients and other aspects of the business that I haven't had time to blog about many of the projects. This one is near and dear to my heart because it was my first FULL service transformation that I completed. Sweet Christy hired me on and off to the races we went!
Pin this!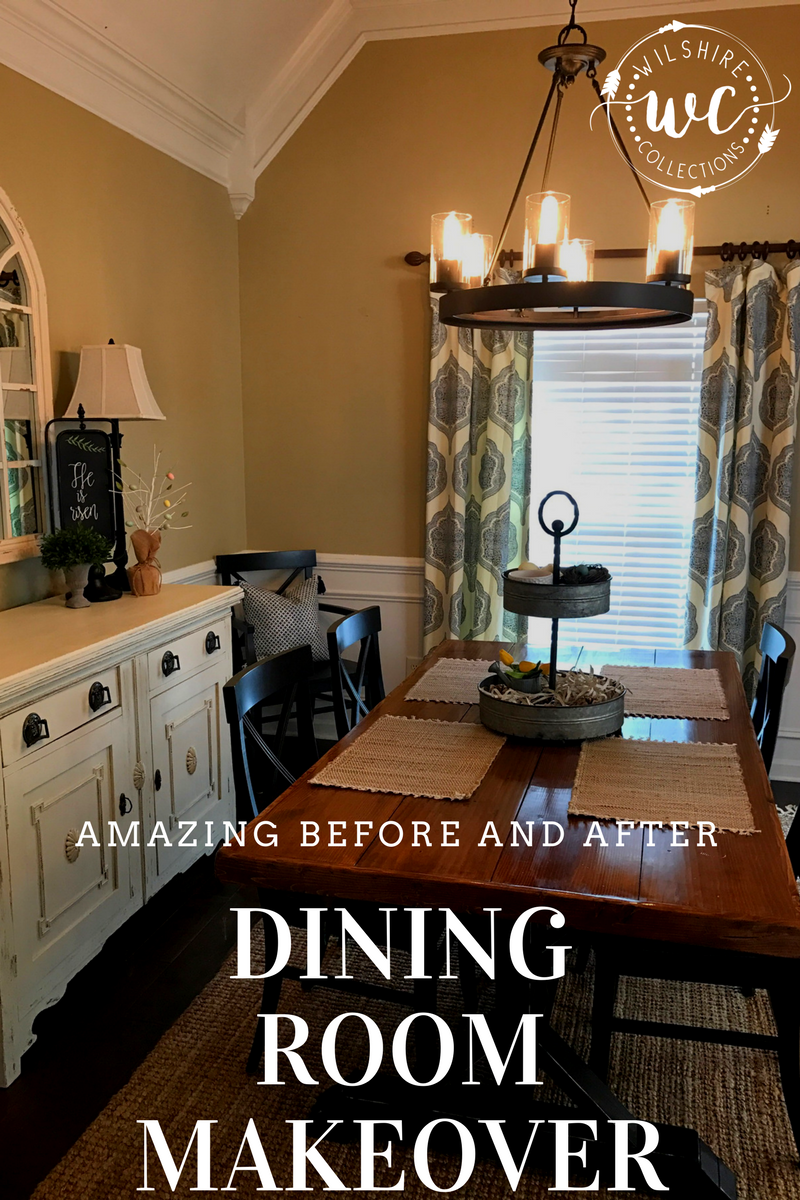 Here are some before pictures of Christy's Dining Room: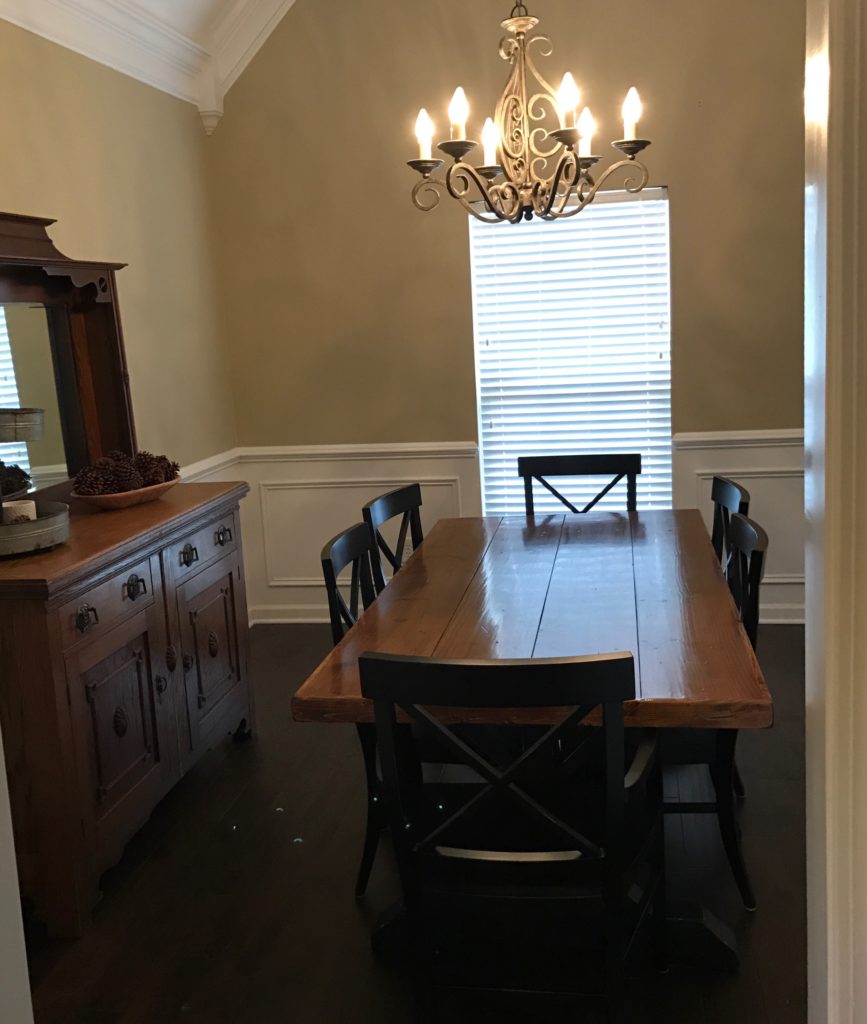 Right away we knew something had to be done about that buffet with mirror. Since buying a new piece wasn't in the budget right now with everything else we wanted for the space, we knew the solution was to get rid of the mirror and PAINT that piece! I hand painted the buffet for her in Blackberry House Paint Home Cooked Bread, and it came out gorgeous with all the details. With paint, it's like you are getting a brand new piece, and suddenly furniture you once despised is now a focal point of your room. That's the beauty of paint my friends!
Here she is before and after. We added the ever so fabulous and popular Kirklands mirror above it and started our drooling! You can get the Kirklands mirror here.
The other thing we knew she couldn't do without in this room was some window treatments. She had some up at one point, but was starting over with her color scheme and décor and it was time to start fresh. What I loved about Christy is that she was not afraid of pops of color. She loves the farmhouse and natural look, but she likes to throw in a little fun and traditional to the mix too. We finally decided that these curtains from Wayfair would be the winner, and they are even more beautiful in person than they are online. They have an off white background and then some Navy and cobalt blue. Love, love, love! Notice how the rod was hung a little higher than the window to add height, and how we also extended it out a little on each side too!
Look what a difference 2 curtain panels made! You can get them on Wayfair here.
Another main thing we did in this room was to add the amazing natural fiber rug under her table. The room needed something to soften the space and add contrast under her dark farmhouse table. I love the details of the fringe on the end of the rug!
And we can't forget the fabulous new light fixture. What a difference it made as well. You can find them both on Wayfair. The rug is here and the light fixture is here.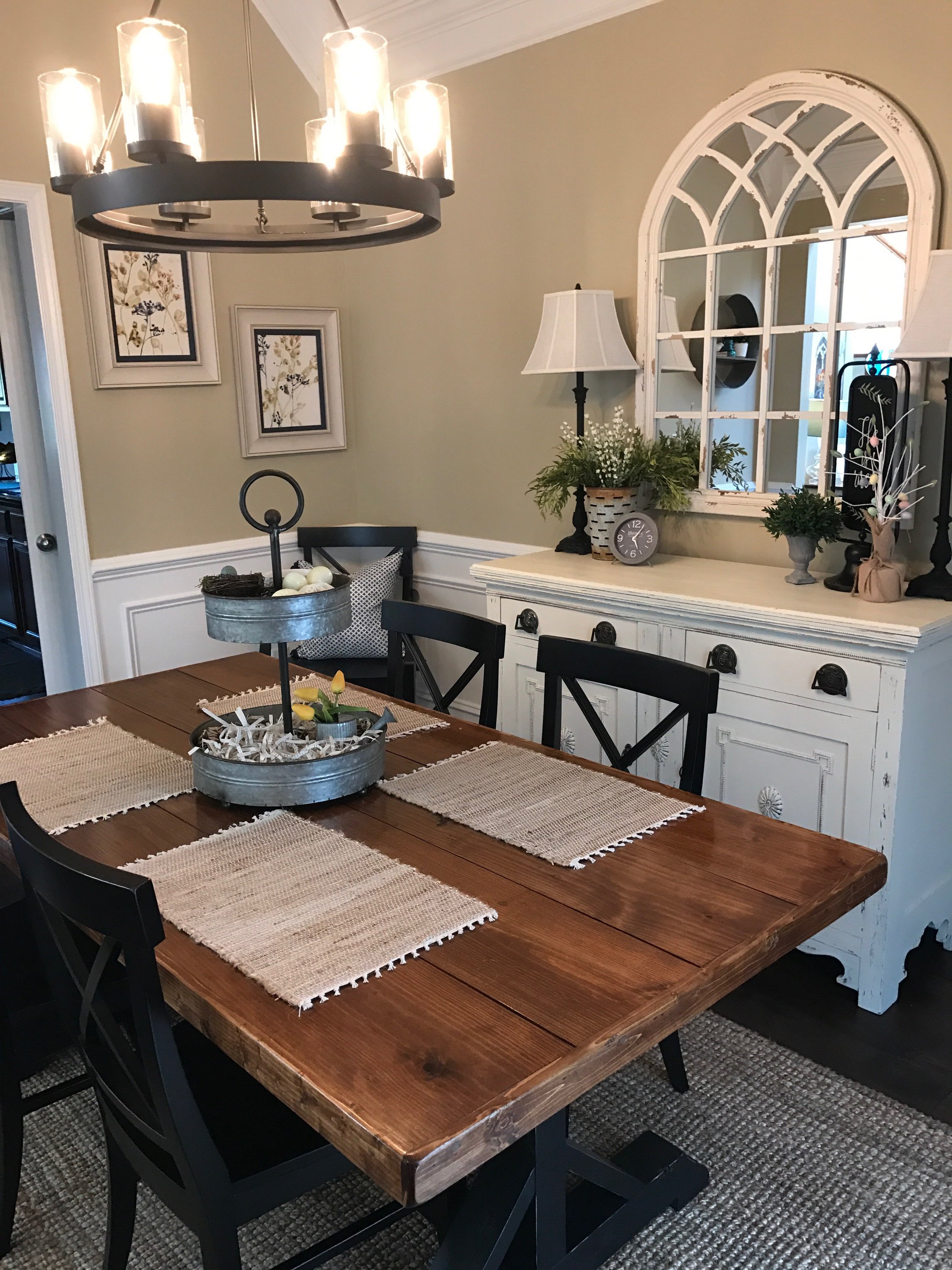 Some cute new décor for the walls, and we were pretty much set in this space! The round metal shelf is from Decor Steals and the prints are from Kirklands. The cute pillows in the chairs are from T.J Maxx. We are still on the hunt for something to hang on either side of her window, but are waiting to find the perfect pieces to compliment and complete the room! (I just had to share now, because I'm impatient like that! 😉 )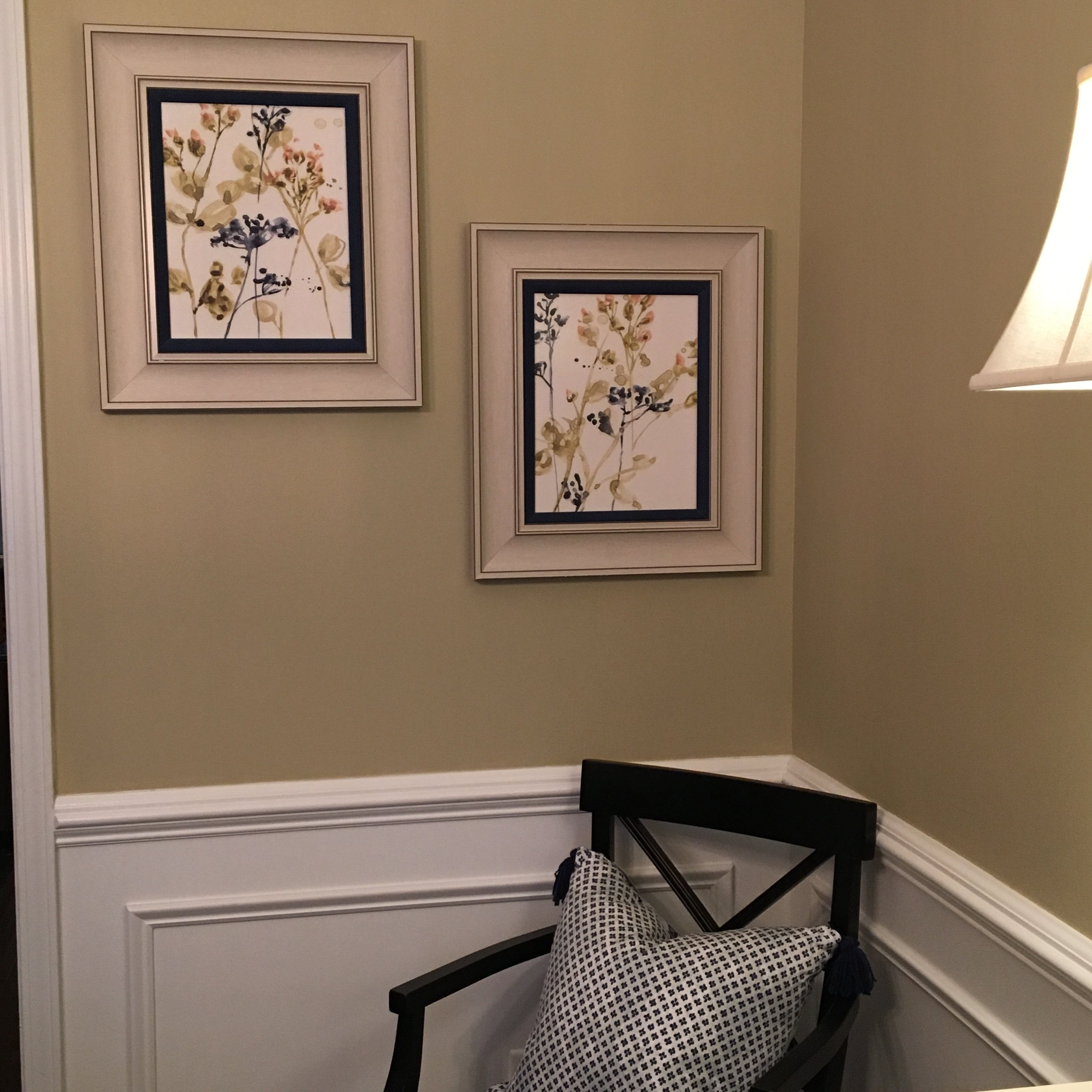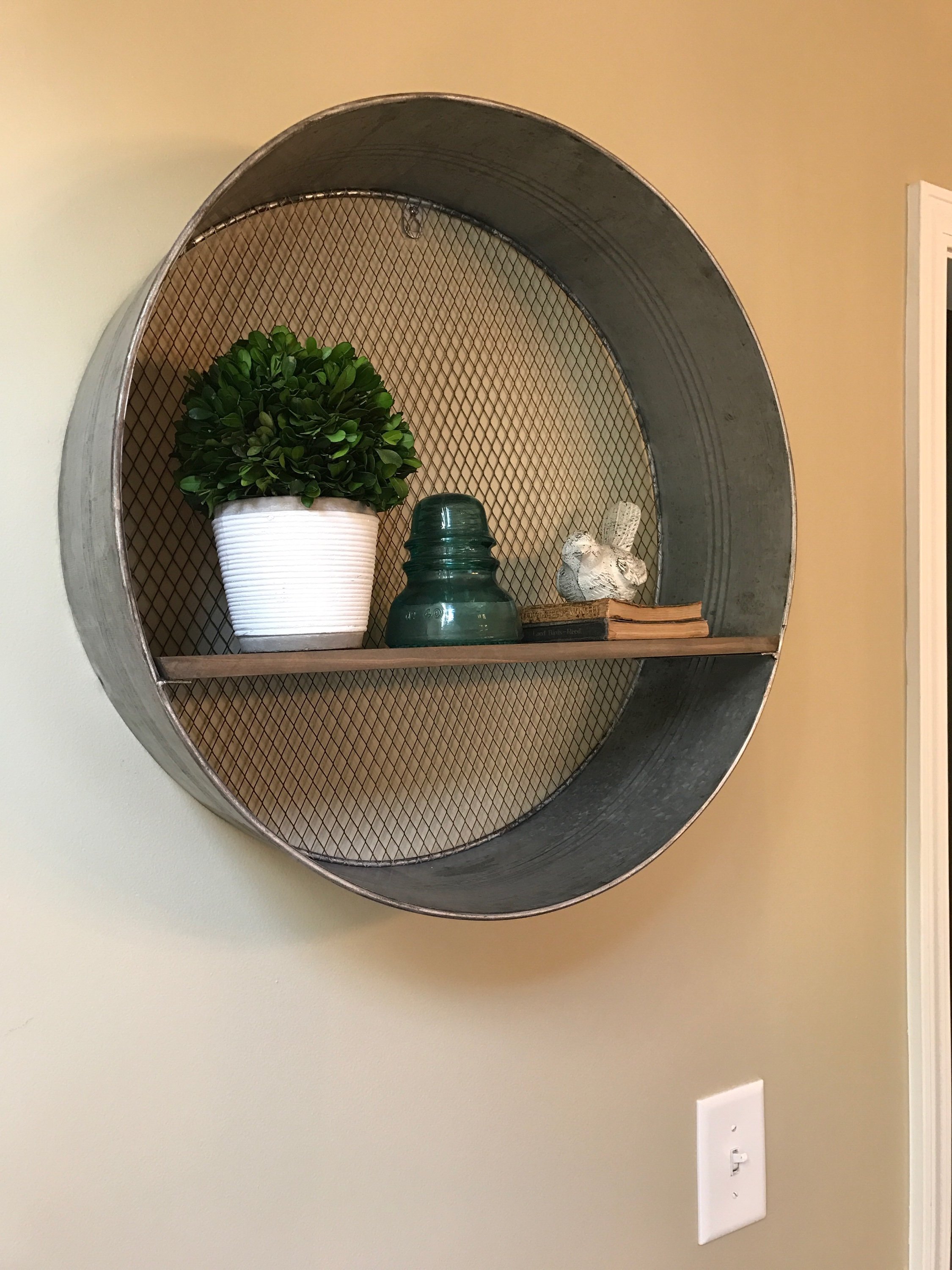 Oh, and we can't forget her entry way also! She already had the little piece of furniture and the beautiful painting by my talented friend Jill Harper of Jill Harper Designs. You can find her fb page here. Christy just needed a few accessories to make it all pop and stand out even more. I think we accomplished just that!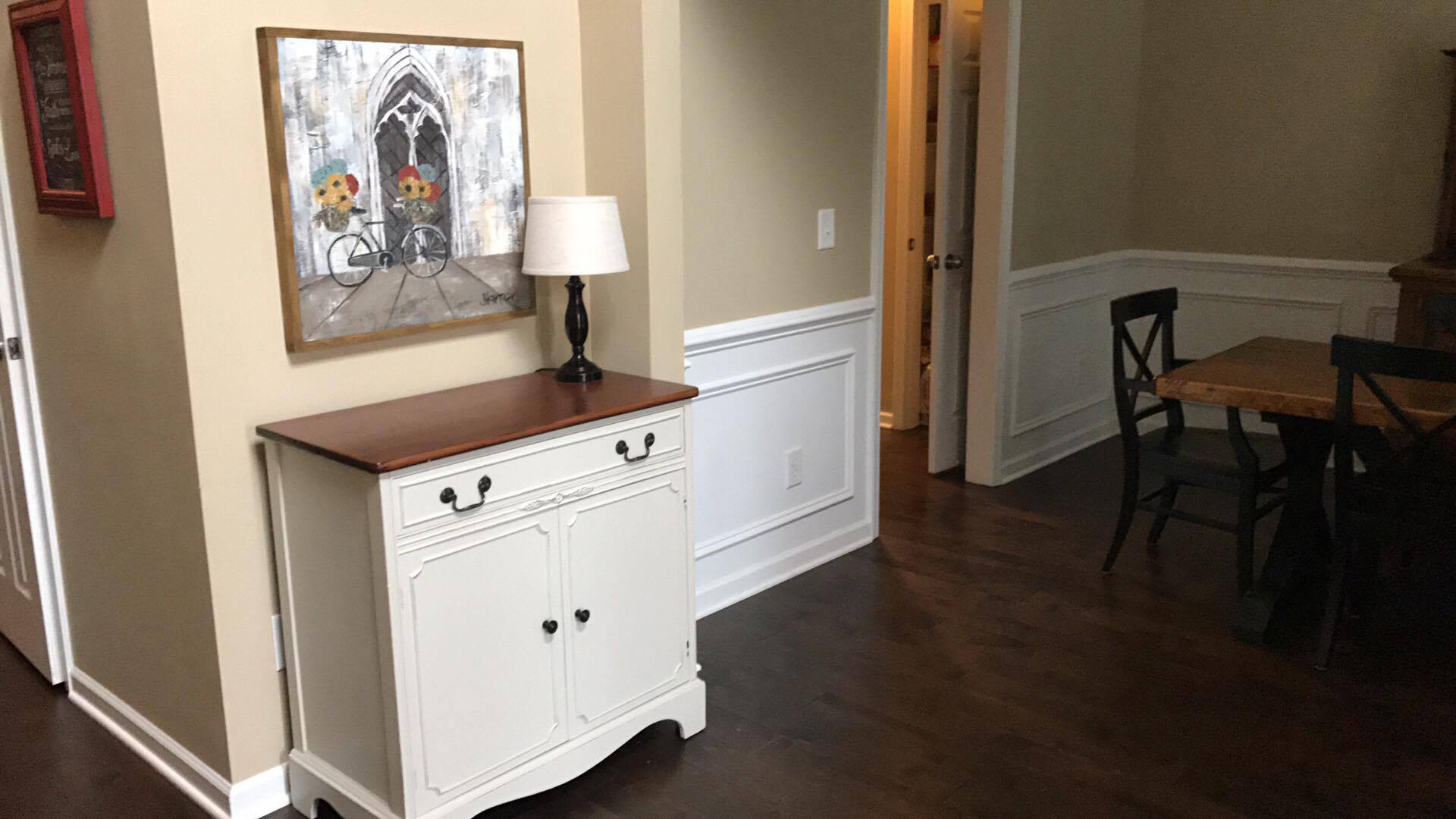 This decorating makeover is a perfect example of making small changes to a room that leave a huge impact. We didn't tear down walls, we didn't even paint them. We simply worked with what she had and expanded upon it. The bones were there. The potential was there. The room just needed a little push, a little nudge, to send it over the edge into a decorated beauty!

It makes me SO happy to know that when Christy walks in her house now, she immediately feels at home and she loves these spaces! I loved when she told me right after it was done, that she just kept walking in there and turning on the lights to look at it and stare. That is EXACTLY how I want people to feel when I am done working with them on their homes. It should be a place that you want to just sit and stare, and take in all the beauty.
Thank you again, sweet Christy. This project meant so much to me and always will. I'm working with several other clients right now on some fun transformations. I can't wait to share those with you as they are completed as well!
Drop any design or decorating questions you have below in the comments and I will do my very best to answer you! I'm not an expert or master by any means, but I sure do love it and have learned a thing or two (or thousands) along the way.
Until next time…
~Stacey