Some of my favorite DIY's around here have been done in my laundry room. May sound crazy, but it's true! If you are a mom, or any woman for that matter…you probably feel me when I say I spend A LOT of time in that room!
I knew I needed it to be a space of function, but I couldn't do without a little cute too! 🙂 You can see the first big project we did in this space here. Talk about a WORLD of difference! I love having the folding shelf AND a place for some décor. Win, win!
You are going to want to pin this one for later, so go ahead and do that now!!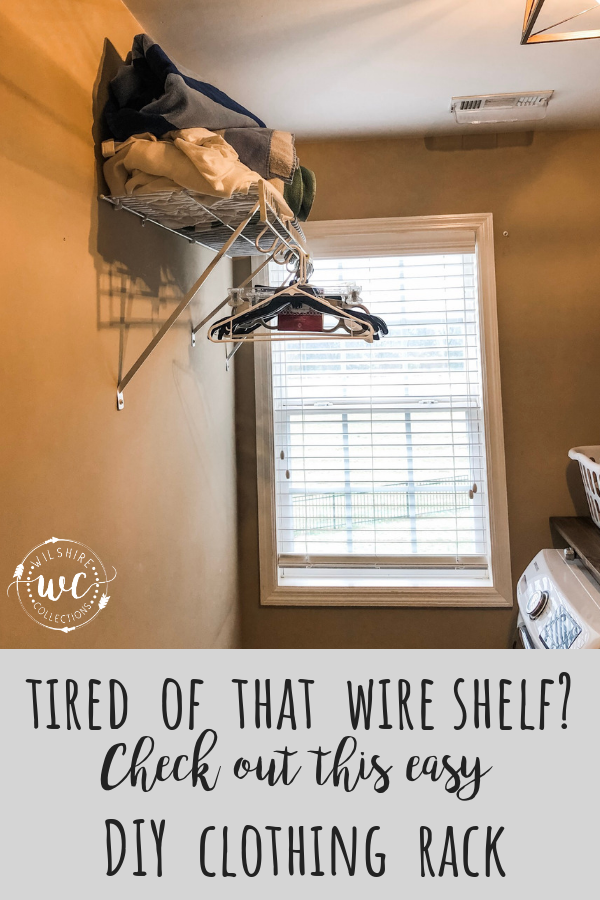 We recently had the laundry room painted (SW Agreeable gray) and when we did we removed this old wire shelving that was there when we bought the house. I knew then it was the perfect time to hit my husband up with my DIY idea. Luckily, he's so good to go along and usually jumps on board pretty quickly!
This DIY clothing rack for your laundry room will give you that industrial farmhouse look, but is also super practical and functional for your space!
Here is one thing I did NOT like about the wire shelf clothing rack. Our laundry room is fairly narrow, so when you hung clothes there to dry they were honestly in the way. We were constantly knocking into them. I knew we could fix that with this DIY!
After the wire shelf was down…
Here is what you will need for this project :
 Wood (we got ours from Lowe's and used a shelf board that was already cut to size) Our is about 50 inches long and 12  inches tall- but you can tailor this to fit your needs.
 Stain of choice. We used Minwax Early American because we had it on hand and it went well with the other items in our laundry room.
 Industrial pipes. You get these from the pipe/plumbing section of lowe's or home depot. They come in different lengths and you can usually get silver or black. You will also want to get the round piece (floor flange) and the little caps for the end. They should all be together at the store! (Use whatever length works for your space- we used  8 inch pipes)
 Screws
That's it! We sanded and then stained our board. My husband was smart and measured out how far we would need in between each pipe in order to hang a shirt there and not have them totally on top of each other. For us, our 3 pipes are about 20 inches apart from each other.
He attached the wood directly into the walls (into studs) with some heavy duty screws. Then he attached the flange to the wood with screws and then you just screw in the pipe to that. It really is SOOO easy! (I say that, but I was mostly the cheerleader on this project. Haha!)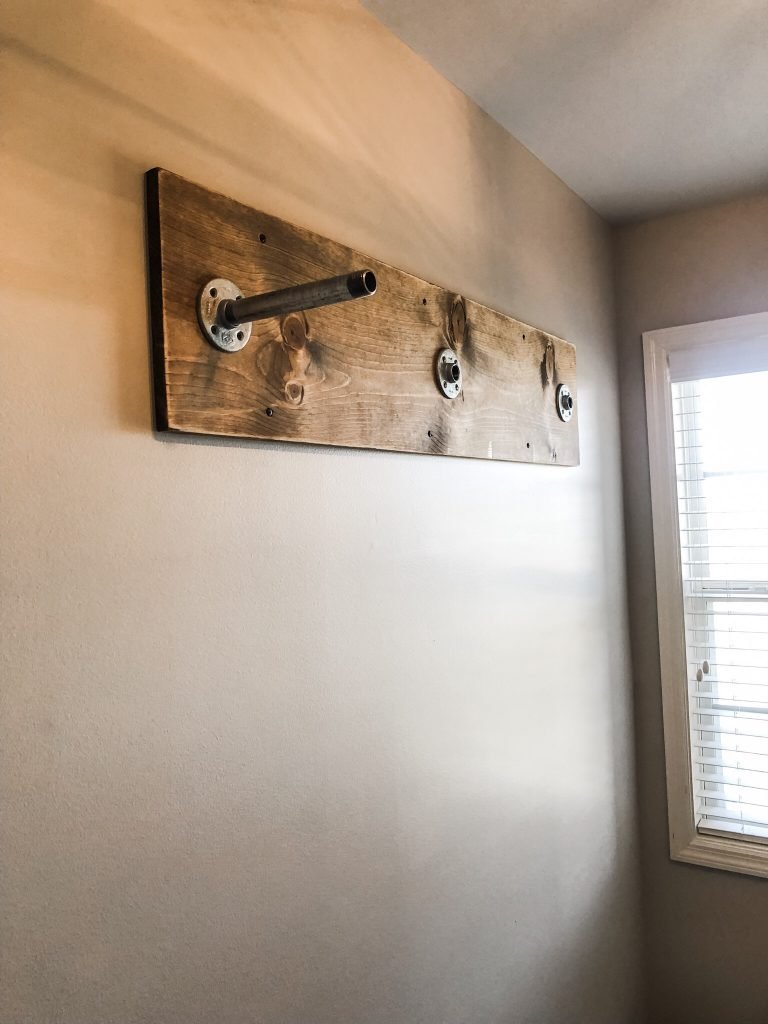 I will say, the pipes aren't super cheap and it can add up pretty quick. So, maybe not the cheapest DIY you will ever do…but it won't break the bank either and it's SO worth it!
I love the way it looks and because of the way our clothes hang now, they don't stick out into the room as much and it makes the space look bigger!
Hope this was helpful and gave you a great idea for a  DIY clothing rack for your laundry room! Let me know if you decide to give this one a try. After all, ALL of us ladies deserve some cuteness in our laundry rooms! Right?!
Until next time…
Stacey
PS…If you like this project, would you please share it on social media?! I would love ya forever and ever!