I love a project that's inexpensive, cute AND can be used for any season! This one fits the bill!
This DIY Dollar Tree hanging wall planter is truly adorable and affordable and could be used all year for any season!
When I went to the Dollar Tree to check out their Spring stuff, I got inspired when I saw this long sign and these little cardboard boxes. I knew exactly what I wanted to do to transform them!
Here's what you'll need: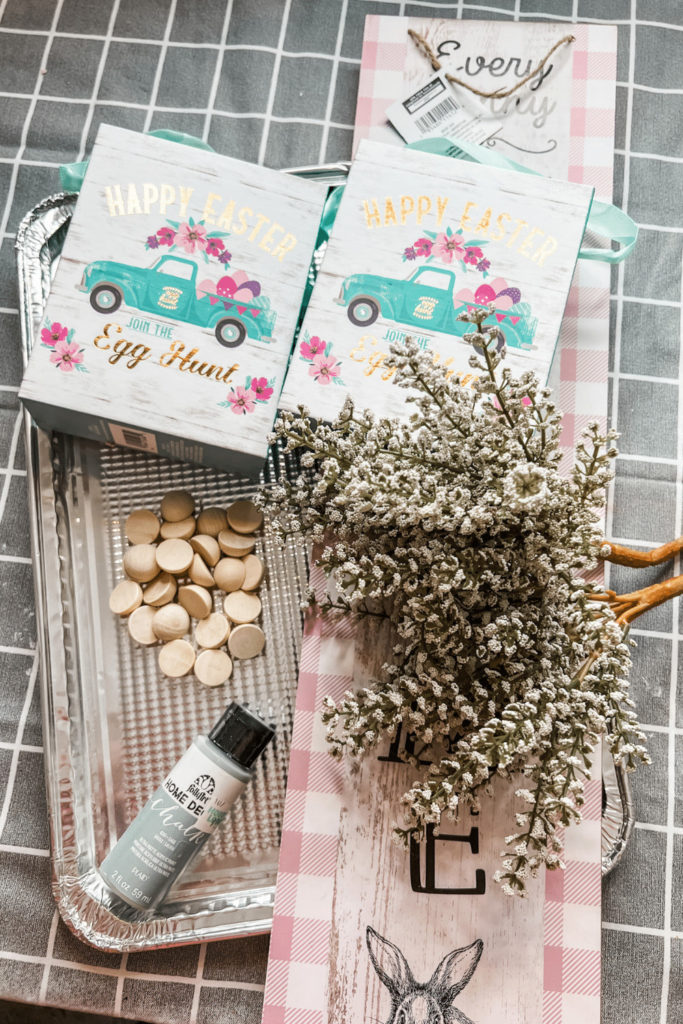 A long sign from Dollar Tree (or any piece of wood similar size). This one is 24in long x 6 in wide.
2 cardboard boxes from Dollar tree (if you can't find these exact ones, get creative and find something that would work. Maybe even a pop tart box or something similar. lol!
Pack of 2 cookie sheets from the Dollar Tree (these are PERFECT for crafting_
Chalk paint colors of choice (I used white and folk art sage)
20 mm half wood beads (mine are from amazon and I used 24 total)
Floral/greenery of choice (mine I have had forever)
And of course lots of hot glue!
For this Dollar Tree DIY, I simply started off by painting the back side of the board white.
I then cut the cookie sheets to only have the textured inside part of each of them. Using hot glue, I wrapped and attached the cookie sheets right to the cardboard boxes. For the bottom, I folded it kind of like I was wrapping a present.
Once that was done, I grabbed my sage chalk paint and painted one coat. Then, I used hot glue to attach the beads all around the tops and gave it another coat of paint!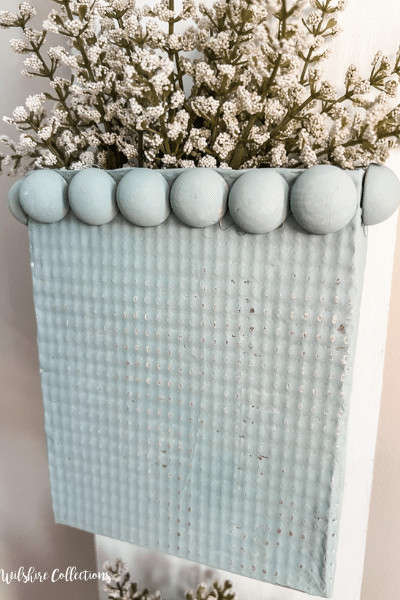 How easy an how cute?! I love the look of these!
Last but not least, I just hot glued them to the board and added some florals I had on hand! You could DO anything here and you could also paint this any color combo you wanted to customize it to your style.
I love a cute Dollar Tree DIY, and this one was definitely a home run in my book! What do ya think? Are you going to try and make one too?
Until next time…
Stacey