I don't think I've ever done a project and then blogged about it so quickly! I loved how this turned out and I love how it looks now that it's styled in my home even more, so I couldn't wait to show you!
It all started with a trip to Hobby Lobby for a few craft supplies. You know how that story goes…haha! It's never just a few and the ideas are always flowing!
Anyone can make this easy pallet wood flag using Hobby Lobby supplies and it will be the perfect addition to your patriotic décor.
Here was my shopping cart when I was checking out at Hobby Lobby.
I knew as soon as I saw that pallet wood that it looked like a flag. I mean, it didn't…but I could SEE a flag in it!
The red and white stripes came easy to me, I knew I would just paint those on. I was trying to decide what I wanted to do for the Navy and stars when I rounded the aisle and spotted the PERFECT scrapbook paper. I knew I had my answer!
Here is what you will need:
Pallet wood from Hobby Lobby. This was roughly 14×16 and $9.99 before the discount. If you have a real pallet, by all means…use it! This is just if you want the Hobby Lobby version!
Navy scrapbook paper with white stars also from Hobby Lobby
Red and white paint (whatever you have on hand or acrylic from hobby lobby will do)
Mod Podge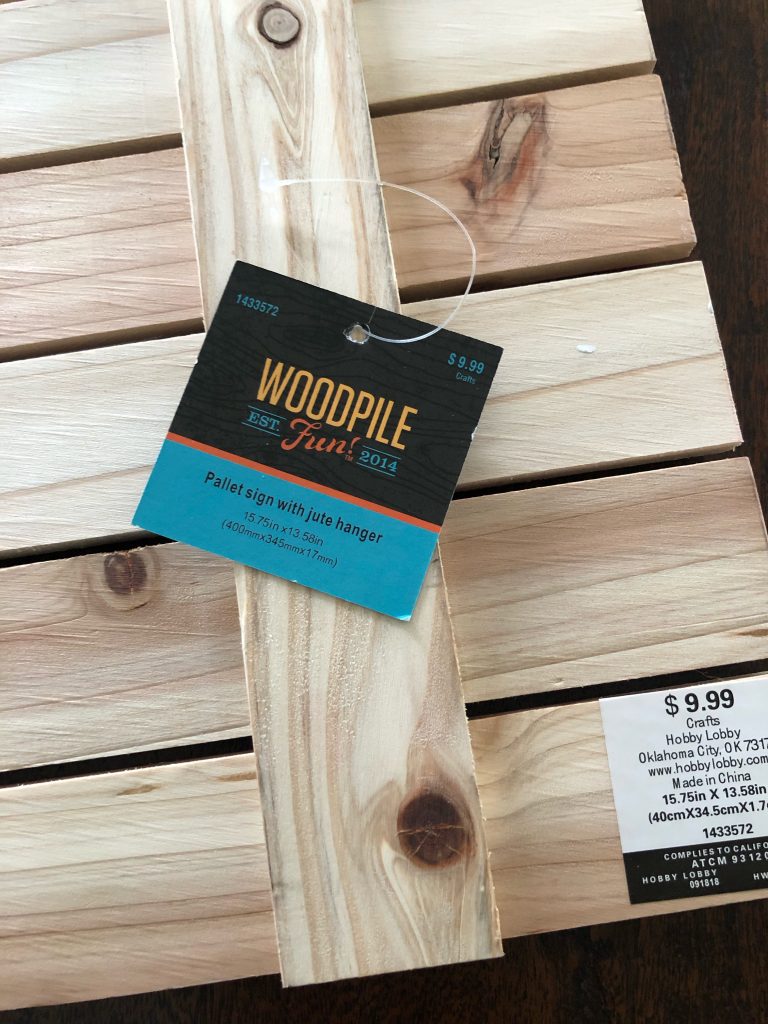 Simply paint your stripes and mod podge on the strips of stars in the corner. You can go here to watch the FB live to see exactly how I did this!
Here is my easy pallet wood flag in my entry way over my bench. I LOVE it here so much and think it fits the space just perfectly!
I also got this adorable pillow from Kirkland's which I'm loving. Oh, and the little home sweet home that I painted on the live too worked perfectly on this piece of wood from Walmart that I had laying around. The plaid pillow is from Walmart and it's reversible, cheap and comes in a few colors!
The little stars all came from Target and I just strung them together!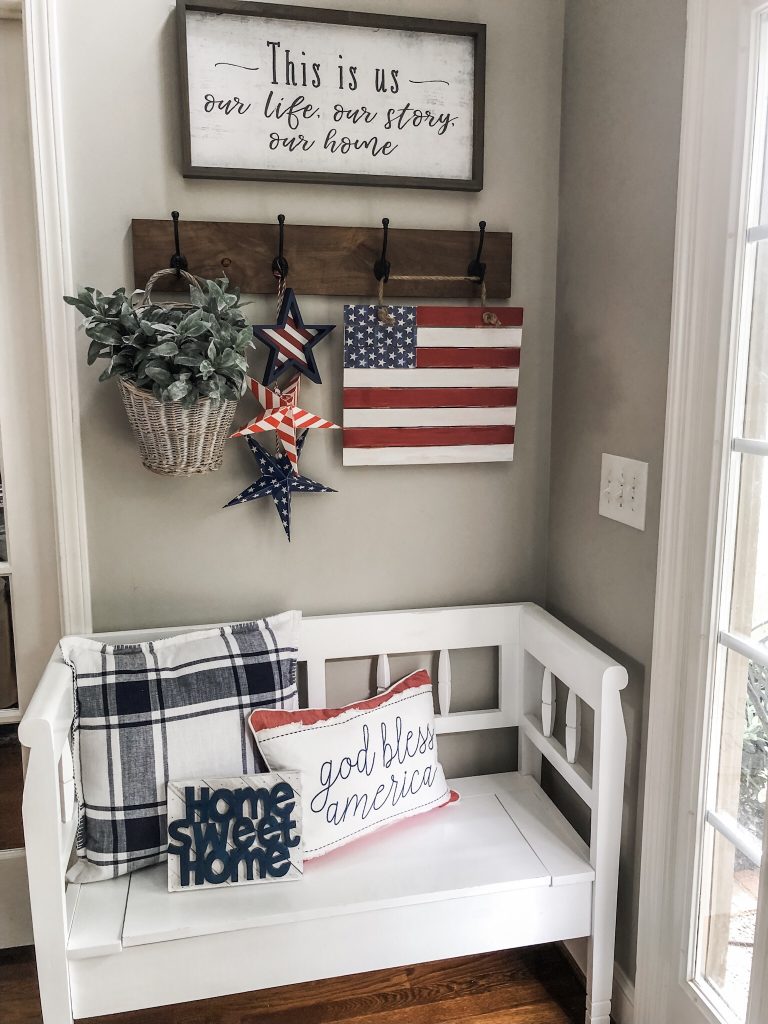 Let me know what you think of this easy pallet wood flag DIY and thank you to everyone who watched me make it live and gave me so much help and feedback! It was a fun one! Do you think it worked out perfectly over my entry way bench?
Please be sure to show me if you decide to make one of these for yourself too!
Until next time…
Stacey
WATCH THE FB LIVE FROM THIS PROJECT BY CLICKING HERE!
This post contains affiliate links. Please see full disclosure page for more details.