You guys! I'm soooooo excited about this "new space" in my house. Clearly, it's been there all along…so the space itself isn't new. But, it did just get a major REFRESH!
This small little spot right when you come in our front door was begging for a cute bench with some hooks above it. Ok, really I WAS BEGGING for this…not the wall. Hehe! I knew it would be perfect though.
Today I will share easy entry way decorating ideas using a storage bench, hooks and décor! I love a space that is cute and functional!
Pin this, please!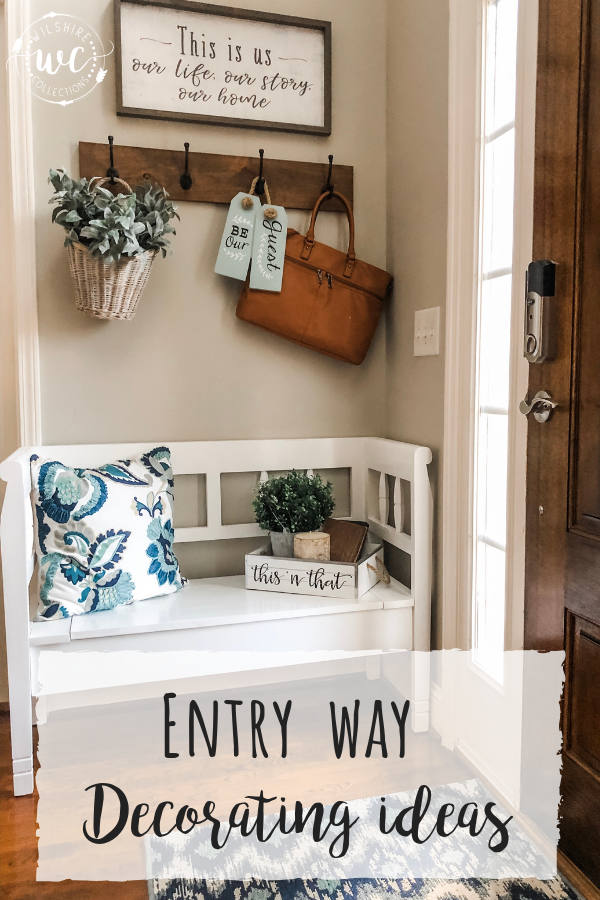 The first thing I needed was a bench of course. I was so honored to work with Kirkland's on part of this project and they have some awesome storage solutions right now. This white bench from Kirkland's was the perfect size for my space! It literally fit like a glove and it even lifts up and provides storage for some of my extra pillows!
I wanted my pillow to tie in with my rug, so when I saw this one at Kirkland's I knew it would be perfect. (Rug is an older Target rug)
The little this n that bin and the greenery are also from Kirklands! I just added some old books and a candle to it. You'll have to wait until the end to see what I told my son we could use it for AFTER I got these cute pics!
You guys helped me decide on a shelf with hooks on FB and IG! This is the one I went with and I really love it! YES, I could have done a DIY and made this cheaper. But sometimes I just don't want to do that. Lol. It was easier to do it this way for this project, and I was working on a deadline 🙂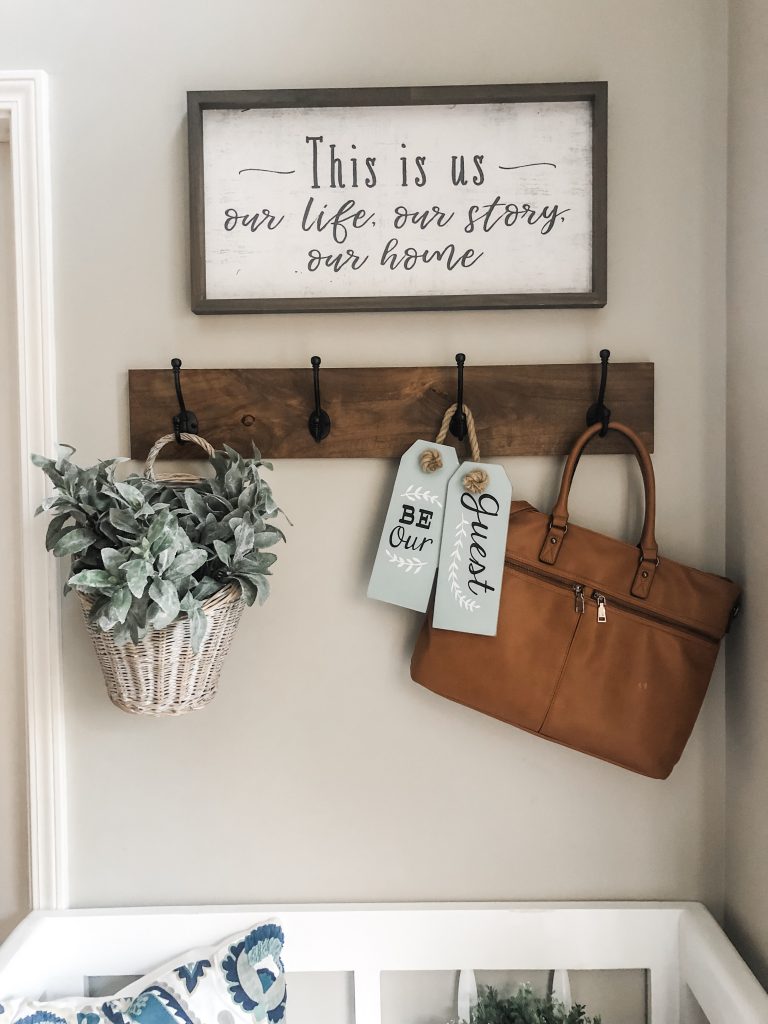 My cute hanging basket came from Kirkland's and the greenery was from Joann's. Be our guest sign is from Kirkland's and that's my laptop bag from Amazon hanging there.
Last but not least, I completed the look with this adorable sign from Kohl's! When I saw it on their website I just loved the saying and knew it would be perfect here!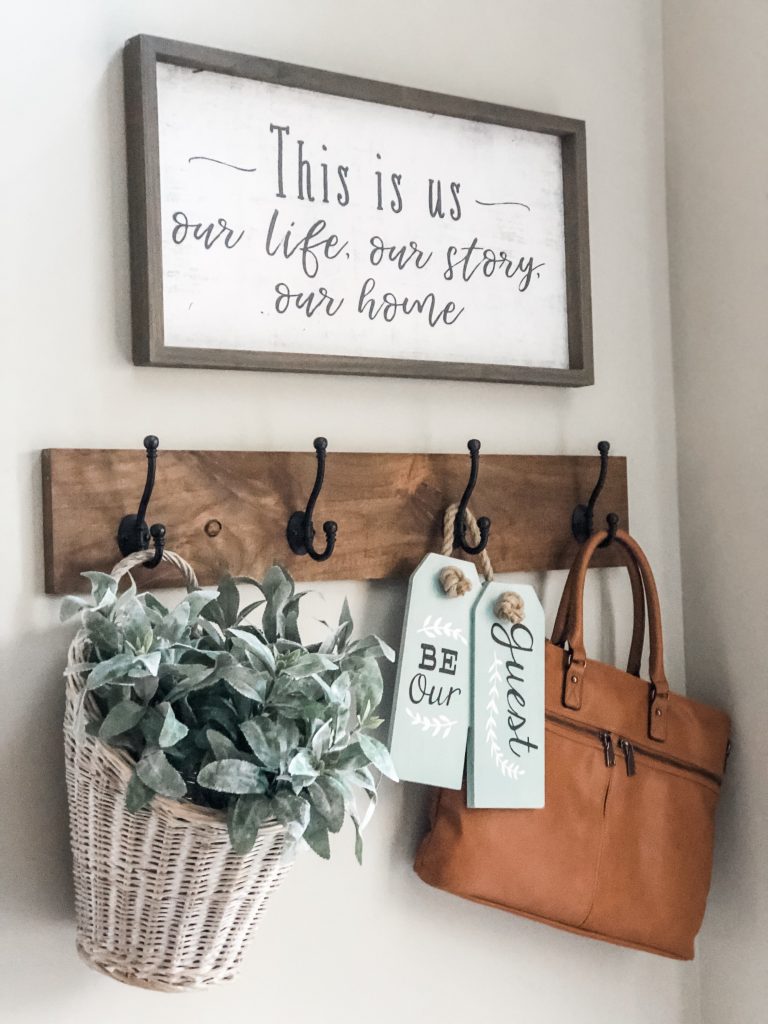 Like I said above, I love a space that is cute and functional. I can see this being used in so many ways now and it makes my heart happy!
And yes- we will actually be putting little basketballs in that basket for the hoop that's on our front door, because…REAL LIFE Y'ALL!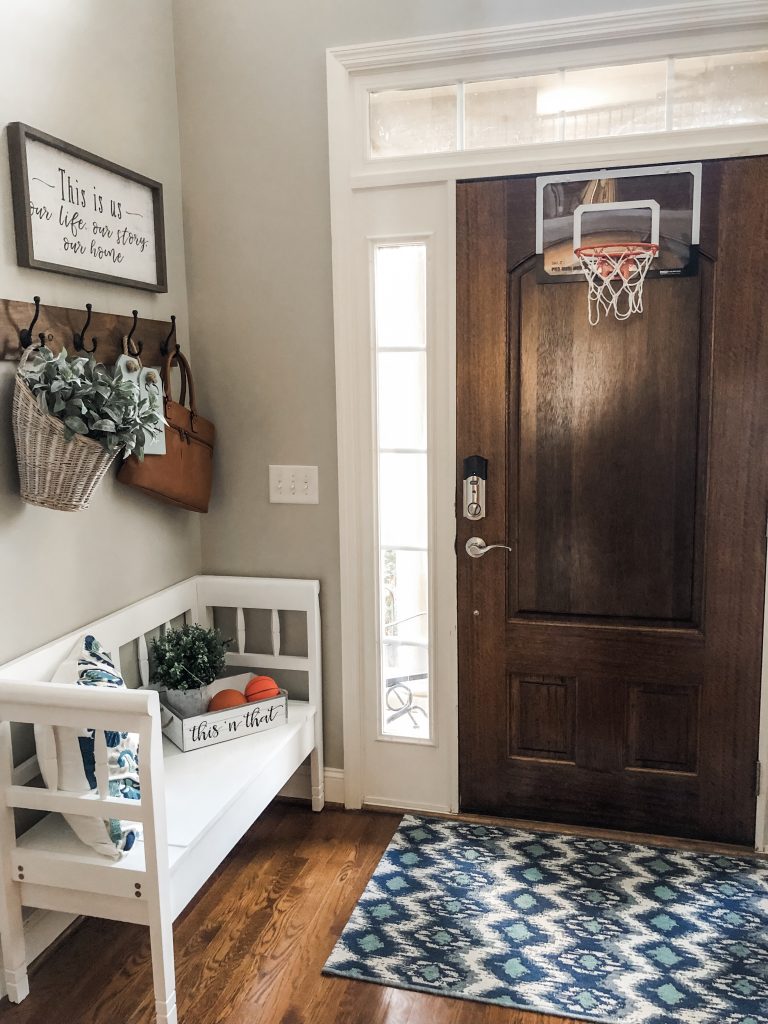 Let me know what you think of my refreshed entry way! Is there a space you are hoping to refresh this year?!
Until next time…
Stacey
This post does contain affiliate links. Please see full disclosure page for more details.