You know I LOVE a tray (or two or ten) around my house! They are one of my favorite things to decorate for all the seasons and reasons! Fall is no exception!
These fall buffalo check trays are simply to give you inspiration and ideas for your home! Tray decorating doesn't have to be complicated!
I wanted to be able to show you a variety of types of fall buffalo check trays here. I can't pick a favorite, but I'm hoping you will tell me at the end which one is your favorite! I'll also share some cute trays at the end in case anyone is in the market for one!
PIN THIS FOR LATER!!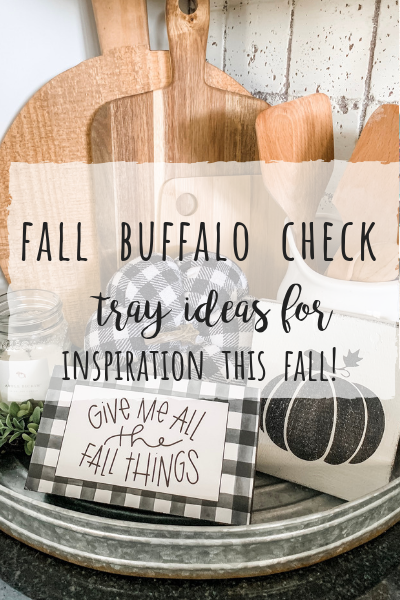 Let's start with the oval one in my kitchen. Click here for one that is one super similar to mine!
The cutting boards (from Magnolia and TJMaxx) are pretty much a staple in my tray, along with the pitcher and wood utensils (both amazon). I just switch out the other things that go in there with those things.
I added the reclaimed wood sign from Anchored Soul Designs (you can find them here), a pumpkin from Kirkland's, and the give me all the fall things sign is from Kirkland's too! Of course I have my favorite candles from Antique candle co in there too! Easy peasy!
Next up is this little tray in my coffee bar area.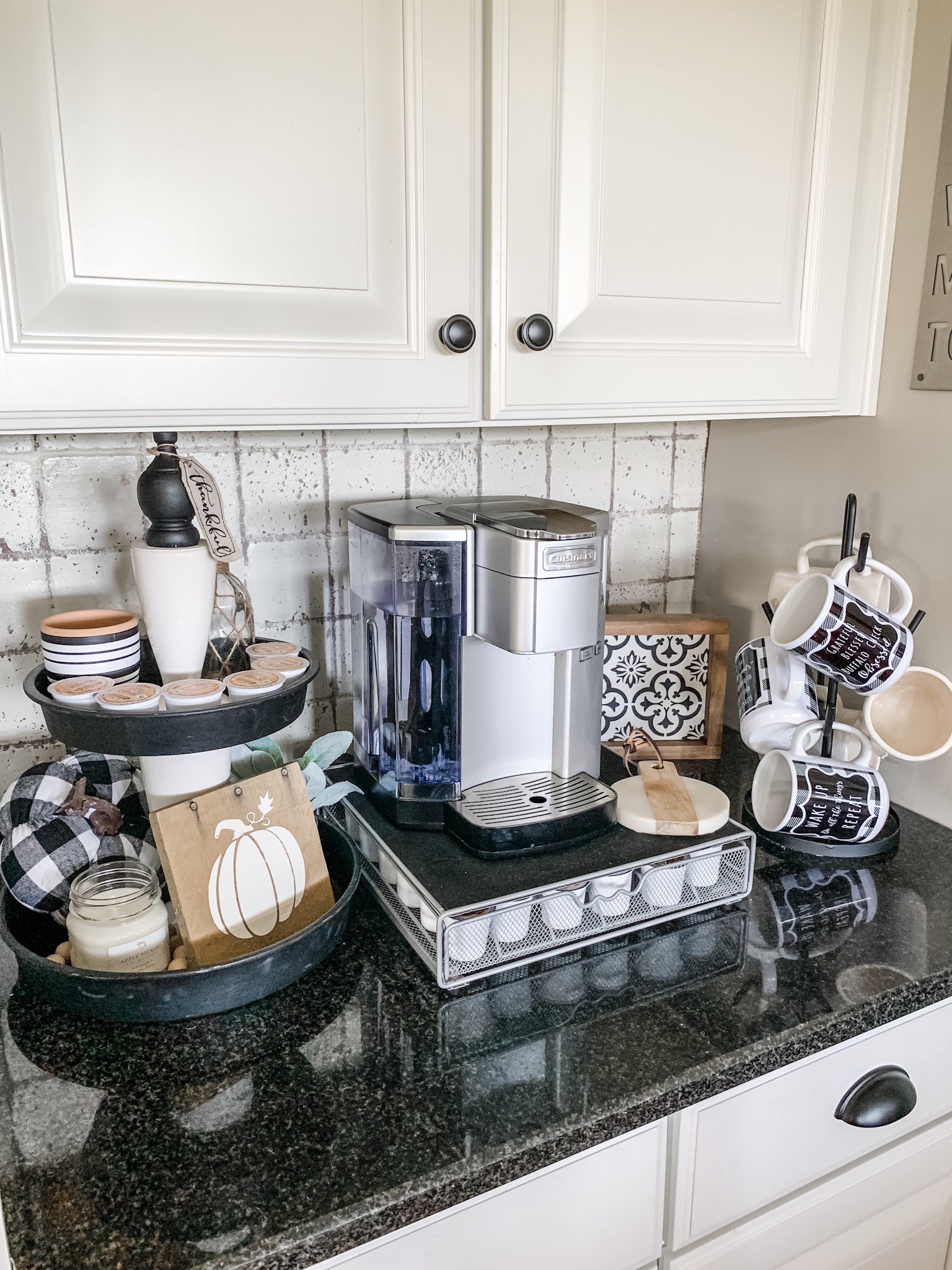 I made this as a DIY in my decorating community out of cake pans and I just love it! It houses some k cups up top, another pumpkin, and another sign from Anchored soul, and another candle. I'm seeing some consistency here now that I think about it- ha! But it still has a different look than the other!
This one is more of a bowl, but when I shared this cutie from Kohl's a lot of you asked how I would use it. Click here to buy this exact olive bowl!
Well, here is one way! Fill it up with pumpkins and call it a day! This is a collection from Hobby lobby and Kirkland's over the years.
Next up is my Lazy Susan that I keep on my kitchen table.
Most of you know that I use to make and sell these, but no longer do. BUT- I know a lot of you own them already, so hopefully this will help you! This would work for any type of round table tray too.
I wanted to keep it simple here, so a little grouping of 3 pumpkins and some greenery was all I needed to do just that! (This also gives you a tiny sneak into my kitchen table, which I will be sharing more of soon!)
Last but not least, my ever so popular tiered tray that is always my favorite to style! CLICK HERE TO BUY THIS EXACT ONE!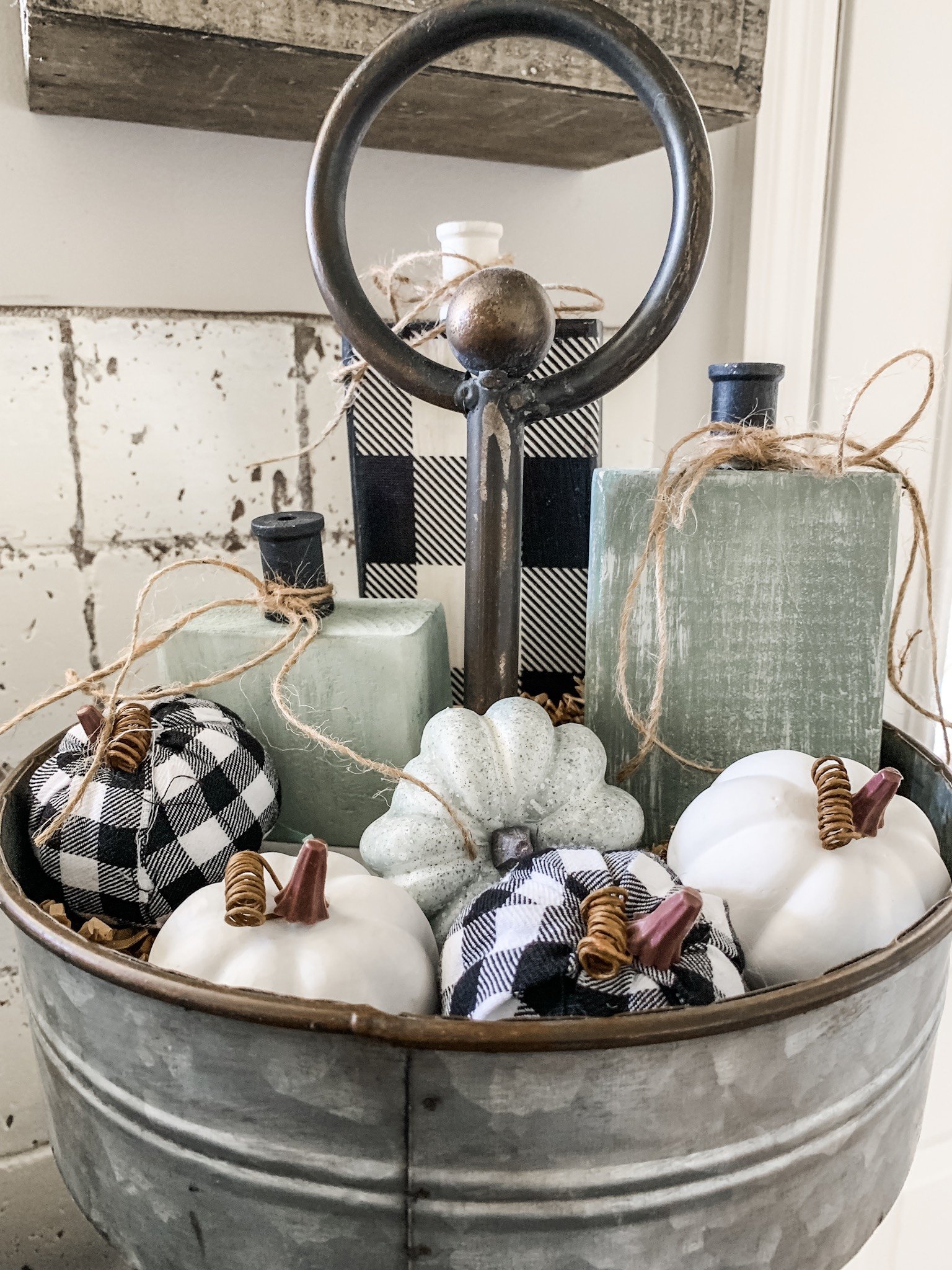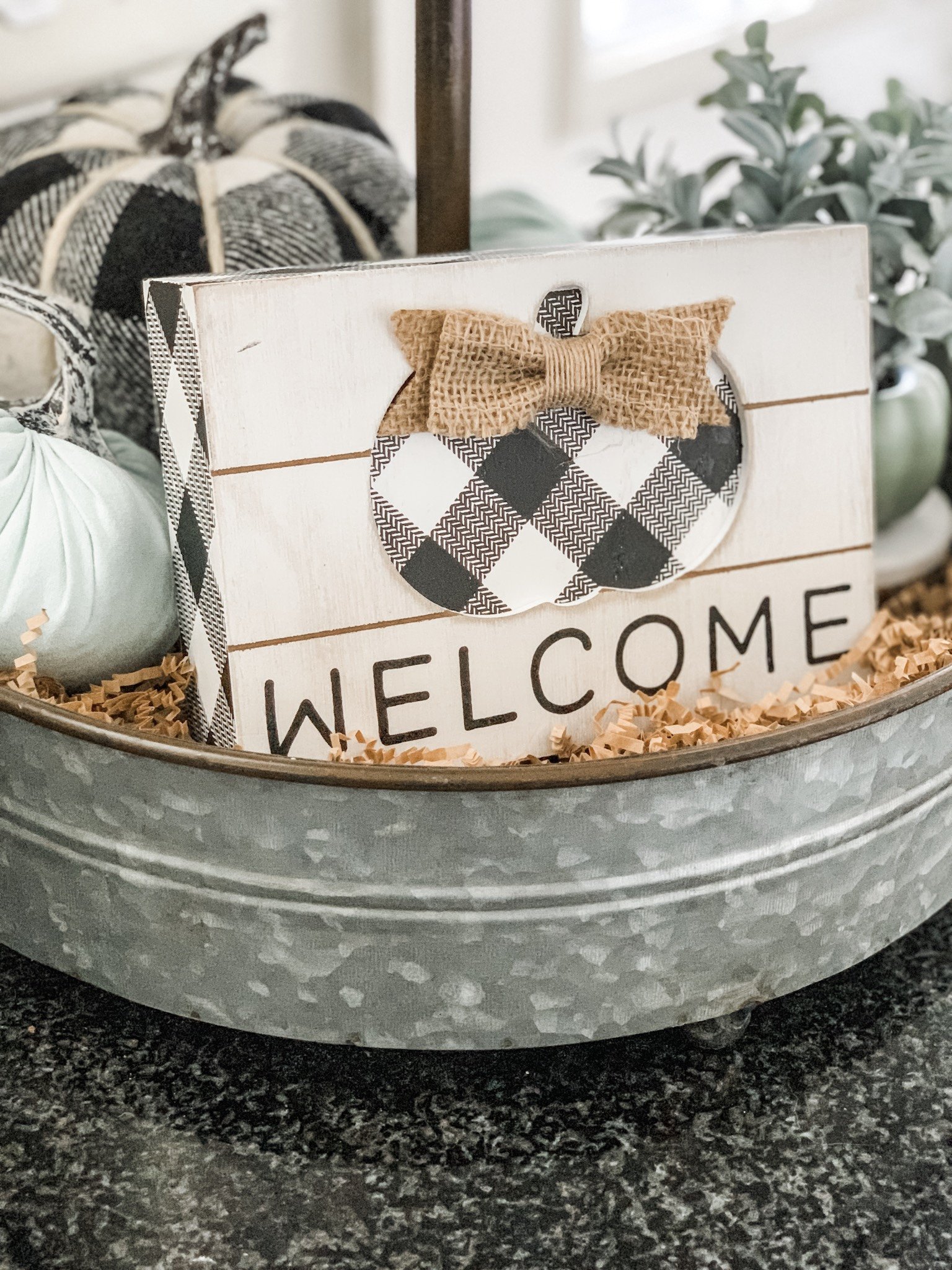 More buffalo check and sage green were used in this one too! I found that little welcome sign at Marshall's and knew it would be perfect for it.
The pumpkins up top were a DIY from last year, check it out here! Then I just filled it up with other random pumpkins to complete the look. I always keep that paper shred in there for filler so you don't just see a bunch of empty tray!
Which one of these is your favorite?! I'm excited to go over tray styling in more detail in my Happy Fall Home group this month. I know it is something that can be a little intimidating, but it doesn't have to be! Let me help you!!
Here are some look alike and cute trays for you! Happy shopping!
Cute wood and metal oval tray! 
See more in my Amazon store here!
Until next time…
~ Stacey