Well, even though it is still 80+ degrees here…it is still technically the first weekend of Fall! So, I decided to kick it off right by doing a little Fall Front Porch Makeover!
My porch was pretty much a sad situation, as flowers that I had planted in the Spring had long died. The only survivors were my two ferns…bless those babies for surviving when the others did not!
I headed off to a local nursery here, Riverbend Nursery in Thompsons Station, TN. They had pumpkins for daaaaaaaays! And best yet…white pumpkins!! You knew I was going to keep it pretty neutral, right?!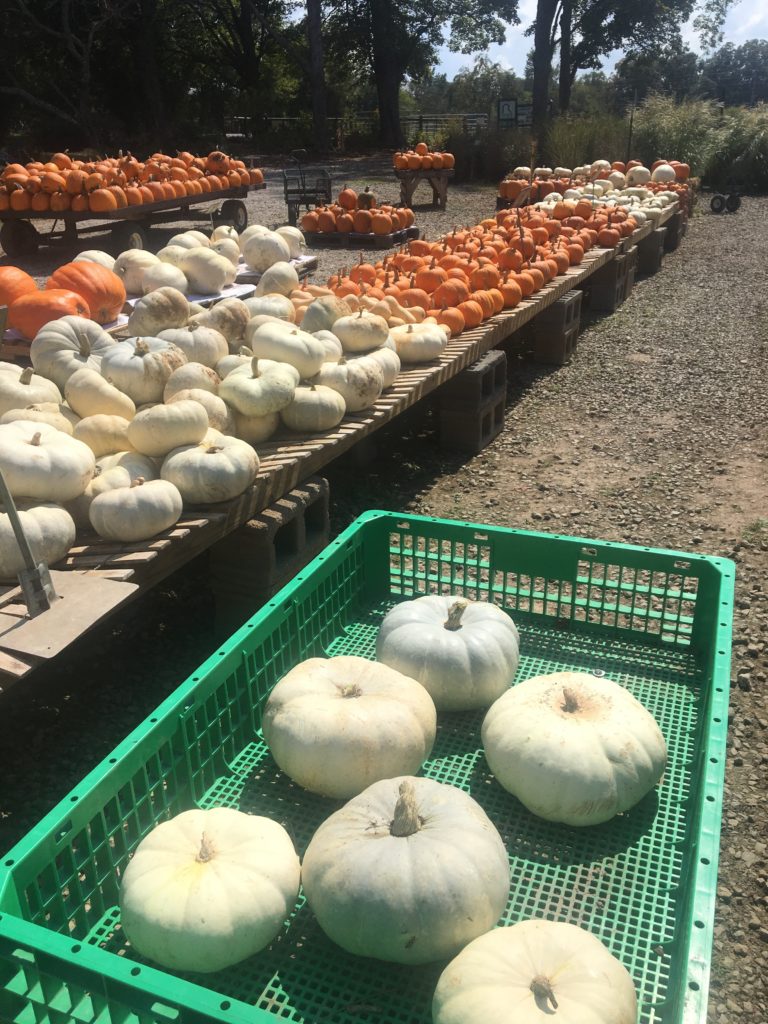 I'm going to fill you in on a little secret. I'm a BIG fan of symmetry. When and where it can be used. Something about it is very visually pleasing to me and just makes me happy. So, for this makeover I knew I wanted symmetry on each side of my front door. My porch isn't huge, so I also knew I didn't have an abundance of room to work with.
I grabbed some larger pumpkins…4 white and 2 blue, then a few of the mini pumpkins. I already had 2 matching olive buckets at home, so I knew I wanted some small white mums for those. I loaded those up and then headed to get my pine straw bales (2) and 2 corn stalks.
Now, let's pause for a second on the corn stalks. They loaded them up for me, so I didn't realize until I got home that one is a lot larger than the other. In my crazy symmetric brain, it was really bothering me as I set things up. My husband told me to "Let it go" like Elsa, so I am TRYING to do so. Now I'm kind of liking the fact they are different, just like they would be in the corn field with no 2 being the same.
Moving on, I set my ferns that are still alive and kicking in the back to add some greenery and then I just played around with pumpkin placement until I got something I liked. What's funny is that my plan was to stack the pumpkins on each side. Once I did that, I decided I didn't like it as much…so I scratched my original idea and just figured it out.
I'm happy with how it turned out and now I feel REALLY ready for some Fall weather! Next project out here is to re-stain our front door, but that will have to happen another weekend! So, just don't look too close 😉
Check out my Fall Front Porch Makeover and pin these images below. Thanks!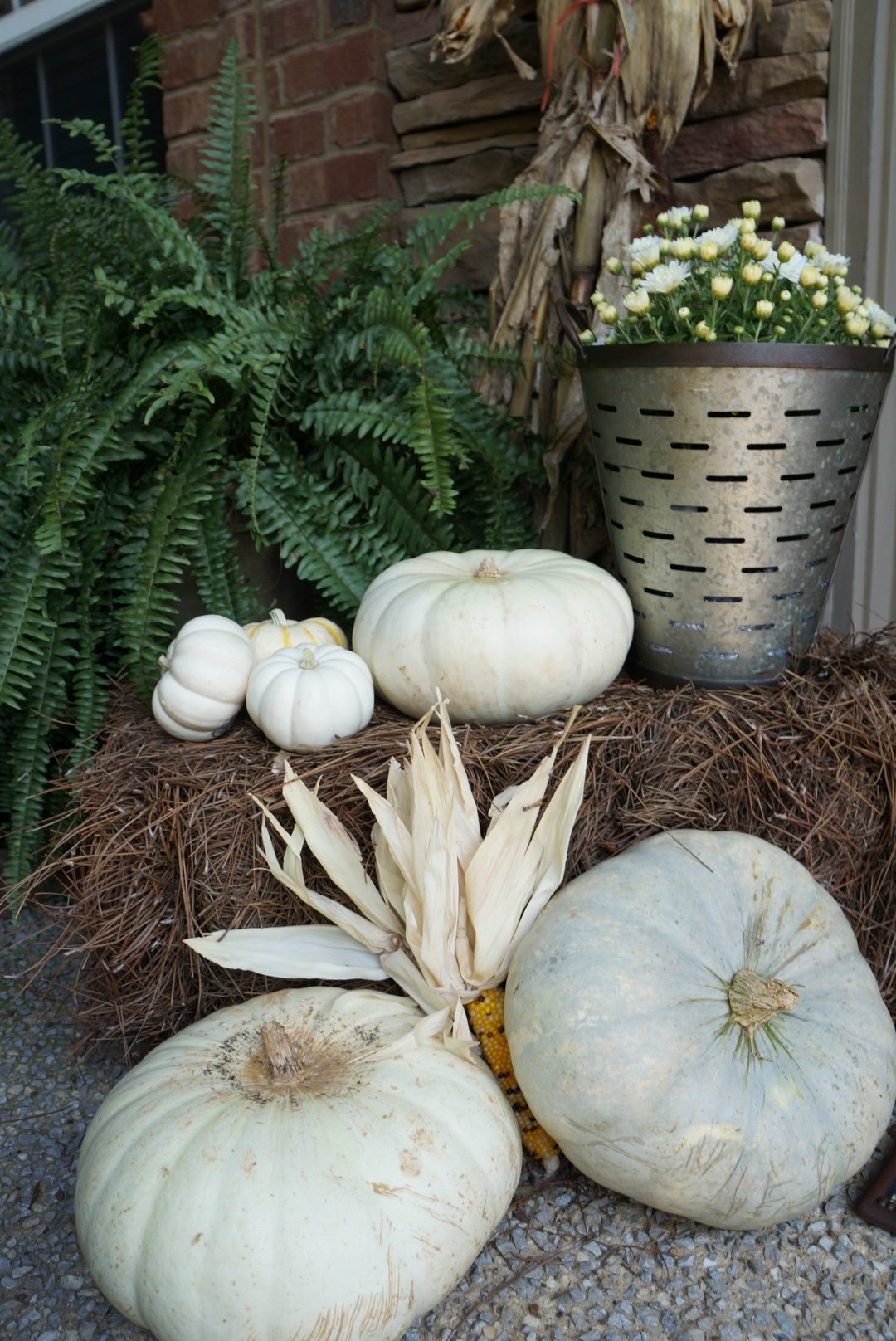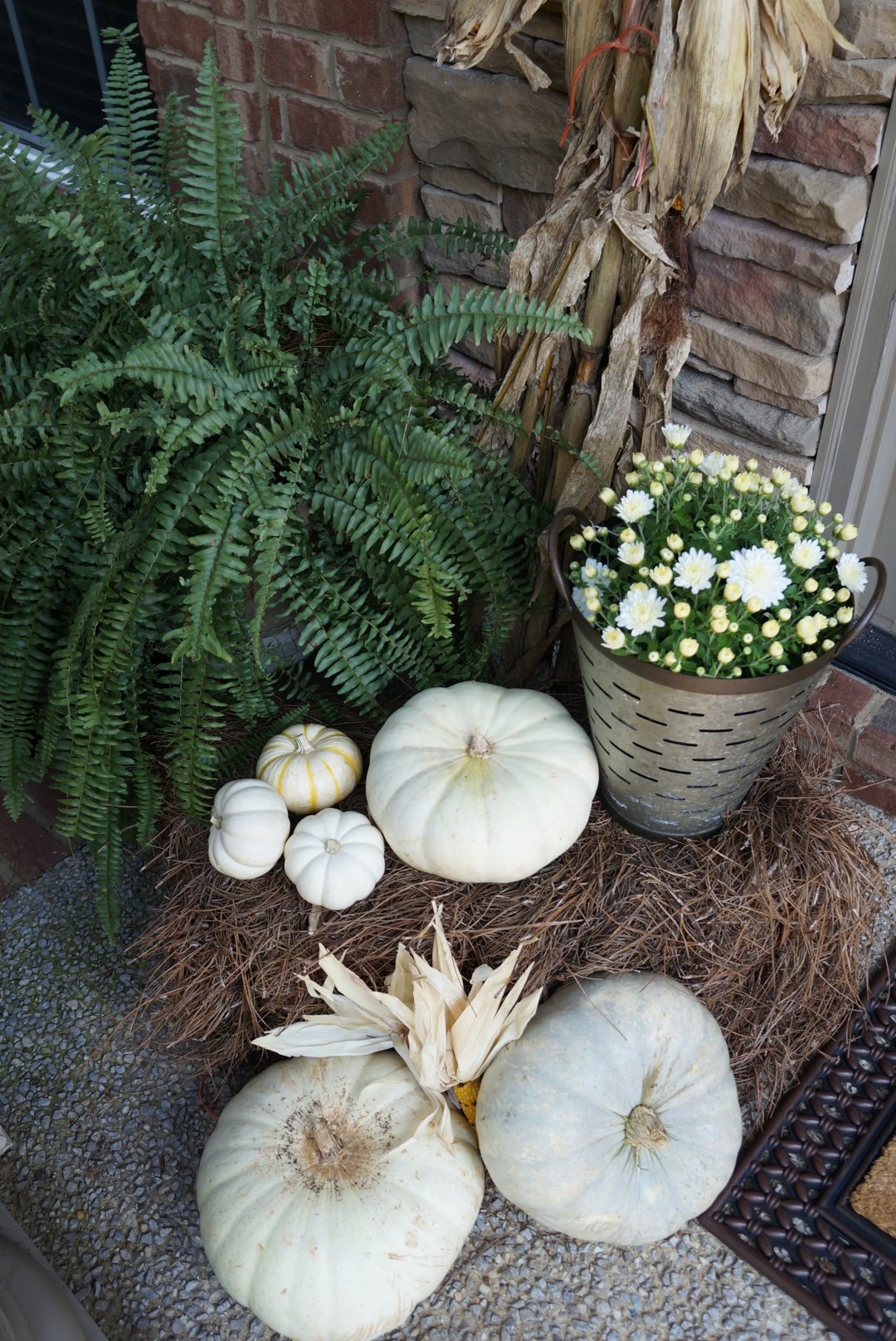 Next week I will have a post up for y'all with even more Fall porch inspiration. This is where I always start when I'm gathering ideas in my brain and it's so helpful! I put this on my FB page the other day, and I think I kind of combined a couple of these doors to get my final look.
Happy Fall and happy decorating! Be sure to check out my Fall Home Tour here  if you haven't already!
Until next time….
~Stacey
Have you decorated your front porch for Fall?!
PIN THIS!