Labor Day is behind us and it's September. Know what that means?! It means we can officially talk ALL THINGS FALL!
I got a jump start on my Fall decorating this year so that I could get this blog post together for y'all before the majority of people start adding in pops of Fall to their homes.
So, grab a cup of coffee or pour a glass of wine. Then, come take a little tour with me.  See the areas I focused on and decorated in my own home. I love adding touches of Fall to the focal points, and this year I even added in a surprise spot that I've never decorated before!
When you walk in my house, the Dining Room is one of the first rooms you see to the left. Now, this room is actually still a work in progress. I'm hoping before Christmas we will have the walls painted along with a few other little things. But, it still deserved to have some beautiful Fall Décor now too!
I went with whites, blues and natural fibers in this room and I seriously loooooove it. You know I'm a sucker for some Robins Egg Blue. My centerpiece on the table was the first thing I put together and was the inspiration for the rest. If you like what you see, please spread the love and pin a few images below!
SOURCES:
Burlap plate chargers
Centerpiece- Pumpkins and galvanized bin from Old Time Pottery
Burlap Ruffle Runner-
White Plates, blue pumpkin trivets and white mini pumpkins all from Target! Some even the dollar spot! Hello, SCORE!!!
Next stop on the tour is my entry way. In the Spring/Summer I had some lemons here and loved the pop of color. So, I decided to carry on the fruit love and transition over to Fall with some red apples. Again, I love the pop it gives. That with a couple of white pumpkins and my entry had just the right amount of Fall Pop!
SOURCES-
White Pumpkins- Marshall's
Apples- Hobby Lobby. Here are some similar.
Be grateful sign- Kirklands
As the tour continues, the next stop is my FAVORITE focal point of my whole house (and my favorite thing to decorate). My FIREPLACE! If you haven't read about the redo we did on this you can read about it here. I wanted neutral all way here and the whiter and brighter the better! I used some items I already had and found a couple of great finds like the big white pumpkin on the floor that became a quick favorite. If you like what I've done here, please help me spread some fall inspo by pinning these pictures!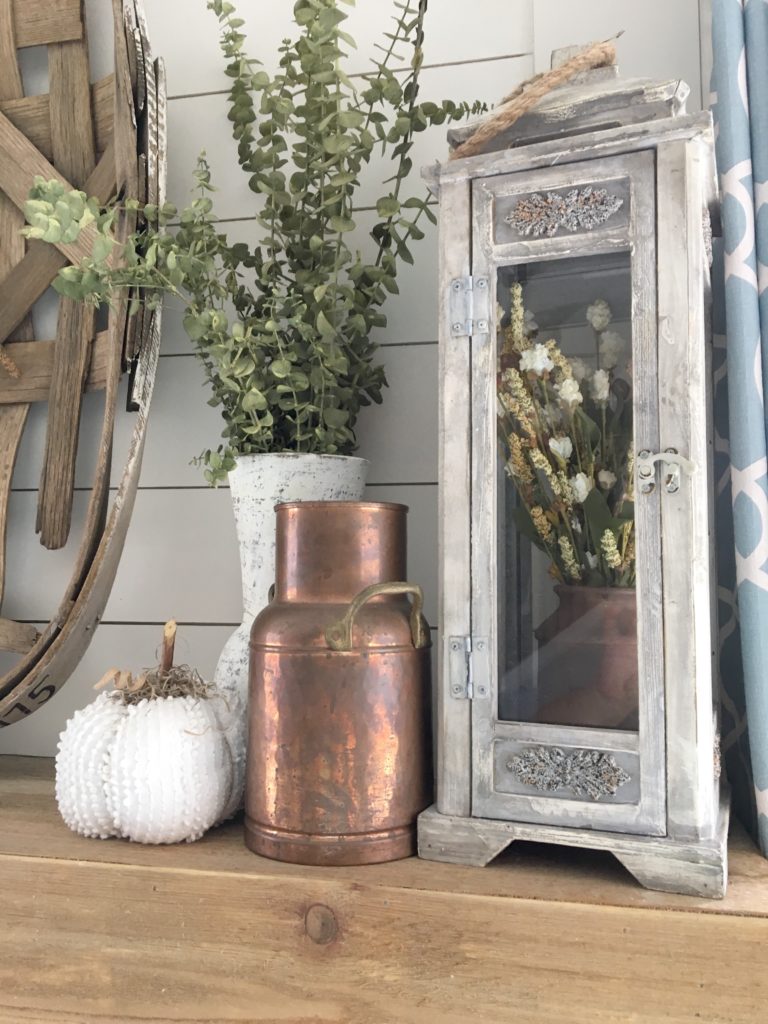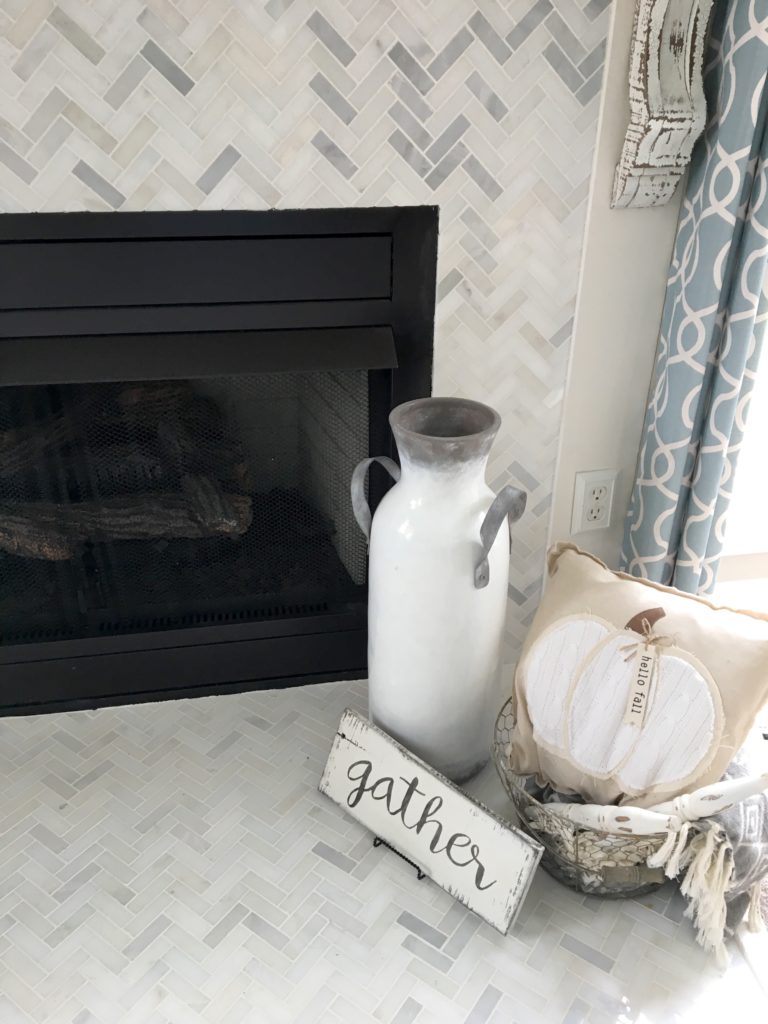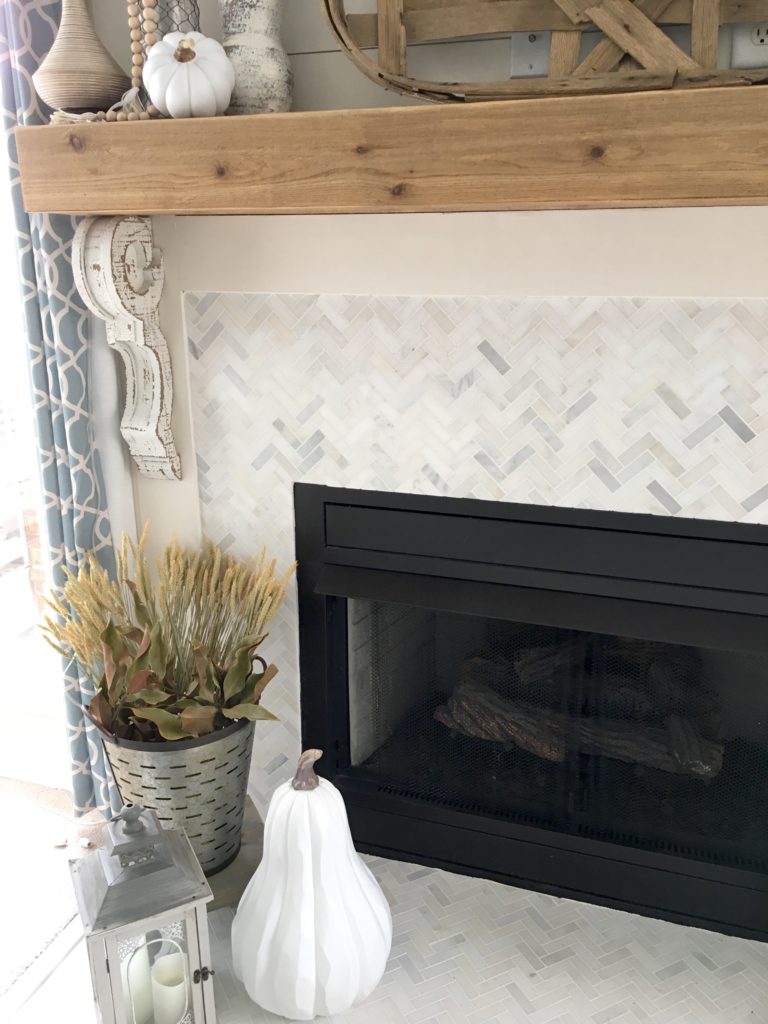 Fireplace sources:
White Pumpkins- Marshall's
Pillow- Kirklands
Wreath- The Faded Farmhouse
Gather Sign- Anchored Soul Designs
Living Room Rug-
I also added a cute Gather pillow from HomeGoods to my couch. My mom bought this one for me and it was a perfect match with my others!
Small touches of Copper, pumpkins and apples was all my table needed! Shop handcrafted Lazy Susan's here! 
I also decorated my tiered tray for Fall. This is one of my favorite things to change out seasonally and you can read about how to style them and where to get them herhehere. Since I don't use many traditional fall colors in the rest of my house, I thought it would be fun to do so here. The copper, sunflowers and pumpkins are perfect together!
Tray Sources- Everything in this tray came from Hobby Lobby, Kirklands and TJMaxx. And the cute Pumpkin Sign is Anchored Souls again!
Now, I usually only decorate the downstairs of my house for Fall. But, this year I got that itch from some switch and decided I wanted to add just a FEW things to my Master Bedroom. I used items that I already had on hand, excluding 6 little pumpkins from the dollar spot at Target. So, not too bad for a quick Fall Fix.
Source for bedding- Mine is originally from Wayfair, but has been sold out for months. Here is one that is VERY similar. I've had several people order this one and tell me they are very happy with it! Ruffle Bedding Set
And just because I don't want to leave out my new little mudroom area, here she is again! Not decked in Fall, but those boots and jean jacket are Fall enough for me! Make sure you read about this DIY project here!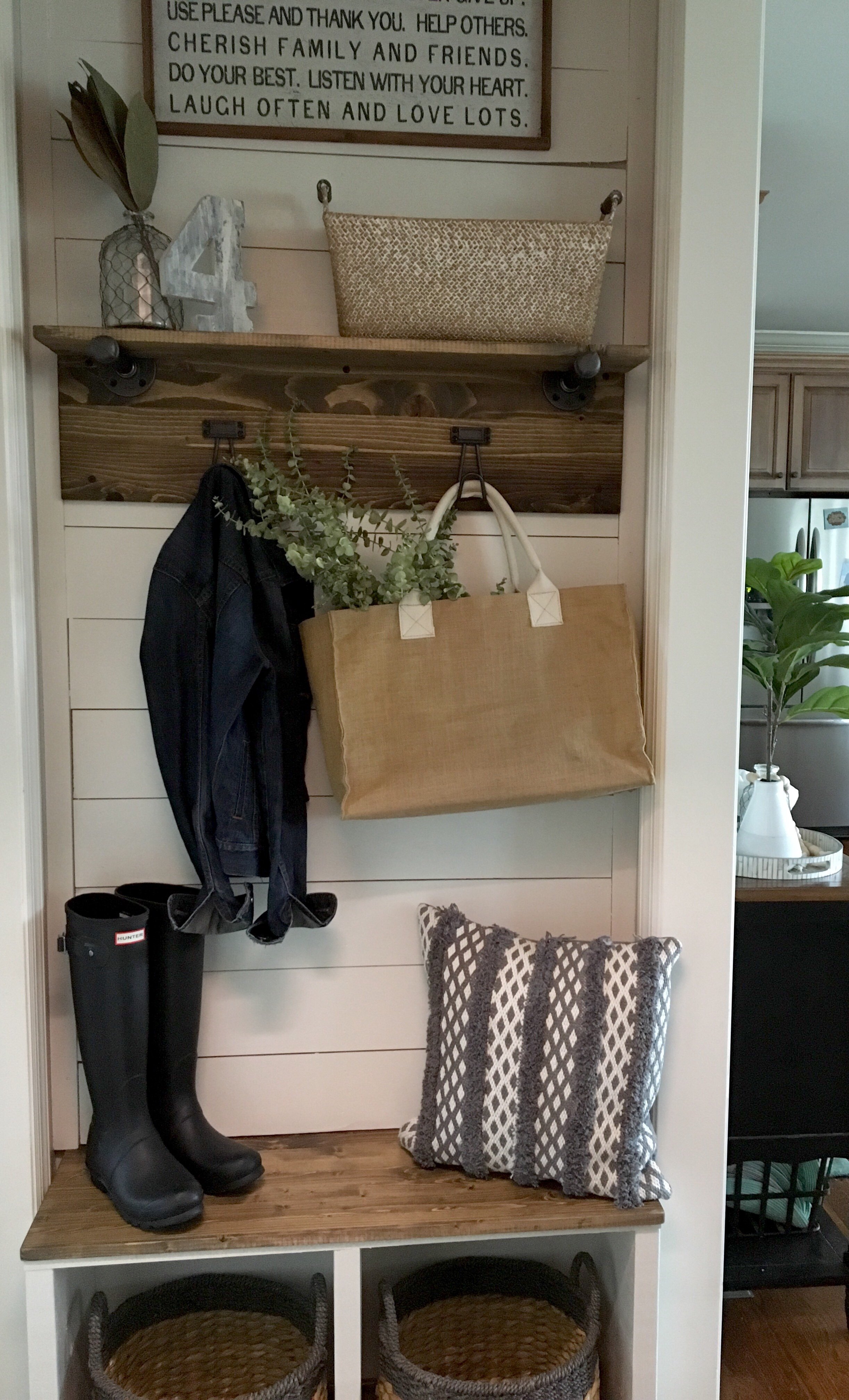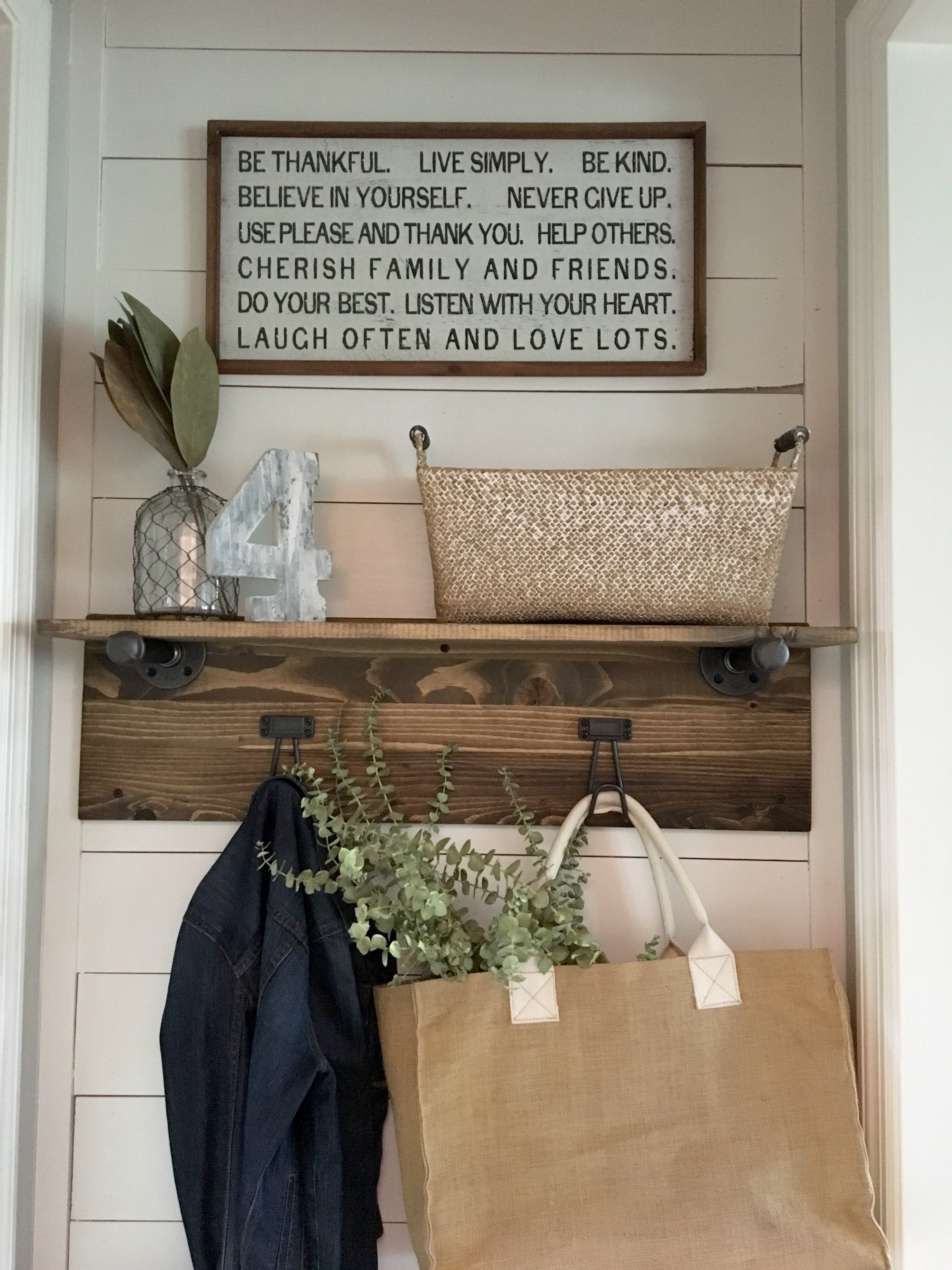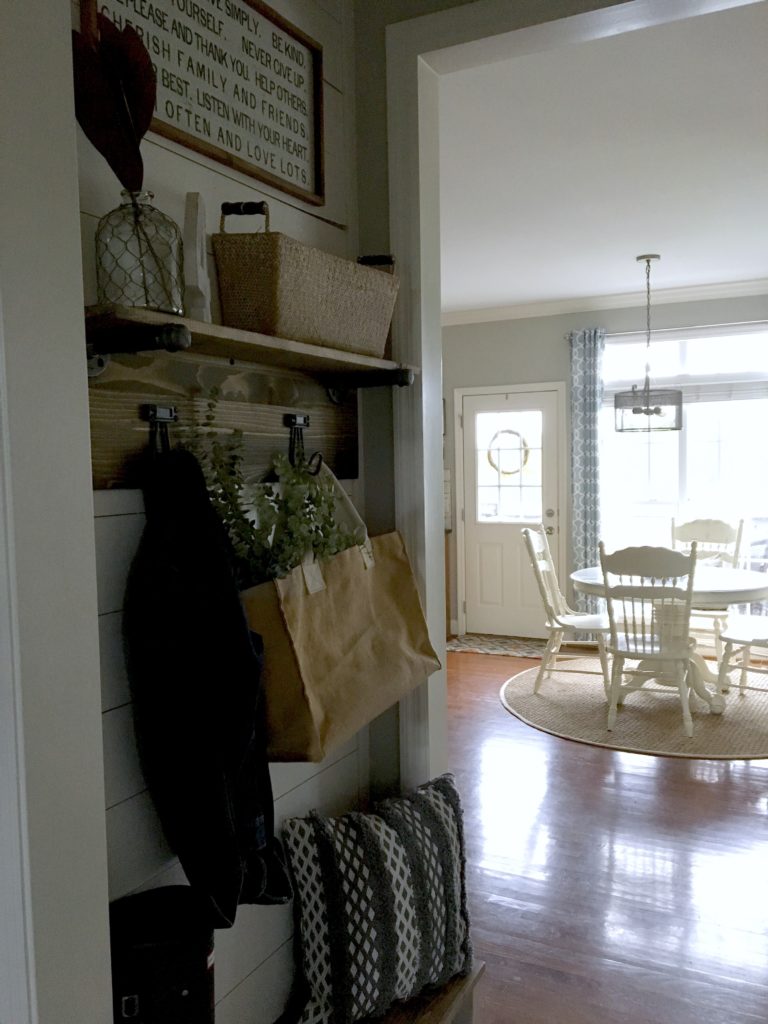 Well, I hope you enjoyed this little "tour" around my house. I love decorating for Fall and this little bit of cooler weather we are having here makes me even more excited for all things Fall! What is your favorite Fall thing?! Mine is our annual trip to the pumpkin patch and sweater weather!
If you haven't signed up to get your 3 FREE FALL PRINTABLES delivered directly to you…sign up today!  Get your free fall printables here!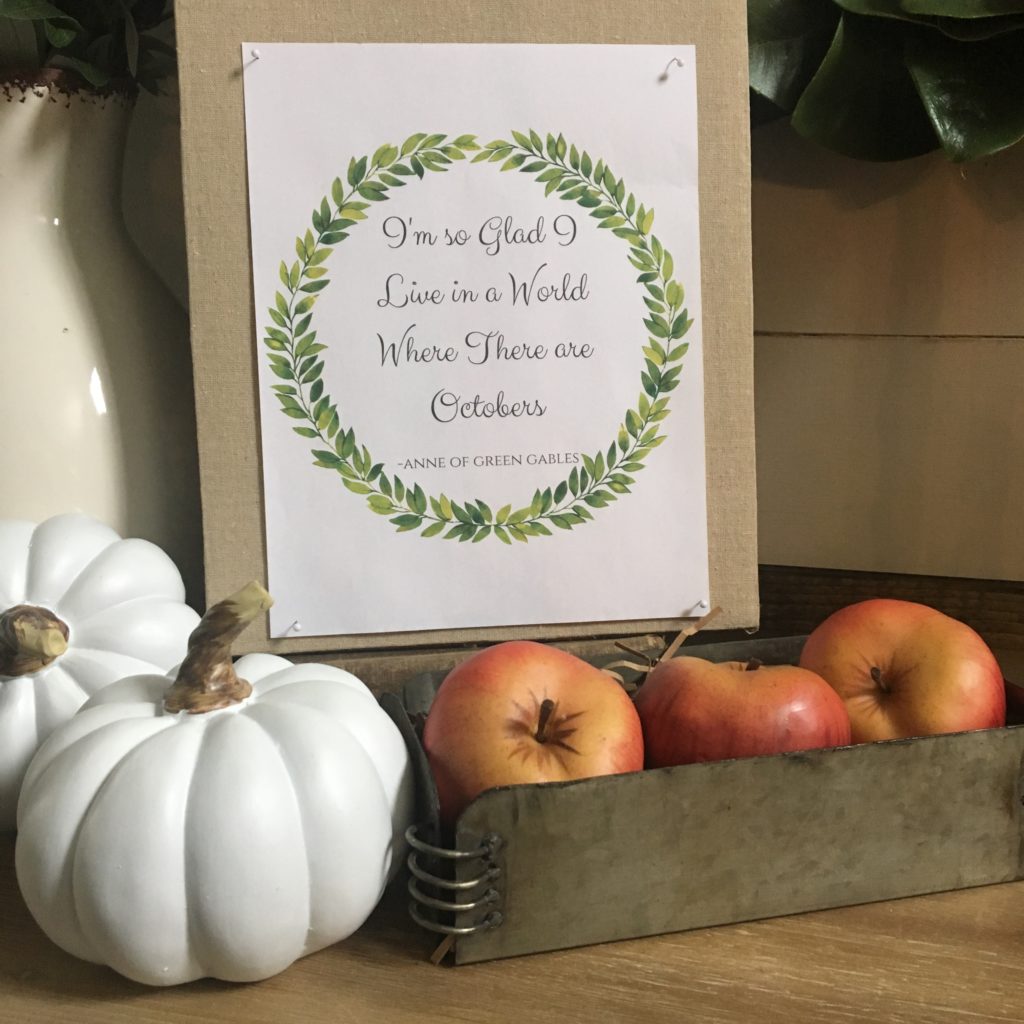 If you have any questions about sources or Fall Decorating, ask away in the comments!
Until next time,
~ Stacey
*This post may contain affiliate links*