It's so funny how things work out sometimes. I had planned on adding Navy to my fall living room for a while now, but after I painted those copper pumpkins…I knew they had to be part of my living room décor too! So, that's how this years fall theme was born!
Here are some fall living room ideas using Navy, copper, sage green and white! I'm loving this color combo because it brings that warmth to my decor!
Navy is just a great color because it's somewhat neutral, but also somewhat of a pop of color. When I saw this pillow from Kirkland's, I knew it had to be mine and it confirmed my decision to use Navy this year in here.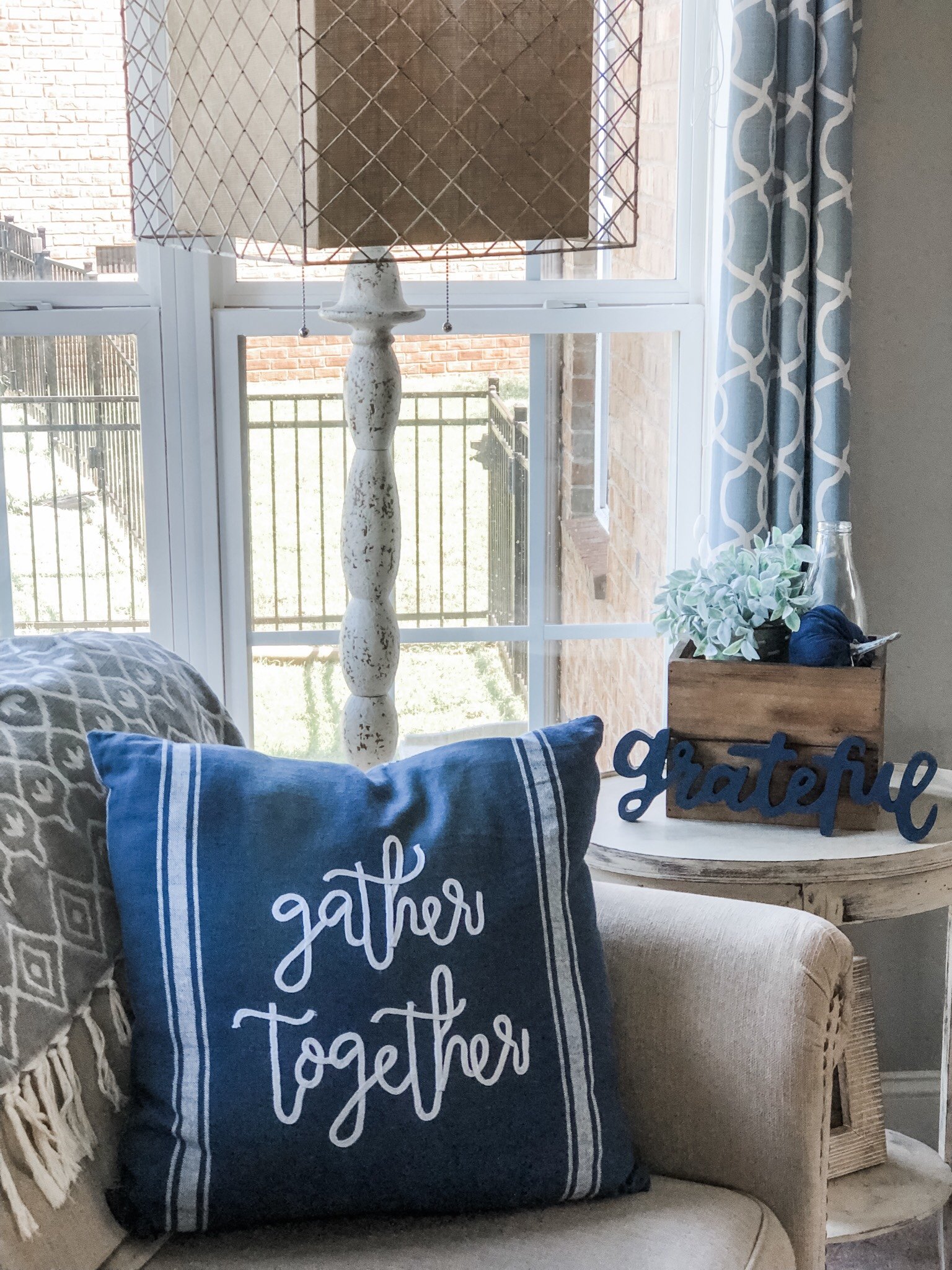 I wanted my fall living room to be simple, yet make a statement. One thing I always do to my mantle is pull EVERYTHING off from the season before and start fresh. I think this works so much better than just adding new things in and making it too cluttered.
I had Navy painted pumpkins from last year that you can see here, plus the copper painted pumpkins that you can see here and then I found these perfect little sage green pumpkins at TJ Maxx!
I already had the mirror and had gotten the sign at Hobby Lobby a while back on sale. It truly didn't take much to transform the mantle!
On the floor I like to add décor, but keep it pretty simple too. I love the way both sides worked out! The blue buffalo check blanket is from Wayfair.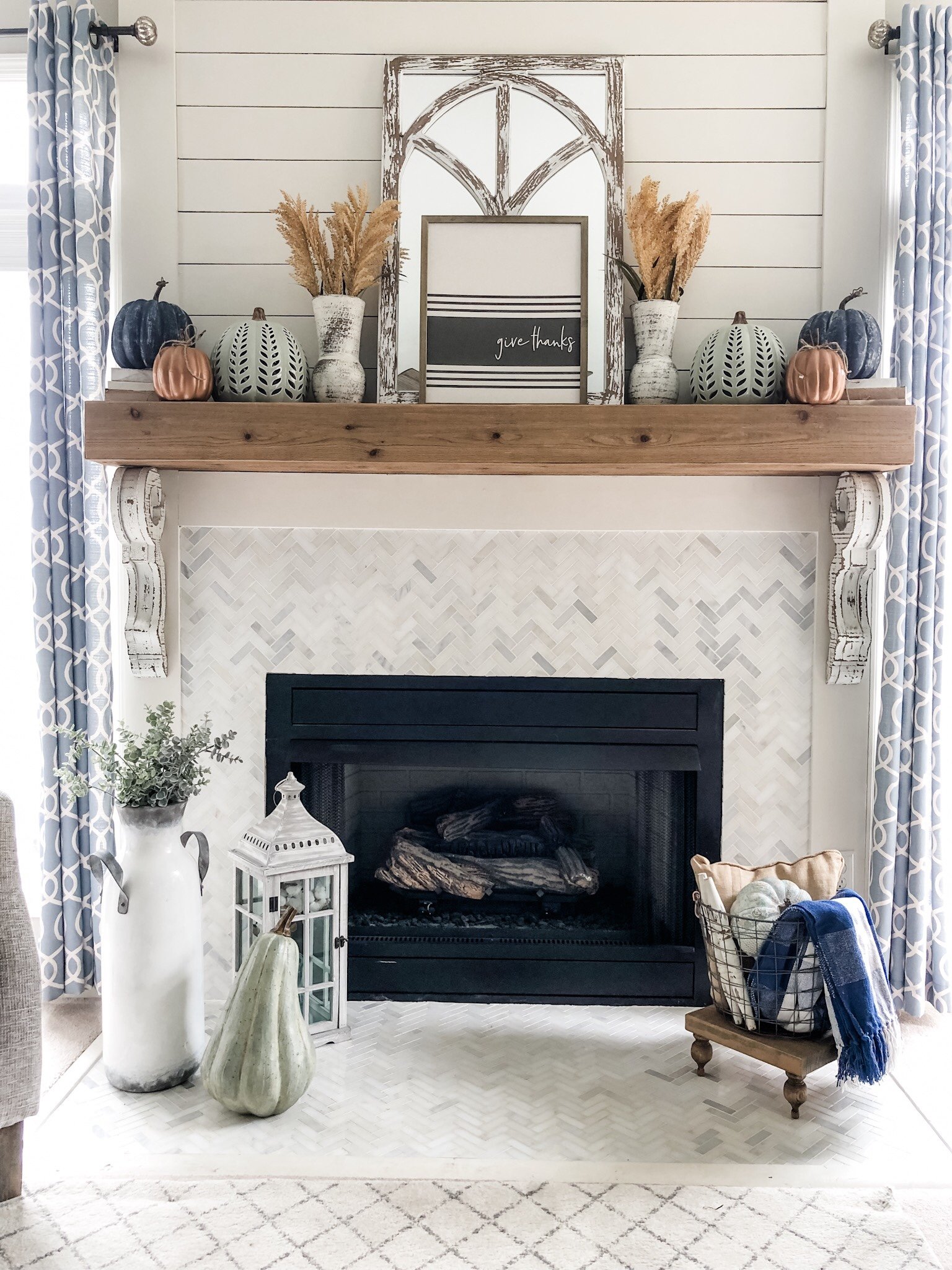 My media center is always a fun spot to decorate because it gives me some extra little shelf space to do so! You might recognize a few DIY's here. My no sew dollar tree pumpkins, my easy 5 minute crafts and another copper pumpkin. Oh- and my CUTE navy pumpkin sign from Anchored Soul Designs!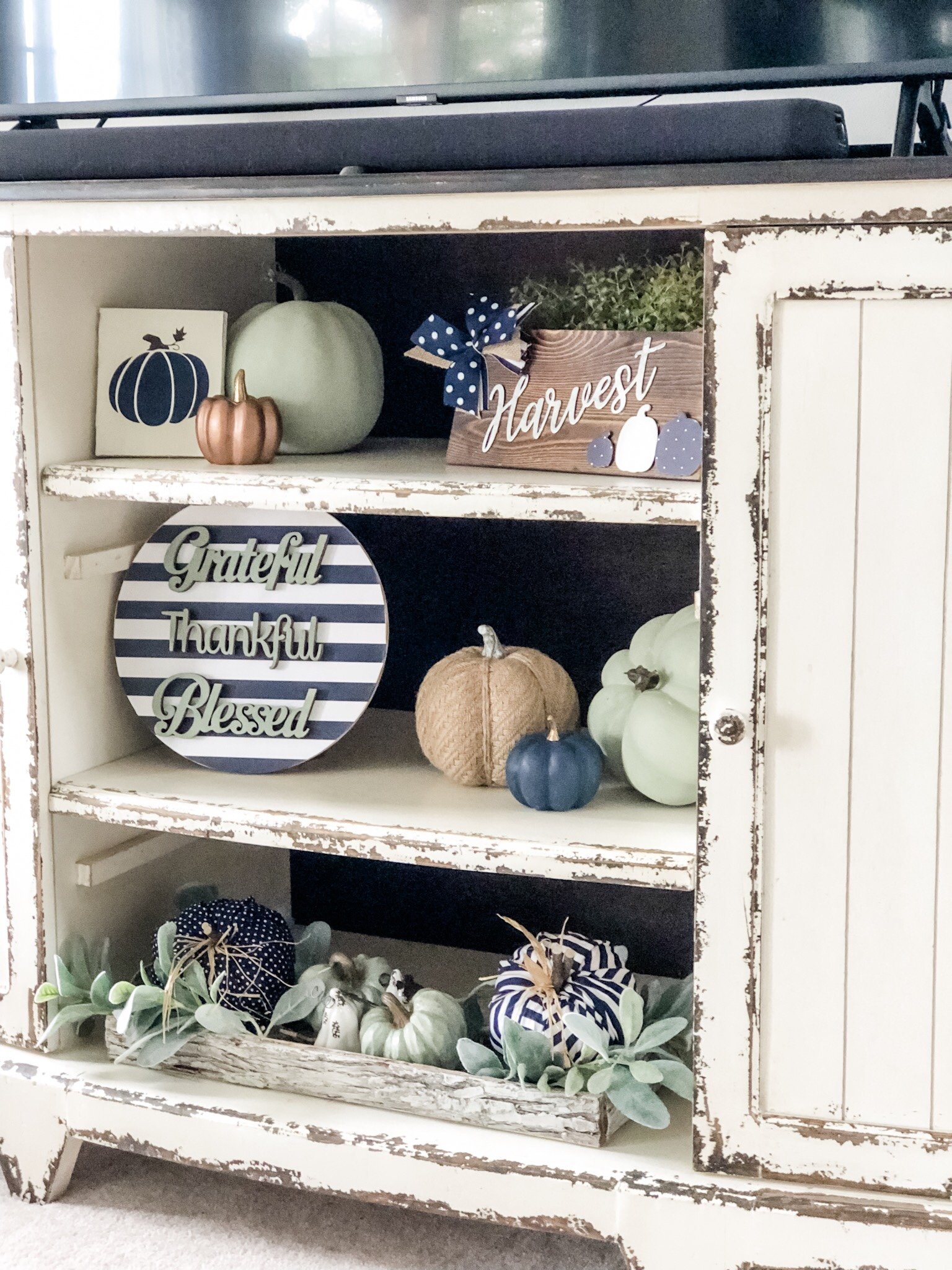 Last but not least in my fall living room is the little dough bowl I dreamed up and brought to life. I wanted it white and filled with lambs ear and pumpkins, so that's just what I did! See the blog post about it here.

The stripe pillow above came from Kirkland's and you can find it here. The solid pillow is a cover from Amazon and you can find it here. 
I truly am so happy with how this all came together and I hope you guys like it too! I'm SO anxious to hear your thoughts.
Pumpkins make me happy, fall makes me happy and decorating brings me JOY! I hope you feel the same and I hope you will consider joining me in my Happy Fall Home pop up seasonal group this September so we can do alllll the fall things together! You can read about it and sign up here. 
Happy Fall decorating!
~ Stacey
Please click on the words below to be taken directly to items that I could source.
Striped pillows on couch- Kirkland's
Solid couch pillow covers- Amazon