Happy Friday!! You know it's going to be a good day when A) It's Friday! B) You get to go shopping all day for clients AND C) You more than likely will "accidentally" pick up a couple things for yourself while shopping for said clients! It's been a crazy week around here. So I feel like I deserve a little retail therapy, don't y'all?! (See what I did there, justified my shopping addiction 🙂 )
It's time for another round of Friday Finds, and today it is all about RUGS!!
I love rugs! They rank right up there with lamps and throw pillows as an obsession of mine. This week I have been on the search for a natural fiber rug for one of my clients. So, I thought this would be the perfect time to share some of my favorite Jute and Sisal rugs for this weeks round of Friday Finds!
I truly feel that natural fiber rugs can bring so much depth and texture to a room. There is just something about them that makes a space feel cozy, warm and well…natural 🙂  I truly feel everyone should have one SOMEWHERE in their home. Whether it is your entry, under your kitchen or dining room table, a bedroom, etc. There is surely to be a spot that is begging for some Jute or Sisal! So, if you want to blame me when you come home with a new rug this weekend and your husband is all like "Say what?" I'm ok with that. Just tell them some shopping addict from the internet told you HAD to have one 😉
So, here we go! Today I am sharing 7 rugs with y'all that I have come across this week during my search. I love these all for various reasons and don't think you can go wrong with any of them!
How much do you love this? The details on the ends are just pretty much perfection!
Wayfair Breakwater Natural Area Rug
This is a classic natural fiber rug that would look great in just about any space!
Overstock Natural Fiber Rug

I love the look of the white jute and sisal with the natural border. This could really soften up and brighten a space!
Wayfair Westbury White Rug
I have a round jute rug similar to this one under my round kitchen table, and I LOVE it!
Wayfair Colson Round Rug
Chunky Rugs are great, and when they have fringe on the ends they are amazing. I love this one for just those reasons!
Home Depot Chunky Jute Rug
This rug combines grey and natural jute and sisal and is beyond gorgeous. I'm loving this one so much!
Amazon Grey and Natural Rug
One of my favorite colors + Jute and Sisal = PERFECTION! I think I need a rug like this in my life 🙂
Amazon Chunky Gray Rug
I HAD TO ADD IN AND EDIT TO INCLUDE THSI RUG! I RECENTLY PURCHASED IT FOR MY LIVING ROOM AND GET SO MANY QUESTIONS ABOUT IT. BELOW IS A PICTURE AND A LINK TO PURCHASE!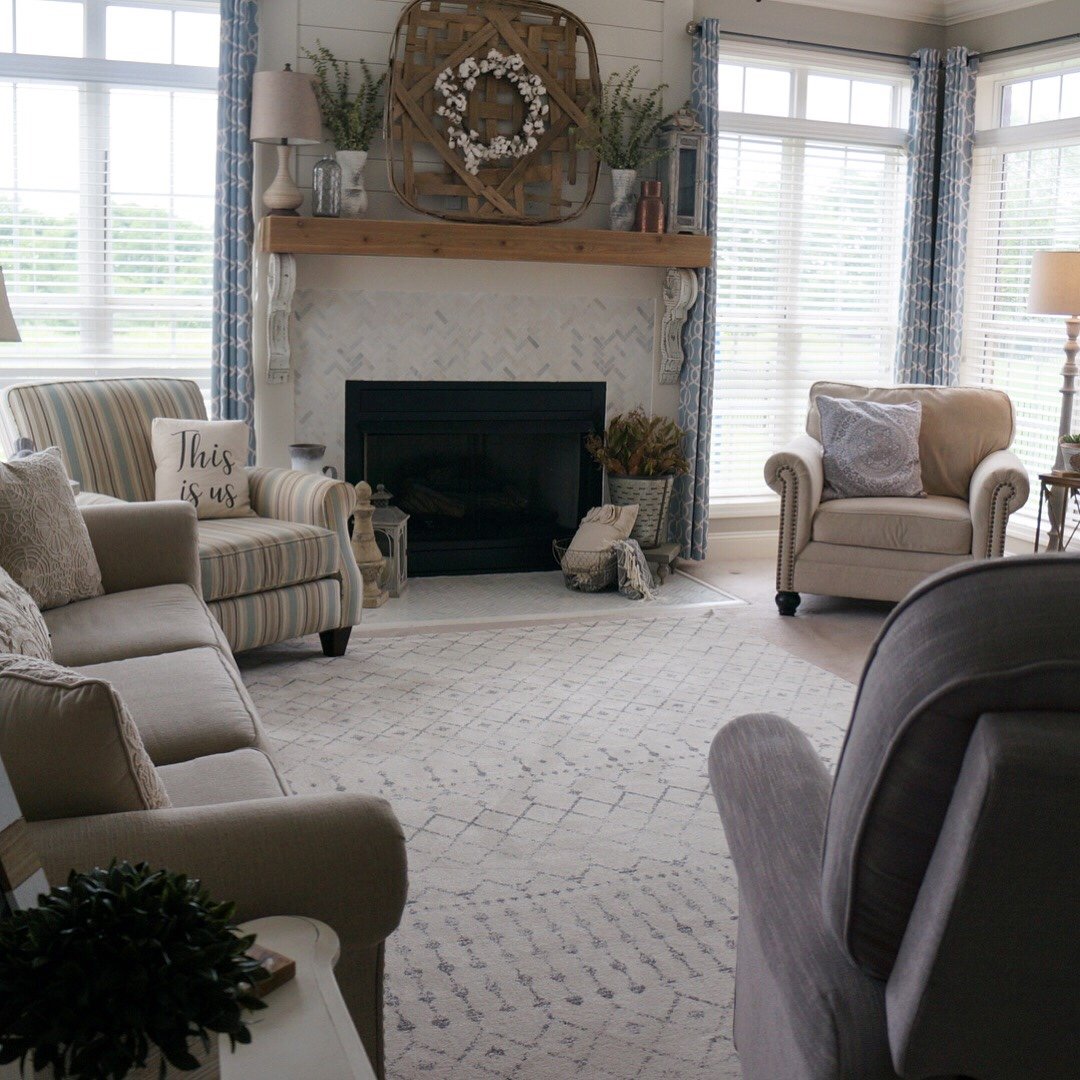 One of my favorite in store places to shop for rugs is of course none other than…HOMEGOODS! They always have some beautiful rugs. TJMaxx, Target, and At Home also always have a great variety to choose from!
Happy Shopping! Until next time….
~Stacey
Some affiliate links are provided.