I don't know about you, but I love a good girls night! Having friends that you can share life with is so important! I'm so blessed to have some amazing friends in my life. Even though we are all busy and going in 100 different directions, we try to get together when we can for some fun!
A typical girls night for us might including going to dinner, sitting on a back porch, going to the local vineyard or celebrating a Birthday! I was itching for a fun girls night, but wanted to do something with a little twist!
So, I invited some friends over for a Décor Swap party! Never heard of one? That's ok, I'm going to fill you in!
Today I'm sharing a great girls night idea on how to throw a décor swap party! This would be fun for women of all ages and we had a blast at ours!
Pin this, please!
The concept is simple. Bring some old décor and go home with someone else's old décor! Think of it like a dirty Santa or white elephant type gift exchange. Except for this, you aren't going out and buying something new! You are getting rid of something you aren't using in your home anymore!
So fun, right?! I was hoping it would be at least. Haha! In my head it sounded like a blast!
Guess what…it was! We had so much fun and I couldn't believe all of the good stuff everyone brought.
How cute are these little prints I made to put around the house?! OF COURSE they had to be buffalo check! And I just put them in frames I found at Marshall's that were $3.99 each!
You can't have a girls night without food and drinks, and we had plenty of both! We started the night just by chatting, catching up and of course…eating and drinking!
We of course had some rules in place on what you could bring. Like, don't bring something from the 80's with holes and stains. It needed to be somewhat current to today's style so that people would WANT it! We also set a price range on what your item should be valued for.
I had a table set up for everyone to put their items when they arrived. (of course it had a buffalo check table cloth on it!)Look how AWESOME all of this décor is! Ladies were able to "shop the table" ahead of time to check it all out and decide what they were hoping to get!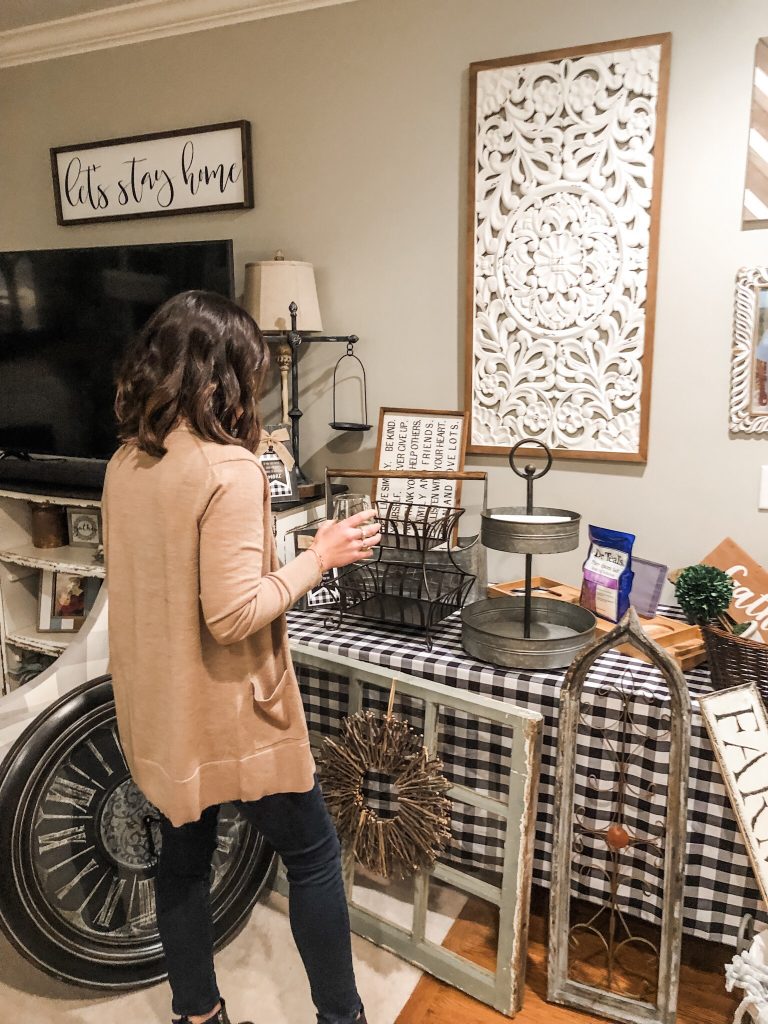 Pretty soon we were off to swapping! We drew numbers and it was so fun to see what everyone picked, and since you were allowed to "steal" items from your friends…it made it even funnier! Think of it like a dirty santa game at Christmas time and just get creative with it! Let's just say, that everything that I picked kept getting stolen from me! It was hysterical. We swapped until we dropped for sure!
In the end, everyone went home with something new for their home. Except it wasn't new, only new to THEM! I think everyone was pretty happy with their new to them items!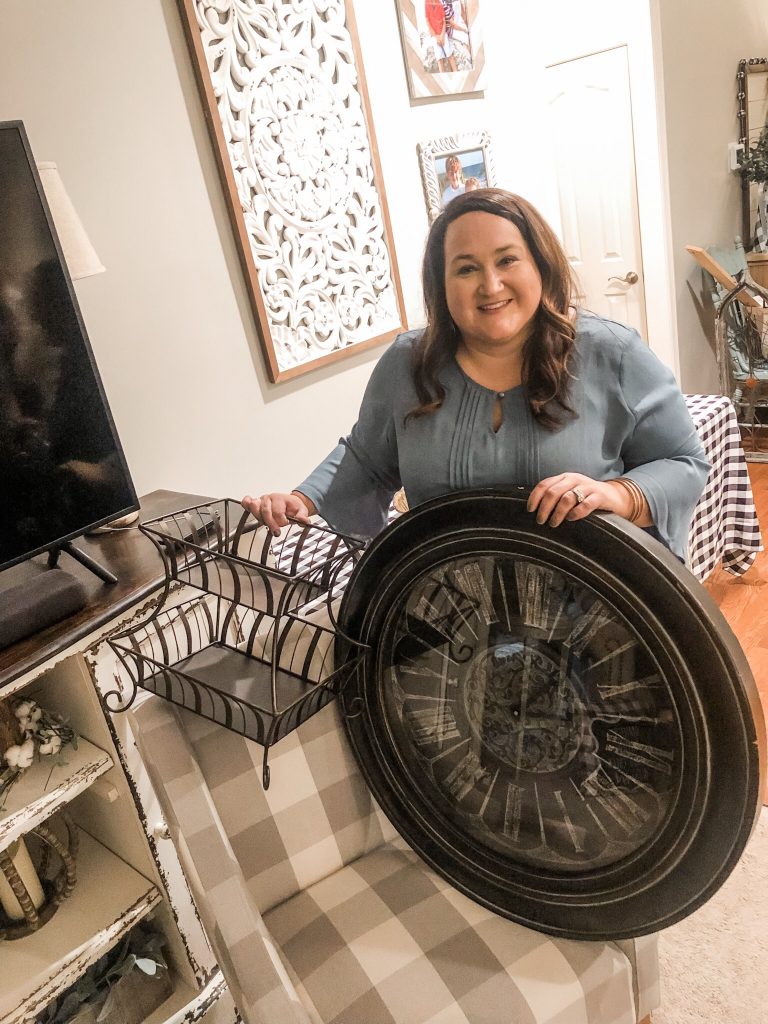 I ended up with this cute clock and tiered tray…you know I'm a sucker for BOTH of those things!
Isn't this such a fun girls night idea?! I encourage you to throw your OWN décor swap party!
It's such a good excuse to get together, and your guests really don't have to spend anything in order to come. (not their current money at least). So, its an affordable AND fun girls night experience!
I think all of my friends would agree that not only was it a fun night, but they all left with something so cute for their homes! And how fun to be able to look at that piece in the future and think of this night and the sweet friend it was passed down from. Just love it!
Everyone left happy for sure!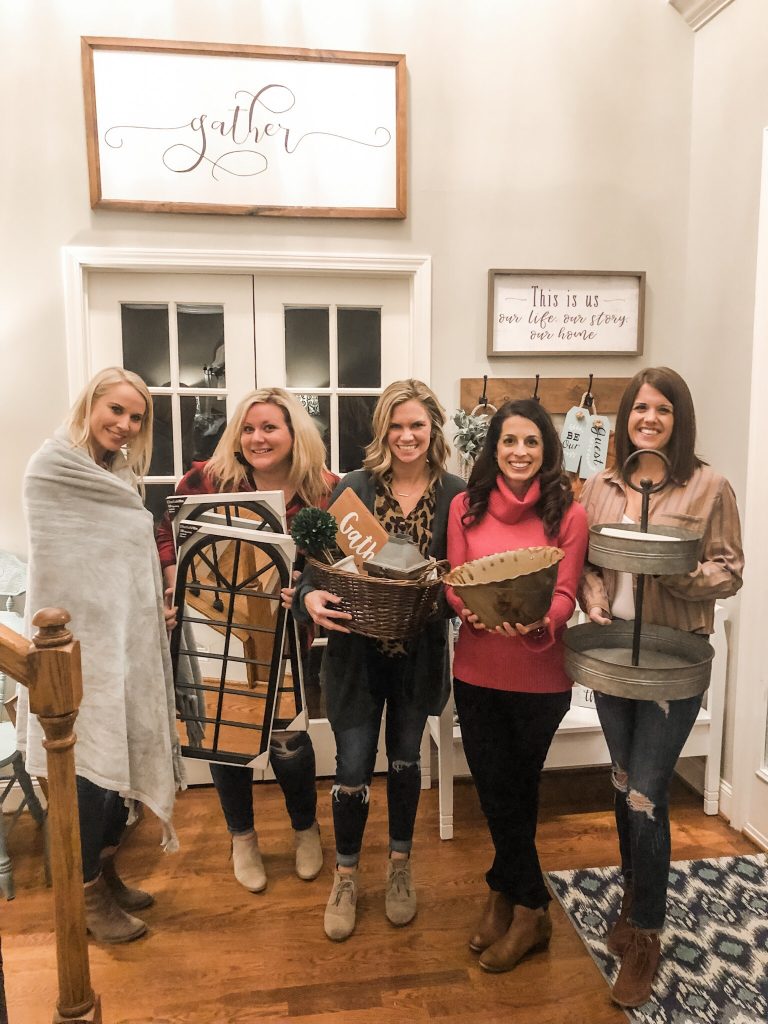 Thank you to all my friends who made this a fun night (and agreed to be a part of this blog post!). Life is so much better when you have friends by your side and I'm thankful for each of these ladies!
Let me know what you think of this décor swap idea and if you think you might host one too!
Until next time…
Stacey
Pin this, please!