Being happy in your home is so important. It doesn't matter if it's a studio apartment in the city, a farmhouse in the country, or anything in between. You need to be able to come home at the end of every day and feel happy and content.
If I had to guess, most people are probably not living in their "dream home." Even if you are in a home that you love, there are always things you want to change, wish you could do different, etc. But that doesn't mean you can't have a happy home and be content with where you are!
Having a happy home and loving where we are was something my husband and I wanted to feel from day one.We bought our house a little over 7 years ago with intentions of this being our "forever home."  We have loved it and worked hard to make it our own. I would be lying if I told you that over the years I haven't had moments of not feeling content. I mean, I feel blessed. Very blessed. But, sometimes we would talk about if this was "it" for us. And if it was it, we always talked and dreamed about everything we would want to do to make it our own. We still talk about those things! I think that it's normal to have those moments and conversations.
For us, the days and the years went on and now I honestly can't imagine being anywhere else at this stage in our lives. This is the house my boys are growing up in, making memories in, and having so many firsts in. To be honest, they don't care what kind of paint is on the walls, if we have a new fireplace, or what kind of furniture we have. They care about the memories, the friends they have made here and feeling safe and comfortable in their home. They Enjoy the little things in life, and that is really what it is all about.
Recently, we have been doing some projects around here to really put our stamp on our house which has been fun. Projects are great, projects keep things fresh and fun, projects make you think and be creative, and I LOVE all of that.  Projects also take time and money. If we all had a money tree out in our backyards, I think we would be doing all of the projects all of the time. (Or hiring someone to do all of the projects for us 😉 )
While I think it is great to slowly do and change things over the years as your taste and style change, I also think it is SO important to just be at peace with where you are. This doesn't mean you have to do those big projects or spend a lot of money to be happy. After we came back from a short visit to my parents place at the lake, I can honestly say I came home and was so happy to walk in that door. Happy and content to be home, with my family in this place we have created together. And that is one of the best feelings out there!
Today I am going to share some tips with you that I think are helpful for keeping you happy and content in your home!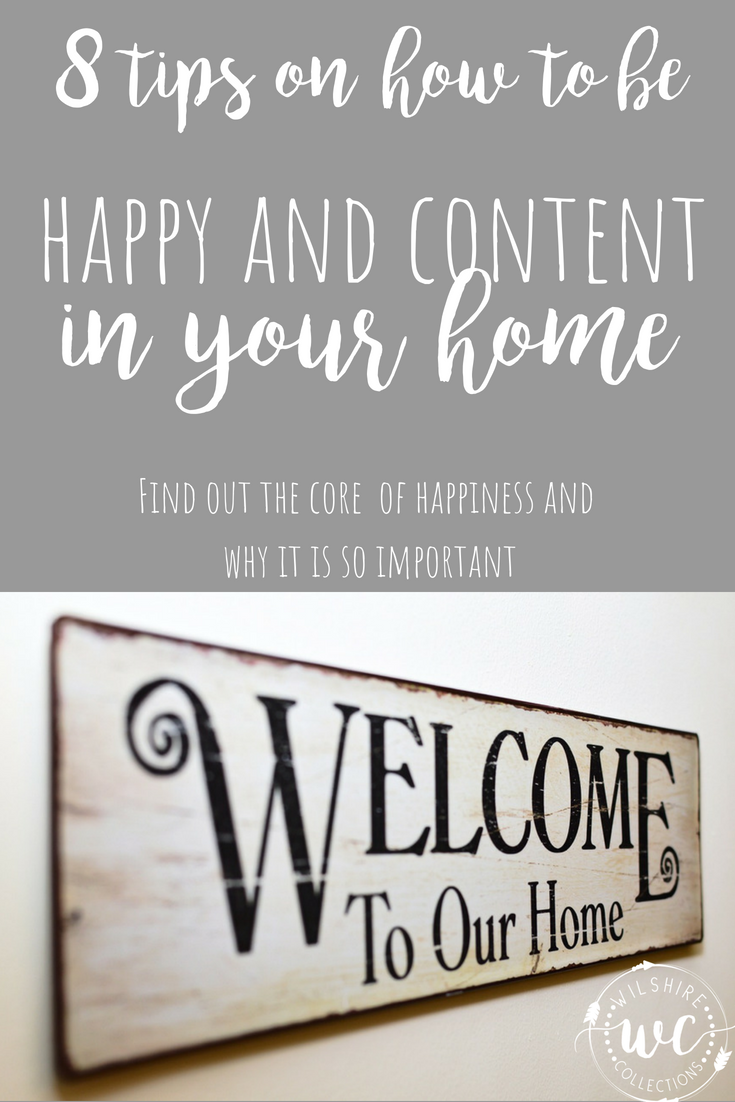 Here are 8 tips on how to be happy and content in your home!
Decorate like you are never leaving- I think it is so important to be focused on the present and enjoying every moment. Don't have the attitude of "We will only be here 5 years, let's not get too settled in." Make your house YOURS during whatever time period it may be that you will live there. Put your stamp on it and be proud of where you are! If you aren't wanting to do big projects and renovations, that is ok. Do the small things, like adding furniture and décor you love. Besides, most things can be taken with you when and if you do move 🙂 Don't always think about tomorrow, or what the next house will bring. Focus on what you have right now and OWN IT!
Make good use of space- Take a look at your home and really think about how you are using the different spaces. Use those spaces in a way that works for you and your family! For us, we had a guest bedroom downstairs that NEVER got used. Most of our family is in town, so we just don't have a lot of overnight guests. A couple years into my business, we decided to make that room into my "craft room." It was a great decision for us and our situation, because it is something that now gets used (and trashed, man I can't seem to keep that room clean!). One day I dream of having it a Pinterest worthy craft room, but for now it is functional and works for me and my needs. Is there a space in your home that isn't getting used like it should? Get creative and make it work for YOU!
Make it cozy- I have said this before, and I'll say it again. I love a cozy house! I want to walk into someone's house and get a warm and homey feeling. You can honestly still have all the pretty things AND still keep your spaces cozy. Make it so that people want to come over and sit and stay a while. Think comfortable seating, throws, lighting, and candles. All of these things can make your house feel warm and cozy. Unless you aren't big on visitors- then you can make it as uncomfortable as you want. Haha! Really though, make it so that you, your family and friends all want to settle on in and enjoy!
Focus on the positives- Instead of always focusing on the giant to do lists and wants, try not to forget the positives of your home. The things that you love and wouldn't change for a minute. I bet if you stop and think about it, you have some of those spots or areas in your home. If so, make those a focal point and highlight. Decorate like crazy in those spots and make them the happy place of your home! If you only focus on all the negatives of your home, chances are you aren't going to be real happy living there.
Don't compare- They say comparison is the thief of joy, and it is so true. There is always going to be someone out there with a bigger, better and more beautiful house. Always. This could be people you know personally, or even just people that fill up your IG feed that you follow. There is lots of beautiful out there in this world, and that is OKAY! Be inspired by those people, but do not compare yourself to them. I promise you, this will get you nowhere except maybe in financial debt 😉 Everyone's situation is different and everyone needs to have their own idea of what is perfect for them and their situation in life. I personally follow SO many beautiful pages on FB and IG and I use those to get inspired. My house will never look like the perfect farmhouse with shiplap on every wall, and I am ok with that. My house works for my family! Granted, if someone came in and said "We are going to shiplap your entire house free of charge!" I would totally say "SIGN ME UP!" Until that knock on the door happens, I try my best not to compare and just be happy!
Keep it clean and tidy- Ok, I'm not going to lie. This one is a STRUGGLE for me. Luckily, I have an OCD husband who helps keep us all on track in this department 😉 I will tell you this though, the days my house is clean are the days I love it the most. There is nothing like walking into a clean home. Now listen, with 2 boys you better believe this is not a daily thing. There are spots and areas of my home that I've practically given up on. But, we really do try and keep our main living spaces (kitchen, living room, etc) picked up and tidy as much as possible. It definitely makes a difference in how we feel about being in those spaces. So, let your kids be little and play and make messes. Just find a happy balance with it all and enjoy the days and moments that your house is clean!
Host a get together- Nothing will motivate you to do numbers 1,2,3 and 6 like having guests lined up to come over. Hosting parties or even just having friends over for dinner is such a fun way to really enjoy your home. Gather your people in your cozy home and just enjoy life. At the end of the day, this is what it is all about. And this is where you will get to use all those cute serving pieces you've collected over the years 🙂
MAKE MEMORIES- This one is it, y'all. I saved the most important one for last. This is the CORE of happiness in your home. Make memories! When I think back on good times in our house, it's not the time I bought that new rug from HomeGoods that sticks out in my mind. It's not planting flowers in my front yard. It's not even our fireplace reno (even though I of course loved that). It is the thousands of memories that my husband and I have made here with our 2 boys. It's bringing my youngest son home from the hospital here. It's watching my oldest go off to Kindergarten and all the first day of school pics on the front porch since. It's movie nights and dinners at our kitchen table. It's my husband wrestling on the floor  with our boys while I yell "someone is going to get hurt!" It's Christmas mornings and long summer days.  It's the times we have had our friends and family over and laughed until we cried. It's the moments when we have lost someone or been sad and broken, when we rally together, support each other and cry. When our kids have total meltdowns and chaos takes over, but at the end we are hugging it out and quickly right back to a place of love and laughter. Our home does this for us! Our home creates a place where all of these things and more can take place. It is our shelter and roof over our heads and it is the place where you will spend the most time and make the most memories. So, love it. Just love it. No matter where you are!
Not every day is going to be perfect. Not everything in your home is going to be perfect. But, I do hope you can make the best of where you are in life and have a happy home…wherever you may be! Gather your people together and just enjoy it! What is it that y'all love the most about your home? Any tips that I am leaving off this list? I would love to hear what others have to say!
~Stacey