It's so fun to try new things, and this technique is extra fun!
Come learn how to use adhesive foils on a Christmas DIY project for an absolutely adorable look and the technique will blow your mind!
My friend Jennifer with Artistic Painting studio is the queen of foils! I have been telling her for forever that I needed to give them a try, so when she sent me these cute plaid foils this year I knew I HAD to do just that! You can check out hundreds of her foils at my referral link here.
For this project, I decided I was going to make a Christmas tree trio. I used this bigger wood tree from woodpecker crafts, found here. Be sure to use code WILSHIRE at checkout for 5% off! I also used 2 small chunky trees from Target.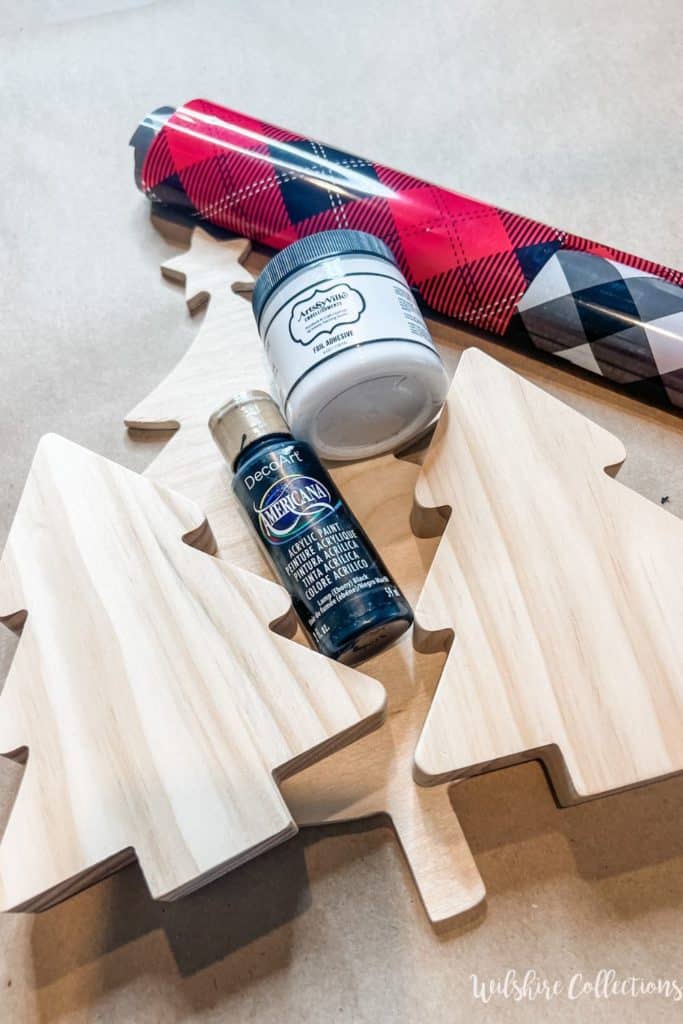 The only other things I needed was some black acrylic paint, the adhesive glue, the foil and then some rub n buff for the star and some little bells I added to the trees!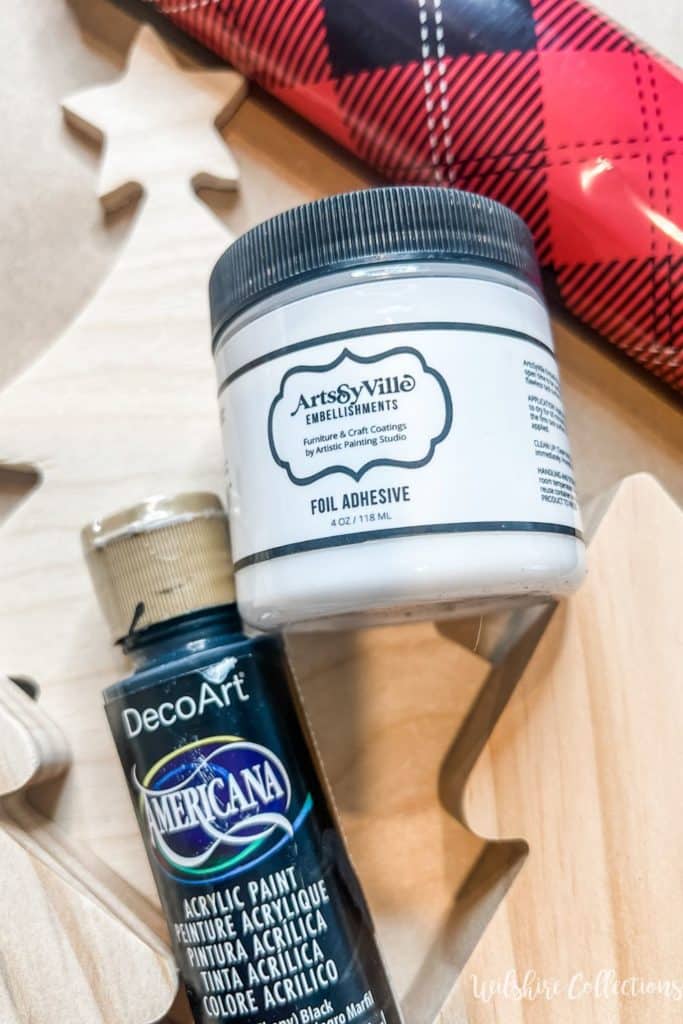 The key with using these foils is that you HAVE to use the special adhesive glue found here that is made just for these foils. Mod podge will NOT work right!
You want to start by painting your surface, even if it will be covered with foil. It will look and adhere better if you do so! Once that's dry…it's time to add the adhesive glue!
The other big tip I have is that you have to let the adhesive glue dry! Air dry for about an hour until it's tacky to the touch but not sticky on your hands. You can also help speed up drying a bit with a heat gun if you're in a rush.
Once that adhesive glue is tacky, just simply lay the foil out over your surface where you've put the glue. Use something to help smooth it out and push it down securely. Once you've done that it's time for the peel and reveal!
This is where I literally had this face of pure shock and excitement! It was SO cool to see!
Once my big tree was done in the red plaid foil, it was time to do the small ones in black and white so I just repeated that same process.
Once they were all done in the adhesive foils, I simply glued them together. I also made my star and these little bells silver and attached them!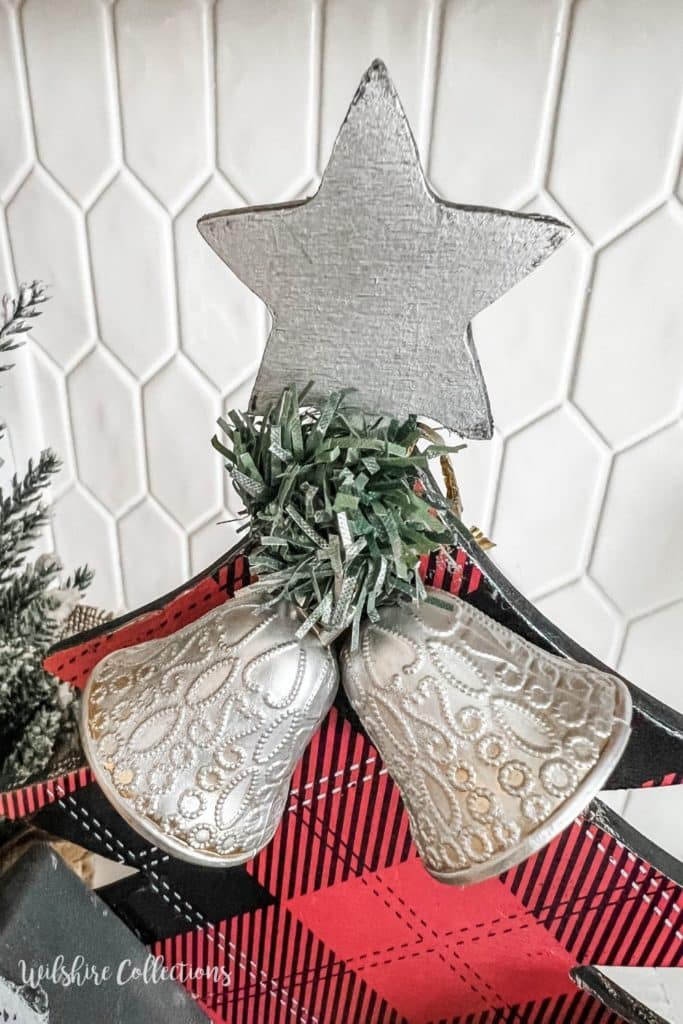 Isn't this project with adhesive foils so darn cute?! This definitely won't be the last time I use these in a project.
I can see so many possibilities! What do you have that you can foil?!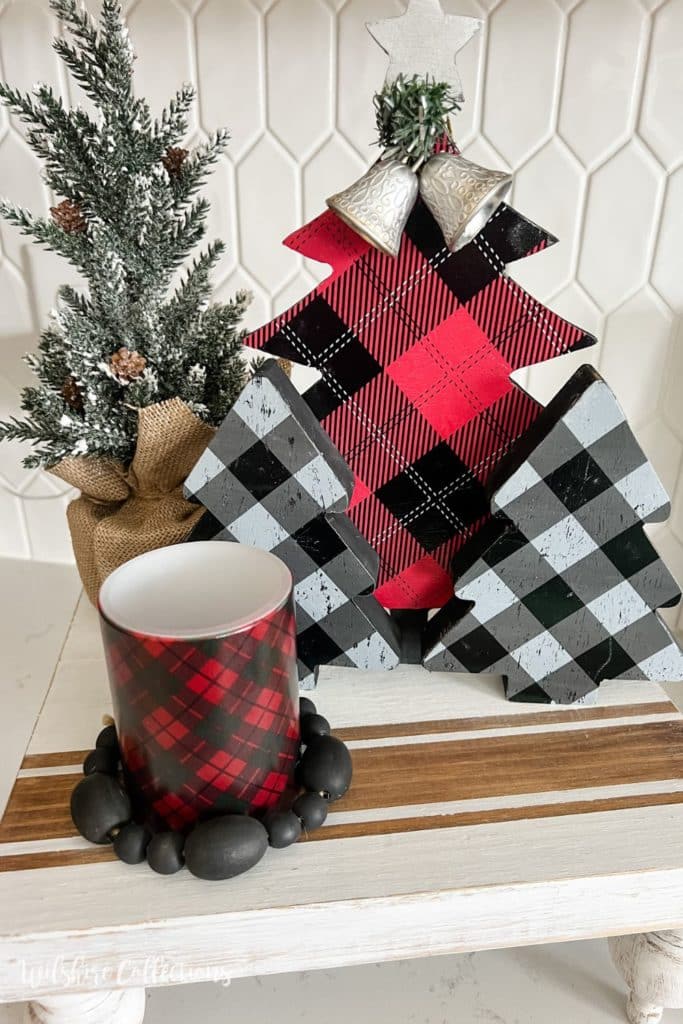 Hope this inspired you!
Until next time…
Stacey