I'm checking it off my bucket list! I finally got my trip to Waco to visit Magnolia Market. I'm a huge fixer upper fan and a huge fan of all things CHIP AND JO! (Who isn't, really?!) Every since that episode where Joanna found the silos and I watched the process unfold, I knew I wanted to go there one day.
My 40th Birthday rolled around and when my husband kept asking where I wanted to go or what I wanted to do, that's what kept popping in my mind! He would have gladly gone with me (because he's just sweet like that), but he knew deep down that I would love a girls trip there. So, I hit up my mom and sister with the idea and they were immediately IN!
The plans started and the countdown began. I was soooo excited for this trip that I could hardly stand it! To me, Magnolia is the Disney World for décor loving ladies…so I was as excited as a kid headed to Disney!
PIN THIS, PRETTY PLEASE!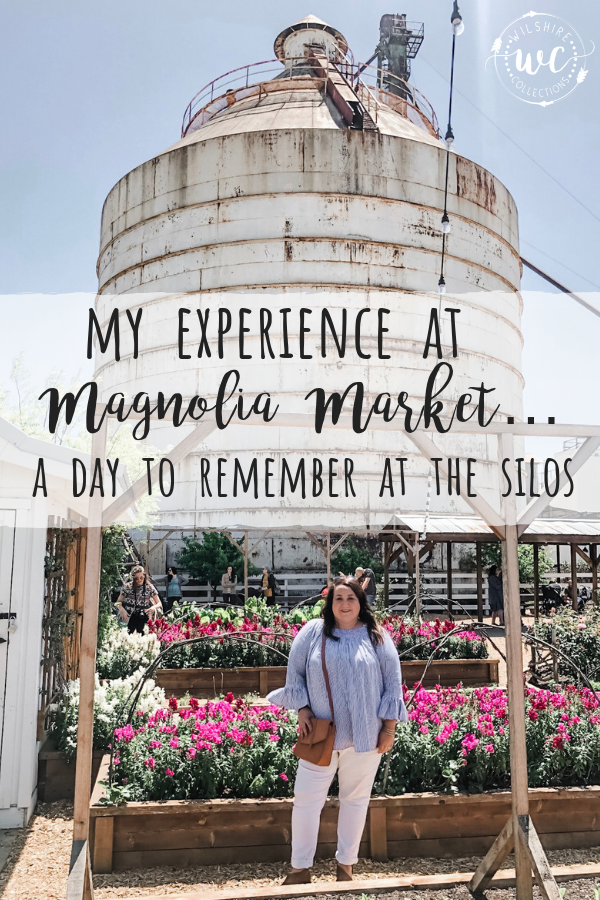 I'm sharing my experience at Magnolia Market and why I think it is such a special place. There's a reason it draws people in from everywhere for sure!
We made it! And lucked out with the most beautiful day!
We started the morning by hitting up the bakery first. We hadn't had breakfast, so we figured it was a great first stop. We each got a breakfast biscuit called the Prize Pig which was filled with bacon and cheese…so good! We got a cinnamon roll to share and ordered our cupcakes while there to take back for later!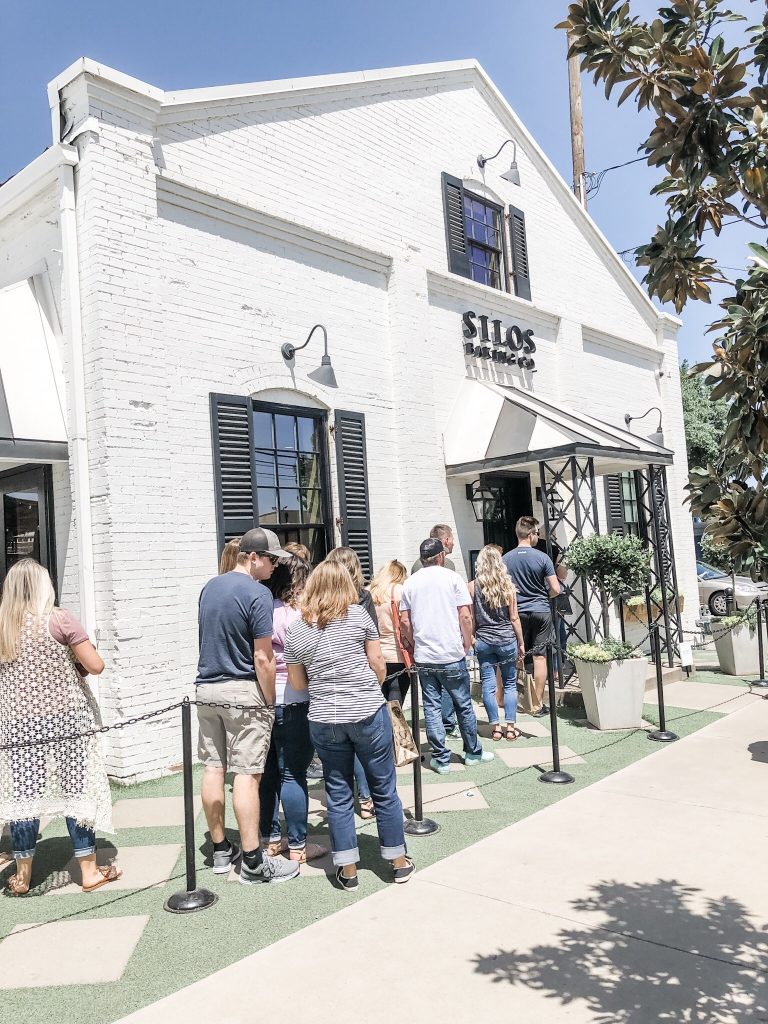 They have everything down to a science there, and the line actually flowed very fast. I think we waited 15-20 minutes total. They give you a card while in line to fill out your order, so it saves time when you get up front. Everything we ate was just AMAZING!
We sat outside in the little courtyard area and enjoyed every bite of our breakfast in the sunshine!
The cupcake flavors we picked that we ate later that night were, Shiplap, Strawberries N Cream, Lemon Lavendar and Carrot Cake. Don't make me pick a favorite 🙂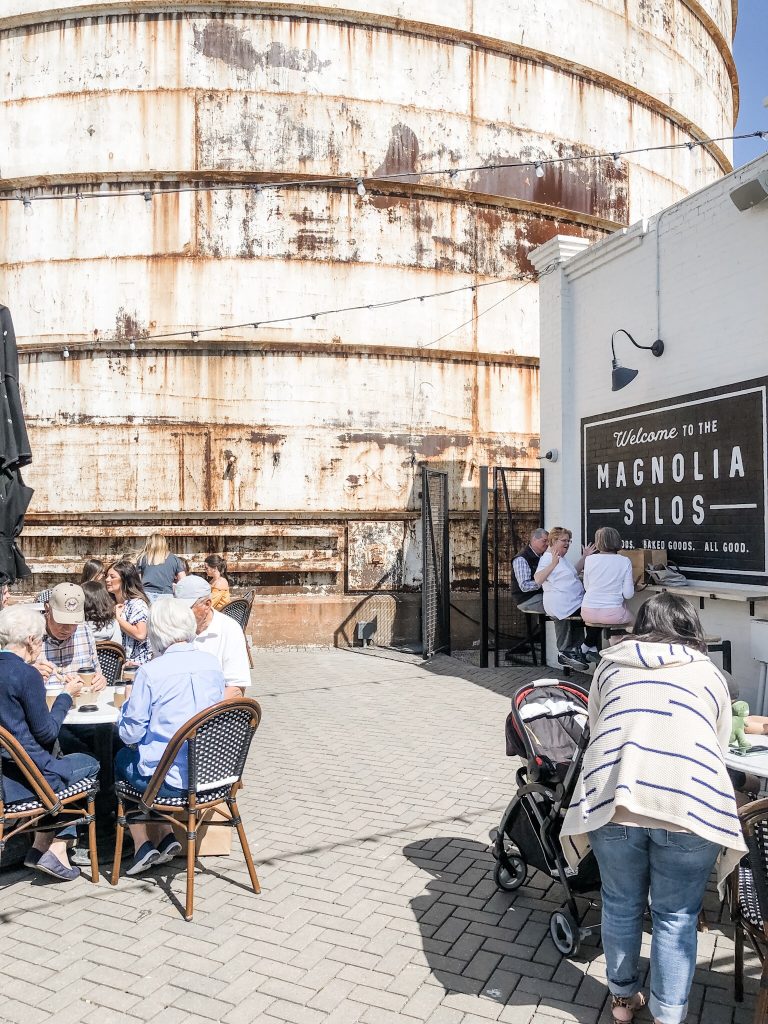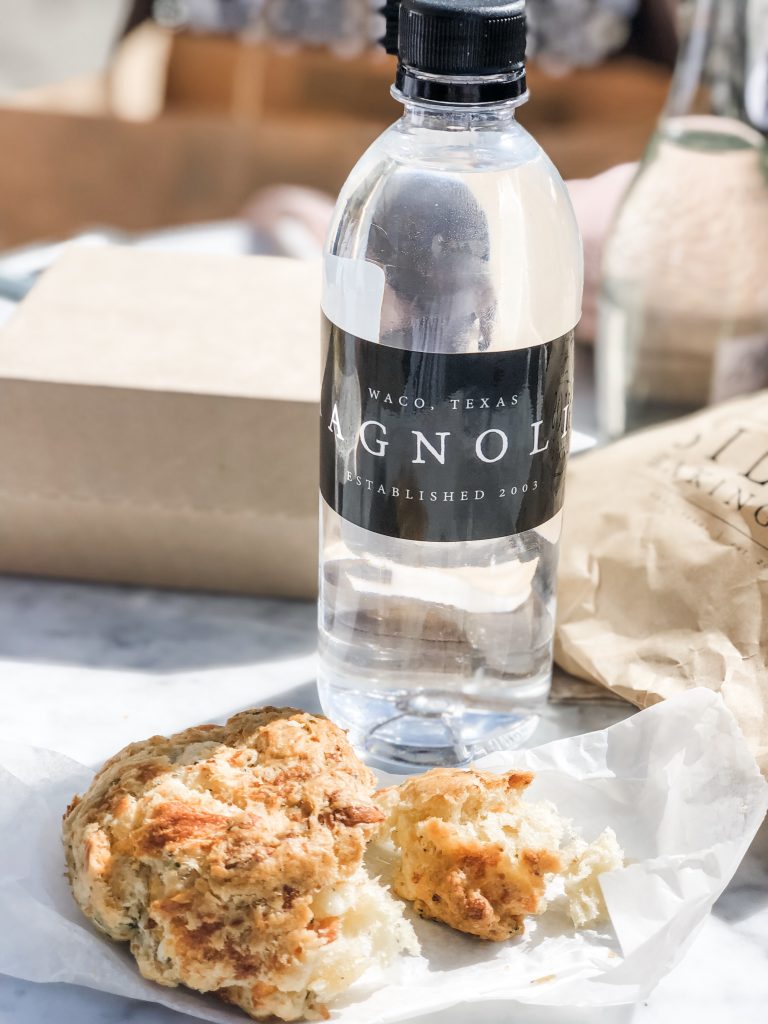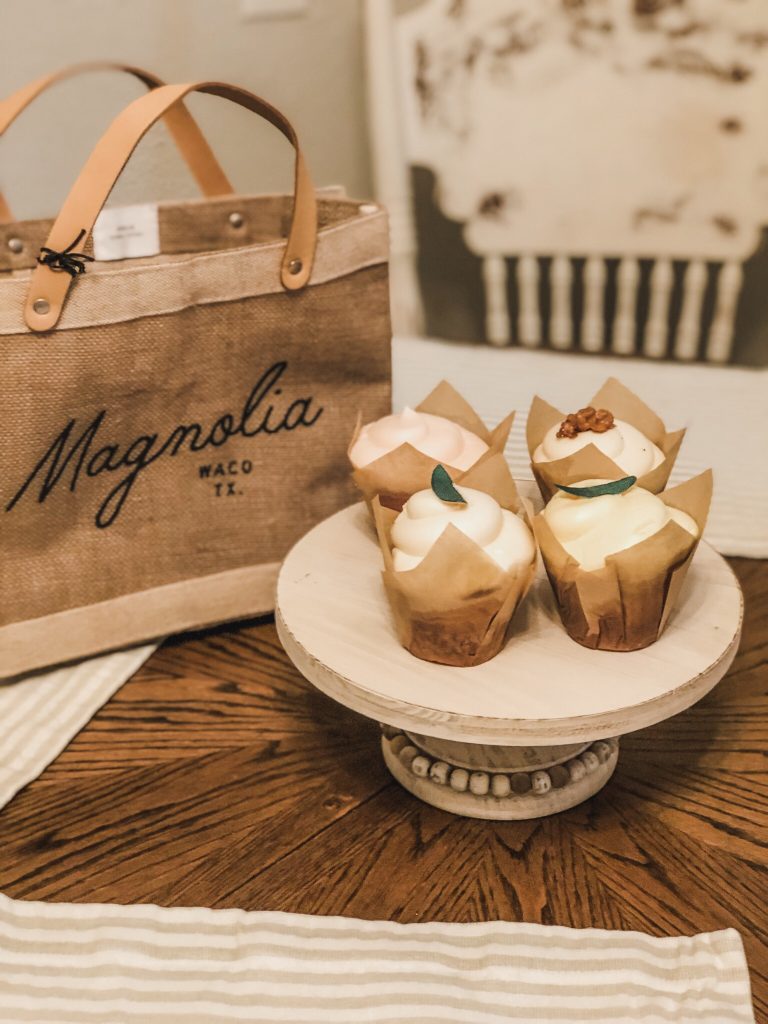 After that, we explored the grounds and just walked around for a bit. There are so many cute areas with swings, tables, bean bags, the lawn area, etc. that you really could just chill and hang out there for a while on a beautiful day. (We were SO lucky that it was so pretty when we were there). It was so fun just to walk and take it all in.
Seeing those old Silo's as the starting point and inspiration for this entire area was really cool. Only Joanna would see those and think "I can do something with this!" And they sure did!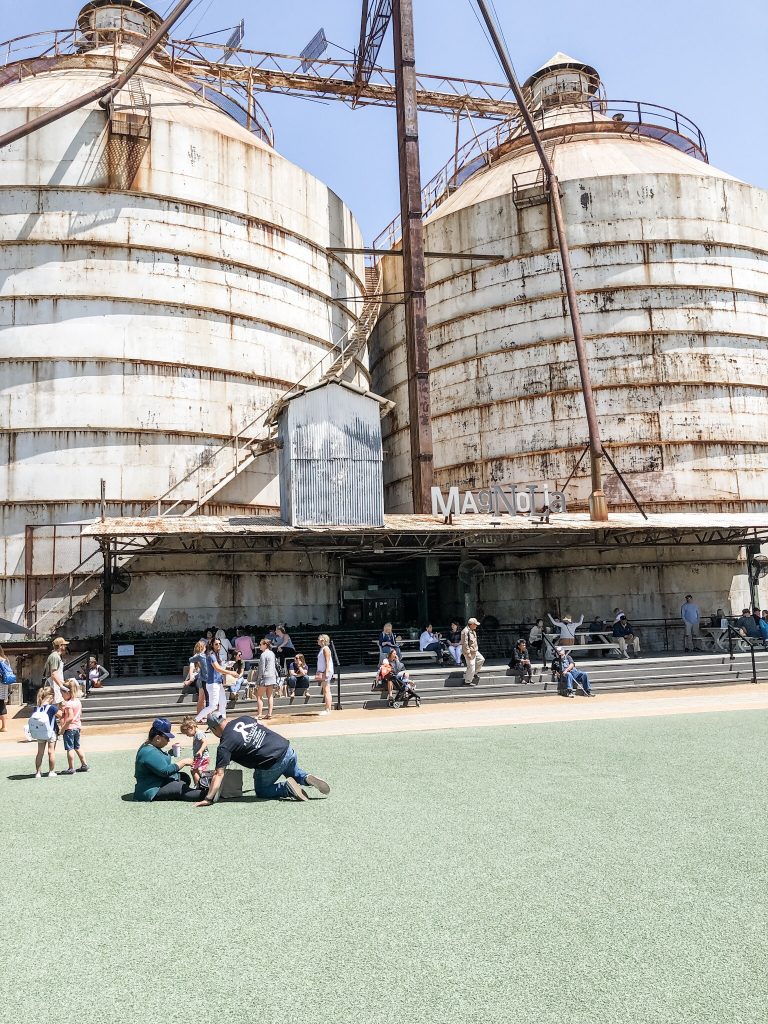 It was time to make our way into Magnolia Market, the moment we were all so excited for. We walked right in and they had some cute shopping bags you could use right at the door.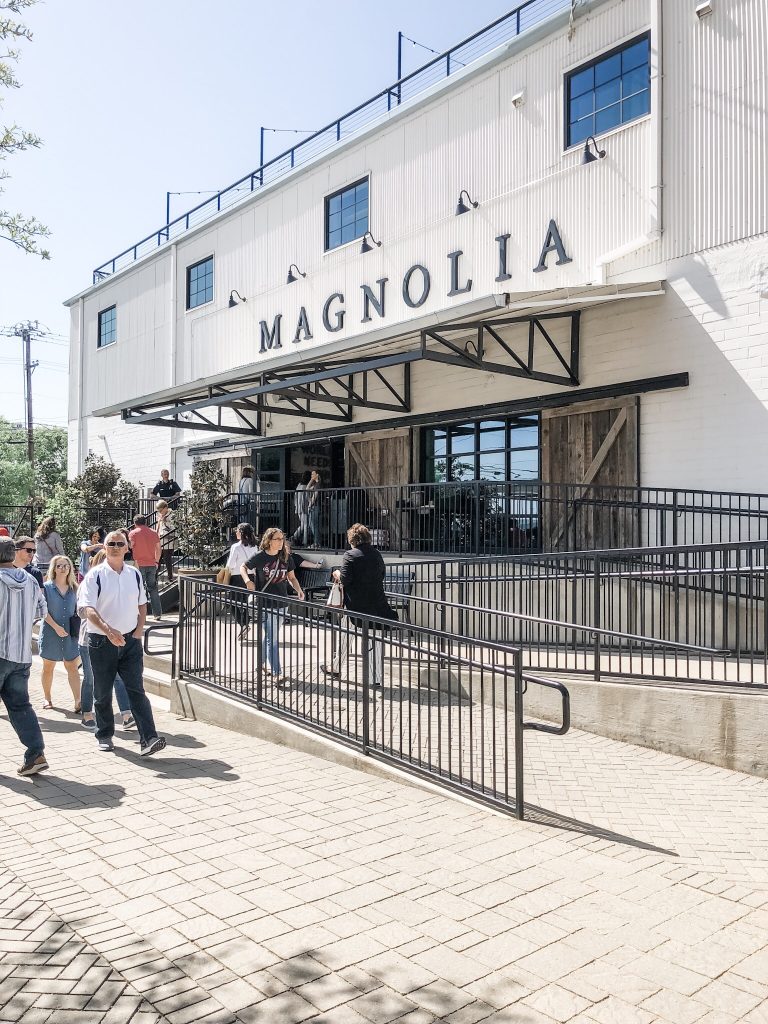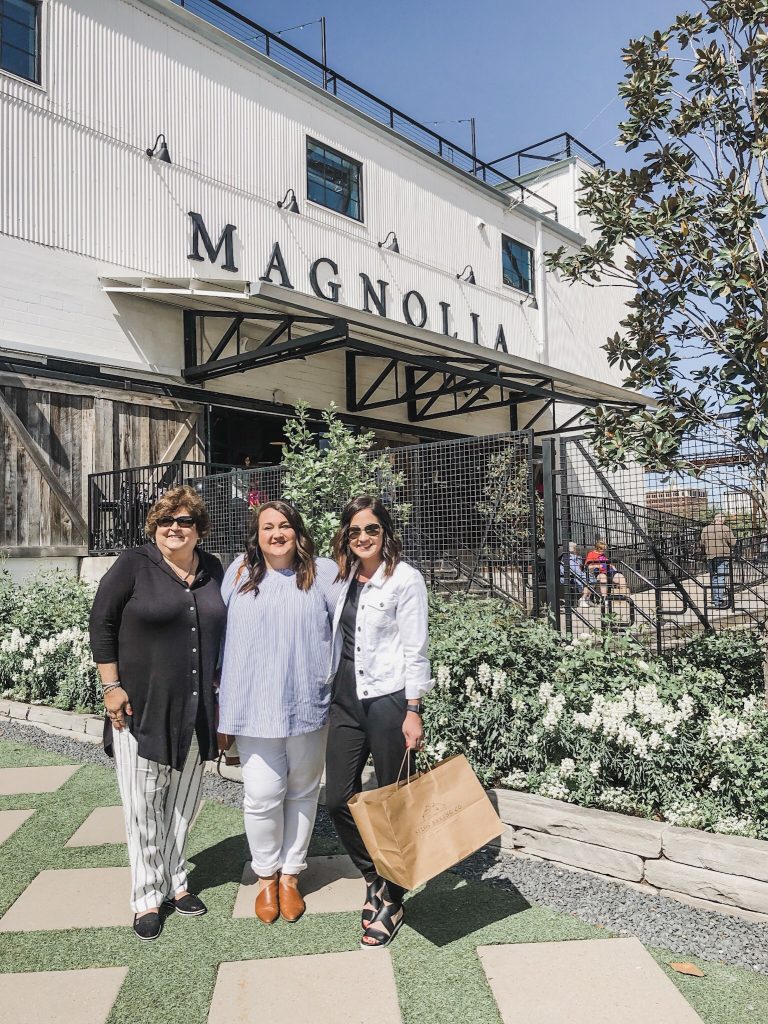 I stopped in my tracks when I saw the wall that said "The world needs who you were made to be." My sister snapped my picture and then I turned around and took my first real look at the store and cried!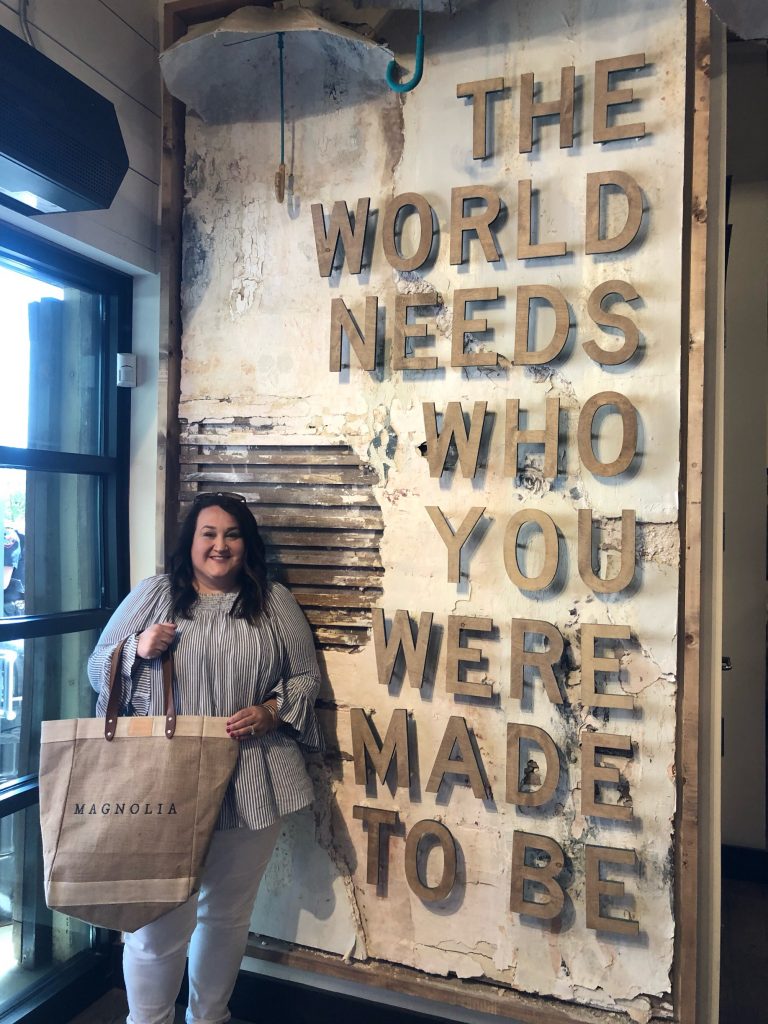 Now, if you know me at all… this isn't shocking! I can be a bit emotional and it doesn't take much.
I was just happy and my heart was full.
Happy that I was finally there! Standing in Magnolia Market.
Happy that I was celebrating my 40th Birthday with my mom and sister in such a special place.
Happy to see that hard work and dedication DO pay off.
Happy to see that dreams do come true and sometimes they are even bigger than you probably ever dreamed!
Happy to see all the beautiful décor and styling that just instantly puts me in my happy place.
I. was. just. happy!
I took a couple deep breaths and off to shopping we all went. We decided we were going to GO SLOW and take our time. Who knows when and if we will be back after all. I did one slow loop around the store and scooped out things I thought I might want, then went and did another loop to grab the items I decided on.
So many cute displays!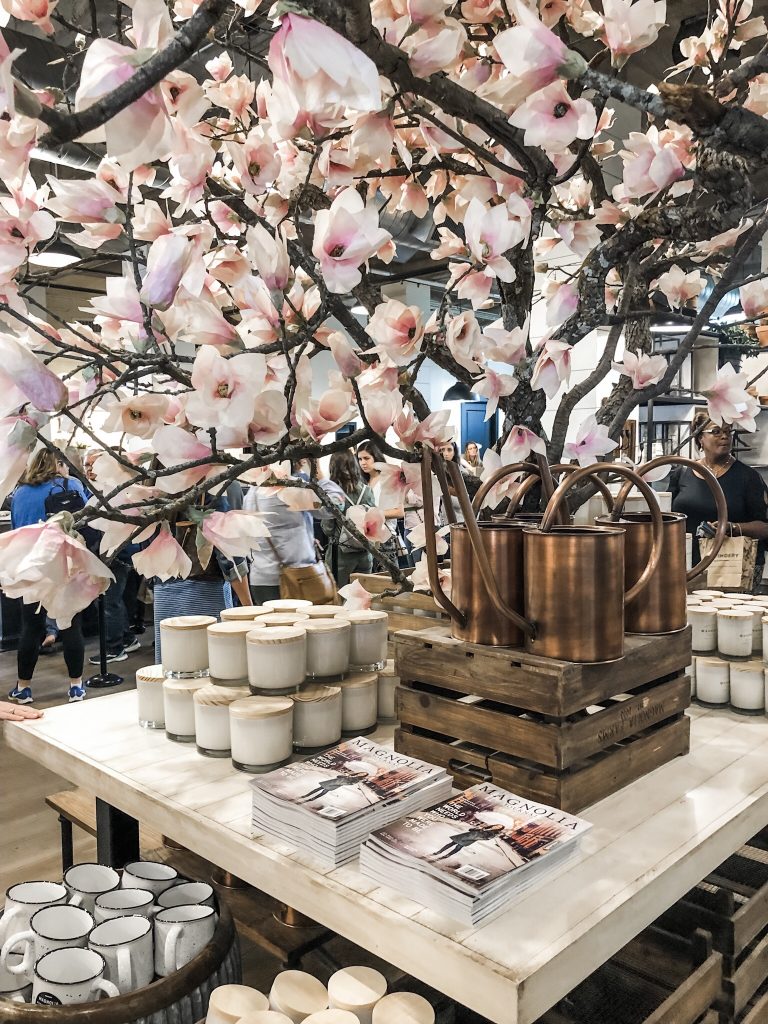 We would go our separate ways a bit, then meet back up and oooh and ahhh over this and that. Compare our shopping bags, help each other decide and just smile because we were all so in love!
We had another little moment when I saw this notebook and knew it had to be mine! My mom get this one for me, which makes it even more special 🙂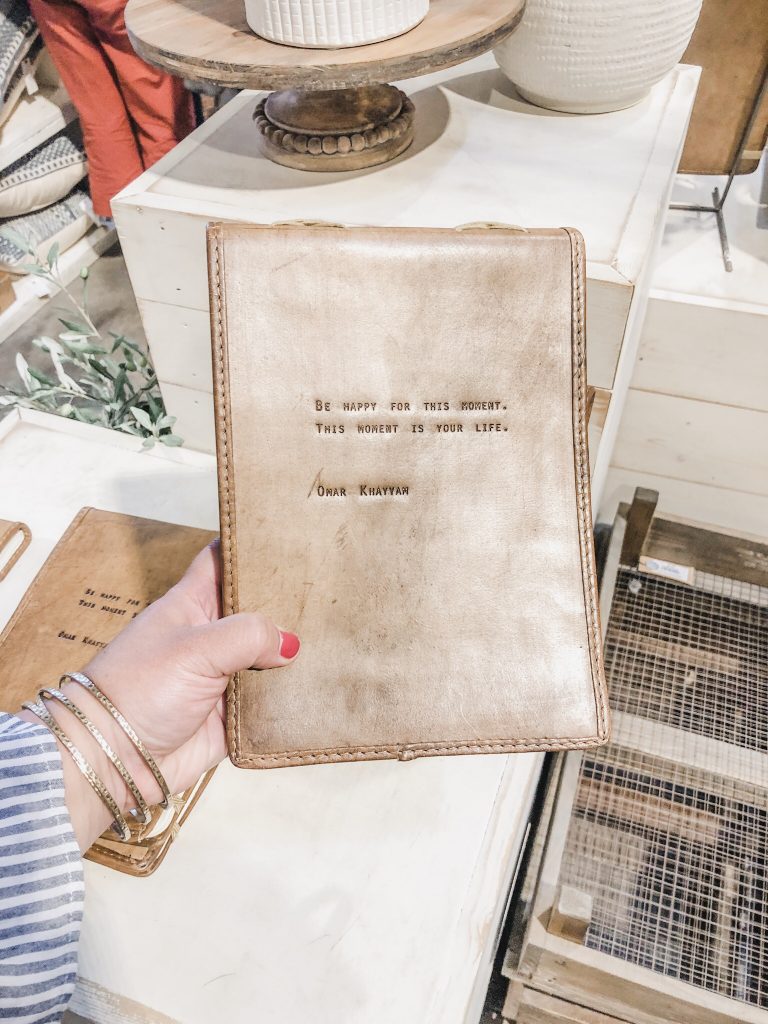 A couple of things that I was really impressed with was how many employees they had on the floor not only helping customers, but stocking those shelves! You never felt like things looked empty, because they were literally stocking things as people shopped. Pretty amazing!
Every corner you turned, the display was just as pretty and perfectly styled as the next. It was truly a beautiful store with so many great items! It was hard to decide what to buy and what to leave behind for sure!
The last big thing that impressed me was the speed of the checkout line. While it looked a little lengthy, it truly did move fast. Not only did they have multiple registers open, but they had people that were specifically there just to wrap up and bag the items. Again…no detail was left unnoticed and it was all very smooth.
If Joanna Gaines is an inspiration to you like she is me, you will LOVE your experience at this store. It is just so inspiring and empowering to see what they have created in a town that not many people would have bat an eye at on the map several years ago. They brought Waco back to life and it is truly incredible!
After we left the shop, we got a drink from one of the many food trucks they had there. We walked the garden area, checked out the feed and seed shop and just took it all in. You can see the FB Live I did here where I walked around and showed some of the grounds!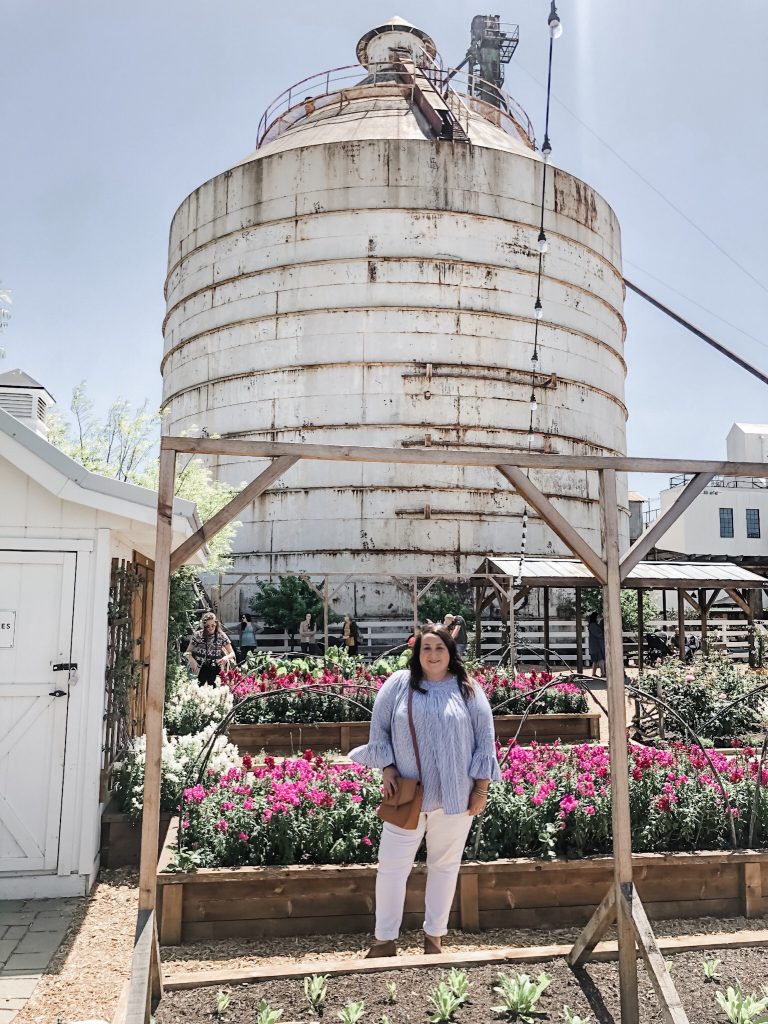 The thing I want you to know about Magnolia Market is that you are going for the EXPERIENCE! I had said going in that I didn't care if I just came home with a t-shirt and a coffee mug (which I did and then some). But my point being, I wasn't going with intentions of decorating my whole house.
I was going for the experience, and the experience turned out to be better than anything I could have bought or eaten! The experience is what brings people to Waco from all over the country. It's what makes their main stop those old Silo's at Magnolia Market.
Will you pay a little more for items than you do at lets say, Target? Probably so for most things. But…you know and expect that going in and it's all part of that full experience! You know how I said it's the Disney world for décor loving ladies…well, you expect to pay a little more at Disney too, right?! It's that FEELING you get when you are there and the memories made that make it PRICELESS!
At the end of our time there, our hearts were full and so were our shopping bags! We couldn't have asked for a better day or experience at Magnolia Market.
You can see my FB live where I opened all of my finds from the day, and here they are laid out on my kitchen table! I can't wait style them around my home ASAP!
Aside from getting a few things with the logo for memories…the sign and the journal are definitely my favorites! The metal sign is one of Jimmy Don's signs and has the same saying that meant so much to me when we entered the store. And the journal is equally as amazing!
I hope you enjoyed this and found it helpful if you are thinking about planning a trip to Waco and Magnolia Market too! I will be doing another post soon and sharing all of the OTHER fun things we did while in Waco too. Stay tuned!
Until next time…
~ Stacey