So, the itch to switch was strong around here! I've had my fireplace remodel done for a couple years now, and since then I've had a tobacco basket hanging there (Except at Christmas). I loved the look, I still do actually- but I was ready for a change!
I always changed out the other pieces for my mantle decor, but I never touched the tobacco basket. I would just switch out the wreath for the different seasons. When I heard that Kirkland's was having their big Black Friday in July sale, I just knew I had to go look to see if I could find anything for my mantle.
Here was my mantle decor before I did this little switch!
I had a vision of my head of creating a layered look for my focal point. I was thinking architectural type pieces layered with maybe a farmhouse sign too. Either way, I knew I wanted my mantle decor to pop since it's the focal point of this room.
My living room is still decorated from Spring/Summer, so  I also knew I wanted to keep this look pretty neutral. Something that could work now with my Summer stuff, but also transition into Fall when the time comes.
Ok, ok…I'll stop rambling now. Want to see what I found?! And the best part about these pieces (other than how stinkin' cute they are is the PRICE!) You can read this blog post to find out what I spent!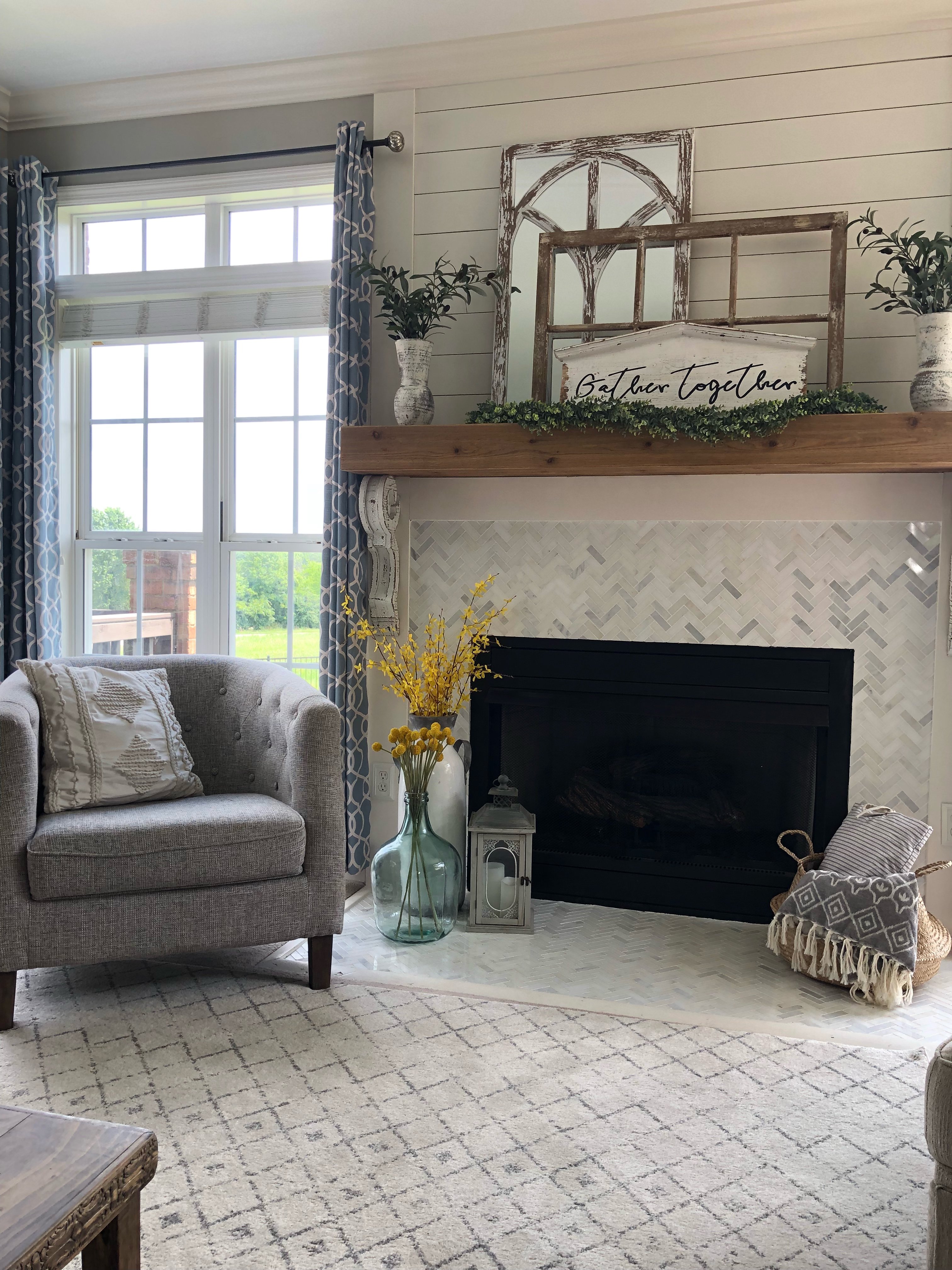 The Mirror came from Kirkland's and you can find it here.
The window pane came from Kirkland's and you can find it here.
The Gather together sign came from Hobby Lobby.
The garland was a TJ Maxx find.
All of this mantle decor was actually very inexpensive because of the good deals I got! I'm super happy with the change, and love having something fresh and new to look at in our living room.
Do you like this layered look? If you are wanting to create it yourself, just remember to use different heights to stagger things! I love the look of this and was so glad to be able to incorporate it into our fireplace!
Let me know what you think in the comments!
Until next time…
~ Stacey
This post contains affiliate links. Please see my full disclosure page for more info.