Let's talk for a minute about the room that just doesn't get the love or make the top of the priority list. We actually have a few of those here at our house. For me, my downstairs is always top of the list because that's where we spend the most time and that's the area people see!
We have a bonus room upstairs that has been filled with many things over the years. Mostly toys from when my boys were younger. So, it was just that. A bonus room filled with toys and whatever else we threw in…and that was fine! But, it hasn't been a real priority. Do you have a room like that?
As they've gotten older, the toys are fewer and far between (cue tears!). My youngest keeps all of his lego stuff and remaining toys in his room now for the most part, and we still have a few bins in the bonus room filled with toys too!
We decided it was time to give this room the mini decorating refresh that it deserved! It didn't take a ton to make a big difference and was easy to do!
Here is the before picture that I shared on FB and IG stories where I had you guys help us pick out a new rug. You were SO helpful and I appreciate it so much. This yellow one was not only too small for the space (it was a 5×7), but it was also not my style and didn't really match. 
Even just getting the new rug made a HUGE difference! We got the 8×10 and it really filled up the space so much and made it all look better!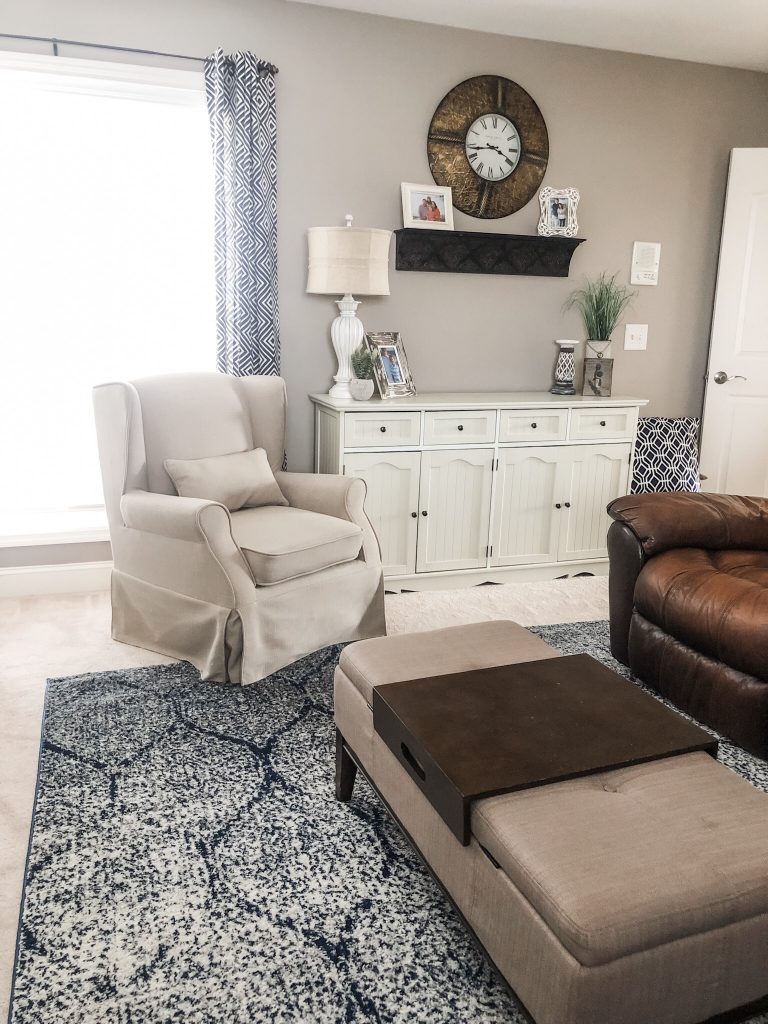 Next up was the debate on the wall over the console. I ultimately decided I was done with the shelf and clock an ready for a change! I'm soooo happy with this piece from Kirkland's that the ladies from my decorating community helped me pick out on a live. It fit perfect and I added my little TJMaxx wreath to it for the perfect pop.
The only other things I really wanted to do was restyle the bookshelves (didn't buy one new thing for those, just shopped my home and moved things around). I also got those reversible Walmart pillows that I love for the couch. AND…a new clock and sign from Hobby Lobby! AND…we moved the chair from our bedroom in here since I have the buffalo check one in the bedroom now!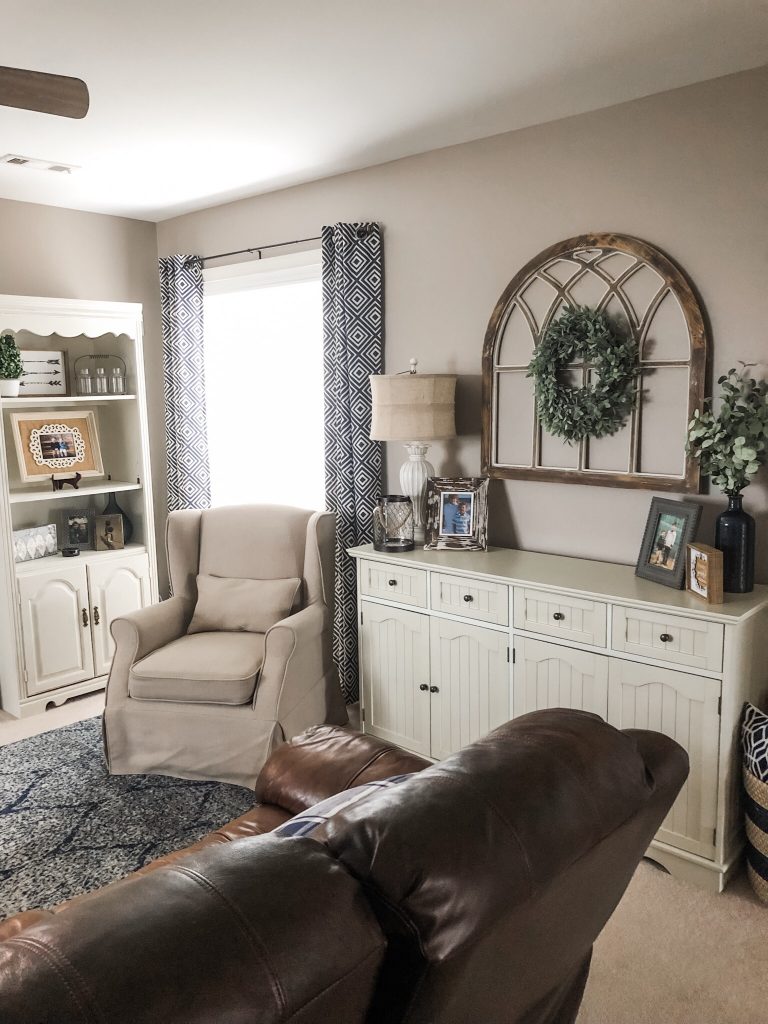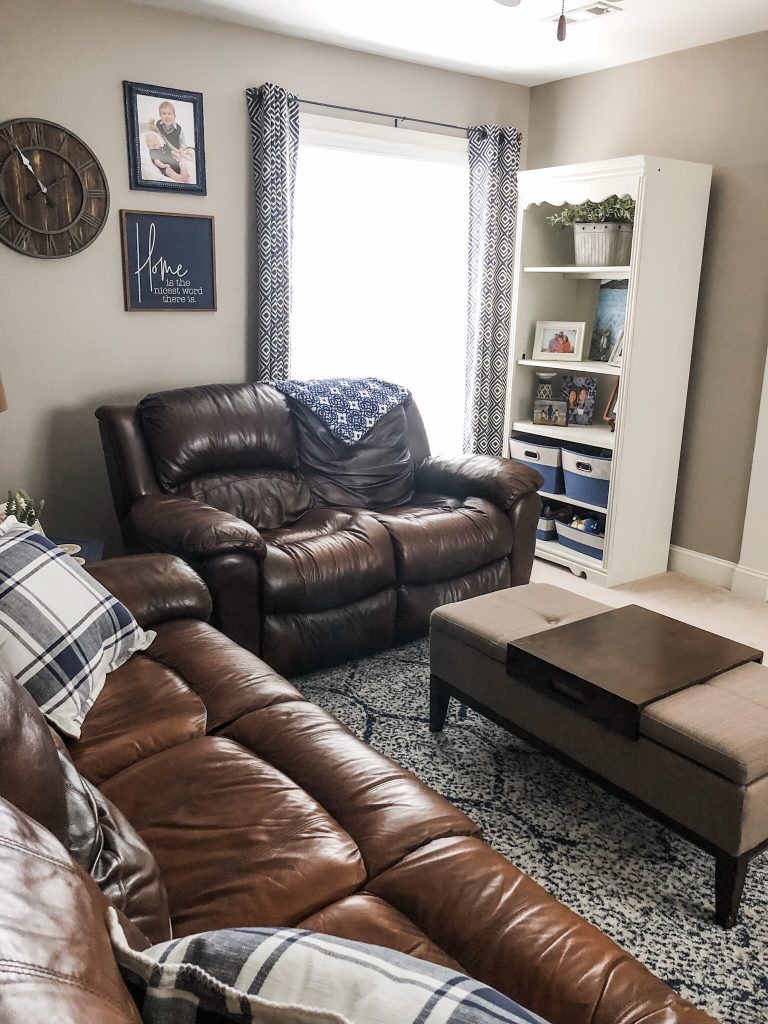 Not too bad and man it looks like a new room now! Let me know what you think! Wish I had more before pictures to share, but in true Stacey fashion…I got excited and started decorating before I thought to take many before pics! Story of my life! 
I'll put some more details on the room and sources for you below. It feels good to check another project off the list for sure!
Until next time…
~ Stacey
The console was a craigslist find.
The shelves were a craigslist find that I painted a few years ago.
Couches are old as can be and from Rooms to go back in the day.
Wall color is Sherwin Williams perfect greige (same as our bedroom)
Curtains came from Kohl's a few years ago.
Rug is from Amazon! I originally found it on Wayfair, but it was a little cheaper on Amazon! 
Wall piece from Kirkland's is here!
Pillows are from Walmart here! 
Chicken wire lantern from Walmart here! 
Everything else is a collection of things from over the years!