This isn't going to be a typical post you might see on here, but it's on my heart and I had to share. This is mom truth at it's best and I hope that some of you can relate to this.
I'm having all the feels right now with the season of life we are in. My kids are growing up in a flash and each year seems to go by quicker than the last. So…
Mom truth! Find out why I like a messy bed! That's right, not the perfectly styled and pillow filled bed you are use to seeing here.
For as long as I can remember, both of my boys have always loved playing and hanging out in OUR bed.
They have their own beds of course, but they prefer ours and always have.
I use to make it all pretty most days and then get mad when I would come in the room and see they had messed it up.
I takes some time to get all those pillows placed so perfectly….just to have them thrown on the floor. Am I right?! But we still want the pillows, right?! Haha!
Pin this, please!

This is how YOU are use to seeing it when I actually make it and make it look pretty! This is not real everyday life though.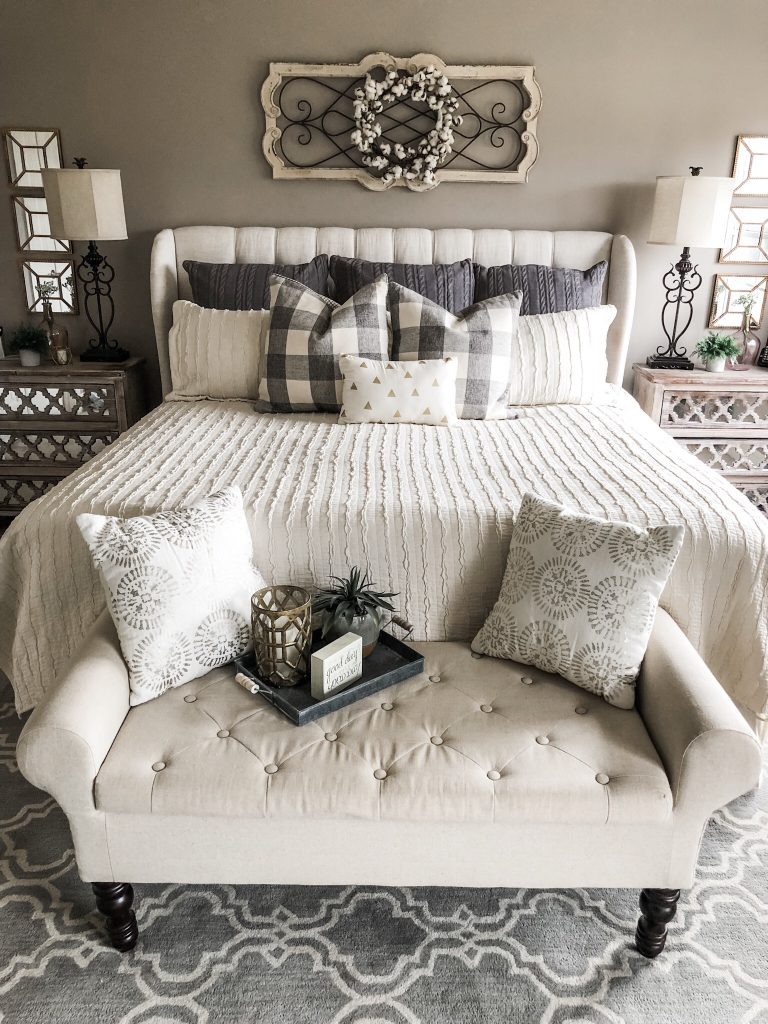 I was tired of being mad and frustrated about it, so I just stopped making it most days. Because as a mom, you have to pick your battles.
I decided I wanted them to be able to roll around, wrestle, read a book, watch TV or play on their iPads here. Whatever it is that boys like to do! haha!
And every night when I got to bed I have to fix the mess before I get in. And for 2.5 seconds I'm annoyed. But then I tell myself, "you're going to miss this one day." And I will. 
So, I let them make the mess and I don't say a word. Because they are growing up so quickly, and one day my bed will look perfect at night. When that happens, I will want to give anything to have it messed up again by them.
Could I make them fix it after they mess it up? I sure could. But, something about this site at night makes my heart happy. Call me crazy, but it does.
I picked my battle and I won. Now, I wouldn't want it any other way.
One of my biggest hopes here is that you will never feel like I am not real. That my life, my family and my house are not real. I'm as real as they get, and my boys and husband are my everything! THEY are more important than any pillow or any made bed!
Secret: I have to laugh sometimes when I get comments about how pretty my bedroom is, or how clean it is. Most days we can only see half the floor and the bed looks like this! I clean it when I want to take the pretty pictures for the blog for y'all 🙂
Some of you may disagree with my messy bed theory, and I'm ok with that too. One of these days my bed will be made and tidy all the time, but it's not looking like that day will not be while these 2 are still under my roof!
Is there a battle you are picking as a mom that you are ready to give up? Maybe you will come out even happier on the other side of it like I have!
Until next time…
Stacey