Since we bought our house over 7 years ago, I have always "wished" we had a mudroom. But, we don't. And I really never thought we had a place to put one. As our family grew and the papers and backpacks doubled I wanted one even more. I neeeeded a place for my kids to hang their backpacks and put their shoes that wasn't all over the living room or kitchen floor.
We have this wall that leads from our kitchen into our dining room. It's small and awkward and over the years we have tried multiple pieces of furniture there and nothing ever worked quite right. I mentioned to my husband that I wished that wall was bigger to make it a mudroom. He stared at me with his "not another project" face and pretty much ignored it 🙂 BUT…then, in my pinterest scrolling one night I found this.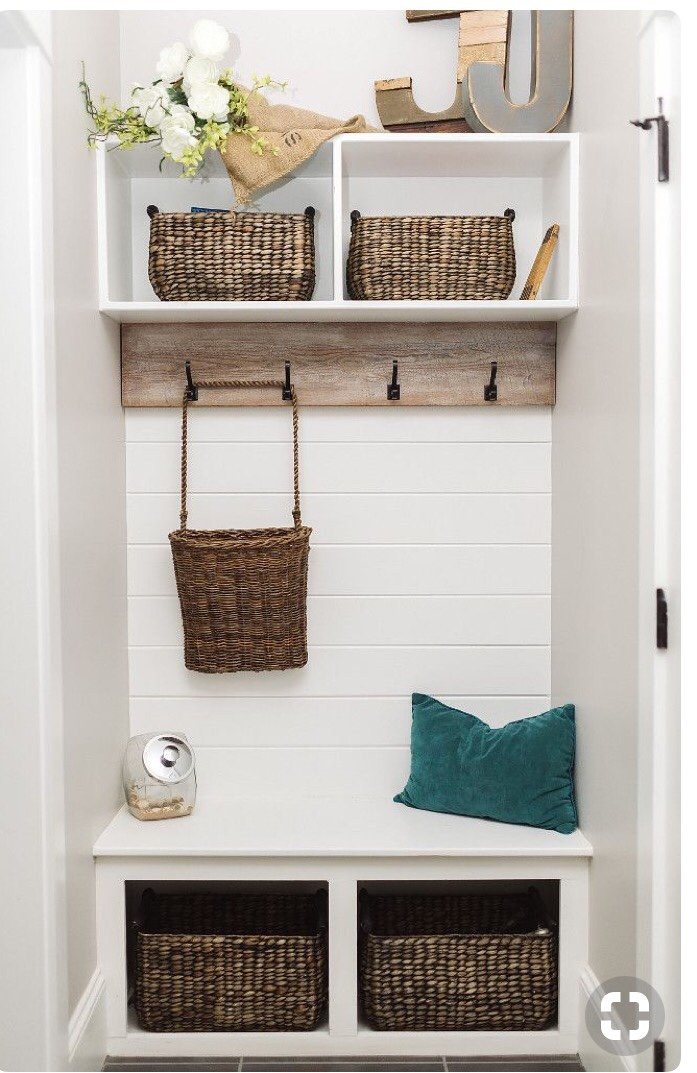 It stopped me in my tracks. A) Because I love it and B) Because it was a SMALL mudroom area. DING, DING, DING, lightbulb moment! I knew that wall WOULD be big enough for what we needed. 2 backpacks hung and some shoes underneath. So, the planning began.
I honestly pulled inspiration from all over Pinterest and IG and jut kind of came up with my own plan in my head. Once I got the hubby on board (which didn't take long because he knew how much we needed this also), he was all in and drawing little plans for me! 😉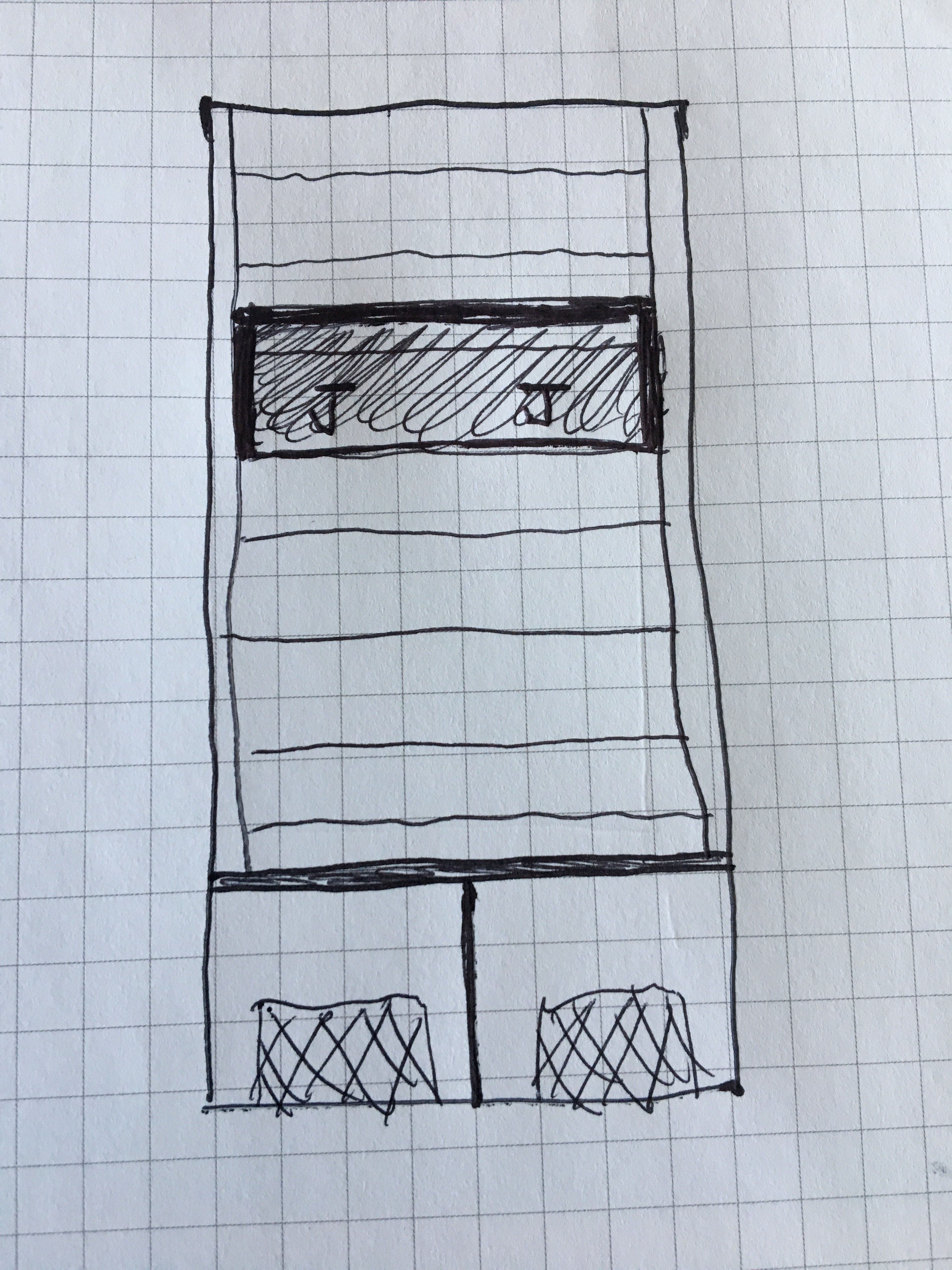 Here is the wall before. He is great about doing all the measurements and figuring out what supplies we would need, how much, etc. I am great at telling him what I want it to look like and what materials I want used. So, it's a win/win around here.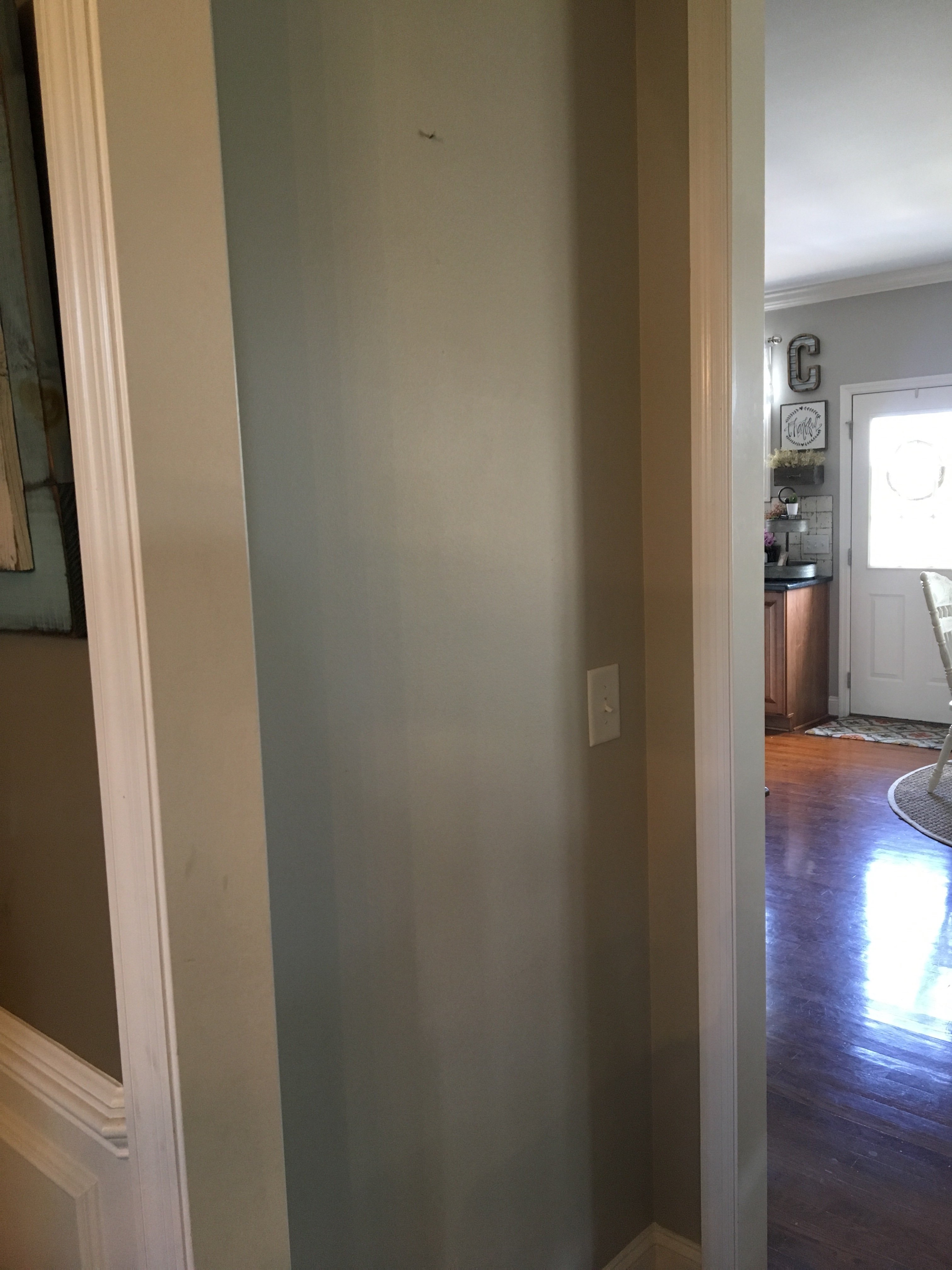 I will give you the basic supplies we used and how the process went and I hope you find it helpful!
We (ok, he) built the bench first, using 2×12 boards cut down to the sizes we needed for our space.  I knew I wanted to spots at the bottom for 2 baskets, so it just needed one support down the middle. We painted it white and then stained  the pine wood shelf board to use for the top. We used Minwax Special Walnut which is one of my favorite stains. Once we knew that was good to go and fit in our space, it was time to start on the shiplap.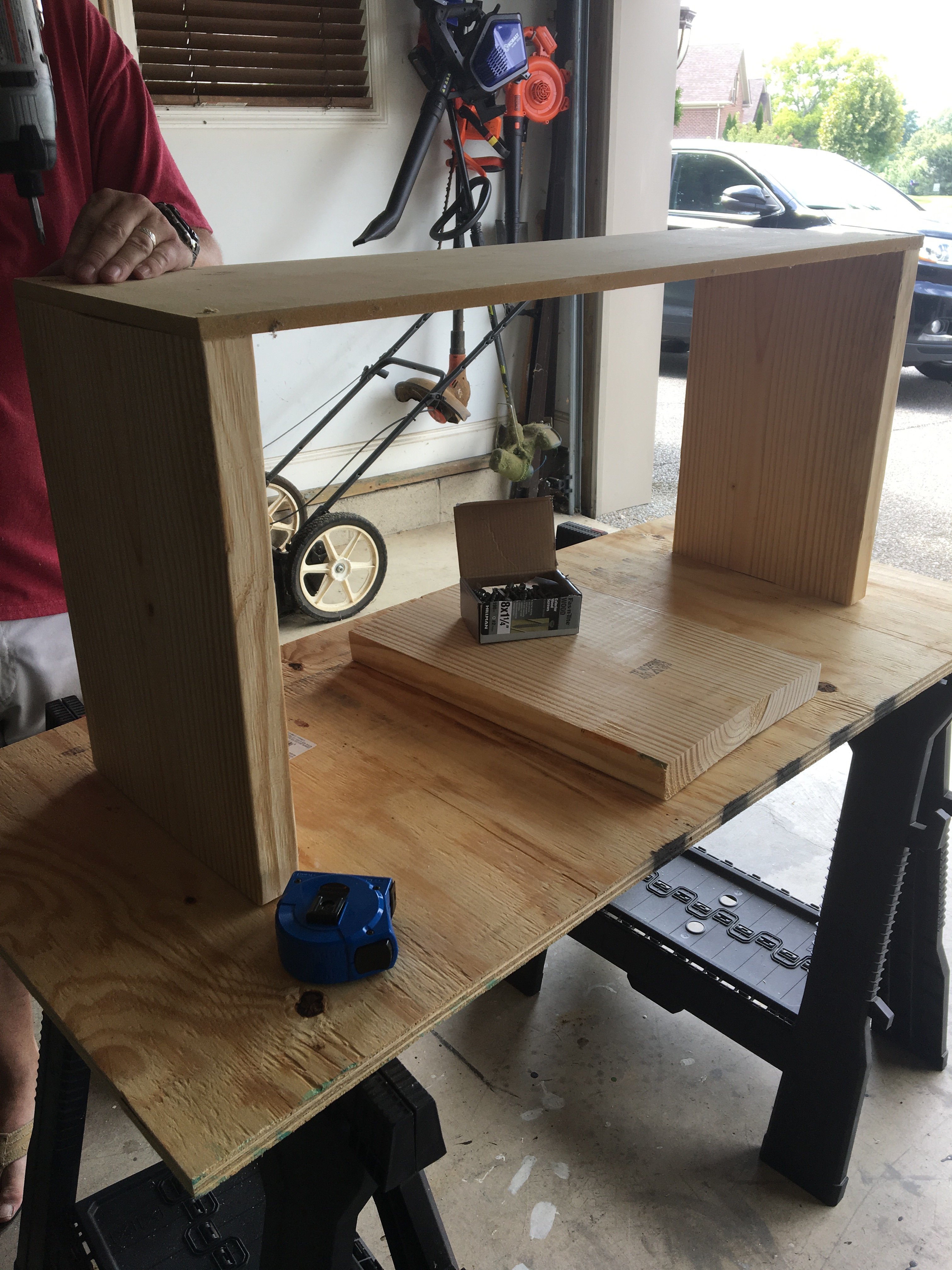 If you go online, there are TONS of tutorials on DIY shiplap and there are honestly several different types of wood you can use. We chose to use 6″ Wide, 1/2″ deep shiplap board (project wood)because it came in almost the exact length planks that we needed for our wall. For the tools my husband has, this was the best choice for us. If you have a rip saw and some other fancy tools, you could use a cheaper wood and rip it down to size.
We decided to do 2 trim pieces going down either side to finish the look off a bit, by using 1″ trim board. He attached those to the wall first, and then started at the top of the wall installing the shiplap. This was done by nailing right into the wall with brad nails (And locating studs of course). We also used liquid nails on the back of each board because we only one stud in the wall we were working on. This may not be necessary for every shiplap project, but we wanted to be sure it wasn't coming down anytime soon! We did use the old nickel in between the planks trick to get the spacing in between the boards.  Next up, it was time for paint! This is where MY SKILLS come in 😉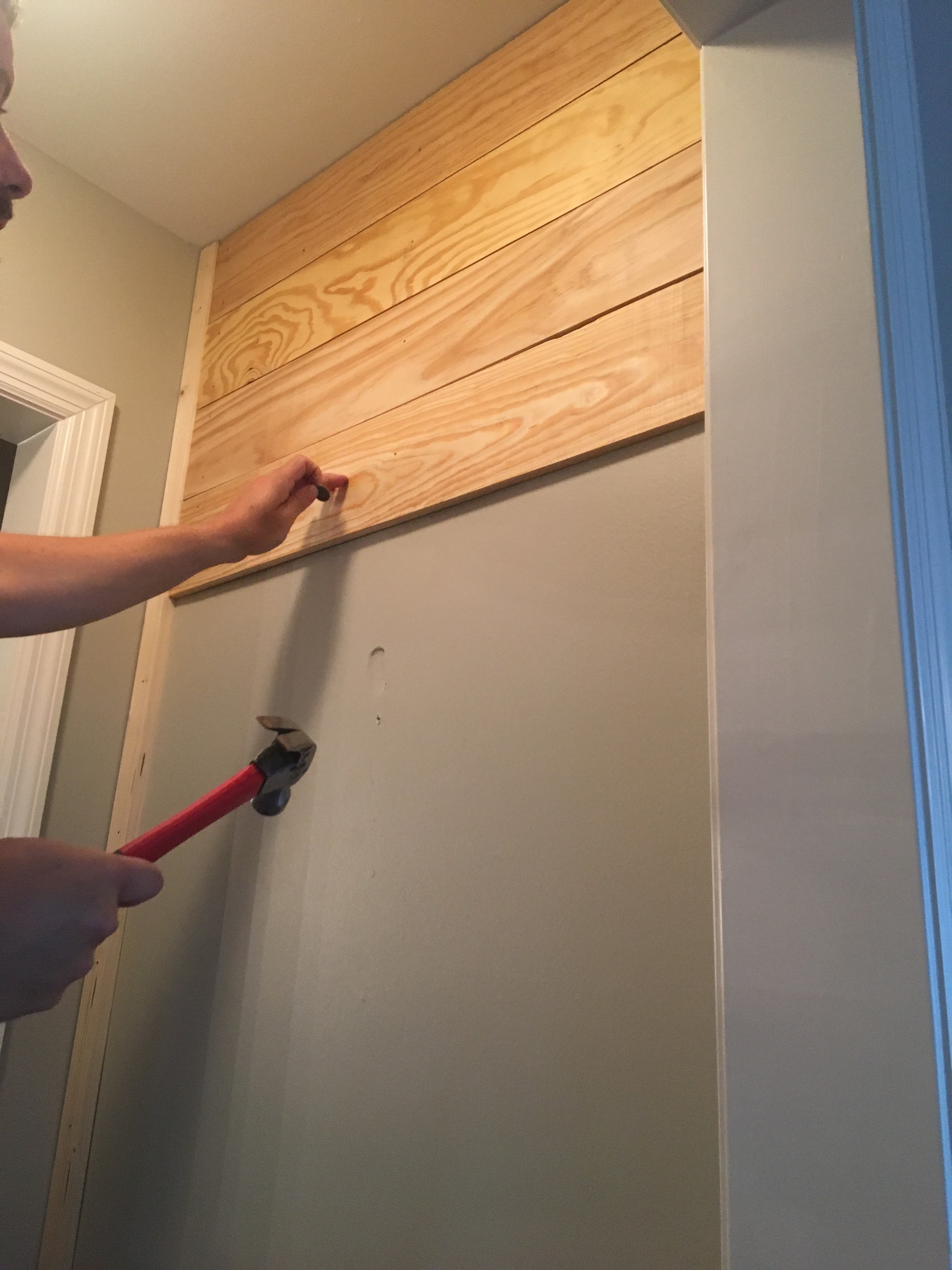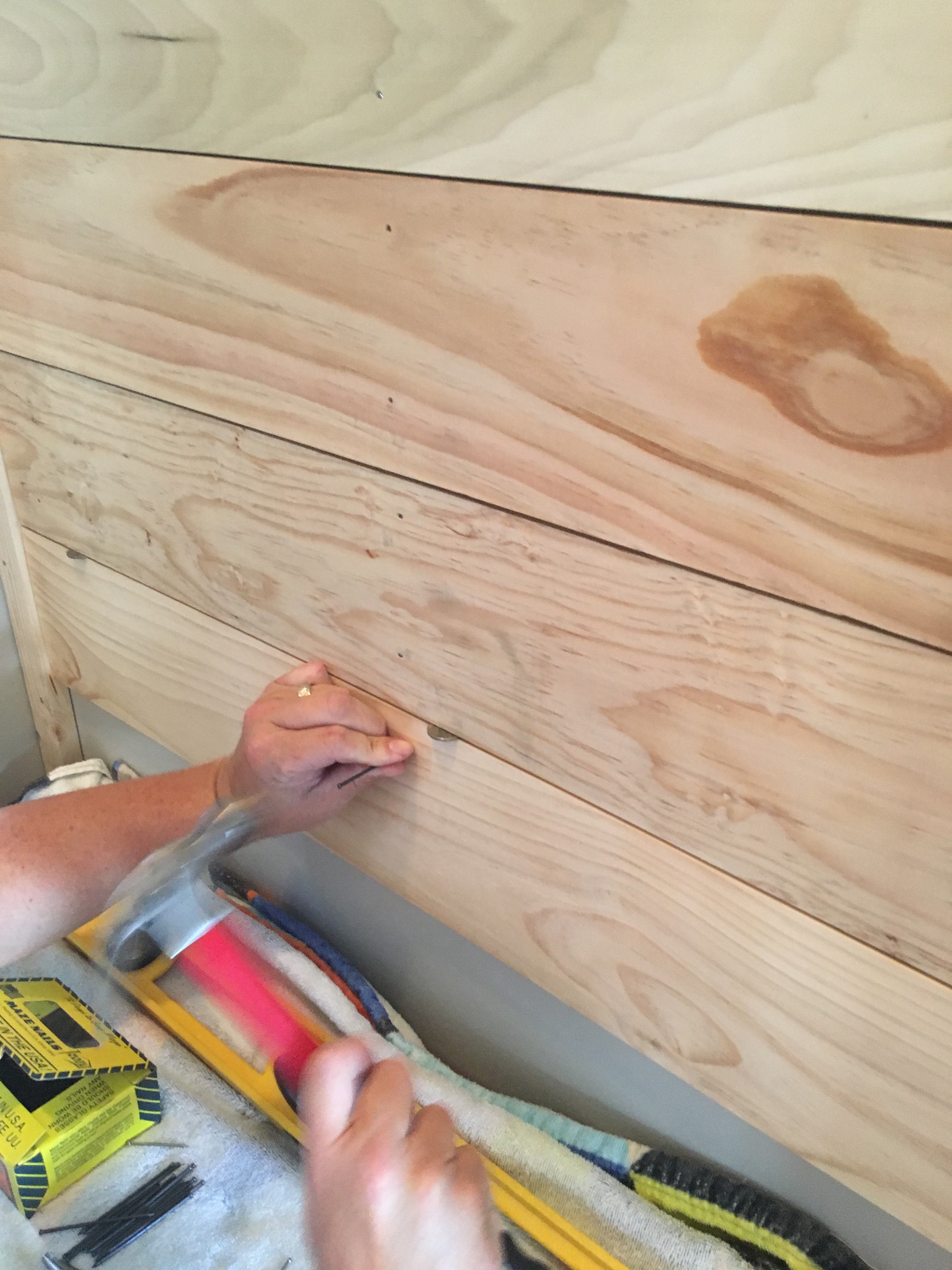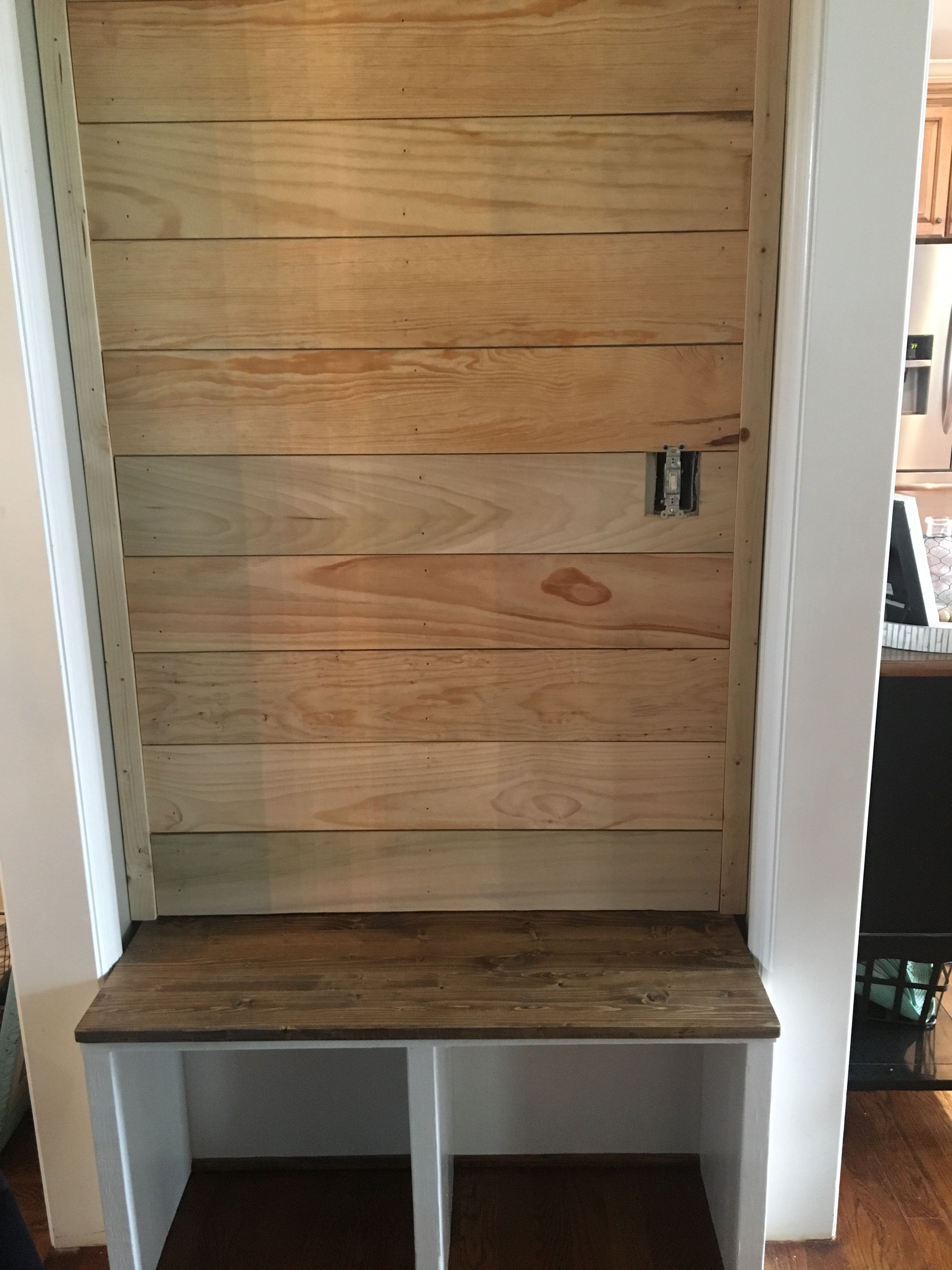 I put a raw wood primer on first, and then I used 2 coats of white paint that is actually our trim paint (so I don't have a color name, sorry!) This is when it really started to come together.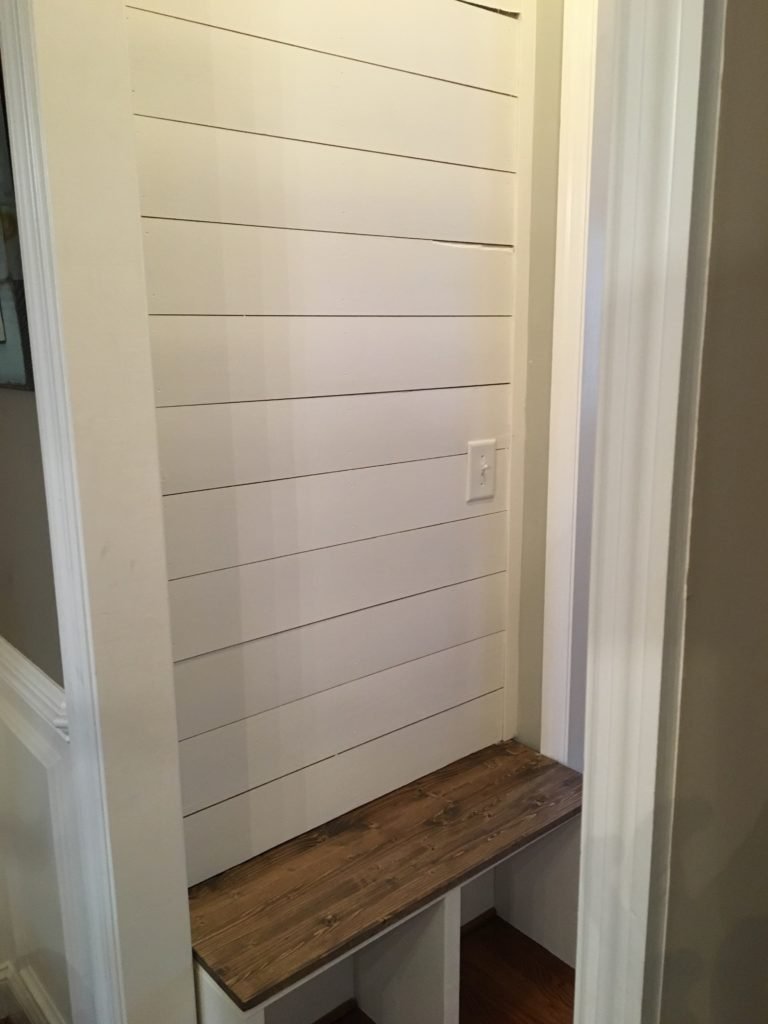 For our last step, we used the same wood as the top of the bench. I wanted one piece for the back that we would hang the hooks on, and then another above it that would stick out for a shelf. We also used the same type of industrial pipes as we did in our Laundry room makeover that you can read about here.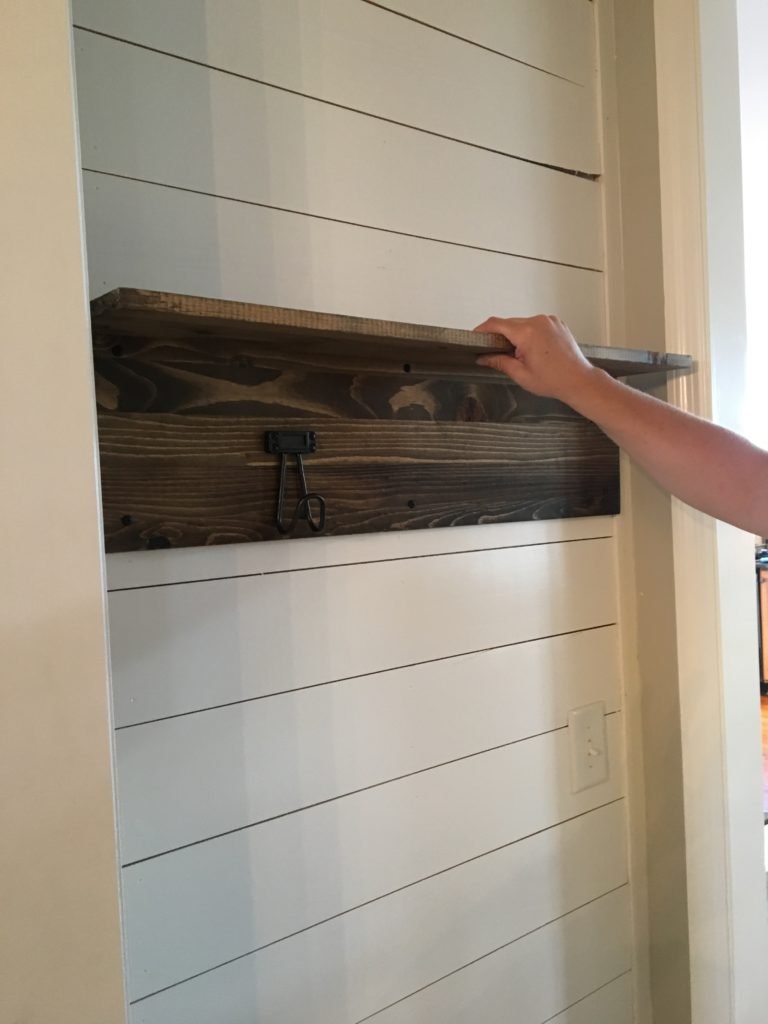 We figured out the height we wanted it and he screwed the wood directly into the shiplap planks.  Then we attached the hooks and pipes right to that wood. My hooks came from Target and are similar to these here. We sat the shelf on top, and there we had it! A SMALL MUDROOM! These baskets and pillows are from Target and are the first thing I threw on there to decorate. The links for them are below!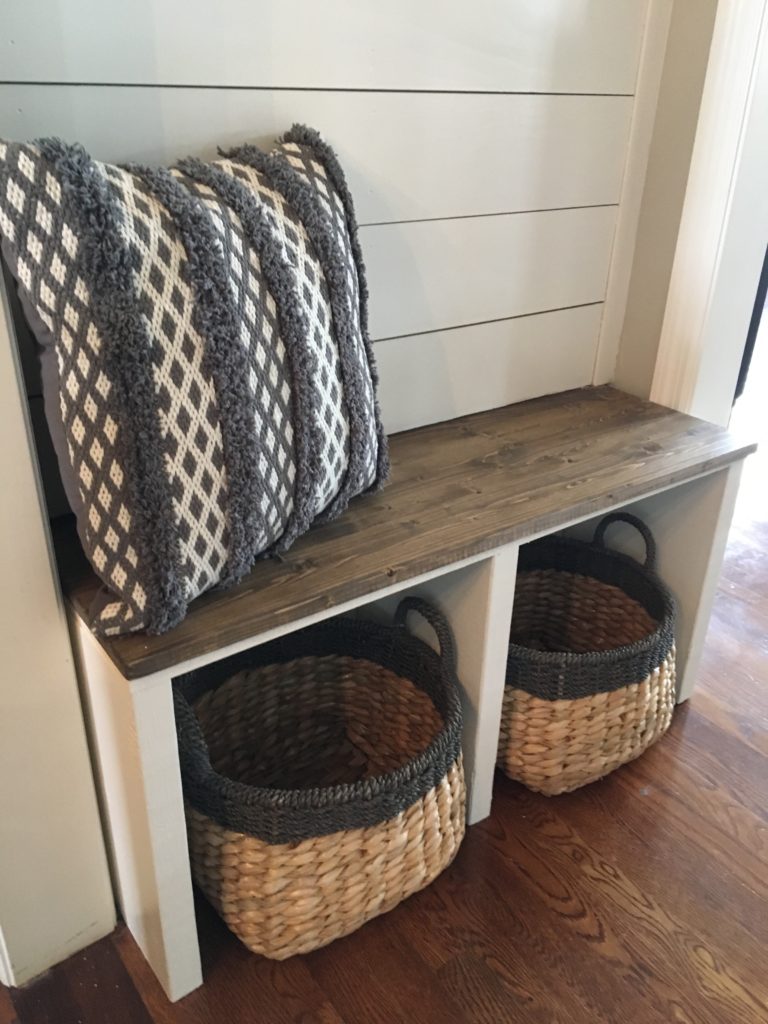 Now, this mudroom area will house some boy things here pretty soon (like, tomorrow). But, you know I had to set it up real cute and get some good pics for y'all, right?! I hope you love this small little space in our house as much as we do. I just want you to be encouraged to think outside the box. ALL of our homes are going to have areas that are "lacking" or we wish were different. Work with what you have, and make it work for you and your family.
Here are the after pictures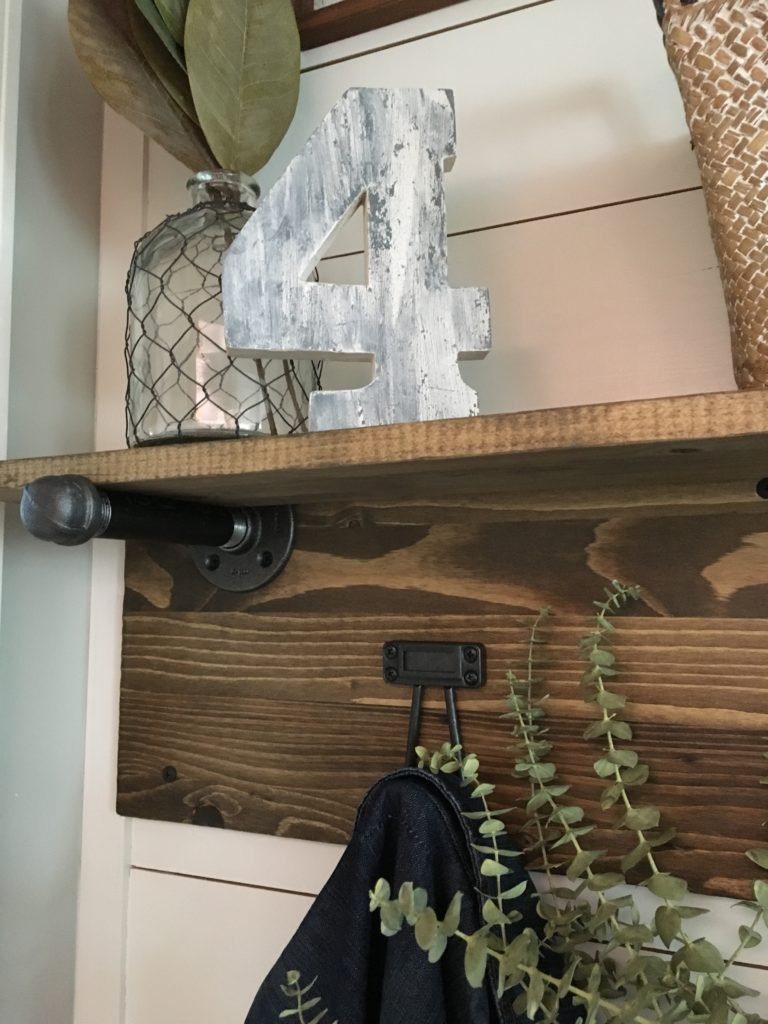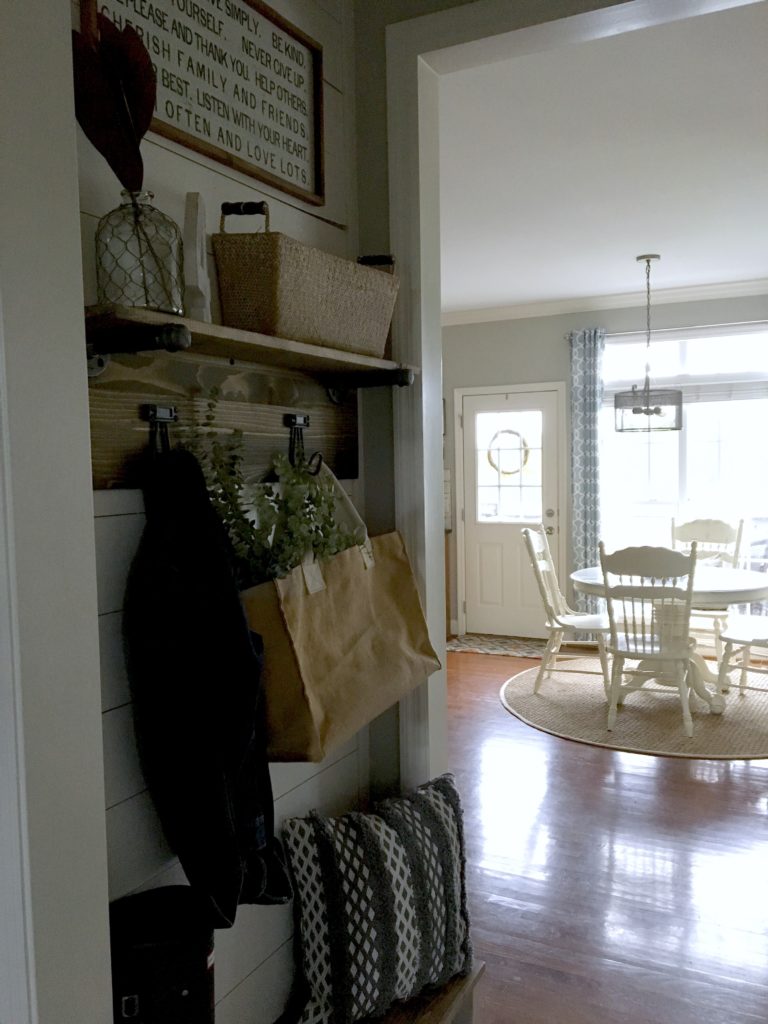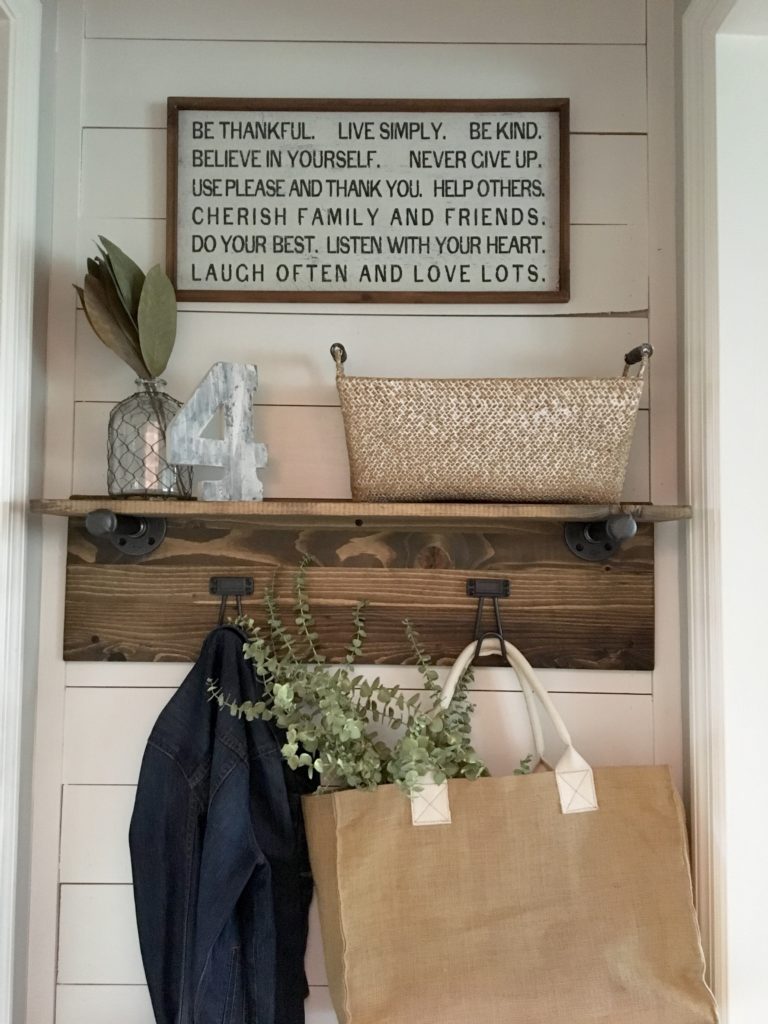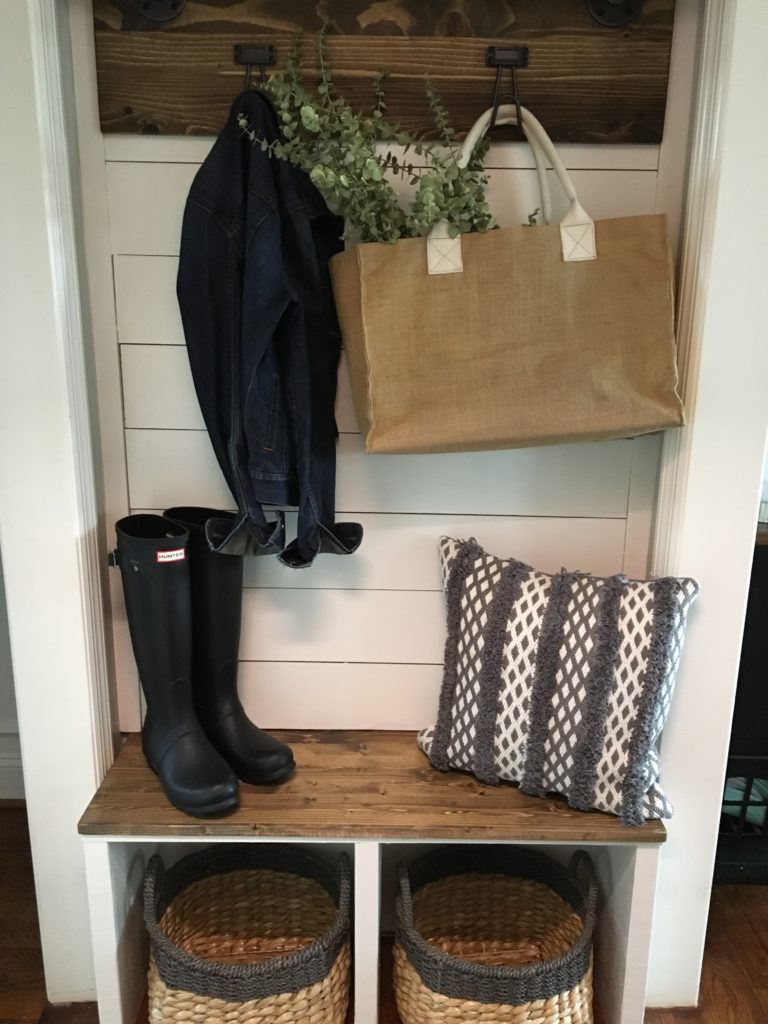 One last ammmmaaaazzzing thing! We did this entire project for under $200! (not including my cute new décor). Some materials we had on hand, so obviously prices can vary. But, I thought that was pretty dang good considering the end result!
PIN THIS!!
I know I will never be the 100% organized Mom, and I'm ok with that. I came to terms a long time ago with that one, BUT I do hope that this helps a little for both myself and my boys! If not, then I guess I just got a cute new space for nothing. Haha!
Would love to know what y'all think in the comments. I'm linking up some of my décor below in case you are interested!
Burlap tote bag

Round Seagrass Baskets from Target
Gray and White Pillow from Target
Hunter Rain Boots

Until next time…
~Stacey