YOU GUYS!!! I've waited for this moment for 9 years. Why or how I waited that long is beyond me. Even my husband said, "Why did we wait this long? It looks SO much better!" I agree!
But, the time is here now and that's what matters! I can't wait to show you this transformation that a couple cans of paint made to this room.
Navy paint on an accent wall brought a bold pop to my dining room transformation! I love how the gray walls and the touches of white and aqua go together!
Let's get right to it. Just a reminder of what my dining room looked like BEFORE! The walls were this color when we moved in and I NEVER did really like them! But, I lived with them and made them work as long as I could.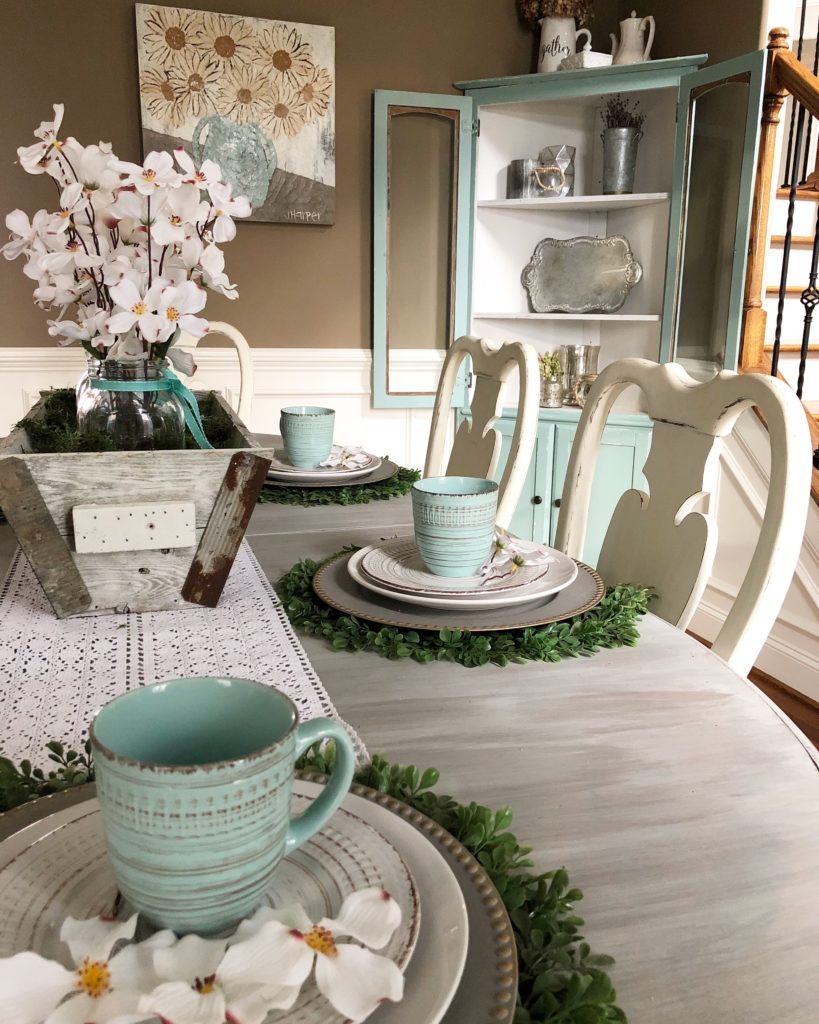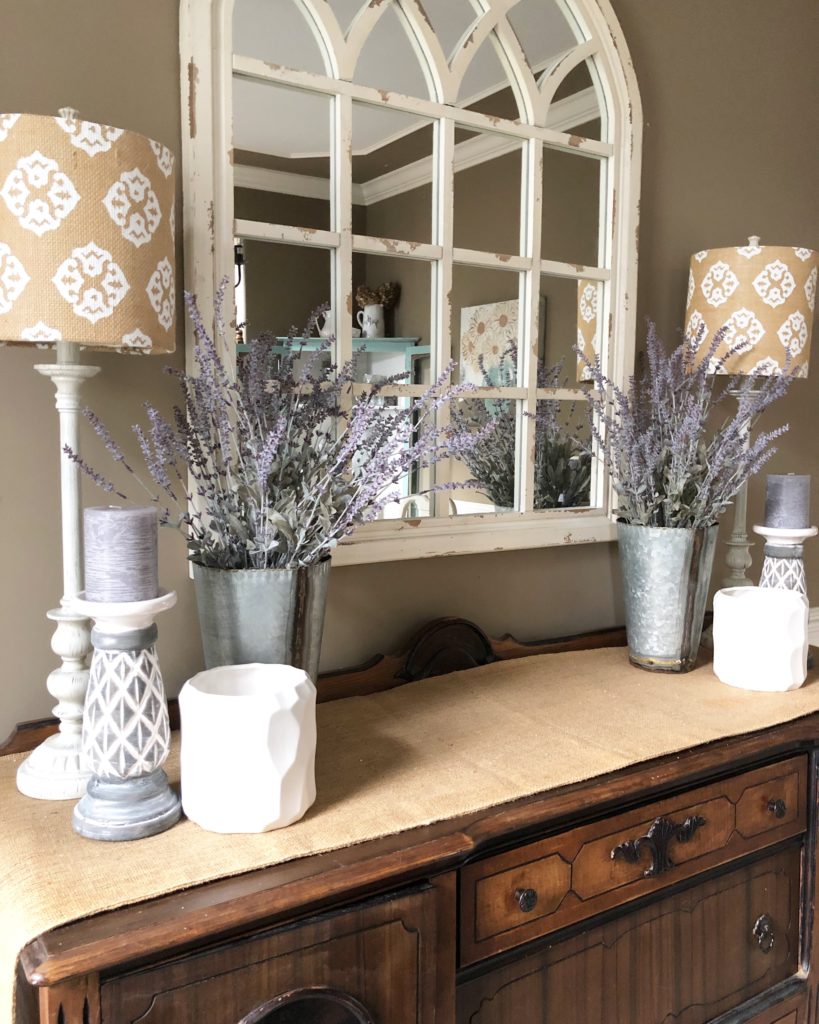 Here are some right before the painter came and during the progress! We hired this out because we have learned over the years it is WORTH IT to us because it's not something either of us enjoy doing…at all 🙂 After one coat of Navy, I knew I would be in love!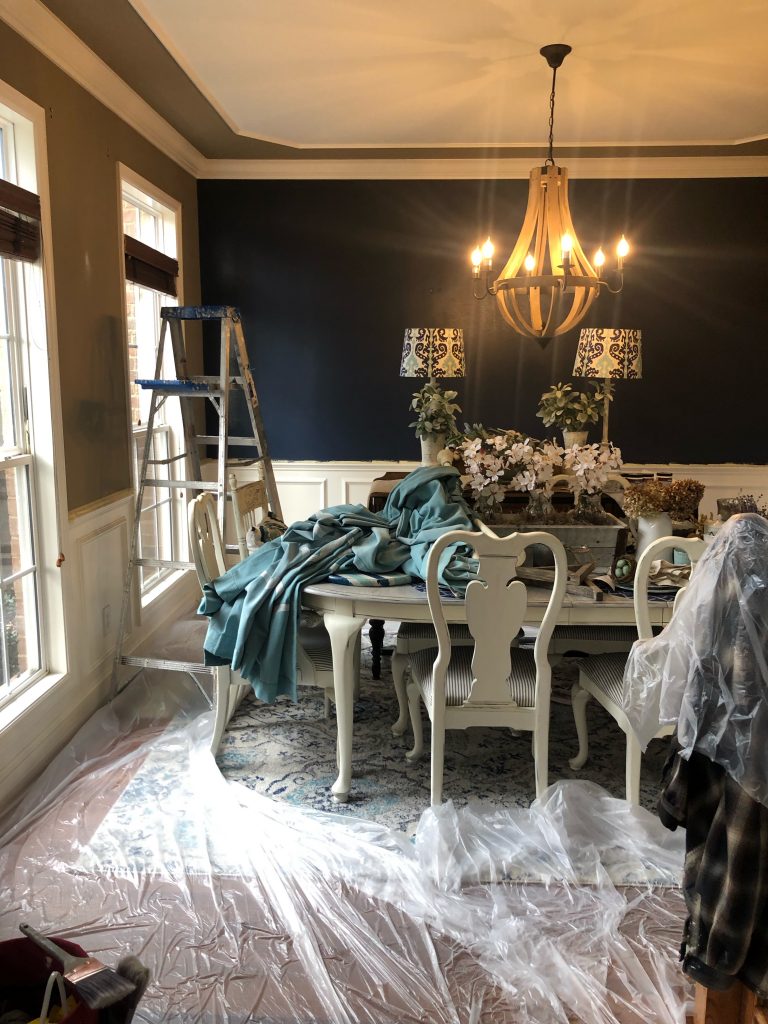 We had home depot mix the following colors in Behr paint (They can match just about anything, FYI!) Navy paint on the accent wall (color is Benjamin Moore Hale Navy), gray walls (color Sherwin Williams Agreeable Gray). Here she is now with new paint and all my décor that I already had! Didn't add one new thing. Except a couple gallons of paint 🙂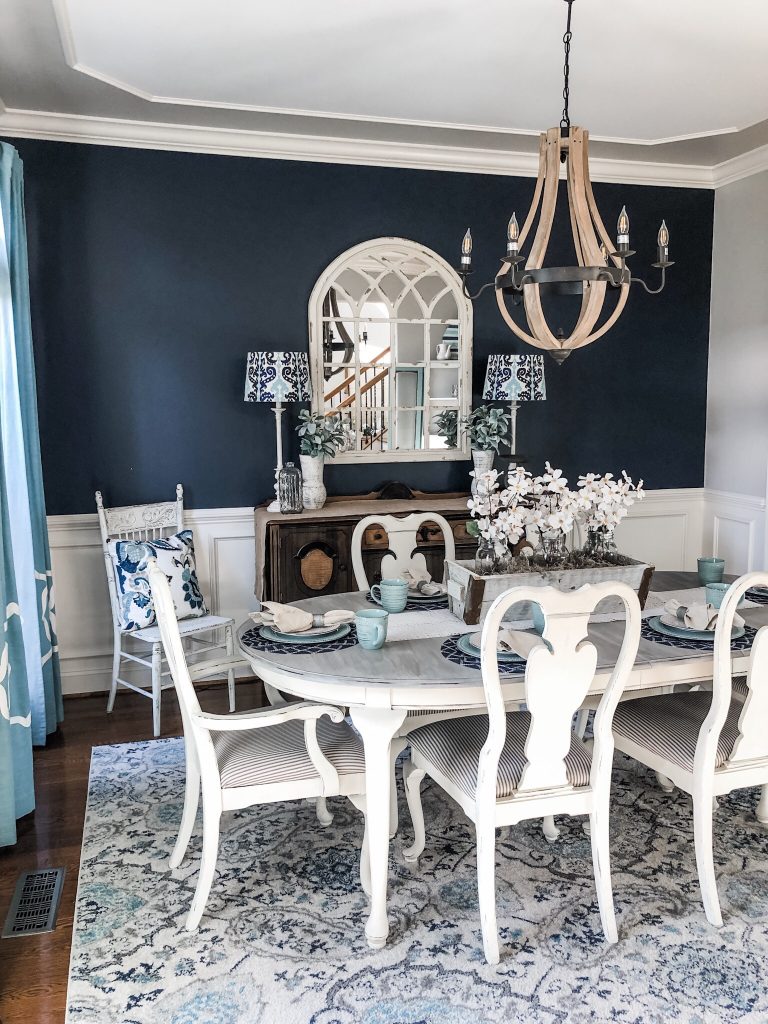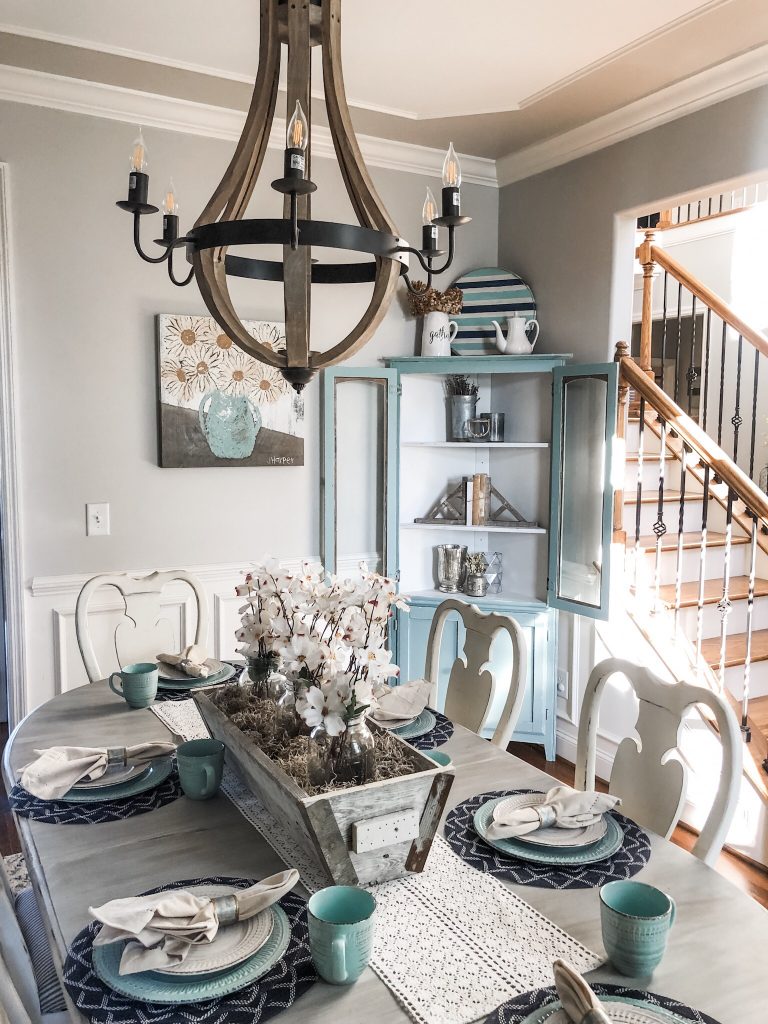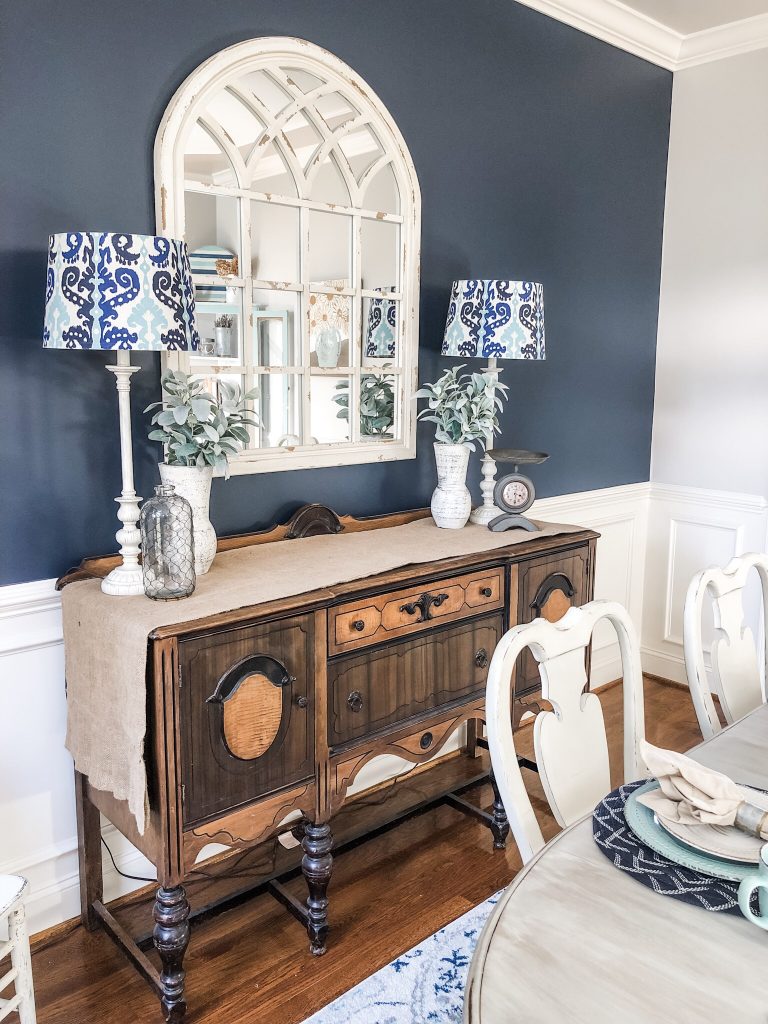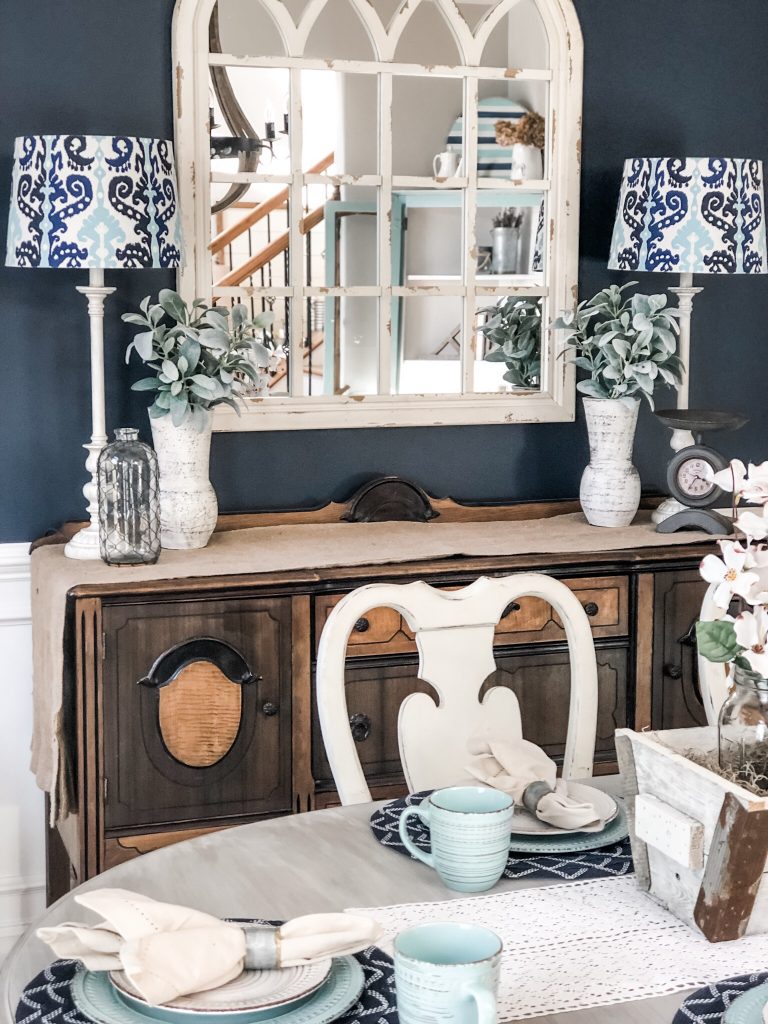 What do you think? I can't believe how much that Kirkland's mirror pops and even my light fixture stands out more now. It truly is amazing what paint can do! I love my rug even more than before now too!  I'm beyond happy with this transformation and I have ZERO REGRETS on using the Navy paint on the accent wall!
A couple of years ago, I might have worried what other people would think or if this is how I "should" be decorating to fit the trends. These days, I decorate for me and me only! I do what I love and what makes me happy. So glad I went with my gut on this one! You should always do the same 🙂
Let me know what you think!
~ Stacey
Sources-
Corner cabinet painted in a mix of several Blackberry House paint colors
Table setting pieces came from Old Time Pottery
Centerpiece box from a vintage market
Wall Art from Jill Harper Designs
Table (was my grandmothers) that I painted years ago.
PAINTER- If you are local to my area and would like to know who we used to paint, please email me at info@wilshirecollections.com and I will be happy to pass along his info!
This post does contain affiliate links. Please see my full disclosure page for more details.