You know what makes me happy in my work space?! Colors that I love!
These office decorating ideas with pops of color will make any work space feel fun and cute! Come take a look at what all I've done!
There are still a few things I want to do in this office space, but after a couple months of living here and having nothing on the walls and not enough storage space…I was feeling super uninspired every time I came in here to work.
So, I decided it was TIME to start putting my stamp on it. I will source as many things as I can for you!
The first thing I hung was this piece I got from Kirkland's several years ago over a chest I painted years ago!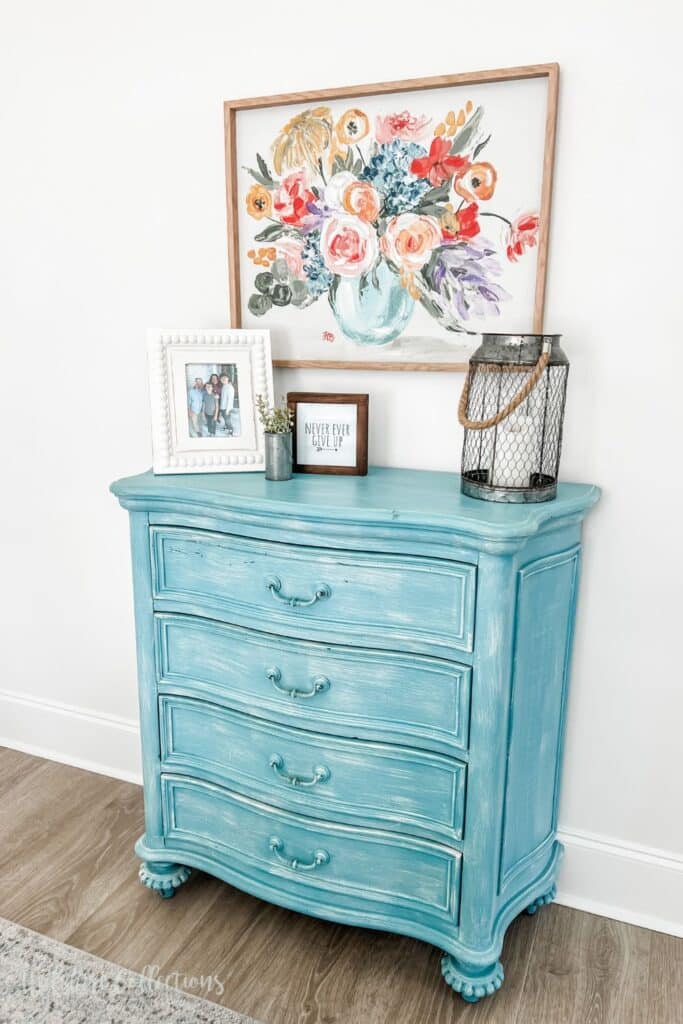 This little area became special real quick when I hung some things with meaning! The paint brushes from when I started my biz painting furniture, my paint board from the first chalk paint class I took and a special printable bundle with great meaning!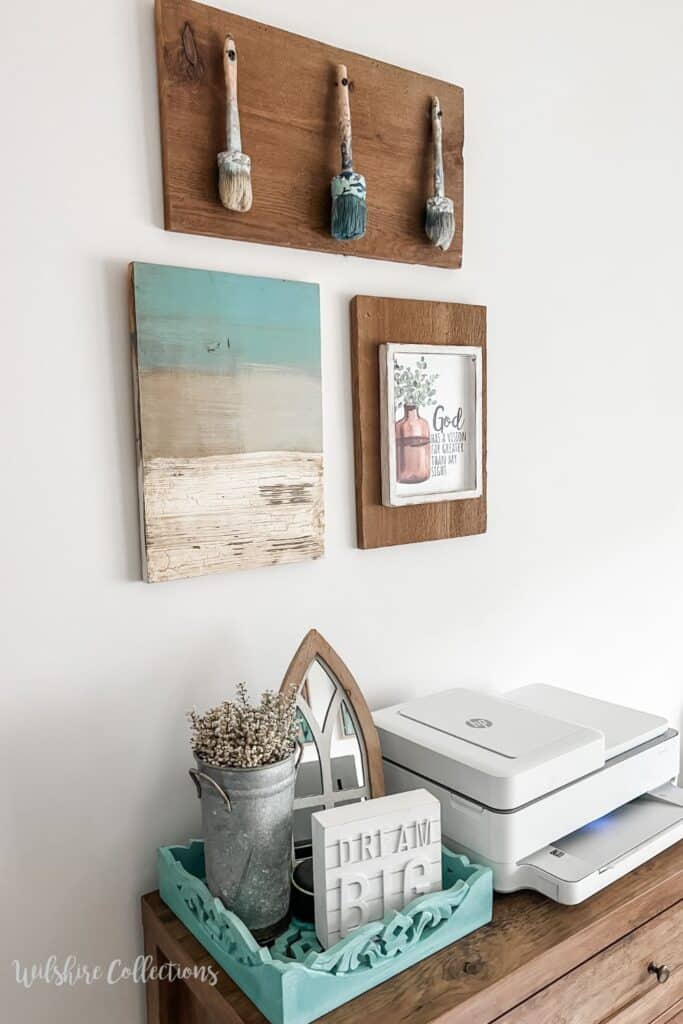 So in love with how this turned out and love looking at it from my desk every day! PS…spy that piece in the hall out there?! Lots of you wondered where it was in the house!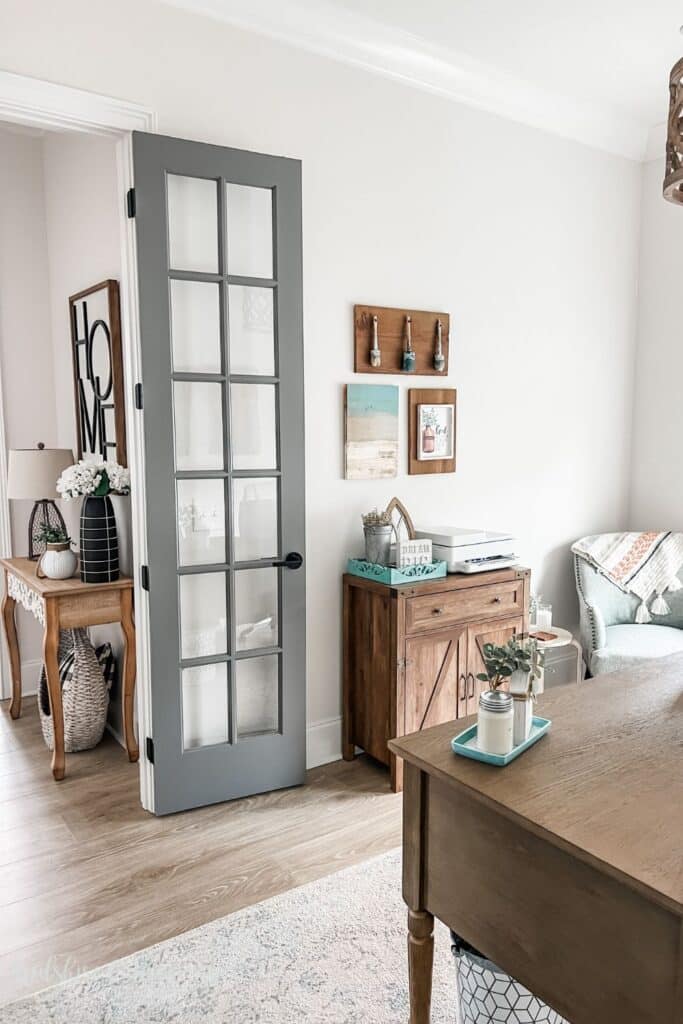 Speaking of my desk! It's from Pottery Barn and I love it! It's large and in charge and that's what I wanted to have plenty of space for all the things. (Trust me, it's usually MUCH messier than this haha)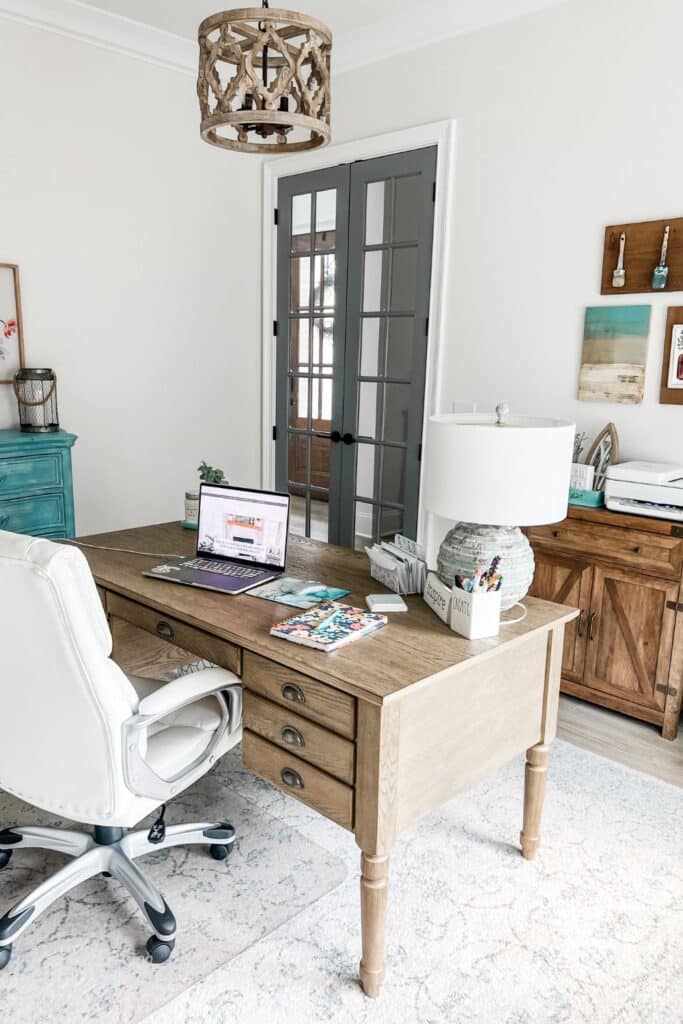 Next up, let's talk about these shelves and the wall art! The wall art came from Kirkland's and I knew I had to have it to keep bringing those pops of color into the room!
I had been looking for some bookshelves for either side, when one day at Walmart I spotted these for just $78 each! I knew I had to have them!
They had these storage bins (these have a fake wood front) that I knew would be perfect to use on the bottom 2 shelves on each one for extra storage.
In my decorating and creating community I went live and we styled the bookshelves together which was a ton of fun! Love how they turned out!
Cant forget my pics on the wall of some of my biz buddies and biz coaches…super special too!
Next up will be some type of window treatments, but I'm so happy with how this room has come together so far!
I hope these office decorating ideas inspire you and give you some ideas! Surround yourself in your workspace with colors that make YOU happy!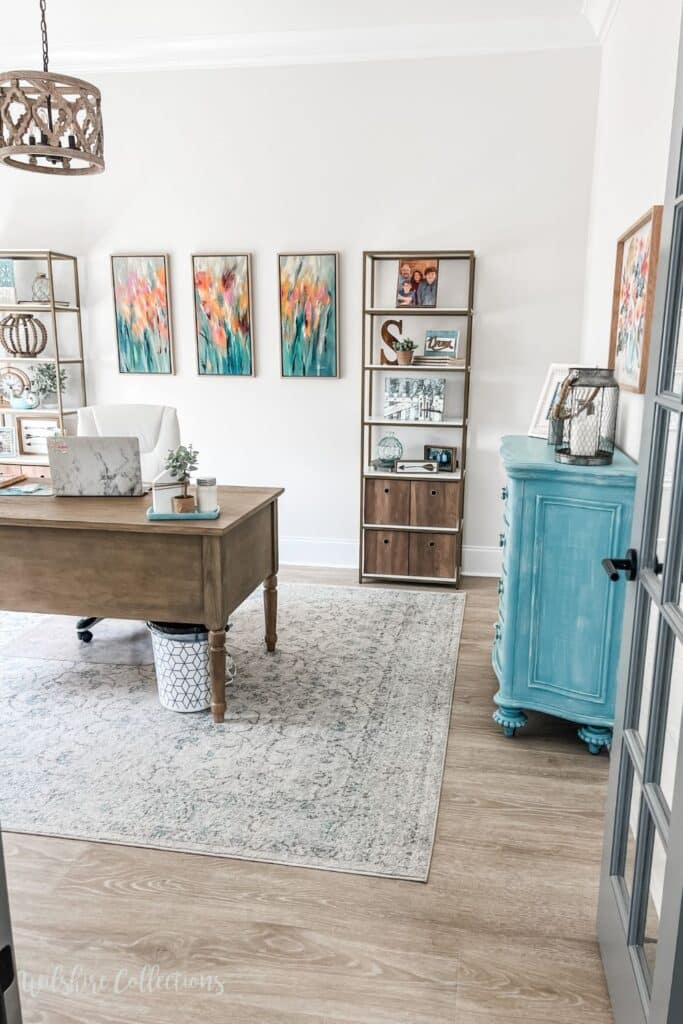 What's your favorite part?! I'm sitting here at my desk now and just feel so stinkin' grateful as I look around this room. Grateful for this house, this job of mine and all the cute decor!
I can't link everything in this room, but I have linked up as much as I can here for you! If it's not here- that means its older and no longer available!
Until next time…
Stacey