It's about that time for porch sitting where I live, what about you?!
These outdoor covered porch decorating ideas are perfect for Summer and really all year long! I hope they inspire you!
I'm very excited to share our new covered porch with you today as it is so far! There are still some things we want to do out here, but we are off to a great start!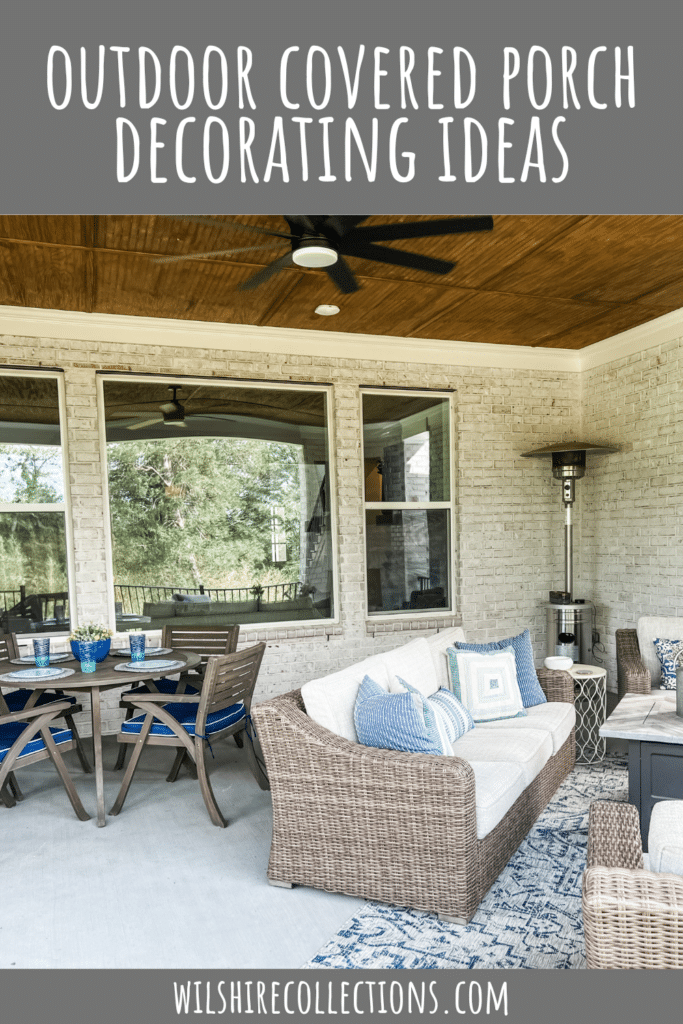 If you don't know, we just moved into a new house recently…so we are now making it our own with our touches!
Let's start with the cozy furniture! We have had this for years from Ashley Home store and it truly is so comfy and has held up so great!
Of course I had to get a few new pillows for it, and the ones from World Market are my fav! The big ones in the back are from Homegoods and the ones on the chairs are from Big Lots!
Adding pillows to outdoor furniture always makes for a pop! And we don't ever bring them in because it's covered and also I just have to be ok with the fact that they might not last me years and years out there!
The rug we put under everything came from Amazon and I really love it also! I wanted it to bring in the navy, but also be sort of neutral. Poufs are from Home Goods!
Even though we now have a fireplace out there, we already had this fire pit table from Amazon that I'm OBSESSED with…so we kept it! And yes, we have used both at the same time already!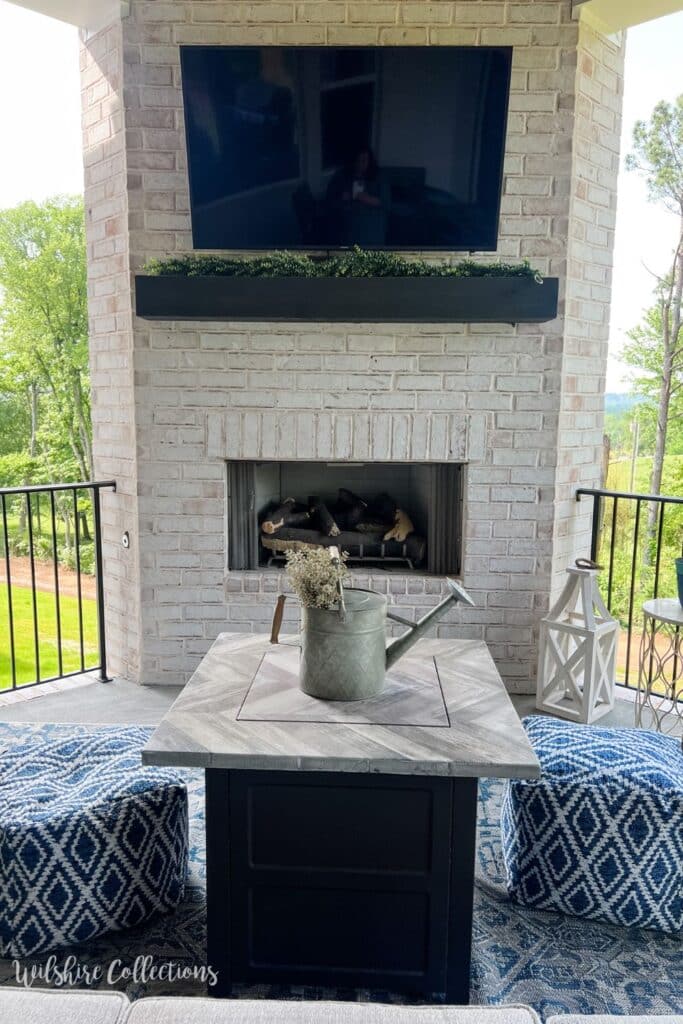 One thing we were lacking out here was an outdoor table! I searched in person with no luck, so ended up ordering this one from Wayfair and truly LOVE IT!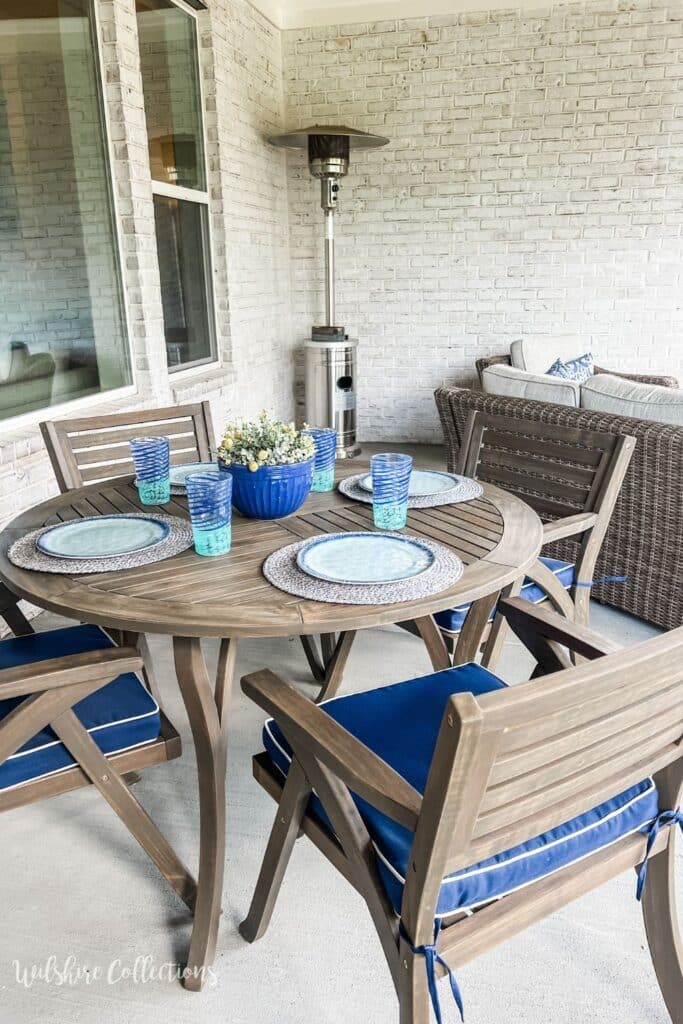 I did swap out the cushions on it for some from Homegoods. because the ones it came with were a little too yellow/cream for my taste out here.
One day while at Homegoods (again) I found the placemats, plates and cups and knew I had to have them!
The little bowl in the center was a gift from my Aunt and I just filled it with some faux florals.
I've linked up as many items as I can in this button below, so be sure to check it out!
This is of course the area where we have the practical stuff like the grill and the smoker too!
And one question I get asked a TON is about the TV outside. We had a TV on our old covered porch for years and never had an issue.
It's a regular TV (not a special outdoor or anything), but we just don't put our best TV out there in case something was to happen to it in the weather. We love being able to relax and watch TV out there!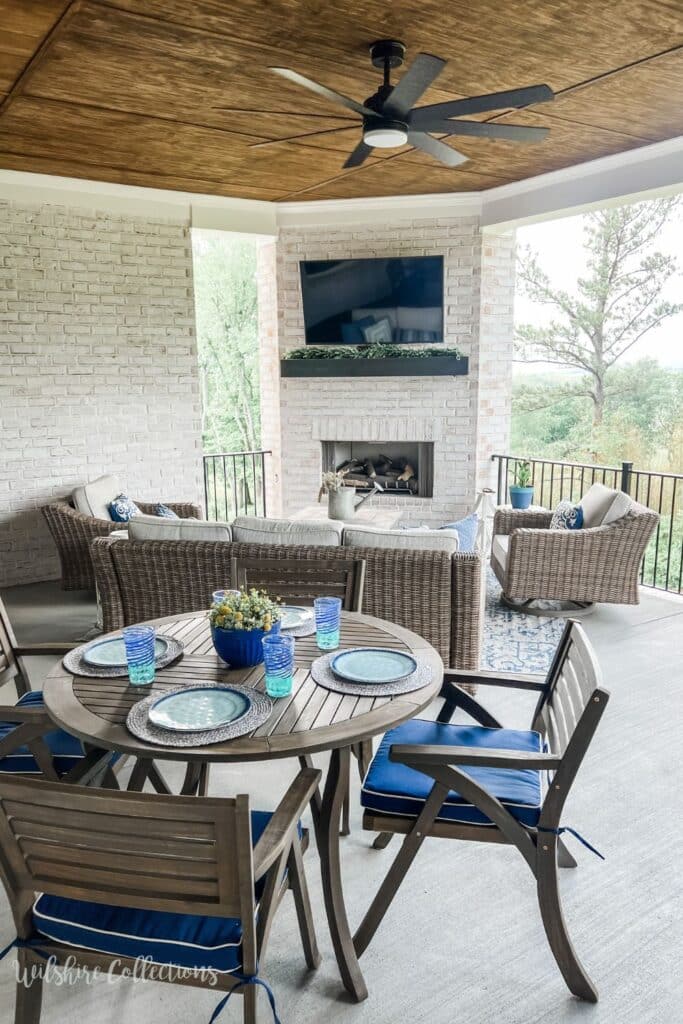 This has truly become one of our favorite spots! That includes our sweet girl Bailey who loves hanging out out here!
That's it for now other than those views which came with the house but are provided by God lol! I just don't think it will ever get old, especially at Sunset which has turned out to be my favorite time back there! God is good y'all!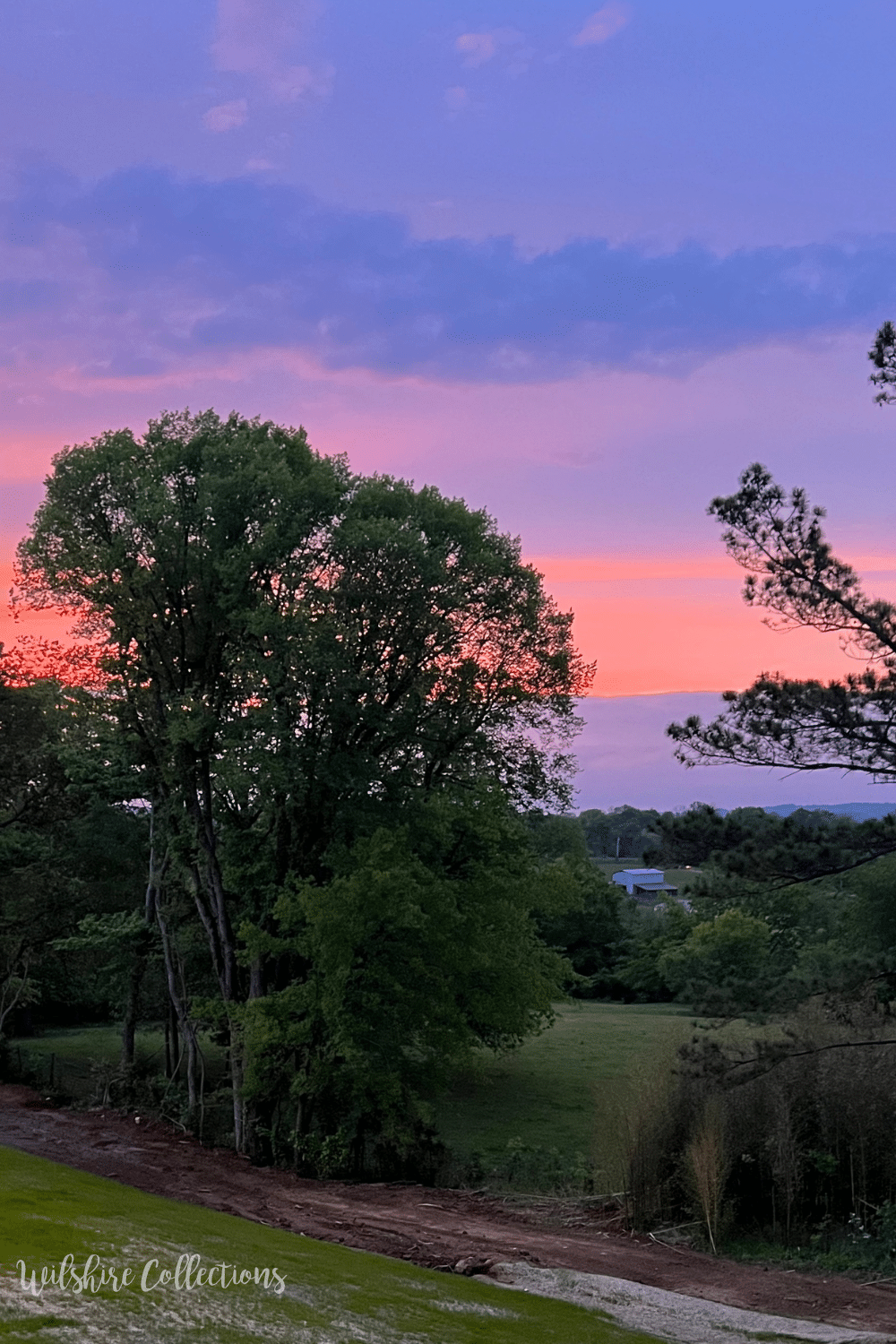 Let me know your favorite part! Hope it has inspired you and your outdoor covered porch or ANY outdoor space!
Until next time…
Stacey