The power of paint is a REAL thing, and I am proving that this week with my $100 room challenge progress! I am LOVING my cabinets now that I have painted them black. And honestly, that's the only big change that has happened in here this week.
Be sure to check out Week One and Week Two here to see all the before pictures and the other things I have done.
Here are the cabinets before!
I decided to use my go to, Blackberry House Paint, for this project. The color is called Cast iron skillet, which is a great shade of black.
I didn't take a ton of pictures during the process because I was sharing the whole thing to Instastories since several people had asked for that. BUT…
I will also break down the process for you right here…
Step One- Clean your cabinets with a good degreaser. Make sure you get any dirt and residue off, the wipe the degreaser off with a clean cloth/damp rag. I used Mean Green Degreaser for this project, which you can find here.
Step Two- Paint! (This is for the paint I used, which is similar to a chalk type paint that doesn't have to be sanded or primed first) Mine took 2 coats. I used the Zibra 2 in paint brush. I love their brushes because they don't leave brush strokes or leave too many bristles behind. A good paint brush is KEY! You can find what I used here! 
Step Three- Once it is dry, you will want to seal it. I like to use polycrylic because it doesn't yellow over time. I applied one coat, let it dry a few hours and then applied another one. Here is the matte poly I used (Because I didn't want it super shiny) Matte Polycrylic
That was it! Easy and paint really does make such an impact!
Here is a close up once the cabinet had the black paint and was ready for poly!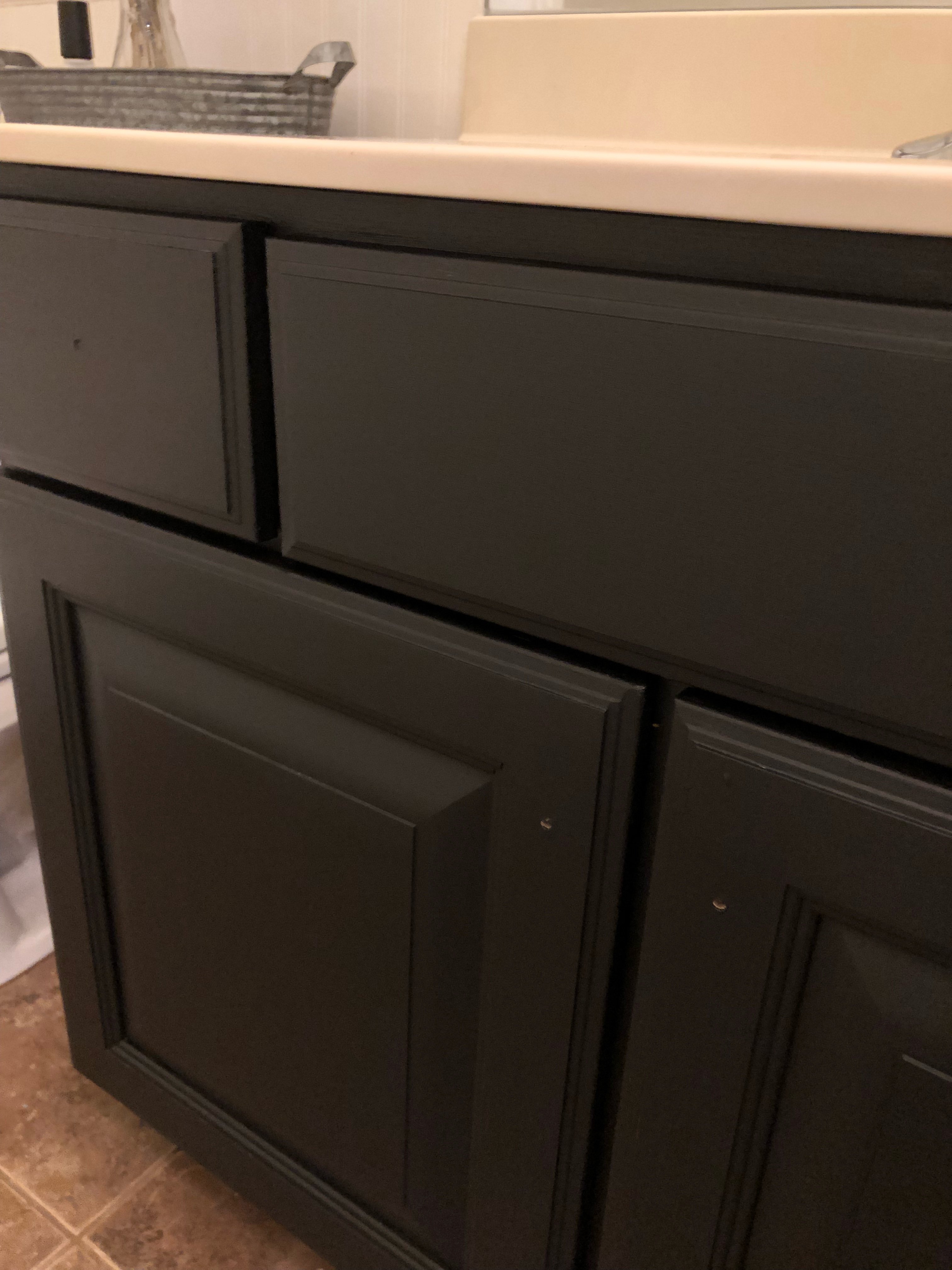 And here are some more pictures once it had poly and the hardware was back on. I would love to change out the hardware, but I don't think it will be in my budget for this $100 room challenge. So, that may be something I do later down the road!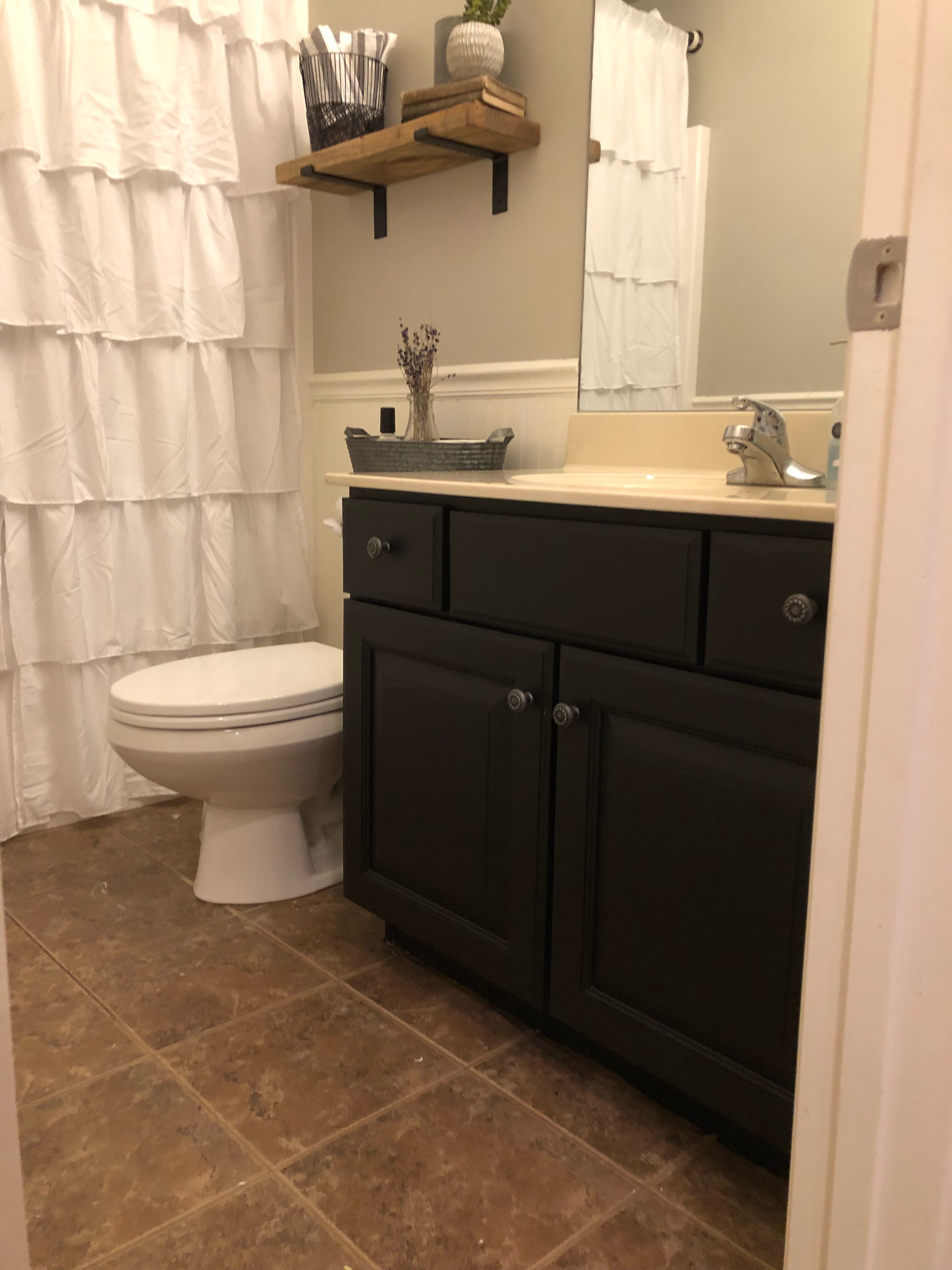 The other thing I did this week was get some PRACTICE in with my stencil. I did this on cardboard for a few reasons. 1) Just to practice using the stencil itself. Which I'm glad I did, because I'm already learning so much. 2) To see if I wanted a black background with white stencil or vise versa (again, so glad I did this). 3) To try and reduce my anxiety I have over doing these floors. It didn't work. haha! Still pretty nervous!
Here are the 2 choices! 
I thought I knew what I wanted going into it, but totally changed my mind once I did this! Another reason I'm glad I practiced. Here are the 2 choices side by side on the bathroom floor. Which one would be your pick?!
1 is on the left and 2 is on the right
Here is a breakdown of where I stand on budget for this challenge. I'm very lucky that all of my paint and supplies are stuff that I had on hand. Because I paint so much, I ALWAYS have brushes, poly, paint, etc. This was a cost saver for me for the challenge…but even if I had to add those costs in, it would be SO much cheaper than replacing the cabinet or tile floor. So, paint is always going to be a cheaper option!
Curtains (used for shower curtain) TJ Maxx $21.85
Stencil – Royal Design Studios Toledo Tile– $26.70
Décor items- $30
Total- $78.55
Room to spare for a few more little things!
Until next time…
~ Stacey
This post may contain affiliate links. Please see my full disclosure page for more details.
Be sure to check out all these other awesome makeovers! I'm SO impressed with what everyone is doing for just $100!!!