Sometimes it's fun to give a space like a bathroom a little refresh, or sometimes maybe you have a clean slate to start with! Either way…I've got ya friend!
These simple bathroom decorating ideas on a budget are perfect for any home and you can customize them to your exact colors, style, etc.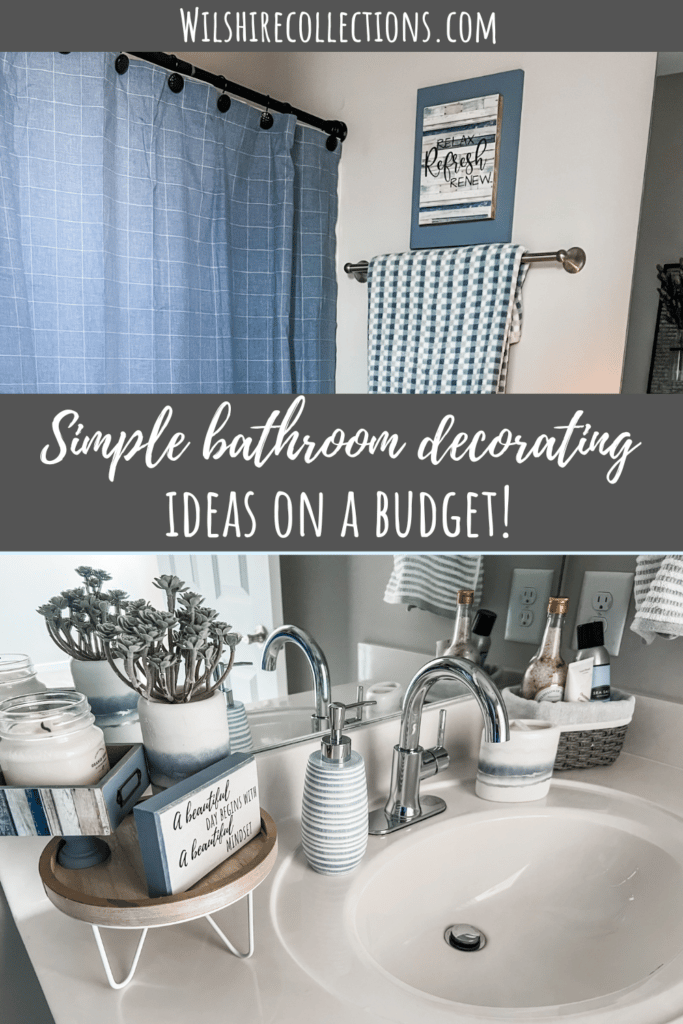 For me, I had a clean slate in one of the bathrooms at Wilshire place AND I had my first guest coming to stay the night (my project manager Caity), so it gave me great reason and motivation to do a few things!
I didn't want to break the bank, so I shopped smart, did some DIY projects and got creative!
Here's my top 3 tips:
Shop places like TJMaxx, homegoods, Marshall's for towels, bath mats, shower rods, soap containers and more. I got SO much from there and saved so much money by doing so.
Add some DIY touches! I did 3 little projects using some of my printables, and I love what they added to the space. You can see the fb live here and shop all the printables here.
Coordinate colors and don't be afraid to mix and match. As you can see, I used blue, gray and white. I used 2 different rugs on the floor, but they flowed well together. I also used 2 different patterns of towels that worked great together!
I loved adding little touches to make it feel "spa like" for guests. My favorite candles by Antique candle co, and a little basket with some bath salts, room spray and lotion! It's the little touches that mean the most friends!
The only thing I can really link here is the Target shower curtain. Like I said, most of the rest came from "the deal" stores or I made it!
This printable bundle was designed with the outdoors in mind, but man I tell you it's perfect for this bathroom too!
Hope you love this like I do and hope it gave you some great bathroom decorating ideas too! I had fun putting this together for sure!

Until next time…
Stacey