Give me all the cute and simple Christmas craft ideas and I'm a happy girl! How about you?! I love when something is easy and turns out adorable!
This simple Christmas tree craft is so unique! It will make a great addition to your Christmas decor and you can make it with your colors!
PIN THIS FOR LATER SO YOU DON'T FORGET IT!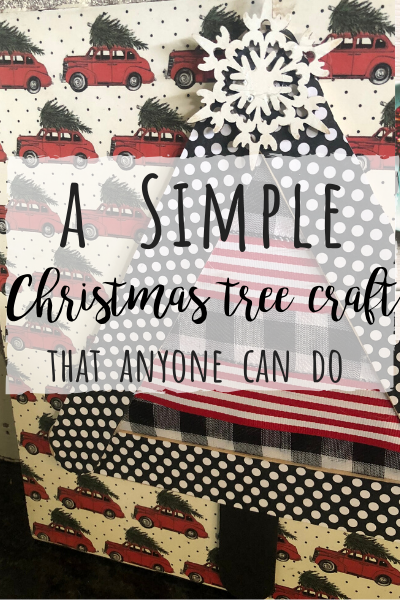 I started off with this square piece of wood from Walmart that is roughly 12×12 for this Christmas tree craft! (They also sell pieces this size at Hobby lobby, or you can cut wood to size)
Then I grabbed a few sheets of my favorite scrapbook paper that would match my color scheme. You can do anything you want here!
Next I grabbed some Large Craft Sticks. You just want to be sure that they are the right size so that they can form a triangle (tree) on your wood.
I also got 2 rolls of ribbon that coordinated and also went with my scrapbook paper.
Steps:
Mod Podge one sheet of scrapbook paper onto the wood!
 Take another piece of scrapbook paper, trace and cut and mod podge on to 3 craft sticks
Hot glue those 3 pieces together in the shape of a triangle tree
 Turn Craft Sticks over and hot glue strips of ribbon on the inside of the tree (just cut them to size)
 You will then want to hot glue the "tree" right on to the scrapbook paper.
 For the trunk, I broke off a piece of the craft stick and hot glued it and painted it black.
 I used a little wooden snowflake that I painted white for the top.
There you have it! A cute and simple Christmas tree craft that anyone can do AND make your own! Will you be trying one this year?!
Until next time…
Stacey