When it comes to doing a tablescape in my dining room, I like it to be pretty…but I also like to keep it pretty simple!
I hope these simple fall tablescape ideas will inspire you to get creative and set your table this fall to make it beautiful and inviting!
Here's the thing about my living room. I've got a navy blue accent wall in there, which I LOVE but somewhat limits me on the colors I can use for the different seasons to coordinate with it. However, I LOVE navy for fall…so it's perfect right now!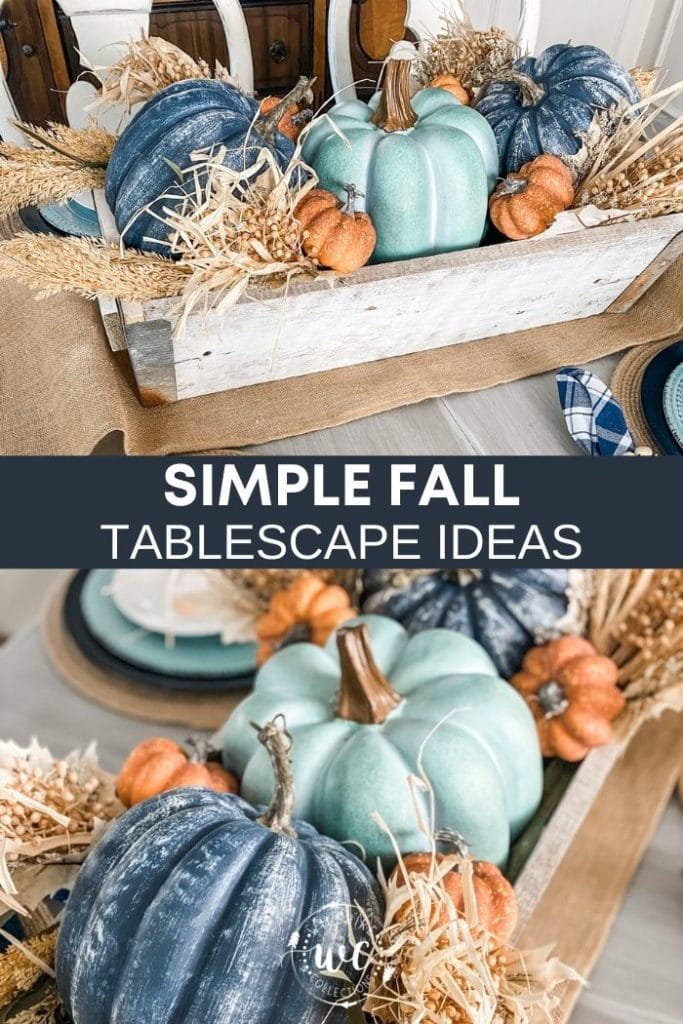 Let's talk about the cute plates and centerpiece from above!
If you know me, you know I love to layer! The napkins are from Amazon and the rings were a DIY. I like to use a placemat (hobbby lobby), then a charger (hobby lobby), then my regular dinner plates (old time pottery), then a small accent plate.
Where did I get those cute pumpkin plates you ask?! I MADE THEM!! This is one of the projects we will be doing in our upcoming fall workshop, so you can go here to read about that if you want to make some too!
As for the centerpiece, the box itself came from a vintage market years ago. I just added 3 big pumpkins to it (Aqua- marshall's, navy ones were DIY painted) Then I added some picks to it to bring in a bit of that orange and those natural looking elements. I LOVE the way it turned out!
Moving on to my buffet and corner cabinet. I kept them both pretty simple this year, but I love the way it all looks! I've collected so many pumpkins over the years, I had to display even more of them!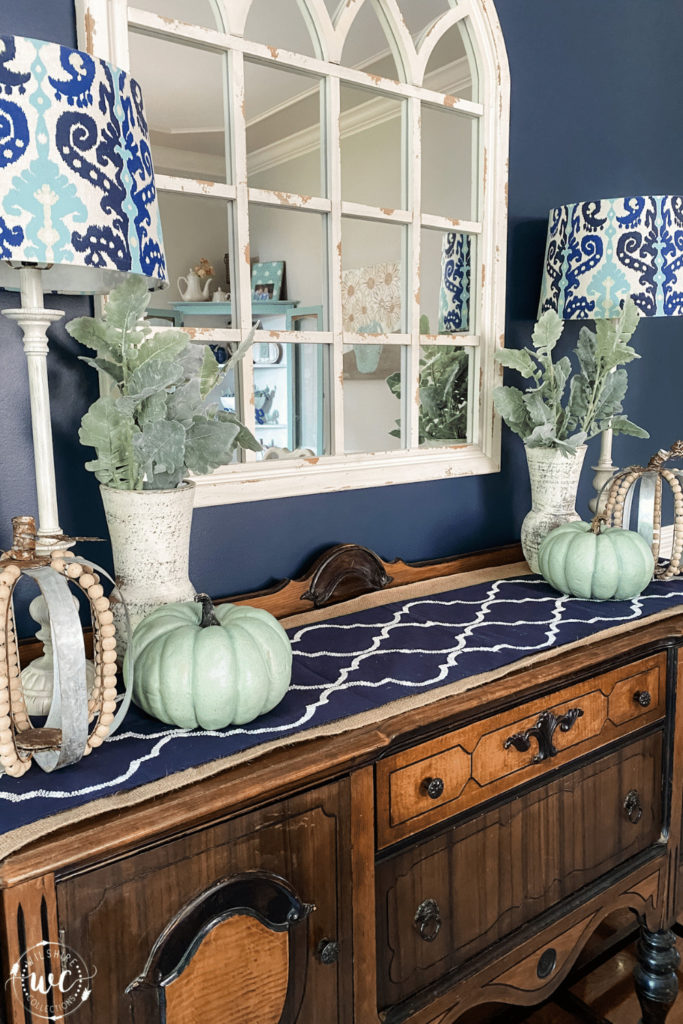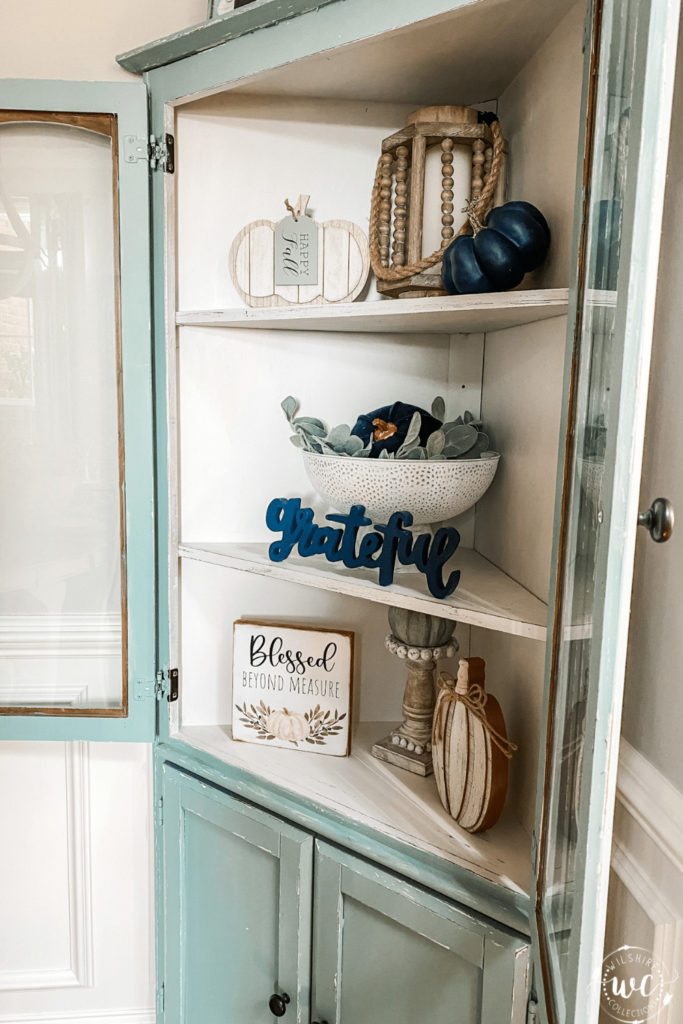 Some other facts that I know you might be wondering…my wall color is Benjamin Moore Hale Navy for the accent wall and Sherwin Williams agreeable gray for the other walls. My rug came from Wayfair years ago! The table and chairs use to be my grandmothers and I painted them a long time ago.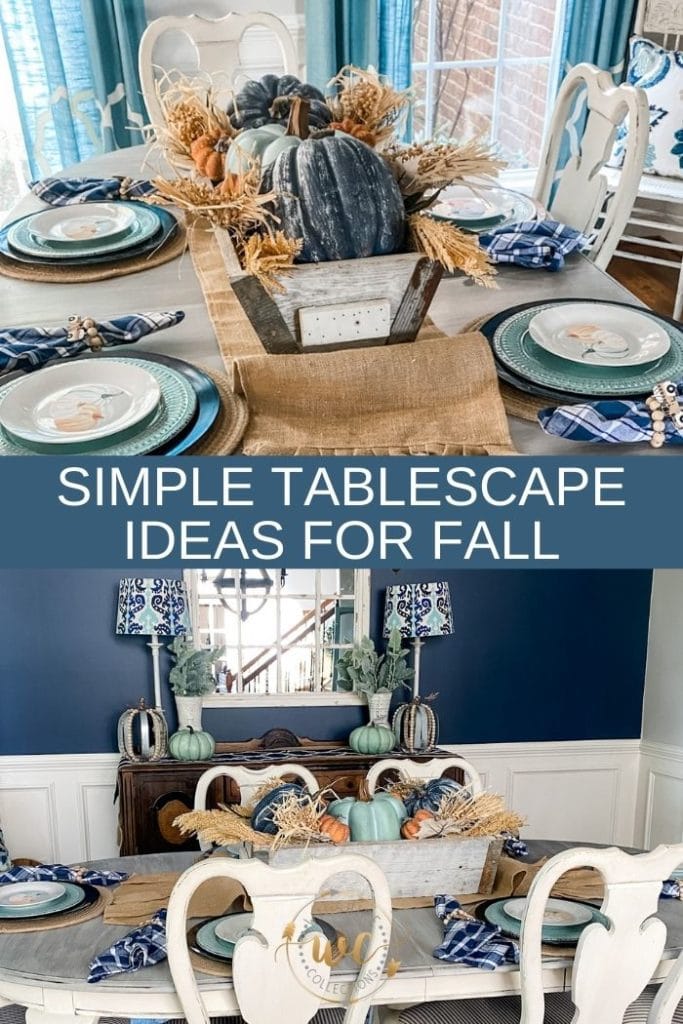 Let me know what you think of my simple fall tablescape ideas this year?! I hope you loved it and it inspired you along the way!
Until next time…
Stacey