You know what I love? A HUGE front porch! You know what I don't have? A HUGE front porch! And that's ok, because even though mine is smaller, it doesn't mean I can't do my best to utilize the space I do have and make it pretty!
No matter what the size of your front porch, I hope you will find these ideas helpful when planning. Either way, your entry should make a statement and be a focal point of the front of your home!
I'm sharing some small front porch ideas for Spring and Summer and how you can make just a few changes to create a big impact in a small space!
3 must haves for a small front porch! (All items will be sourced at the end)
 Wreath for your front door! This will make the biggest statement of all. I added a cute Anchored Soul sign that I layered on a scrap piece of wood for an extra pop!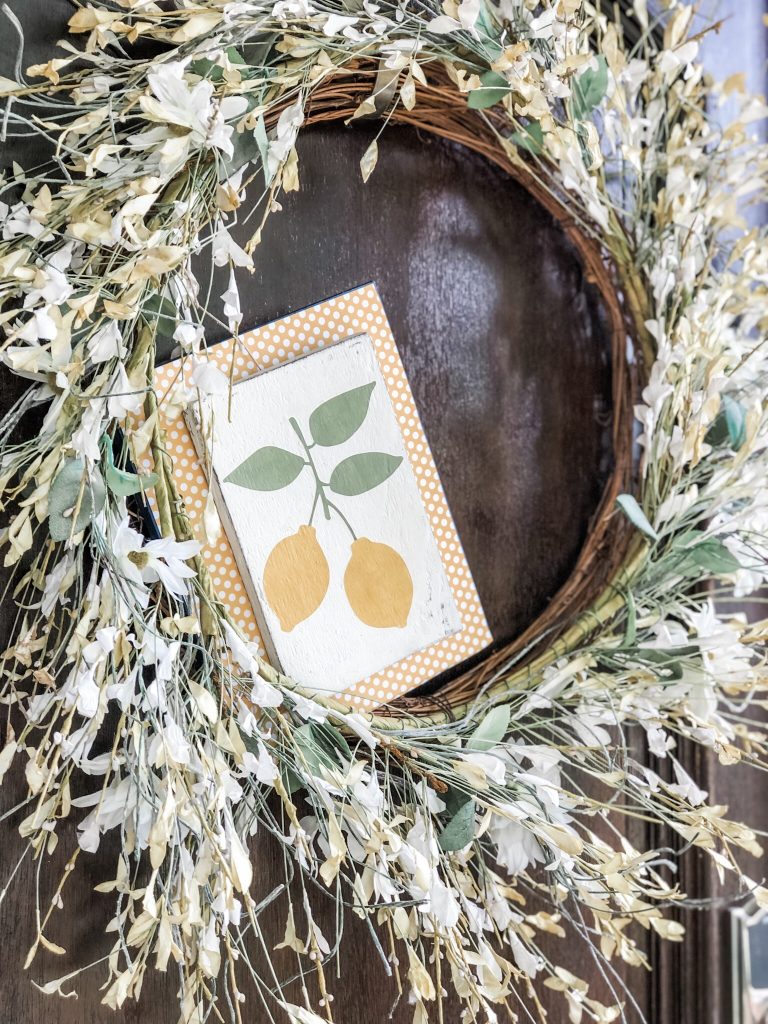 2.  Layered door mats! (You could do single too, but just be sure use a cute door mat)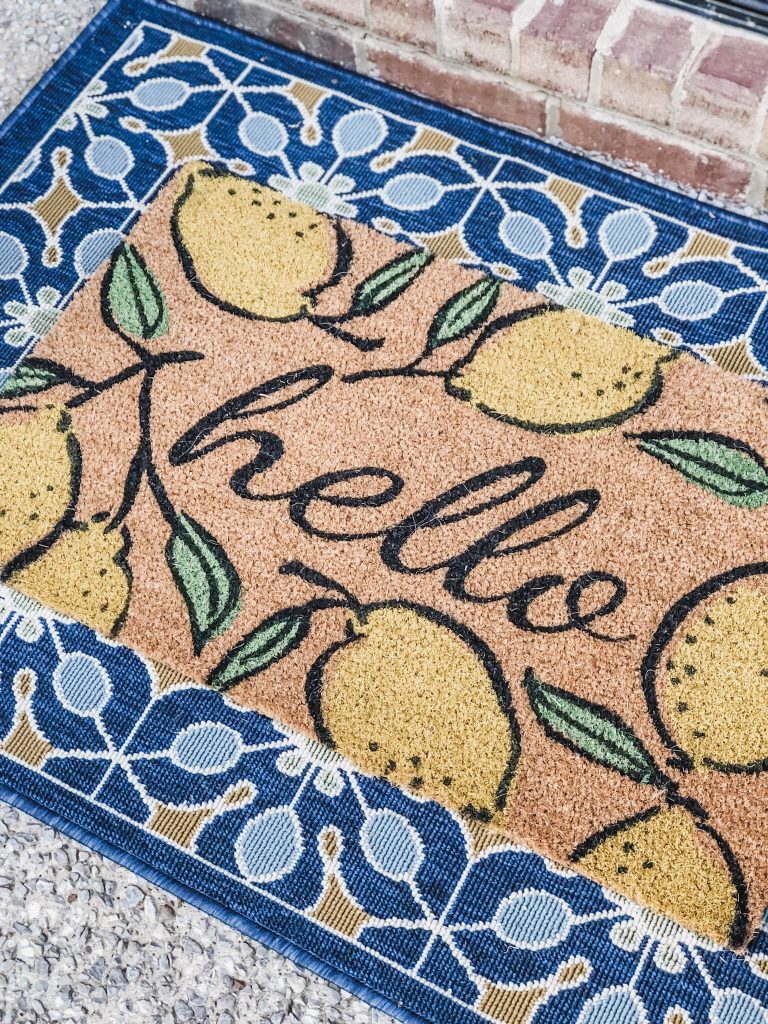 3.  Flowers! Adding flowers and plants will bring such a great pop to the space.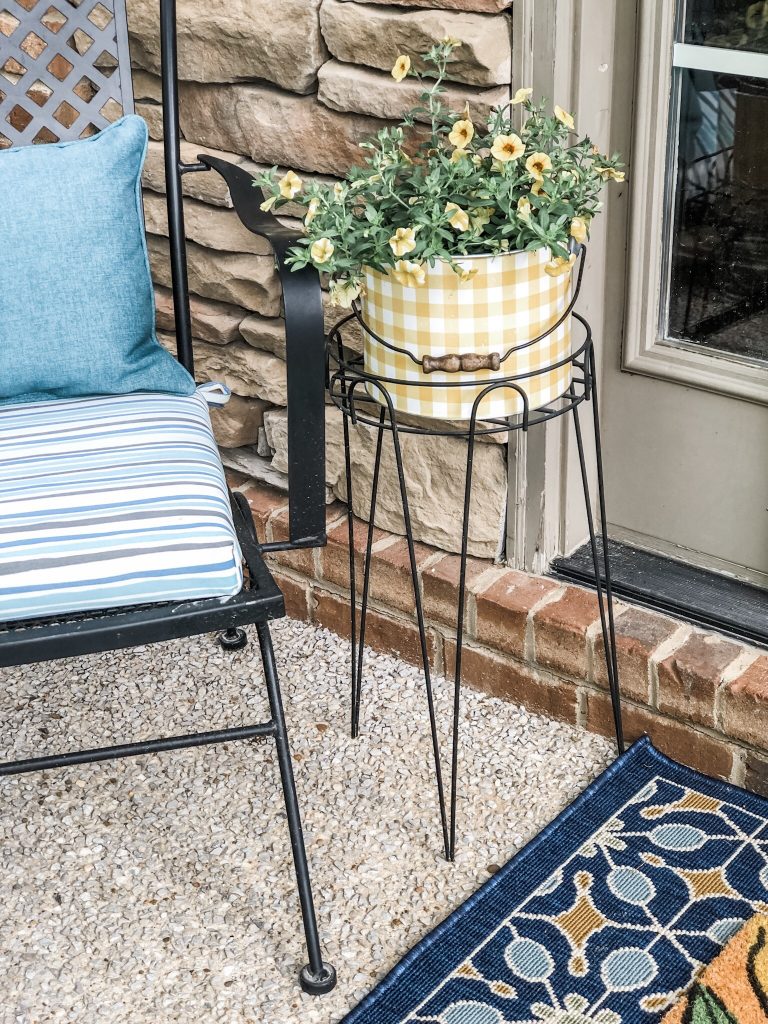 Anything else you can do beyond that depending on the size of your space is great! For me, I have room for a couple of chairs on either side of the door and that's about it. For some holidays, I will remove the chairs so I have more room to "play." You can see my fall front porch here and my Christmas front porch here for more inspo.
Here it is all finished up! Let me know what you think!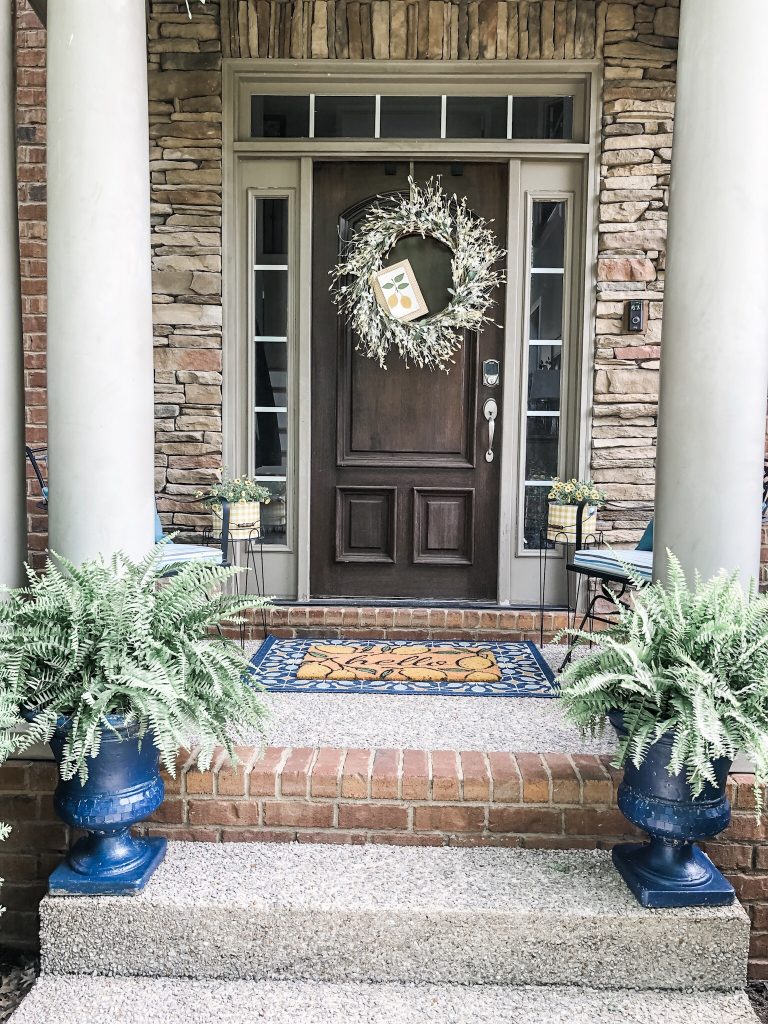 Here is some source info for you on things I used this year for Spring and Summer.
Wreath- Hobby Lobby last year
Lemon sign- Anchored Soul designs on Etsy (I layered with a bigger piece of wood that I put scrapbook paper on and thought it was so fun to add this to my wreath for an extra pop.
Large doormat- Find it on Wayfair here. I got the size 2'6″x4. But do what works for your door!
Lemon doormat- Find it at Kirkland's here.
Yellow gingham pots- Kirkland's in store (check out this post for the flower hack I did to make these work as planters)
Chairs- At Home Store last year
Cushions- Target last year
Navy fern pots- repurposed and painted. Check out the post here on that project! 
I hope this was helpful to see that even if you have a small front porch, that doesn't mean you have to sacrifice it being cute! You've got this ladies!
And if you have a big front porch, SWOON and even better! I dream of a big porch with porch swing…maybe one day!
The main thing is, you want it to say "Come on in!"
Until next time…
Stacey