I always say that it's the finishing touches that make a room. And it's SO true! It's those little details that bring a space together and make it a reflection of you and your style!
For me personally, I can't look at the same stuff for 8 years in my home and not eventually get bored with it. Are you like me? Sometimes needing those changes? Now granted, I don't have the budget to re-do my house every year and totally start over. I don't think I would have the energy for that either. Haha!
But…there are some things I like to do to make small changes and keep things fresh around here!! I'll show you below a space in my home where I just did both of these things!
SHOP MY HOME! What do I mean by this? I mean that I literally go around my house, go shopping and MOVE things around!
Just because your grandma's vase landed in your Dining Room…doesn't mean it has to stay for the rest of eternity. Move it to your kitchen and put some fresh flowers in it!
Have some rugs that could swap around from room to room? Why not? Go for it! That piece that's been hanging above your bed for 5 years would look really good above your TV in the Living Room. DO IT!
Seeing things in a different space and seeing your rooms with different items in them can feel like a TOTAL refresher to a space. Don't be afraid to play and move!
I do this quite often, and really do love working with what I already have. Does that mean I never shop? Well, you know me by now don't you?! 🙂 This leads me to small change #2.
ALLOW YOURSELF TO REPLACE! Now don't go tell your husbands that Stacey told you to go shop and spend all of this money 🙂 But, what I am telling you to do and giving you permission to do is to REPLACE!
Just because you have 2 lamps on either end of your buffet, doesn't mean they have to remain your lamps for all of their lives. Lamps go out of style, your style will change over time…and when it does…it's time to REPLACE!
This can be a gradual process over time so you aren't replacing everything in your house at once. But, don't get so attached to things that aren't sentimental that you don't feel like you can't replace them when the budget is available and the time comes.
Just like we treat ourselves to a new outfit for that upcoming party or wedding, we also have to treat ourselves at home sometimes too!
Now, some may say I treat myself a little too much when it comes to home decor…bahaha! I just say I'm passionate about shopping and we will just leave it at that!
We've all got our problems, am I right?! Anywho…
Our fireplace is the focal point of our Living Room. And I stare at it A LOT! Which means it's one of my favorite places to do the ol' switch a roo to to keep it fresh.
I had redone it this Spring to look like this…and I've REALLY loved it!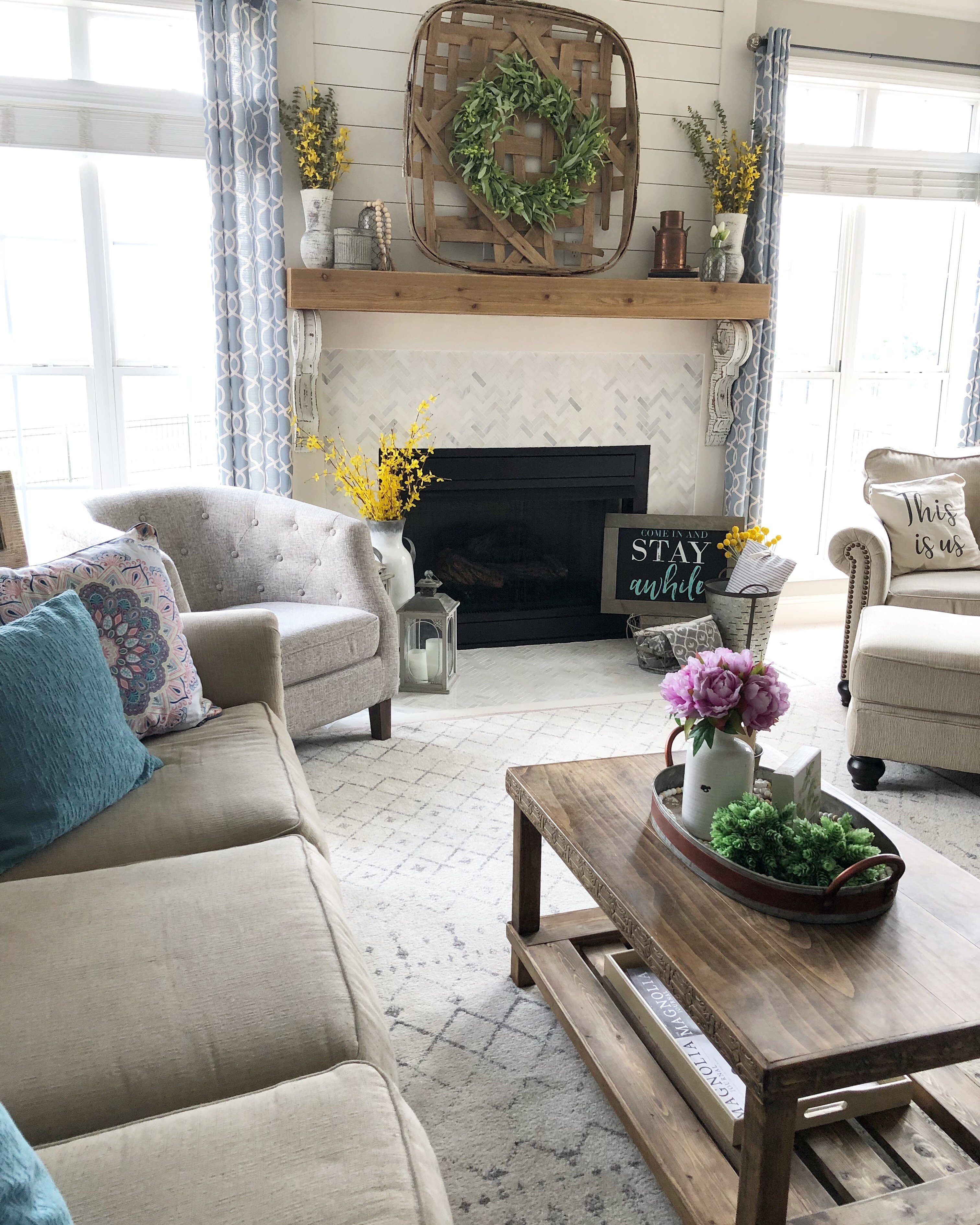 I have been wanting a belly basket for a while now, so when I was finally able to get one I knew my fireplace was where I wanted it to be (Here comes the REPLACE step).
Now, I'm going to use the things currently on my fireplace floor somewhere else…so that makes me feel even better about the situation. Nothing wrong with what's there now, I was just wanting to incorporate my new piece. Here it is!
New straw belly basket from Wikibuy
That inspired me to go SHOP MY HOME for the other side! I moved this big blue vase in that I had on a piece going up our stairs (and then moved the come in and stay a while sign to that stair piece). I put those yellow stems in there that I already had and…BAM!
A fresh new look to my fireplace floor!
It didn't take a lot in this space to make me feel like it had a "new look."
So, shop those homes and don't be afraid to replace when the time and budget is right!!
Until next time…
~ Stacey