Is anyone else ready to officially say goodbye to Winter and hello to Spring?! I know I sure am, and I was definitely ready for some Spring decor in my home as well!
I've got some Spring decorating ideas to help brighten your space for you today! There are easy ways to incorporate some fresh and cheery colors to your home that scream HELLO SPRING!
I knew right away that I wanted to use my favorite color (aqua) this year for Spring. Why? Because it makes me happy! So, pick a Spring color that makes you happy and run with it! I decided to use some splashes of pink as an accent color, because as a boy mom…I don't get to use a lot of pink around here!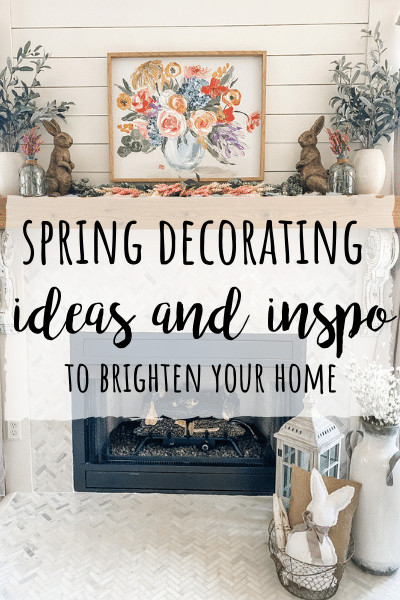 Let's start with the fireplace. I got this beautiful piece of art for over my mantle and I knew it would become the focal point and really set the tone for the room, and it did just that for sure!
Next, I created 2 little vignettes on each end. Vase with greenery from Target, bunnies from Homegoods, aqua vases from Old Time Pottery. I also added some garland in front of the painting, and then some floral picks from Target for that pop of color!
I couldn't forget some cuteness on the floor either!
You know my living room wouldn't be complete without a cute tray on my coffee table, and I love how this turned out! I got the vase from Kirkland's and used my faux tulips from Amazon inside! The sign was a DIY I made with one of my printables and then of course there had to be some cute filler too! (my tulips are sold out, but here is a brand on amazon I have ordered these from in years past)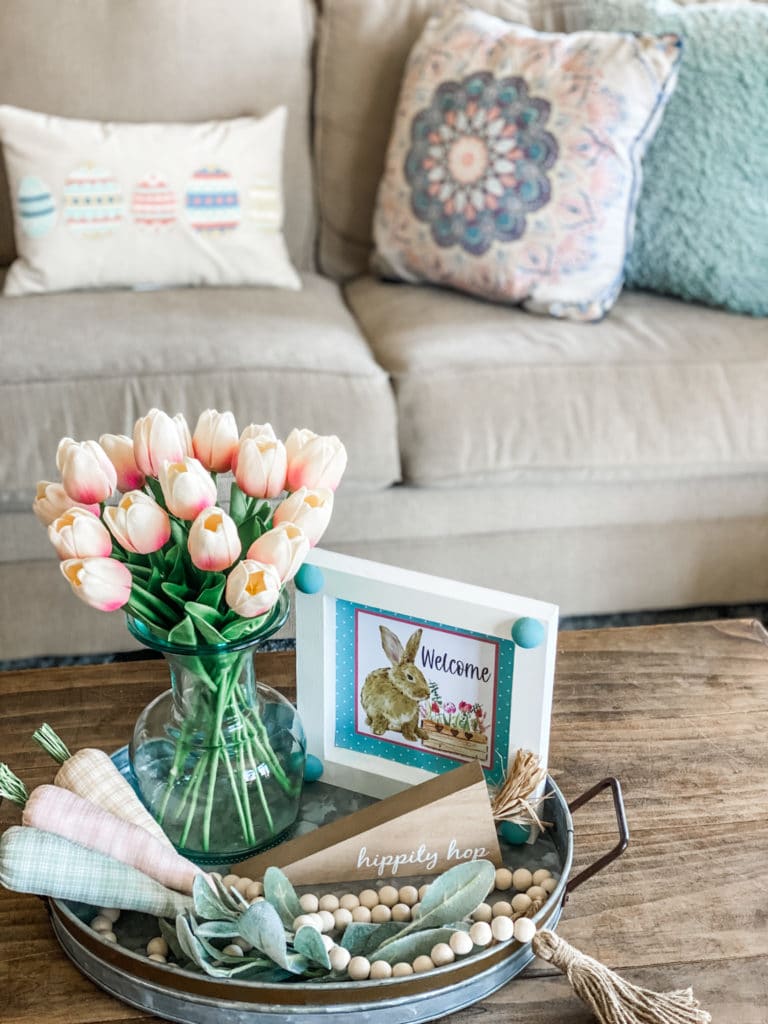 I did grab the aqua pillows from HomeGoods this year, but I've had the others for years! And you may spy 2 little $10 pillows from Target in the room too! I COULDN'T PASS THEM UP AND YES I HAVE A PILLOW PROB! haha!
Last but not least, I love to decorate the shelves of my media console with all the cute Spring things!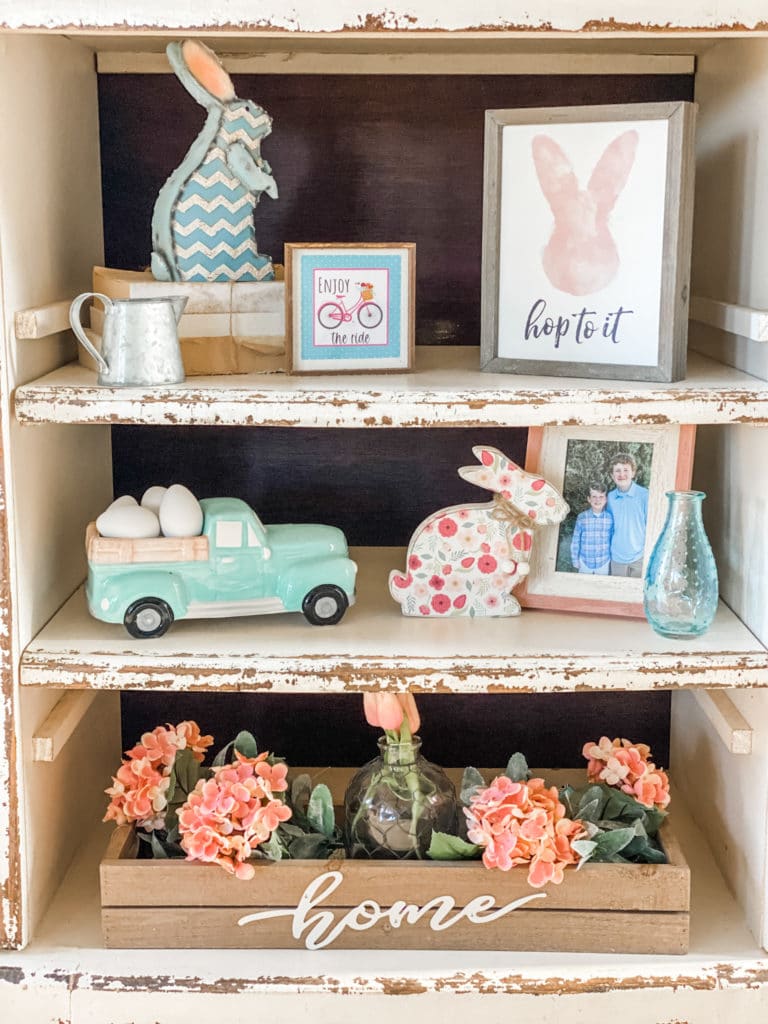 I truly can't believe how much adding these colors to this room brightened up the space! Spring decorating instantly changed the look AND my mood when I walk in here! You just can't help but smile!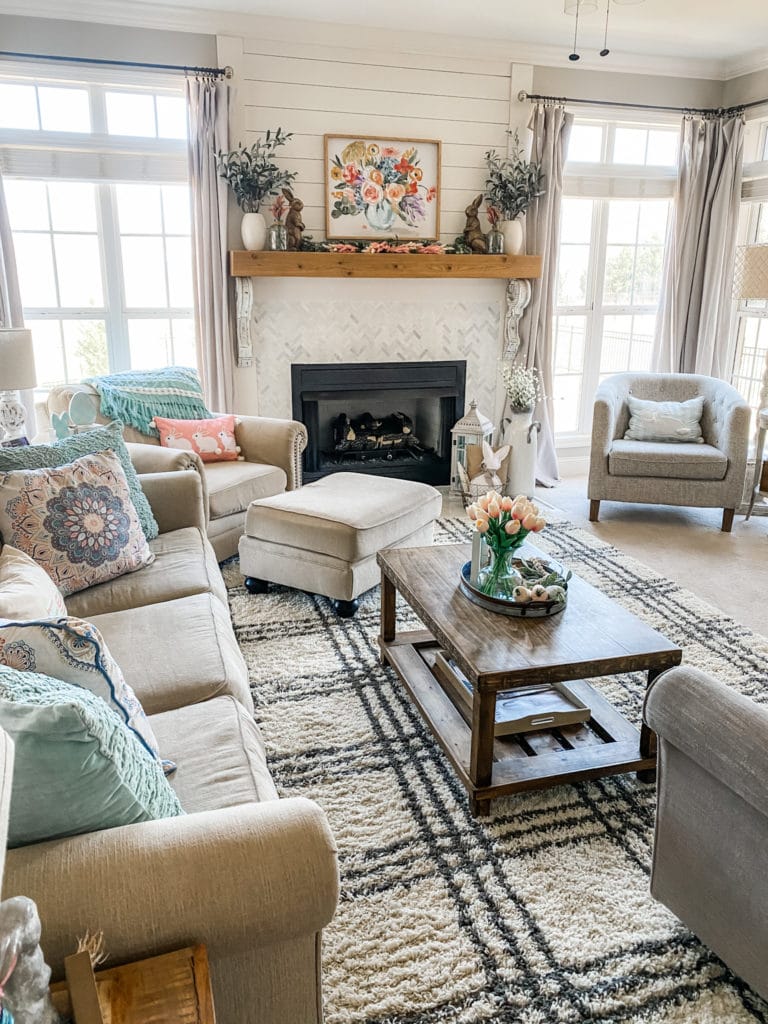 What do you think of the look this year?! And what colors do you plan to use in your Spring decorating?! I would love to know!
Until next time…
Stacey
-This post may contain affiliate links. Please see full disclosure page for more details.