Want the look of gorgeous patterned tile, but for less?! I've got the solution! STENCIL! Stencil, stencil, stencil my friends! And magical PAINT of course!
Have you seen those gorgeous painted tiles floating around Pinterest and just drooled over them? Me, too! That's why when the $100 room challenge came around and I decided to do my bathroom, I KNEW this was the perfect place to stencil.
Was I scared? Absolutely! Did I doubt my abilities? 100%! But, as with most projects around here I decided to just jump right in and go for it.
I learned a little (ok, a lot) along the way. You see, I had pretty much ZERO stencil experience. ZERO. So, I was not an expert in this area by any means. Usually if there is something in DIY land that scares me, I turn to my handy husband. But…
When I told him about this project, he quickly assured me that this one was all me 🙂 So, all of me got started right away.
I picked out the "Toledo Tile" from Royal Stencil. You can find it here, as well as many other patterns to choose from. The shipping was super quick, it came with great instructions and I was VERY happy with the product itself.
Here are my floors before. Just basic brown ceramic tiles that I was TOTALLY OVER looking at every day in my bathroom!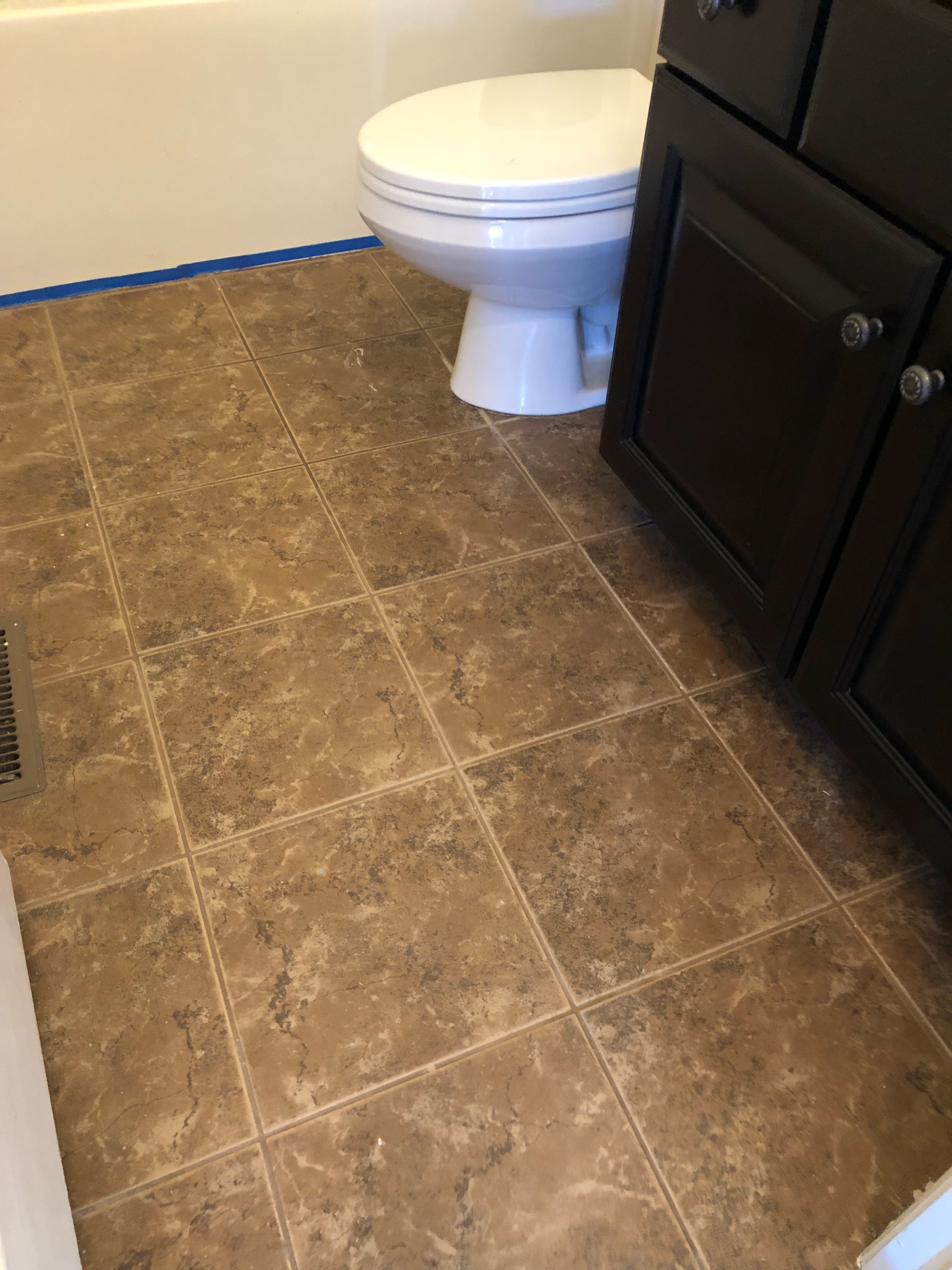 A little advantage that I had was that I was snowed in for a week when I started this! A project during the snow week is about the only way I can hang and survive, so that part was perfect.
Now, lets get in to the details on this project and how I took my ceramic tile floors from brown and drab to black and white stencil fab!
PIN THIS, PLEASE!
I do want to give you one little disclaimer before we dive in. I used Blackberry House Paint for this project. So, everything I'm stating relates DIRECTLY to that product. I can not make claims for other paint brands. Blackberry House paint is a water based acrylic type paint and does NOT have chalk in it. However, it works like Chalk Paint in the sense that there is no sanding/priming required before painting furniture, cabinets (floors), etc. I know people who have stenciled their floors with chalk paint and also had great success. THIS TUTORIAL IS NOT FOR LATEX PAINT!! Ok, now that we have that clear…lets carry on!
Step by step instructions:
CLEAN YOUR FLOORS- This part is SO important. Anytime you paint, you always want to prep so that the paint adheres. This is obviously super important for this project. I used a good degreaser like this one and scrubbed for a good long while making sure I got each tile. You want any dirt, residue, sticky areas, etc. to be totally clean. This was of course my least favorite part, because I don't know too many people that like to clean their bathroom floor for hours.
PREP- Tape off any areas that you don't want to get paint on. Around baseboards, cabinets, etc. I used a painters tape like this.
PAINT YOUR BASE COAT- I decided to use Blackberry House Paint in the color Warm Milk for my base coat. This is a pretty antique white shade. I used a small roller like this one to apply. And yes, I painted right into the grout as well. I did use a paint brush to get harder to reach places, around the toilet, edges, etc. For me, it took 4 coats of the white because I wanted to make sure I had FULL coverage and none of that brown was showing through. Allow enough time in between coats for it to dry, which is super quick with Blackberry House Paint.
STENCIL- Ok..here is where I really started getting excited (and scared). It was time and there was no turning back. The key here is to pick an area in the middle of your floor that you want to start the pattern. Then work to the sides, down, etc. making sure that you line up the stencil each time you move it so the pattern flows together nicely. I used Blackberry House Paint, Cast Iron Skillet for the black color. Here are some tips for the stencil application itself.

I ordered a 12×12 stencil, because that is the size of my tile and I wanted the pattern to flow together. Don't forget, you can order the Toledo Tile that I used here. It is from Royal Stencil. 
I used painters tape to securely hold my stencil down EACH time I used it. I did replace my tape pretty frequently so I was sure it was sticking well. So, get that stencil laid down with tape so it is nice and secure.
I used a small stencil brush similar to this one. You want an actual stencil brush that has the round and flat bristles. 
You will want to have a lot of paper towels handy, because the KEY to doing this so you don't get paint bleeding underneath the stencil is SCARCITY! This means you do not want a lot of paint on your brush at any given time. Dip it in your paint, then dab it off with a paper towel.
Start painting the "holes" of your stencil. Round brush strokes are great where you can, or back and forth as long as you are careful not to let the bristles go under the stencil.
I completed one coat of each stencil, let it dry (with the stencil in place) and then did the 2nd coat of my black. You DO NOT want to pick up the stencil between coats b/c it was be almost impossible to line it back up exactly right for your next coat if you don't do it this way.
Once you have the 2nd coat (or final coat) done, you want to carefully peel up the stencil. This is where the magic happens and you instantly become impressed with yourself. 
Repeat this over, and over and over again! Making sure you line them up each time. I did all of my "full size" tiles first because they were the easiest. Then I worked my way around to the others. Here is where you need to know that you more than likely WILL have to cut your stencil. When I got to the wall, it was easier to cut it so that it fit perfectly on that smaller tile. This was scary, but I knew I didn't need that full size stencil anymore since I was done with the full size ones. You can try and just fold the stencil up the wall to the size you need, but I found cutting it to be easier. Then, I had to cut it even a little more when I got to some odd size tiles around the toilet and under the cabinet. Just make sure you go in order so you don't cut it too small too soon! 

TOUCH UPS- Once the floors were dry enough that I could stand on them (without shoes) I went back and did a few touch ups of some "oopsie" spots. To be honest, I was obsessing over this for a minute trying to make them perfect. Then, I realized this. These are HAND PAINTED tiles. Painted by me. I am not a factory and these are not factory tile. Therefore what may seem like an oops to me, is really just character for the floors! Please keep that in mind!
SEAL THE FLOORS- You have obviously got to seal the floors so that they will be durable. My go to choice for sealing cabinets, table tops (And now floors) is Polycrylic. I like it over polyeurathane because it does not yellow over time. It's a water based poly and I used the matte finish so it wouldn't be super shiny. Follow the instructions according to the poly can, but you basically want to apply a coat…let it dry for at least a few hours, lightly sand it (super light), clean off residue then repeat. AT LEAST 3-4 coats. (My husband stepped up and did this part and I was SO thankful). He used a roller to apply each coat and did 4 coats total.
And, there you have it! Our brown ceramic floors are now beautiful black and white beauties because of some paint and a stencil. Pretty amazing, huh?!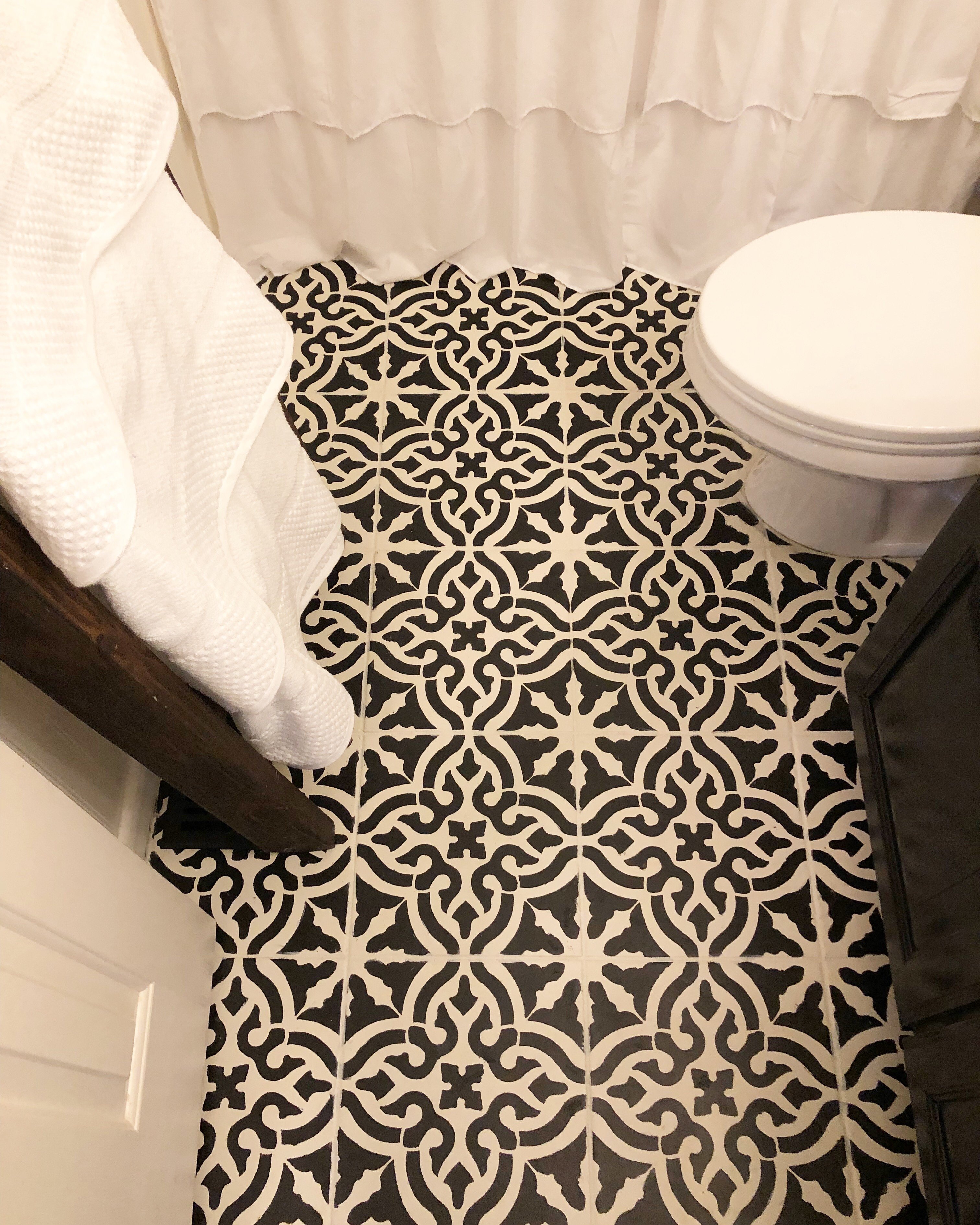 Was it time consuming? Yep! A little tedious? Sure thing! Hard? Only on my hands and knees! Worth it? YOU BETTER BELIEVE IT!
Not only am I obsessed with the floors now, but I am also super proud of this little DIY of mine. By far one of the most out of my comfort zone projects I've done, but man I can say I did it and that it actually came out good!
Give this project a go if you've been thinking about it! Your back my hurt for a couple days, but in the end you will be so proud and so glad you did it!
Here is the complete before and after of this bathroom makeover…for $100!!!
Let me know what you guys think in the comments! And get your FREE BATHROOM PRINTABLE HERE!! 
Until next time…
~ Stacey
Be sure to check out all my posts from the $100 room challenge here to see the before, in progress and after of this bathroom makeover transformation!
~ This post may contain affiliate links. Please see my full disclosure page for more information.