Bye Bye, ugly brown tile floors! Hellooooooo gorgeous black and white stenciled floors! This is something I have drooled over on Pinterest for a while now. I've thought about it, then I pushed the thought aside as quick as it came. I was scared!
Not too much scares me in the DIY world, but this did. I have pretty much zero stencil experience. But, when this $100 room challenge came up and I decided to do our downstairs guest bathroom, I knew a change HAD to be done to the floors in order to make an impact. So, I decided to do just that.
Read Week One, Two and Three to see the before pictures and all the progress I have made this month. You won't hardly recognize this room!
Pretty please, will you PIN this?!
And here is a reminder of what the floors looked like going in to week 4.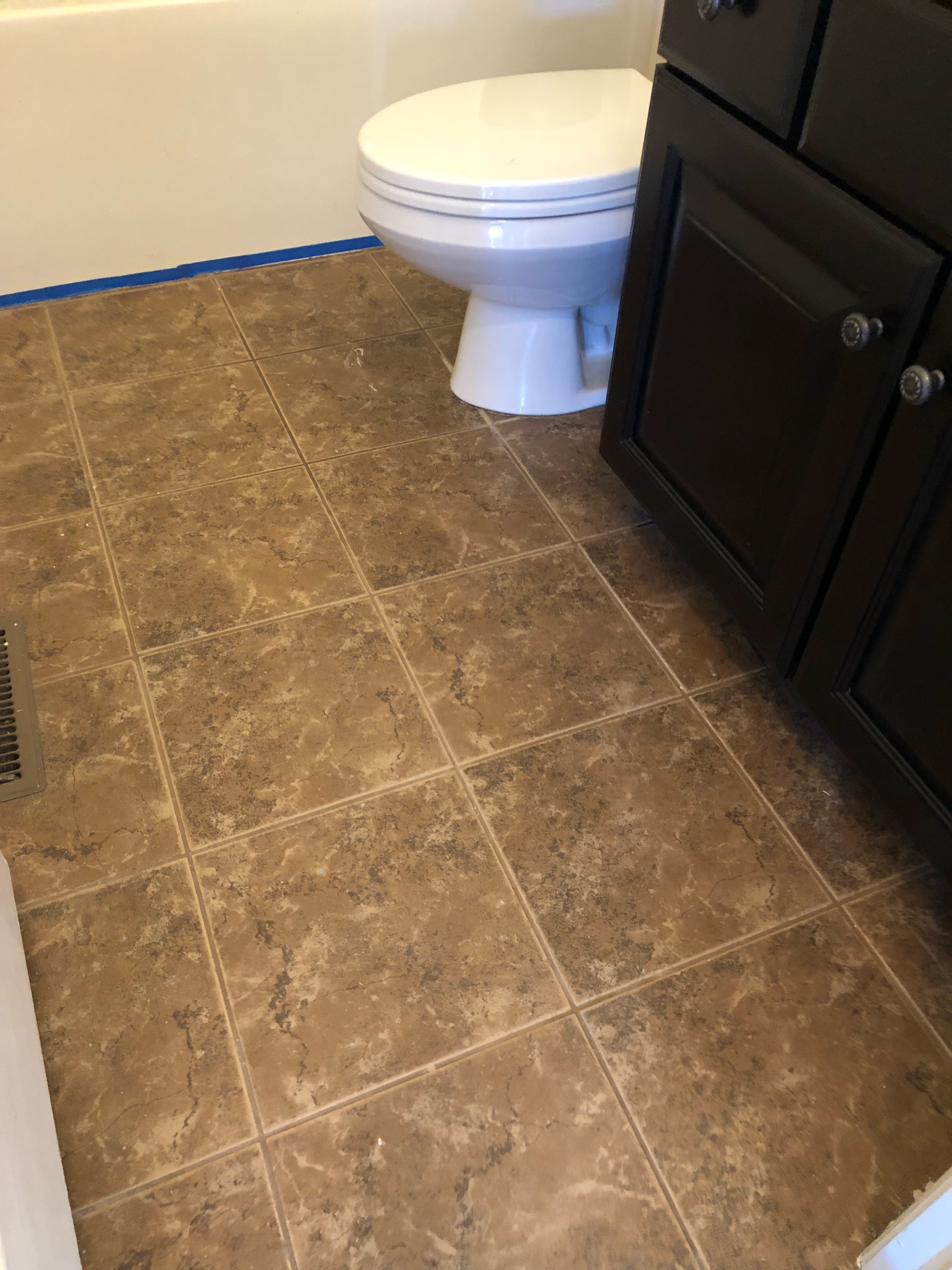 I will be doing a FULL TUTORIAL on the process behind these floors soon. So, we are going to save all those details for another post. But, I will tell you it was a labor of love FOR SURE! But, was it worth it? FOR SURE!!
I used Blackberry House Paint to paint the floors. My base coat was Warm Milk (antique white) and then I stencilled in Cast Iron Skillet (black). My stencil is from Royal Stencil and is called the Toledo Tile. You can find it here. It was a great price and easy to work with. I highly recommend it!
Here are some pictures during the process.
And here are some now that the floors are complete! Can you even believe your eyes?! Me either!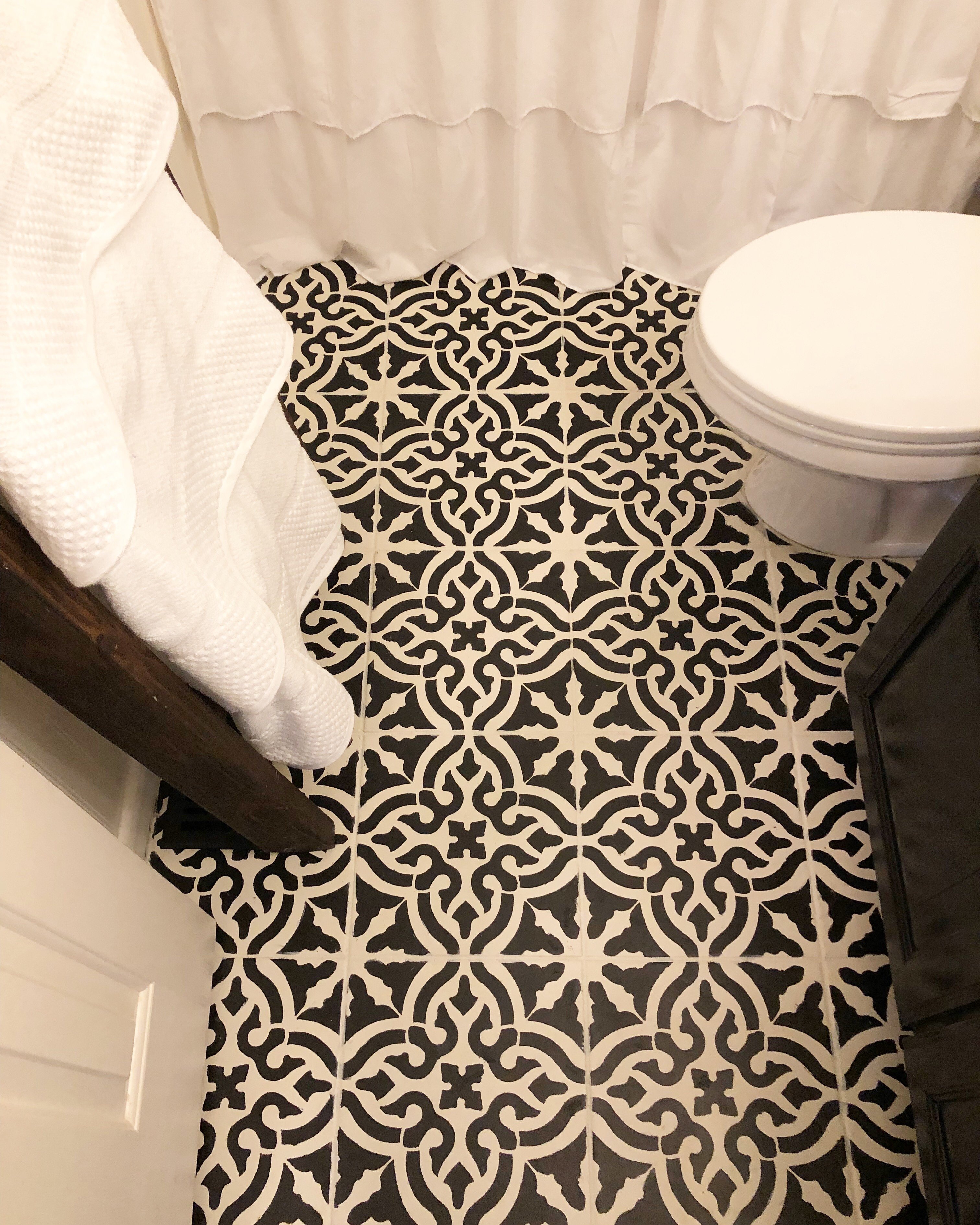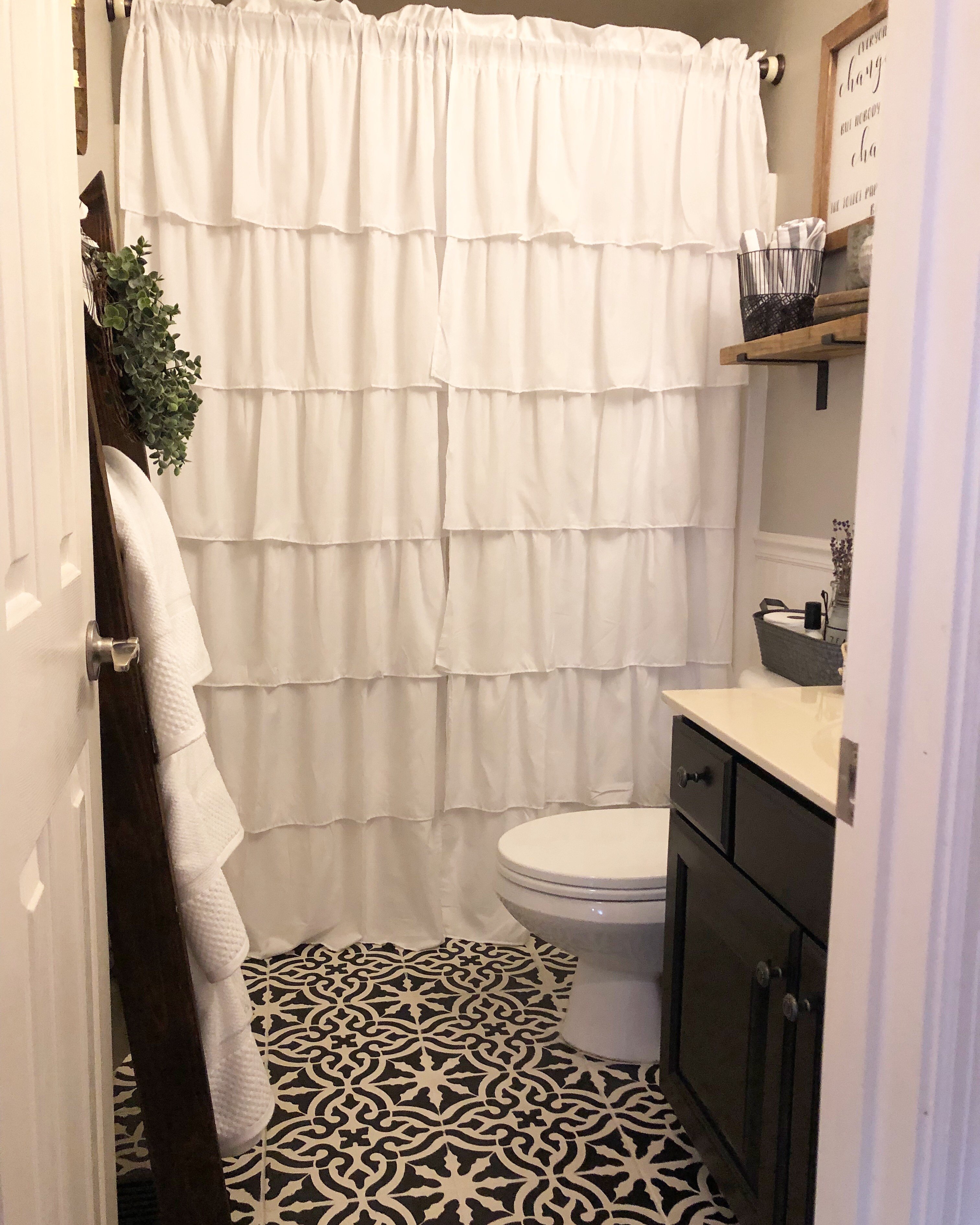 Well, what do you think?!!? Be sure you are following me on Facebook for more updates, tutorial release, etc.
We still have to frame out the mirror this coming week and will be doing a couple more décor touches on the wall you can't see from these pics…so stay tuned for that! The BIG REVEAL of the finished bathroom will happen next Wed. January 31st! I will show you some close ups of the decor then too! Can. Not. Wait!
I hope you have enjoyed following along on this $100 room challenge with me! I am tired, my back is sore, but at the end of this I'm going to have a bathroom that I love and that makes me happy 🙂
Be sure to check out all the other $100 room challengers and see their progress! All these ladies are kicking home décor booty right now!!
Until next time…
~ Stacey
Get your FREE BATHROOM PRINTABLE HERE! 
P.S…Let me know in the comments what you think about this stenciled floor transformation!