Time to check another Summer outdoor space off my list (for now…I'll explain later). I showed you my front porch here, but to be honest we don't hang out there too much because it's small. That's why our back deck is so important to me!
We love to hang out back there as a family whether we (AKA my husband) are grilling out, the kids are bouncing on the trampoline, we are playing with Bailey (our sweet dog) or we are just sitting out there chatting. It's a great spot and one that I like to make an extension of the inside.
These Summer outdoor space ideas will help you realize how you can make the outdoors just as cozy as the indoors so you can truly enjoy it with your family!
You might be wondering what I mean by making it an extension of your indoor space. I know we can't typically have AS much outside as in, but I think it's important to add certain elements to make it feel inviting. You want people to WANT to hang out there just as much as the inside.
For me, this meant adding simple things like a rug, coffee table and little end tables for drinks (and flowers). Those few things along with our furniture and cushions just really tie the space together.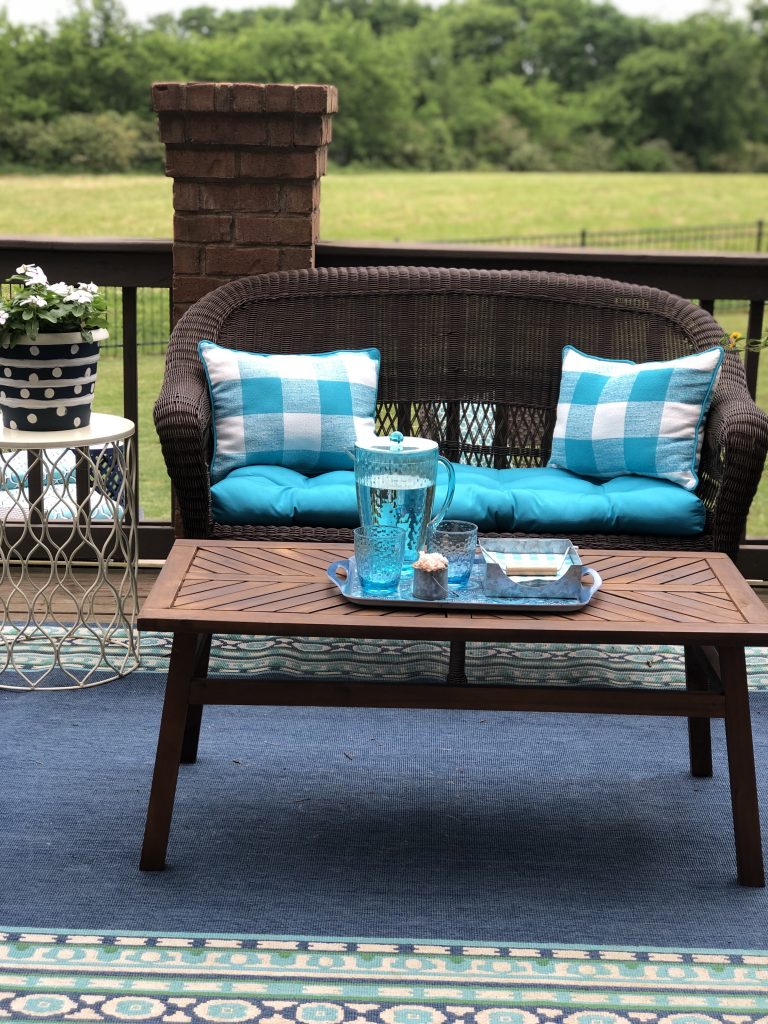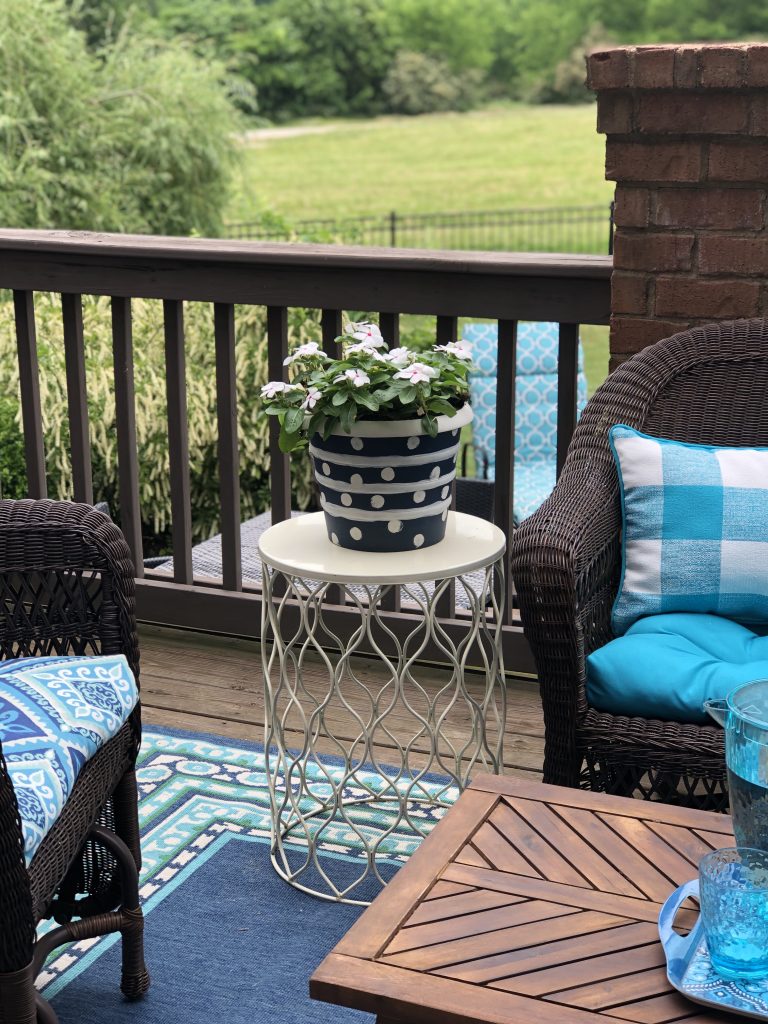 The number one thing I get asked is do we leave our rug and cushions out and uncovered?! The answer is YES we do! In the "season" that is. We do store them in the colder months for sure. Every now and then we will bring the cushions in if we know it is going to rain for days, but for the most part we leave them out and they do just fine! If you get a true outdoor rug, it will be the same way.
TIP: My husband has power washed our outdoor rugs before if they get dingy and they clean right up when he does! 
Bailey approves of the rug too of course!
Hope you enjoyed seeing this little spot in the extension of our home and got some Summer outdoor space ideas!
I'm HOPING (crossing fingers, toes and all the things) that the next bigger project around here is going to be to have this deck covered! We have wanted this done for years and we are finally looking into it. I will keep you posted because you know if I do that it will be a domino effect for sure 🙂
How have you decorated your outdoor spaces this Summer?!
Until next time…
Stacey
Sources:
Rug-Wayfair (Mine is the 6×9 but do what works for your space)
Painted pot- see the blog post about this here! 
Everything on top of coffee table came from Big Lots this year!
Furniture is very old, and cushions came from Trees N Trends last year.