Are you counting down the days? HEARTH AND HAND BY MAGNOLIA IS COMING TO TARGET!!!
Target! BRILLIANT I tell ya! Chip and JoJo may not be going on with Fixer Upper, but they aren't slowing down.
How smart of them to team up with Target to bring in items that we all know and love to a place that we ALL love to shop?!
As if I didn't already have Target issues, this is going to send me over the edge.  If I ever thought I would get out of there again for under $100, I now know I am mistaken.
Here is what I love though. They have made these Hearth and Hand items affordable! Cute, affordable and at TARGET! Yes, please!
November 5th is the day you can purchase Hearth and Hand at Target, but you can scout everything out and make a wish list now.
So, I have started a wish list for myself (of course) AND I went ahead and put together a gift guide for you with items that will be in their collection that are under $20. And we aren't talking one little coffee mug. This is cute and substantial stuff for a great price!
Read below to find out my favorite gifts for under $20 with the new Hearth and Hand line at Target!
Pin this, please 🙂
(All images taken directly from the Target website. Click on the link above each picture to be taken directly to that item)
You know I love incorporating galvanized metal in my home. These vases in various sizes are too cute. I love how they have them set on the floor with the greenery, perfect idea! (of course, it's JoJo we are talking about!)
Stoneware is so classic and timeless. This pitcher is neutral, dreamy and so affordable! Would be great for serving or for display!
Lambs ear is "hot" in the farmhouse greenery world right now, and this garland is no exception. This would be gorgeous on a mantle!
Love this simple yet elegant Merry and Bright Wall Art. The gold/copper accents are what sold me on this one!
One can never have too many candles, correct?! And I'm pretty sure once this one burns down it would make for some super cute décor on a bookshelf. So, get in my shopping cart!
Doesn't this say, "Come on in!" I love the plaid on this welcome mat!
Ok, soooooo I seriously might have to get these stockings. Like, you for real might see them on my mantle this year. I'm obsessed with plaid and I love the black and cream. These are in serious consideration mode over here right now 🙂
This is super cute for a kitchen counter. If you don't want her other style that is more vintage, this is a great alternative!
She even has cute pot holders?! What the what? I feel like this is something I might not go out and buy myself, but if someone GIFTED me these I would be super pumped. So, throw these in your Target cart for the friend that has everything (except JoJo's cute pot holders).
I just don't need to say too much about these except well, you might see one or two of them at my house this Christmas. Just saying. Totes adorbs!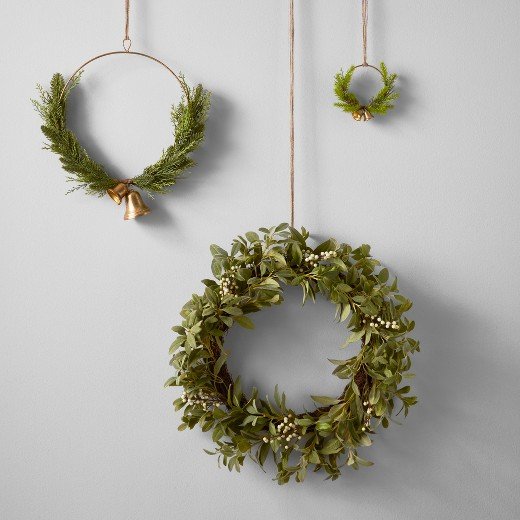 Well, I hope you enjoyed this under $20 gift guide for the new Heart and Hand Line coming out at Target on November 5th. I really do think this is going to change the world, friends. Ok, not the actual world. Just my world. And everyone else who loves Target and Joanna Gaines as much as I do!
Here are a few other items related to our friends Chip and Jo!

Happy Shopping!
Until next time…
~Stacey
Be sure to check out some of my other posts related to my BFF Joanna here and here !
*Affiliate links are provided. See my disclosure page for more details.*